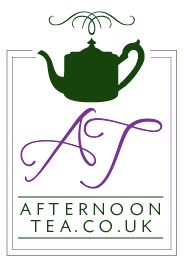 The AfternoonTea.co.uk Team
Here at Afternoon Tea Towers the team are always on the look out for Afternoon Tea related news, reviews, seasonal menus, special events and competitions.
You can get in touch with us via Twitter, Facebook and Google+ or email us at team@afternoontea.co.uk if you have anything you would like to share or contribute.
---
To celebrate the summer, Fortnum & Mason are providing people with the most luxurious way to enjoy the warmer season with the launch of their exclusive picnic hamper range.
At AfternoonTea.co.uk, we do not think there are many better ways to embrace the nice weather than to bask in the lovely sunshine and indulge in a selection of delicious treats.
The British institution is renowned for their fine selection of hampers that come in a stylish wicker basket emblazoned with the iconic Fortnum & Mason logo.
Whether you are preparing for a family day out or just a walk in the park, Fortnum's picnic hamper is the perfect companion for any outdoor adventures you have planned over the next couple of months
We've selected five of our favourite things from their picnic range to help you get into the summer spirit and choose the ideal way to take advantage of the warmer weather.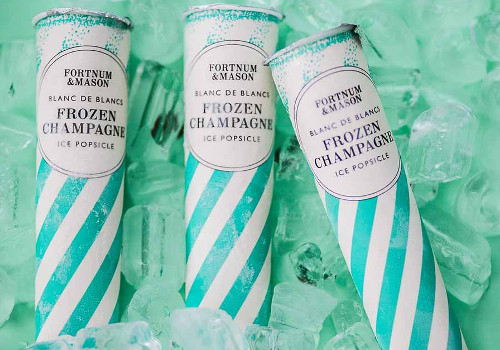 Champagne Popsicles
To celebrate the arrival of the rising temperatures, Fortnum & Mason have combined two summer time treats to create the ultimate warm weather indulgence with their Champagne flavoured popsicles. Created using Fortnum's Blanc de Blancs Champagne, this refreshing treat packs a punch at 4.3% ABV, and allows people to cool down in the most lavish fashion.
The Rambler
This charming hamper is ideal for those looking to take a break from a leisurely stroll in the park. This picnic basket contains a selection of savoury food ideal for snacking outside such as a pork pie with Farmhouse Cheddar and Morsel Biscuits. For dessert, you can enjoy an apple along with a ballotin of chocolate truffles before topping it off with a refreshing bottle of English ale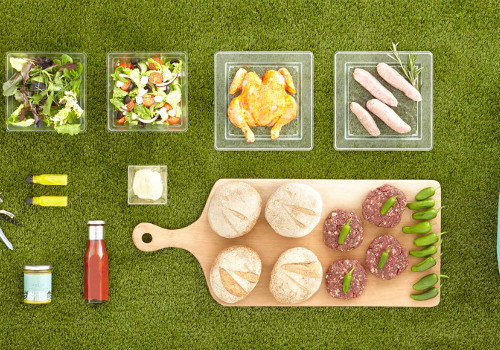 The Great BBQ Picnic
A staple of any great summer is a good BBQ. When the weather is appropriate, there's nothing people like doing more than inviting friends and family to their house and doing some hot cooking under the open sky. Fortnum & Mason's Great BBQ Picnic Hamper provides all the finest ingredients and cutlery required to host your own BBQ. Delivered in a fully lined eau de nil cool box, this hamper is packed full of hearty meat treats along with a selection of delicious desserts, topped off with a luxurious bottle of Rosso Piceno Saladini Pilastri wine.
English Essential
Ever since it opened in 1707, Fortnum & Mason have been renowned as a purveyor of British goods of the highest quality. This hamper is a celebration of this country containing a whole range of classic English favourites such as a variety of delicious sweet treats, loose leaf teas and preserves. This hamper also contains a copy of Tea at Fortnum & Mason, an informative guide on the British tradition of drinking tea.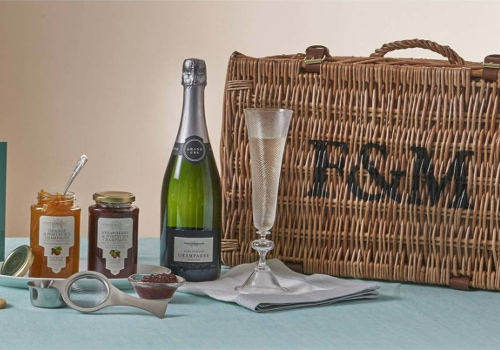 The Champagne Afternoon Tea Hamper
There is not many pleasures in life greater than indulging in the great British tradition of Afternoon Tea. Fortnum & Mason have developed a reputation for their sumptuous Afternoon Tea, and with this hamper you can take a sample of their elegant Afternoon Tea experience to the outdoors. Delivered in a traditional wicker box, this hamper contains tins of Fortnum's famous Earl Grey and Afternoon Blend teas along with a selection of delightful treats such as their Dundee Cake. Nothing quite complements Afternoon Tea like a luxurious glass of Champagne, and this lavish hamper is completed with a bottle of Blanc de Blancs Champagne.
For full details of the Fortnum & Mason picnic range, see here
More posts from The AfternoonTea.co.uk Team