Afternoon Tea Awards 2016 - Winner Best Themed Afternoon Tea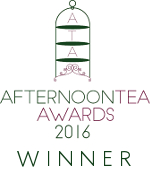 Sanderson invites you to tumble down the rabbit hole for the 150th anniversary of Alice in Wonderland and enjoy all the splendor of our Mad Hatter's Afternoon Tea. Discover menus hidden inside vintage books, teapots adorned with kings and queens, sandwich plates decorated with birdcages, carousels and ticking clocks upon which rest savoury, specialty sandwiches. Classic Cucumber, Goat Cheese Croque-Monsieur, White Crab Eclairs are all created for our guests with specially selected ingredients to delight the senses.

The ending is as divine as the start. Choice is unending, but a few hints follow forthwith… Scones are sinful, the red velvet Ladybird Cake inspires tears of culinary joy, and time stops when tasting our chocolate-coated, coffee-flavoured Pocket-Watch Macaroons. The star attraction, however, is our collection of Sanderson-Exclusive Teas. In celebration of the sesquicentennial anniversary of Lewis Carroll's classic novel, Sanderson is simply giddy to introduce 5 new, tailor-made teas inspired by the characters of this beloved story. "Alice" has transformed into China Black Tea infused with hints of blackcurrant, vanilla, caramel, citrus, bergamot, blue cornflowers and blue mallow flowers. Oh, it's tea time!
Please note from 14th - 17th April, only Easter Mad Hatter's Afternoon Tea will be available priced from £58 per person with a glass of Perrier-Jouet Champagne. See here for full details.