Annette Kellow
Annette Kellow is a lifestyle writer based in London.
To show support of Breast Cancer Awareness month, Ting at Shangri-La Hotel have put on a special pink Afternoon Tea menu that will donate a percentage of the proceeds to Guy's Cancer Centre.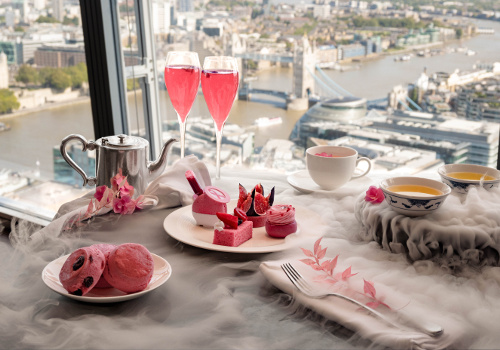 The month of October is always a special month as it is Breast Cancer Awareness Month. It is a time to show support, raise awareness and fund raising for those affected by breast cancer, with the 23rd being the day to Wear It Pink.
To support this, Shangri-La Hotel at The Shard are hosting a very special rose-hued afternoon tea at the Ting Lounge and Restaurant until November 8th, with a percentage of the proceeds being donated to the breast cancer ward of Guy's Cancer Centre, in London Bridge.
I was thrilled to be invited to try this very important afternoon tea, and always happy to have any excuse to get dressed up!
As you walk into Ting, they have aptly set the scene with pink furnishings and accessories, including streamers, flowers and positive pink messages adorned on the walls. I was also pleasantly greeted by a friendly young man wearing a pink mask (where can I find one? was my first excited question).
My guest and I were sat at a gorgeous window table with an awe-inspiring backdrop of London Bridge and beyond. It is true what they say about The Shard, you really do get to see the best of London, and even the rain couldn't dampen our spirits!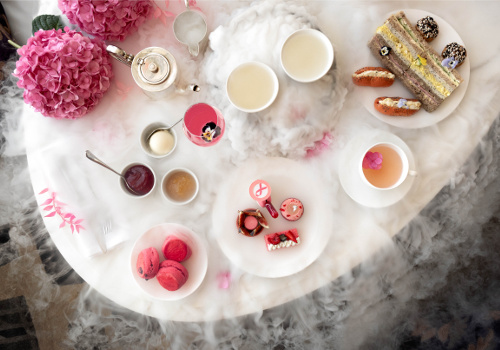 The pink afternoon tea menus were explained thoroughly and we started with a very pretty mocktail accompanied with rose champagne.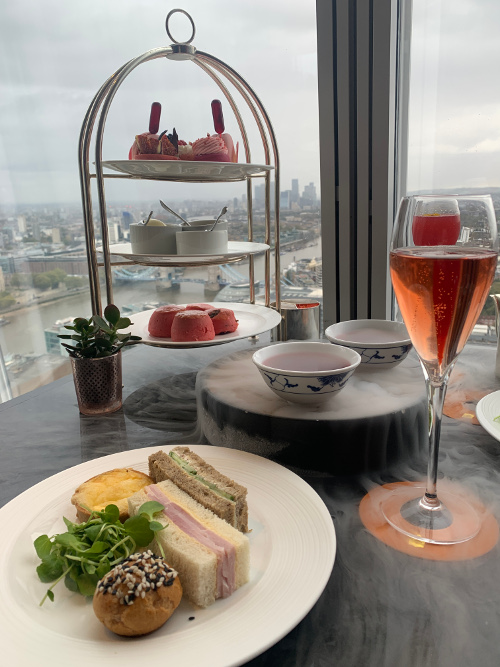 After catching up with my friend, the tea arrived just as the sun came out- and what a spread! Bermondsey Spring Onion quiche, Wiltshire ham sandwiches, cucumber cream cheese with pink peppercorn on harissa bread and smoked salmon gougeres were among just a few of the savoury treats displayed.
Not only did we have the classic three-tier set but our palate cleanser, a mix of apricot, berry and calamansi had all the theatre of the West End with bowls of cascading dry ice - it definitely could give Andrew Lloyd Webber a run for his money!
It turned out my friend had also eaten a small breakfast like myself so we were ready to embark on the delights offered! On our next tier were pink scones, complete with the classic clotted cream and jam. After a small discussion of which way was the proper way for jam and cream to be eaten (Cornish say jam first then cream, while Devonshire the other way round) we decided to indulge, and not worry too much the correct way of spreading the accompaniments.
Our tier above was truly a work of art and was my favourite. A collection of skillfully made sweet pastries all in delicate pink colours- but with a twist.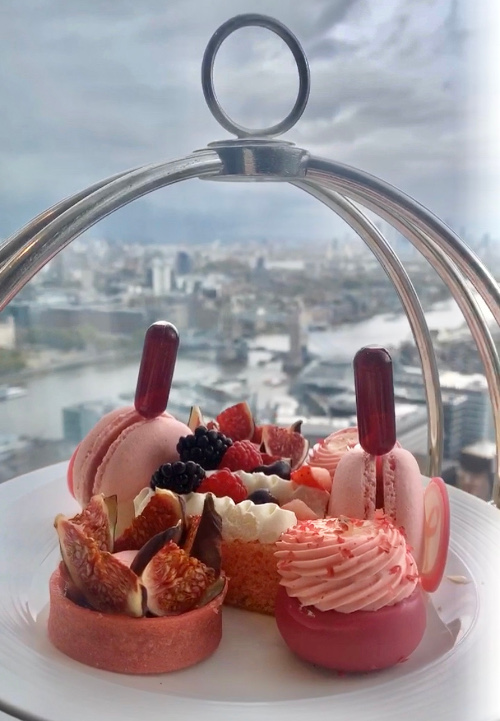 The pastries were designed by four remarkable women, Gina, Maggie, Mandy and Michele, who received breast cancer treatment at Guy's Cancer Centre, located just a stones throw-away from the hotel in London Bridge. The group designed and named the pastries, which were mouth-wateringly intricate.
I started with 'Mandy's Mantra Macaroon' which displayed the signature pink ribbon we all know as the charities emblem. Next came 'Flo's Fig and Hazelnut Tart,' which was named by Gina as an ode to her daughter, who has always been her rock. This was followed by, Syd's Smashing Sponge,' designed by Maggie, and named after her cat! Adorned with fruit, it was a classic Victoria sponge, encapsulating the pretty pink aesthetic perfectly. And lastly, 'Michelle's Can-do Cremeux,' a nod towards positivity and resilience, whilst completely satisfying my sweet tooth.
Each treat was perfectly executed and made all the more special that there was a meaning and story attached to each one.
In our afternoon of dining we were served tea in intricate pots, and while I was a huge fan of the English breakfast (my go-to classic that never goes out of style!) I managed to steal a few sips of my friend's chamomile, which was also absolutely delicious.
The ambience of Ting Lounge and Restaurant at AquaShard is enough to make you feel you are in the privacy of a member's club, with tables spread out and lots of leg room, whilst still being entirely friendly and approachable. My friend and I easily whiled away two hours, taking in the mesmerizing view and catching up, while the selection of food is so picture-picture that you will not be able to resist capturing delicious moments throughout.
Tea, cake and a dash of champagne is the perfect addition to enjoy any afternoon. Even better when it is done so with a charity focus for a very worthy cause.
More posts from Annette Kellow