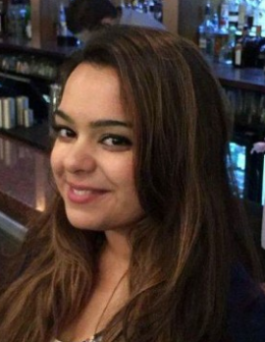 Mehreen A
Mehreen A is a luxury food, travel and lifestyle blogger by night, and an engineer by day. Read more at her blog, Wrap Your Lips Around This.
Mews of Mayfair is a tucked away gem situated in the heart of Mayfair. We invited food blogger Mehreen A to sample their delicious Afternoon Tea.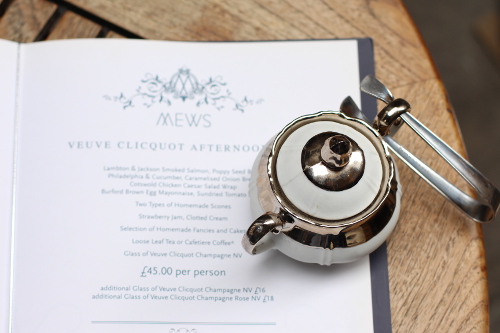 There is little in life that is more delicious that an Afternoon Tea enjoyed in the sunshine of a good English summer's day, as offered at Mews of Mayfair. Served in the traditional three-tiered way on the al fresco courtyard, the quintessentially British tradition of Afternoon Tea is executed with aplomb on the historic cobbled mews.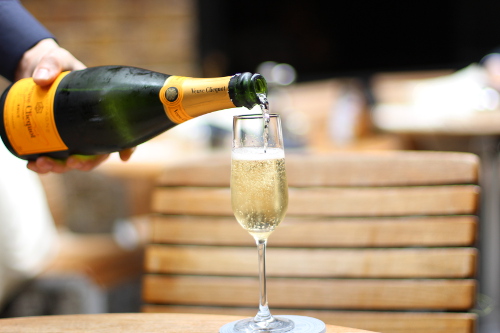 Located not far from New Bond Street, Mews of Mayfair provides a haven of tranquility away from the hubbub of the West End and a place to recharge and refuel. The converted mews house which serves as the restaurant dates back to the 18th century, with links to the tailors of Savile Row. Indulge in anything from a snack to a beautifully crafted cocktail in the elegant bar, detailed with rustic leather sofas, Queen Anne chairs and a striking 18th century chandelier. Dabble in a few premium spirits along with a choice of dishes in the main dining room, buoyant with antique maps and original beams, or check out the glamorous basement lounge for after-dinner drinks with a DJ deck and grand piano.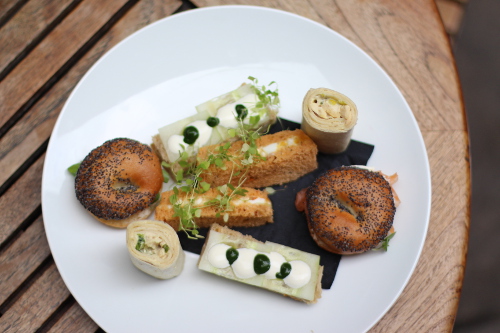 Whilst the main menu speaks of fine food and vintage champagnes, Afternoon Tea is all about luxe simplicity, served in the ground-floor bar of Mews of Mayfair, the adjoining Art Gallery and also in the adjacent cocktail bar Cartizze. Created by executive chef Michael Lecouteur, the tea includes seed-studded bagels with Lambton & Jackson smoked salmon, sandwiches of cream cheese with cucumber, caramelized onion bread chicken Caesar salad and a wrap of Burford Brown egg mayonnaise. We particularly like the variation when it comes to the breads, and the sundried tomato bread is far and away a favourite.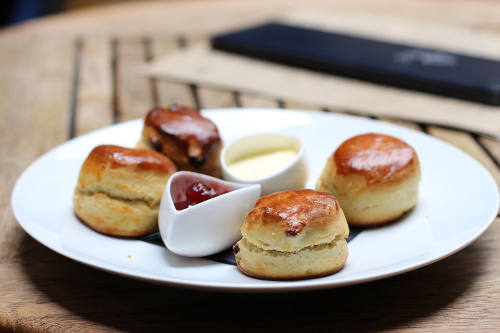 Once the finger sandwiches have been polished off (with the option of refills), then come the scones. Mews of Mayfair scones are creamy delights with egg-sheened tops, and both the plain ones and the fruity varieties are pleasing. Slather these with generous swathes of clotted cream and jam, as fiercely red as a cut ruby. Chomping down on these nub-like emblems of quintessential Britishness will somehow never get old, and although refills are also available I'd recommend saving a little room for dessert.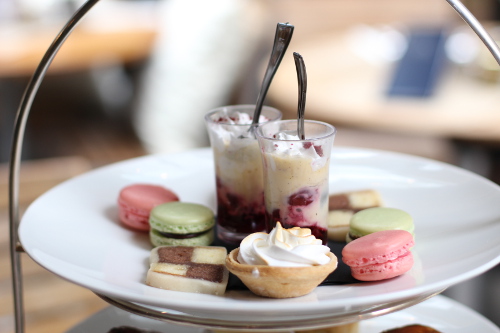 The last, gorgeous tier of this afternoon tea contains a few very good homespun pastries with cream and a little cup of berry-packed trifle. Throughout the afternoon tea you can also pick from a concise menu of loose leaf teas which include Rare Earl Grey from the Satemwa Estate, Second Flush Muscatel Darjeeling from the Makaibari Estate, and Silver Tip Jasmine from the Fujian Province of China, or a tisane of Colombian whole leaf fresh mint and Egyptian whole Chamomile flowers from the Nile Valley.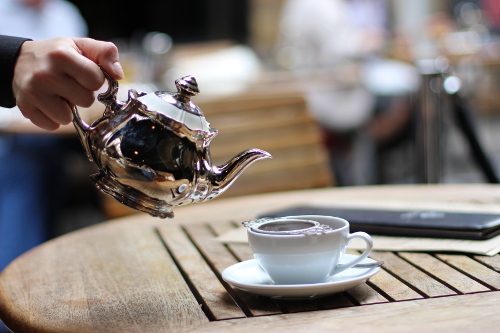 My favourite of them all, and the one I'd urge you to sample, is the glorious Lost Malawi English Breakfast from thee Satemwa Estate in the Shire Highlands of Malawi. This hand-crafted black tea has a wealth of sparkling flavour which engages the deepest senses. Wade through the deep notes of burnt sugar on a back drop of savoury tea, and perhaps add a splash of whole milk to turn the flavour profile from caramely to chocolatey. Yum.

On the list to try next is the Sri Lankan Lemongrass tea from the Amba Estate, situated on the remote mountain tea gardens above Ravanna Falls in Sri Lanka. This cup is described as being full of the lighter notes of cut hay and lemon drops, which I imagine would cut through the richness of clotted cream and baked goodies superbly well. As well as this delightful number is a rich Rooibos harvested completely wild in its indigenous habitat in the Cederberg Mountains of South Africa , which I can imagine only deepen it's natural tones of earthen red berries and cedar. For those with a rooibos at home, try enhancing your next cup with a slurp of maple syrup and squeeze of fresh lemon zest.

Mews of Mayfair is the perfect little spot to indulge in a little decadence, and the afternoon tea is fabulous. A champagne afternoon tea is available for the price of £45 pp and includes a flute of Veuve Clicquot, or you could stretch to a whole bottle of Veuve Clicquot with afternoon tea for £135 for two people. If you're really out to celebrate then try the afternoon tea with a full bottle of Dom Perignon 2004 for the rather princely sum of £315 for 2 people. Whichever way you'd like to do it, there's an option for everyone!
More posts from Mehreen A