Quirky London
Sisters Davina & Ginnie run 'Quirky London', a new site for anyone who wants to broaden their horizons and experience something totally different in the big city. They believe that London is the epicentre of truly British eccentricity and it is their aim to unearth its secrets and share them with like minded folk! Find then online at quirkylondon.net
Mad Hatter's Tea at The Sanderson Hotel is one of London's most popular and unusual Afternoon Tea experiences. We sent Davina & Ginnie from Quirky London along to see what all the fuss is about.
For an Afternoon Tea with a difference head to Sanderson Hotel, just off Oxford Street for their signature Mad Hatter's Afternoon Tea which, you will not be surprised to learn, is a tribute to the the much loved and very surreal scene in Lewis Carol's Alice in Wonderland.

Sanderson Hotel is the perfect setting for this particularly zany tea as the hotel itself is elegant and stylish with a modern and quirky edge. The outdoor courtyard is the perfect place to embark on your culinary adventure, it's a relaxing space filled with flowering trees, fountains and mosaics with a full over-head cover and heaters provided during Winter.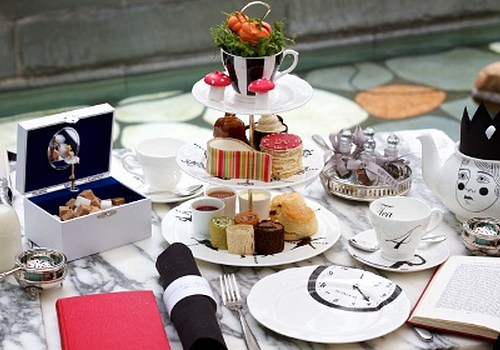 From the moment you are seated the fun begins as you are handed a menu concealed within a vintage book. The napkins are rolled in different riddles, the various teas displayed in miniature glass bottles and the sugar is served in a musical box complete with a spinning ballerina.

With colourful sandwiches, delectable novelty cakes such as the tick tock victoria sponge clock and the colourful melting mango cheesecake and the Jelly Wonderland (a selection of delicately fragranced fruit jellies) you certainly won't leave feeling hungry. An original and eccentric alternative to the standard and rather predictable Afternoon Tea.
More posts from Quirky London