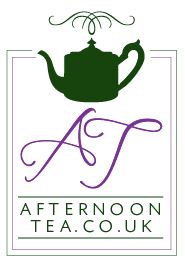 The AfternoonTea.co.uk Team
Here at Afternoon Tea Towers the team are always on the look out for Afternoon Tea related news, reviews, seasonal menus, special events and competitions.
You can get in touch with us via Twitter, Facebook and Google+ or email us at team@afternoontea.co.uk if you have anything you would like to share or contribute.
---
The AfternoonTea.co.uk team were invited to experience Afternoon Tea with a Parisian touch at The Rose Lounge, housed within Sofitel London St James.
The AfternoonTea.co.uk team were invited to experience Afternoon Tea with a Parisian touch at The Rose Lounge, housed within Sofitel London St James.
Located in the heart of London's West End, we took a short stroll from Piccadilly Circus Station through this exclusive London neighbourhood to our destination at Waterloo Place. A lovingly restored Grade II-listed building with a neoclassical facade which eludes to the grandeur of the hotel within. Stepping out of the hotel's bustling lobby we entered The Rose Lounge, with its lowered ceilings and contrasting décor creating a distinct, intimate area for Afternoon Tea service.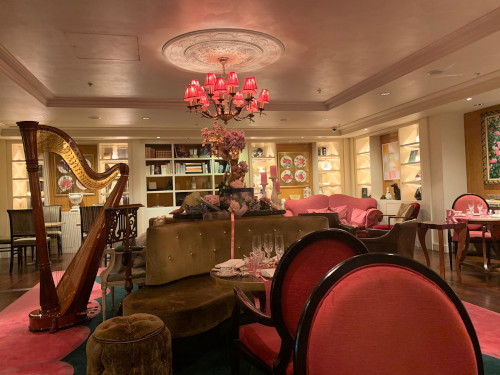 Seated in soft velvet armchairs, we took a moment to admire this truly elegant space, beholding plenty for the eye to explore. The walls and furnishings of the lounge are adorned with an array of unique objects in a colour palette of deep pinks and cream. A grand harp sits in the centre of the room which is played during Afternoon Tea service Wednesday to Sunday. As its name would suggest, this quaint lounge is brought to life with vases of fresh roses and delicately painted flowers throughout, a true delight for the senses.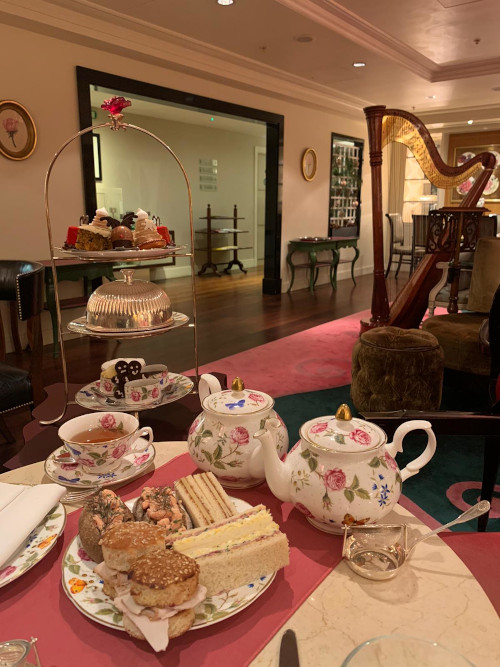 Having taken in our surroundings, our server expertly guided us through the extensive selection of teas on offer, sourced by independent tea company Camellia's Tea House. After some deliberation, we thought it only right to opt for The Rose Lounge Signature Tea, for the complete Rose Lounge experience. This specially created black tea blend, balances sweet floral notes with a subtle hint of spice, a fusion perfectly befitting the feminine elegance of our surroundings. Their selection of 12 infusions includes a full bodied and tangy Assam Bargang and a light and mellow Jasmine Silver Needles white tea, all served from elegant floral china.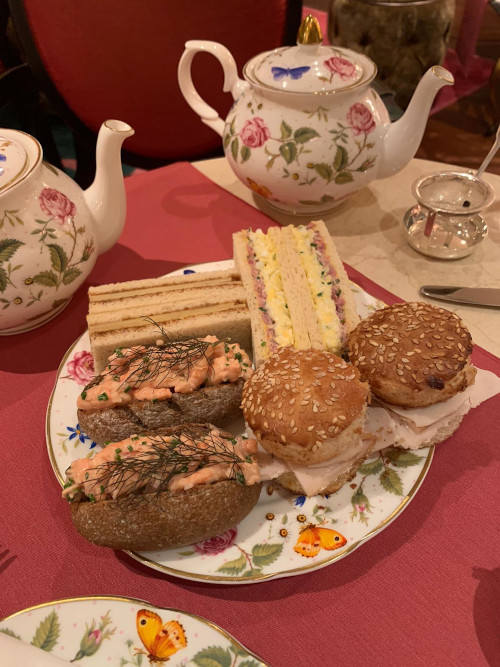 We visited the Rose Lounge during the Christmas period so we were able to sample their Afternoon Tea menu with a festive twist. A selection of four delicate finger sandwiches were presented to us, the first to be sampled were traditionally hand cut on soft white bloomer and filled with classic Isle of Mull Cheddar cheese and pickle and ham hock terrine and egg. These were followed by smoked turkey with cranberries on miniature toasted brioche and our favourite of the quartet, a flavourful Scottish prawn cocktail infused with Scotch and garnished with fennel on a whole meal roll.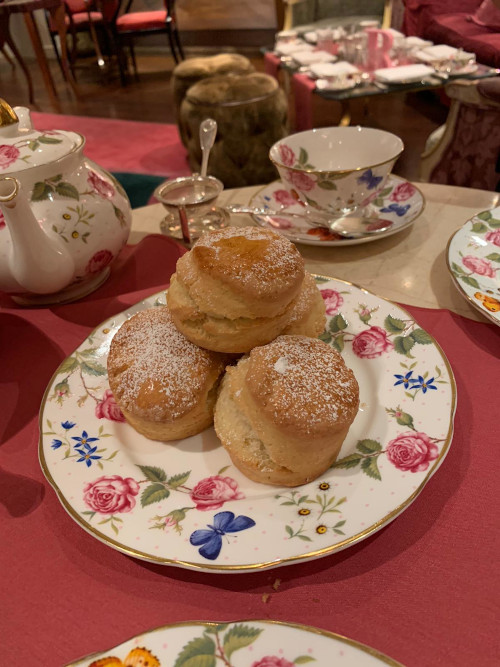 Traditional plain scones were served under a silver cloche to preserve warmth, accompanied by Devonshire clotted cream and fruit jam. Fluffy in texture and warm to the touch, these golden, buttery scones were my highlight of the afternoon. We devoured all four, slathered in copious amounts of cream and jam!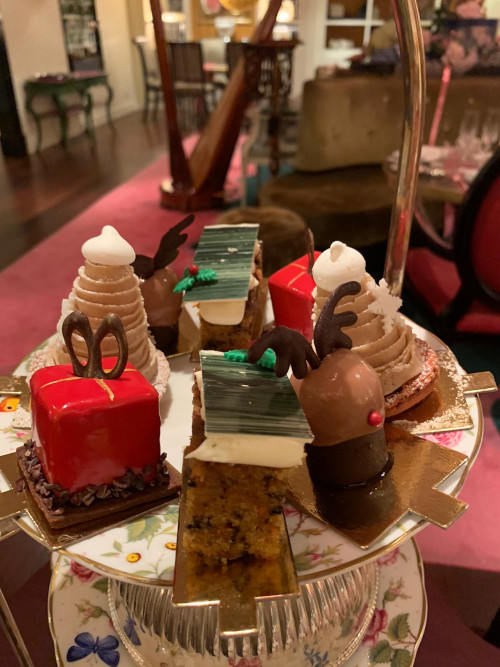 You may be curious by now as to where the aforementioned 'Parisian touch' is incorporated into the Rose Lounge's seemingly traditional Afternoon Tea. Aside from the French glamour running throughout Sofitel London St James itself, the final plate of delicate French patisseries is what sets this Afternoon Tea apart. Beautifully presented with individual attention to detail, the first sweet delicacy we sampled was the Vanilla Mousse Entremet, filled with a tangy cherry compote and chocolate cake, a combination of deliciously sweet complimenting flavours. This was swiftly followed by the expertly crafted Caramelia mousse and apple jelly tartlet providing a delicious contrast from the Entrement. Other sweets included a perfectly moist carrot cake with vanilla mascarpone cream and my personal favourite, a sweetened chestnut purée Mont Blanc with a macaron base. With obvious consideration given to flavour combinations, the sweet plate perfectly rounded off our deliciously decadent afternoon at The Rose Lounge.
A final mention should be given to the impeccable service of our friendly and attentive servers. From our warm welcome to their expansive knowledge of the tea selection and sweet and savoury plates, we were thoroughly impressed from arrival to finish.
Afternoon Tea at The Rose Lounge Sofitel London St James is priced at £39 per person or £45 per person with a glass of Champagne
More posts from The AfternoonTea.co.uk Team