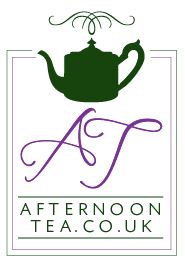 The AfternoonTea.co.uk Team
Here at Afternoon Tea Towers the team are always on the look out for Afternoon Tea related news, reviews, seasonal menus, special events and competitions.
You can get in touch with us via Twitter, Facebook and Google+ or email us at team@afternoontea.co.uk if you have anything you would like to share or contribute.
---
The AfternoonTea.co.uk team had the pleasure of being invited to try the newly launched Afternoon Tea 'Scentsation' at Botanica, housed inside the impressive 100 Queen's Gate Hotel.
In partnership with the iconic perfumery, Floris London, the stunning 100 Queen's Gate Hotel have launched an immersive, scent-led Afternoon Tea, celebrating a marriage of taste and scent. Their menu takes inspiration from two of Floris London's signature scents, 'Cherry Blossom Eau de Parfum' and 'Limes de Toilette', and we were lucky enough to be invited to try it!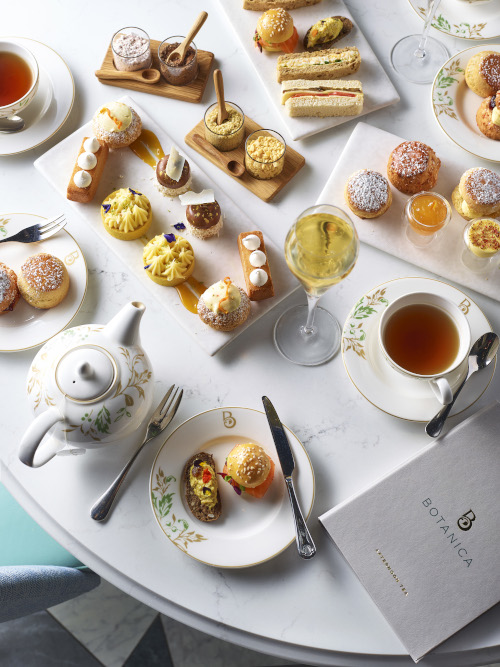 Now a luxury hotel sitting elegantly in South Kensington, 100 Queen's Gate was previously the home of Victorian Aristocrat, William Alexander. One step through the doors had us swooning at the hotel's magnificent interior, which still glistens with an air of royal grandeur.
After an exceptionally warm and friendly welcome, we were led into the Botanica tearoom, where Afternoon Tea was to be served. As the name may suggest, Botanica is a bright and airy atrium, draped with lavish greenery and appropriately decorated with limes and cherry blossoms. Set against a backdrop of delightful white shutters and pastel seating, this botanical paradise boasts a quintessential English charm - a fitting environment for the occasion!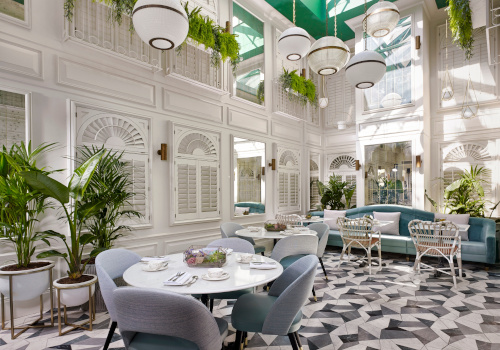 After settling into our seats and soaking up the delightful surroundings, we were presented with a tempting array of delicate savouries, stunning patisseries and freshly baked scones, all sitting atop a striking three-tiered stand.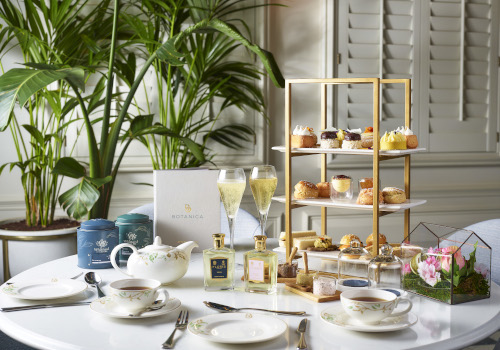 We began with the savouries - a delicious selection of dainty sandwiches with a variety of mouth-watering fillings, including a rich smoked salmon with cream cheese and a mature English cheddar with heritage tomato. It wouldn't be Afternoon Tea without warm, golden scones, and the mini scones at 100 Queen's Gate were filled with Bargamot and cherry, and served alongside clotted cream, sweet cherry jam and a delightfully zingy ginger and orange marmalade.
Now for the highlight of the Afternoon Tea experience - four mouth-watering sweets, all of which incorporated flavours inspired by the Floris fragrances. Our personal favourites were the tangy chocolate and kaffir lime domes and the madeleines, which were so light and fluffy we could have eaten them forever!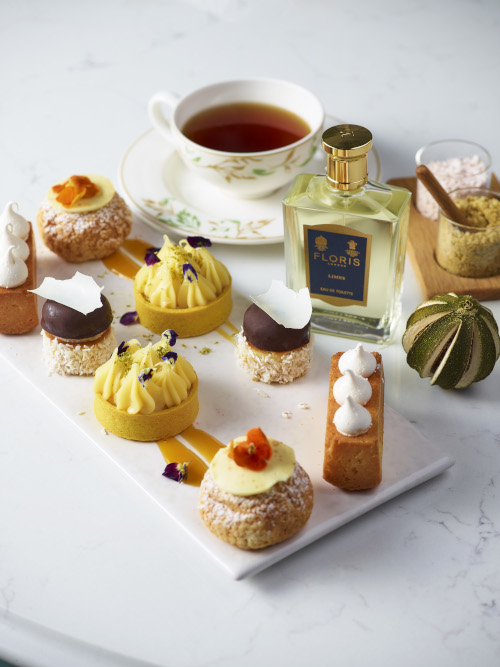 In addition to the sweets and savouries, we were lucky enough to sample two delicious loose-leaf teas, both carefully selected by Whittard of Chelsea to compliment the fragrances that inspired the menu. The first tea, Sakura, was bursting with cherry flavours and was perfectly balanced by the spiciness of the scones. The second tea, served alongside the sweet selection, was Keemun - a delicate tea that left behind subtle notes of citrus.
Something that made this Afternoon Tea just that extra bit special, however, was the choice of toppings that accompanied the sweet plate. Our server kindly presented us with four bowls, filled with four different toppings, each of which could be used with one another to customise the guests' personal tastes. We were encouraged to experiment with different flavours to find the perfect one for us. Though we each had our individual preferences, we urge you to try this gorgeous Afternoon Tea at 100 Queen's Gate Hotel to find your ideal flavour combination!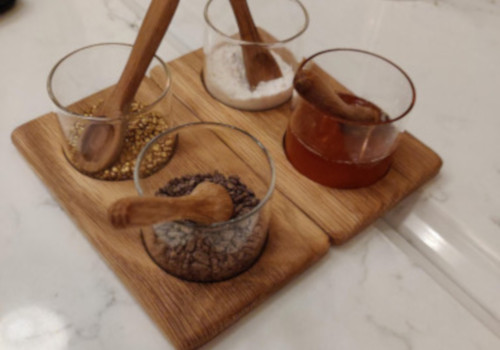 The Afternoon Tea Scentsation at 100 Queen's Gate Hotel Londo is available now, priced at £42.50 per person. Guests who are feeling that extra bit decadent can upgrade to a Champagne Afternoon Tea with a glass of Moët and Chandon for £55 per person.
More posts from The AfternoonTea.co.uk Team