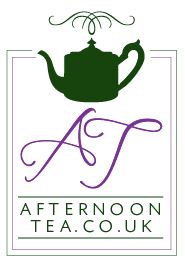 The AfternoonTea.co.uk Team
Here at Afternoon Tea Towers the team are always on the look out for Afternoon Tea related news, reviews, seasonal menus, special events and competitions.
You can get in touch with us via Twitter, Facebook and Google+ or email us at team@afternoontea.co.uk if you have anything you would like to share or contribute.
---
It's nearly time for Wimbledon, which means that some of our venues have put on specially themed Afternoon Teas. We've rounded up a few of our favourites from London and the rest of the UK.
1. The Dorchester Hotel - Mayfair London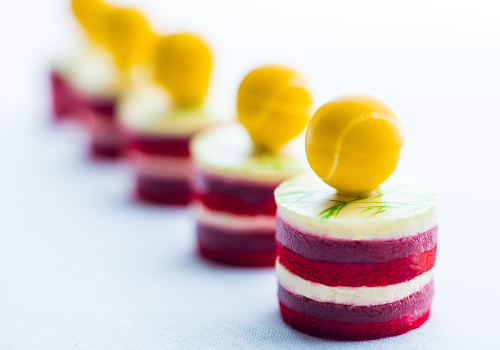 Celebrate Wimbledon in style at one of London's most illustrious hotels - The Dorchester. A special Afternoon Tea menu has been crafted, featuring an array of delicious tennis themed delicacies. Compliment the Afternoon Tea with a glass of Veuve Clicquot Champagne, Pimms Royale, or traditional Pimms. Non alcoholic options are well covered as you can opt for a 'Strawberry & Apple Smash' with Seedlip Garden 108, Granny Smith apple juice, strawberry purée with a dash of elderflower cordial and lemon juice. Find out more
Park Lane, London, W1K 1QA
2. Amba Hotel Marble Arch - Oxford Street London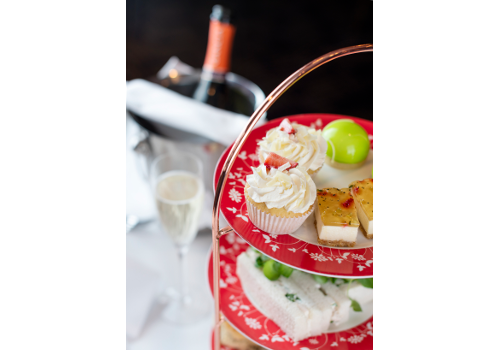 In celebration of Wimbledon, Amba Marble Arch is offering 20% off their Afternoon Tea. Enjoy a range of delicious treats for just £23.20 per person, usual price £29 per person. Only available for a limited time, so hurry! Delight in treats such as a pistachio and chocolate opera gateaux, and a Pimms dome! Just a stones throw from Oxford Street, Amba is the perfect spot for some respite from a busy day of sightseeing and shopping. Find out more
Bryanston Street, London, W1H 7EH
3. Hyatt Regency Birmingham Aria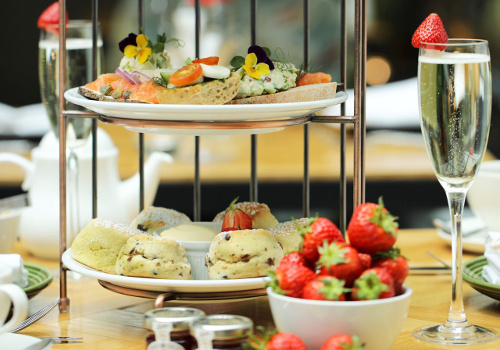 Celebrate Wimbledon at Hyatt Regency Birmingham, situated in the centre of the city. All of the usual delicious trappings of Afternoon Tea are included, as well as delicious strawberry themed treats. A highlight of this Afternoon Tea is that you have a choice of any sandwich plate! If you're feeling extra indulgent, why not upgrade with a glass of Champagne. Find out more here
Bridge Street, Birmingham, B1 2JZ
4. Amberly Castle - West Sussex
If you find yourself in West Sussex, you can enjoy a delicious Wimbledon themed Afternoon Tea in a castle surrounded by rolling countryside. The perfect place to have a stroll either before or after your tea. A truly special experience. Find out more
Amberley Castle, Nr. Arundel, West Sussex, BN18 9LT
5. The Grand Hotel Eastbourne - East Sussex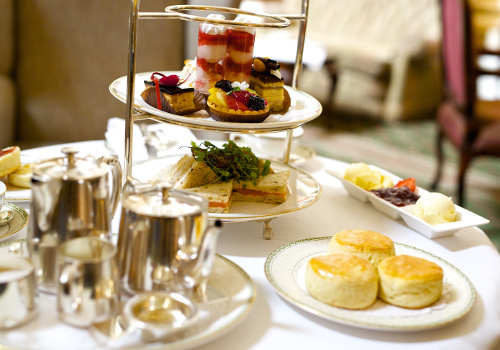 The food celebrates the flavours of a quintessentially British summer, starting with delicate finger sandwiches - fillings include rare roast beef, traditional cucumber and Sussex oak-smoked salmon - followed by freshly baked scones, a warm scotch quail egg and mouth-watering desserts such as strawberries & cream tartlet and a pistachio macaroon. Upgrade the experience with a specially themed cocktail such as the 'Andy Murray-to', which comes with Pimms, Champagne, crushed ice and a summer garnish or 'Na-dalwhinnie Sour', a whisky concoction with sugar and fresh lemon. Find out more
King Edwards Parade, Eastbourne, East Sussex, BN21 4EQ
6. The Petersham Hotel - West London
The Petersham Hotel have put on a special Wimbledon menu featuring great seasonal British ingredients. Enjoy whilst soaking up beautiful views of the River Thames in stylish surroundings. Find out more
Nightingale Lane, Richmond, TW10 6UZ
7. Haymarket Hotel - St James London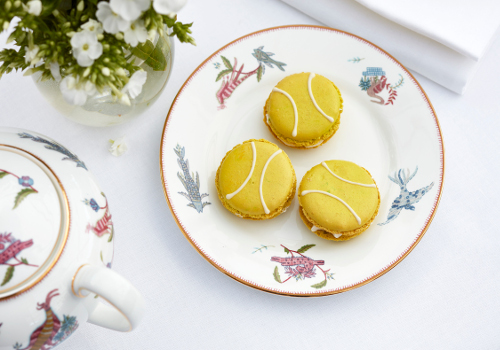 Join The Haymarket Hotel from 1st - 14th of July for a very stylish Wimbledon experience in the the heart of London's theatre district. Delight in a range of delicious treats including banana and chocolate 'tennis ball' macaron (pictured above). Find out more
1 Suffolk Place, London, SW1Y 4HX
8. Brown's Hotel - Mayfair London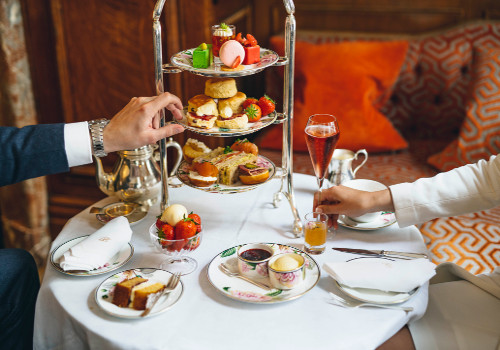 The English Tea Room at Brown's Hotel is a quintessentially British experience as one of the most established tearooms in London, so it is an excellent place to celebrate Wimbledon. Enjoy a specially crafted menu whilst listening to the relaxing sounds from the Baby Grand Piano. Find out more
Albemarle Street, Mayfair, London, W1S 4BP
9. The Grosvenor - Victoria London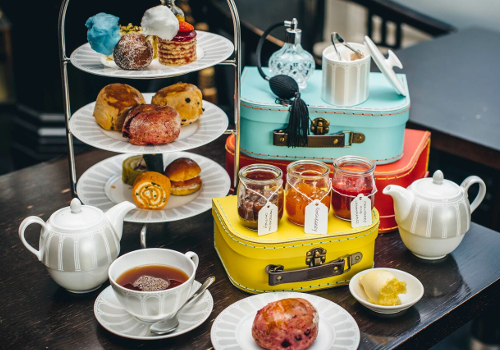 Celebrate Wimbledon with another great British tradition - Afternoon Tea. As a nod to the famous tennis tournament, The Grosvenor have included strawberry treats and Pimm's lemonade in this menu running 1st - 15th July. Find out more
101 Buckingham Palace Road, London, , SW1W 0SJ
10. Mirror Room at Rosewood - Covent Garden London
In celebration of Wimbledon, the Mirror Room at Rosewood have put an inventive spin on their award-winning Art Afternoon Tea. Enjoy with a complimentary glass of Champagne with this offer available 6th, 7th, 13th and 14th July. Find out more
252 High Holborn Street, London, WC1V 7EN
More posts from The AfternoonTea.co.uk Team