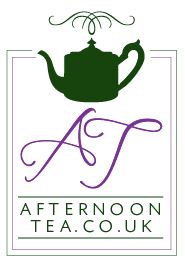 The AfternoonTea.co.uk Team
Here at Afternoon Tea Towers the team are always on the look out for Afternoon Tea related news, reviews, seasonal menus, special events and competitions.
You can get in touch with us via Twitter, Facebook and Google+ or email us at team@afternoontea.co.uk if you have anything you would like to share or contribute.
---
In celebration of spring, Conrad London St James have launched a new seasonal Afternoon Tea menu. We thought it was an ideal time to chat to Diana Sedlakova, the talented pastry chef at Conrad London St James to tell us all about the new menu.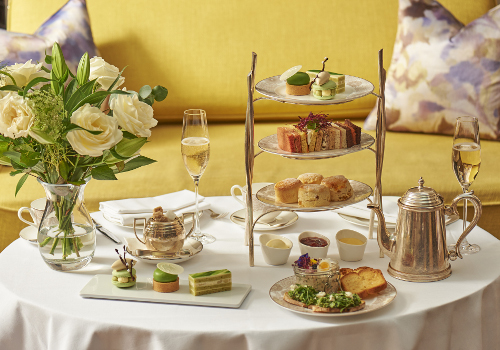 So, Mother's Day and Easter are now over and one of the busiest periods of the Afternoon Tea calendar has ended.
In celebration of these special occasions, venues across the country constructed exquisite themed menus to commemorate the day.
A venue who embraced this concept with open arms was the Conrad London St James. Located in an exclusive area of the capital, this illustrious venue incorporated special pastries for each occasion including a berriolette tartlet with their Mother's Day menu and a passion fruit and apricot nest for their Easter menu.
However, the world of Afternoon Tea never stops, something the Conrad London St James recognise as they have already launched their special spring Afternoon Tea menu in tribute to the season of rebirth. Designed in a wonderfully fresh green and yellow colour palette, this delicious new menu features delightfully vibrant items to deliver a zingy kick such as an apple and pistachio opera cake.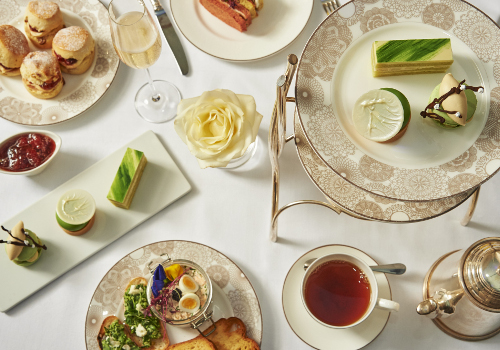 Fortunately for us, Diana Sedlakova was kind enough to answer our questions and give us an insight into how they navigated their way through the last couple of months, as well as talk about the latest edition to their Afternoon Tea canon.
Could you explain a bit more about how you incorporate the changing seasons in to the construction of the Afternoon Tea menu?
Seasonality is very important to us as we can prepare ingredients when they are at their best. We always try to incorporate the main colours and freshest ingredients of the seasons to reach the best result with the final Afternoon Tea menu.
For each special occasion, you designed a special pastry for the menu. Could you give us an insight into the thought process behind how each pastry was selected?
For the Mother's Day special I came up with a flower inspired tart that looked simple but elegant and tastes delicious. Whenever we are designing we are thinking about taste, texture and look. You can't have one without the other.
For the Easter special, we wanted to create Easter pastries that are a bit more contemporary than our traditional cakes. We tied it in with the other chocolate showpiece that was displayed in our lobby.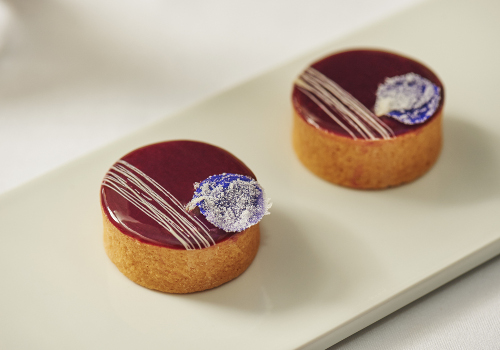 The Mother's Day pastry at Conrad London St James that was elegant to match the beauty of mum!
Do you have to take in to account the history of the venue and the space the Afternoon Tea is served in when you are creating the Afternoon Tea menu?
You should certainly do that so you can keep the identity of the venue when designing the Afternoon Tea menu. Our afternoon tea experience is not just the food it should be everything together, service, atmosphere, comfortable seats, music…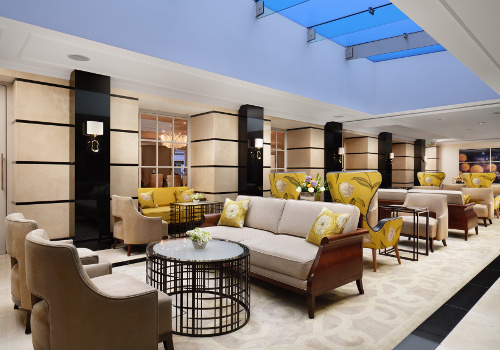 Emmeline's Lounge, where Afternoon Tea is served at Conrad London St James.
Where and how were you trained as a pastry chef?
I started my career in a small Italian restaurant in Belgravia area learning from the Head Chef and from covering Pastry Chef on her days off. After a couple months, I moved to Renaissance hotel in Chancery Lane. This is where I spent most of my career. I learnt a lot from the Executive Pastry Chef, Mark Perkins. He took me under his wings and taught me everything I know. I couldn't be more grateful as he is one of the best chefs you can learn from.
Who do you regard as your main culinary influences and how have they influenced you?
My whole family has worked in the hotel industry so I decided to follow their path. This has allowed me to work with some very good chefs but as I already mentioned, Executive Pastry Chef Mark Perkins has been my biggest inspiration.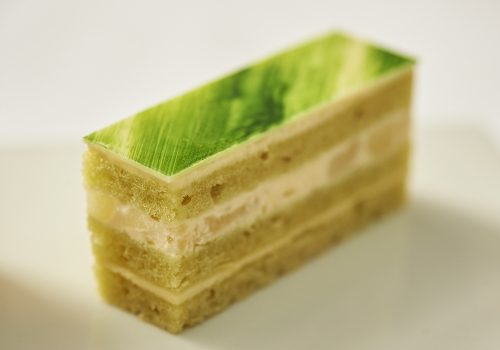 What do you consider to be your greatest achievement as a pastry chef?
To become a head pastry chef and winning the gold medal in Hotelympia's sugar piece category.
What would you consider to be your signature pastry?
I don't have one at the moment. I still have a lot to learn, and hopefully I will find the one.
Do you have any tips on how to create the perfect scone?
Rest them after cutting, double egg wash and never rush it.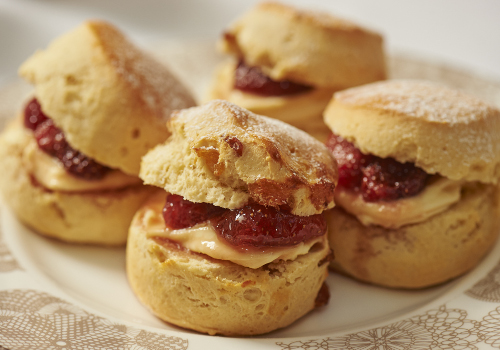 There is an age-old debate of whether to put jam or clotted cream on the scone first, what are your thoughts on this?
Jam first and clotted cream on top. It's just personal preference.
Why do you feel that Afternoon Tea proves to be such a timeless tradition?
I think a lot of people see it as a treat, a luxury experience to treat your family and friends on their birthdays, wedding anniversaries, baby showers or any special occasions.
The spring Afternoon Tea menu at Conrad London St James is available until 3rd June and is priced from £35 per person.
Guests feeling in a decadent mood can take advantage of their Champagne Afternoon Tea offer of Afternoon Tea for two with a bottle of Champagne from £45 per person.
More posts from The AfternoonTea.co.uk Team