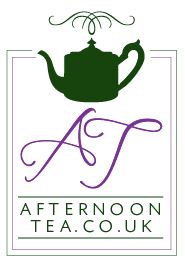 The AfternoonTea.co.uk Team
Here at Afternoon Tea Towers the team are always on the look out for Afternoon Tea related news, reviews, seasonal menus, special events and competitions.
You can get in touch with us via Twitter, Facebook and Google+ or email us at team@afternoontea.co.uk if you have anything you would like to share or contribute.
---
All of our chocolate dreams came true when we visited St Martin's Lane Hotel in London for their special Afternoon Tea made in partnership with Hotel Chocolat.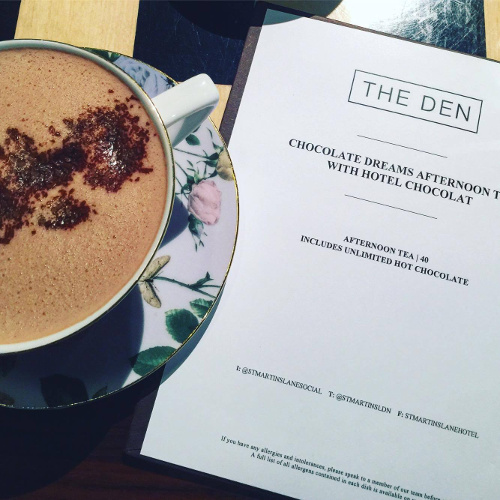 To give a little context: I might be one of the biggest fans of chocolate there could possibly be. Seriously. The sweeter and more decadent the dessert or chocolate treat is, the better in my opinion. So when I noticed that St Martin's Lane Hotel was launching a special Afternoon Tea in partnership withHotel Chocolat, I considered it my duty to check it out. If copious amounts of rich, creamy cocoa are involved then so am I, quite frankly.
I couldn't think of a more apt time to go and indulge in plenty of chocolatey goodness than on a rainy Sunday afternoon, so last week that is exactly where my friend and I headed.
Greeted with warm smiles from the staff at The Den, (St Martin's Lane's adjoining tea parlour) we made ourselves comfortable in the cosy surroundings and immediately ordered a luxurious salted caramel hot chocolate to kick our taste buds into gear. I mean, if you're going to attend a self proclaimed 'Chocolate Dreams Afternoon Tea' then you might as well go big or not bother, right?
For someone who prefers my hot drinks to be on the more sickly sweet side, the salted caramel option was ideal for me. However, if you are more of a fan of the darker, richer or slightly bitter cocoa flavour, you would love the classic hot chocolate on the menu.
Next up: the food.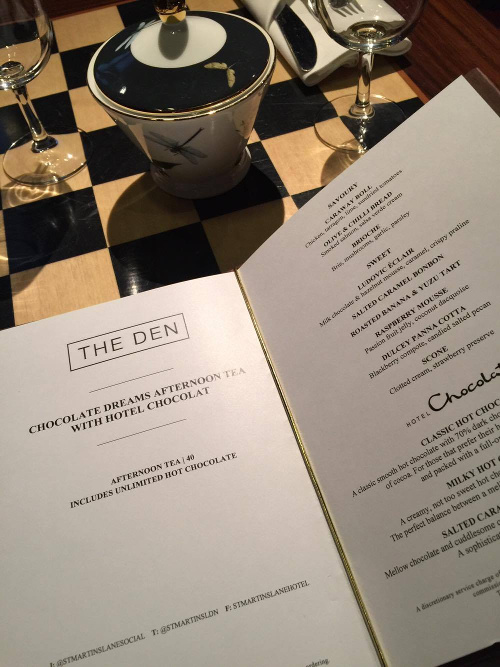 My friend and I had been eagerly waiting for this meal (can we call it a meal?!) all day and at this point had already read the menu so thoroughly, we knew every single ingredient we were about to sample. But that didn't stop our lovely waitress from also talking us through every item on the menu one last time, as she brought out the beautiful display of sweet and savoury goodies.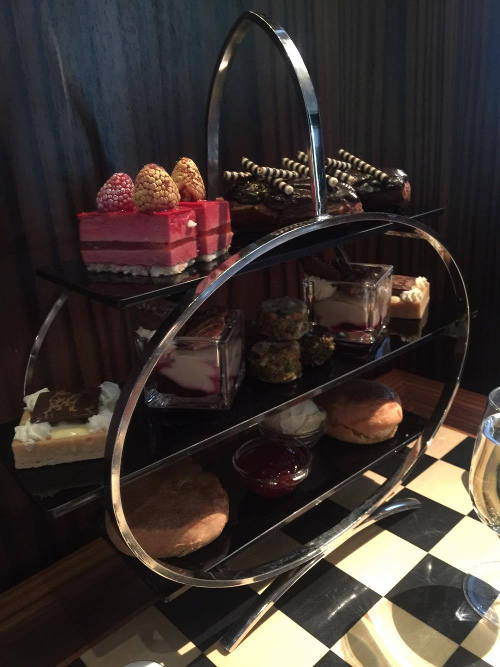 Once we had officially been introduced to our Afternoon Tea, it was time to dig in and quite honestly, I didn't know where to start. I knew I had to begin with the savoury items in a bid to save the best (aka ALL of the chocolate) until last, so I went straight for the Chicken and Tarragon Caraway roll, followed by a yummy mushroom, brie and garlic Brioche, which was similar to a cheese quiche.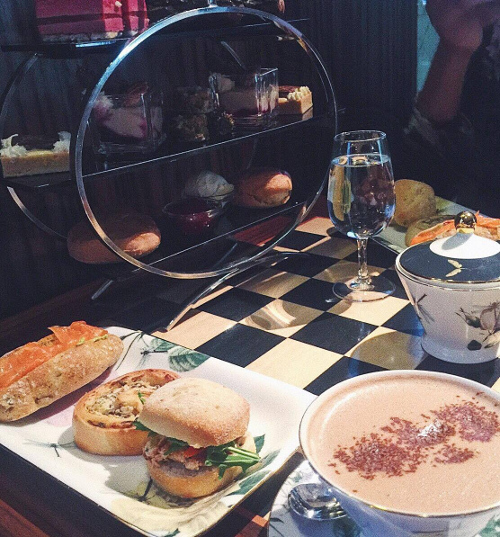 Like a child on Christmas morning who can't wait to open their presents, I then couldn't restrain myself any longer and dove straight into the myriad of little sweet treats on display, starting with a salted caramel bonbon - to go with the salted caramel hot chocolate I was still sipping on, of course. Some might think this is too much caramel, but I can assure you it isn't. In fact, the Salted Caramel Bonbons became my favourite item on the menu, as I slowly worked through the rest. But that's not to say the other mini desserts weren't still fabulous...
Taking our time, ordering a second hot chocolate (oh did I mention the hot chocolate is unlimited?!!!) and getting even more comfy in the dimly lit, intimate atmosphere of The Den, my friend and I nibbled on a unique Roasted Banana and Yuzu Tart and savoured a deliciously creamy Dulcey Panna Cotta, complete with blackberry compote, a candied pecan and a cute chocolate butterfly. I could have eaten ten more of these amazing little panna cotta pots.
We then refreshed our palettes with a Raspberry Mousse featuring a tangy passionfruit jelly and made our way on to the most impressive éclair I've tasted, which reminded me of a Fererro Rocher. Filled with chocolate and hazelnut mousse and covered in crispy praline, the Ludovic Éclair definitely stood out for us - in fact, my friend couldn't stop talking about it for the rest of the afternoon!
Finally, we rounded off our Afternoon Tea with the original Afternoon Tea staple: the scone. Topped with plenty of clotted cream and jam, we wolfed this down and ordered a coffee to counterbalance all of the chocolate we had eaten and drank. Oh and a glass of Prosecco that our wonderfully attentive waitress offered us also helped to balance out the super sweet treats we'd been devouring all afternoon.
After a couple of hours catching up and filling ourselves with a fantastic array of chocolate creations, we put our coats on and begrudgingly headed back out into the rainy streets of Central London - although the sugar high we were on made the rain a bit more bearable!
Overall, I'd definitely recommend the Chocolate Dream Afternoon Tea for everyone who has a sweet tooth and loves chocolate in any form. The flavours of the food were gorgeous and the staff at St Martin's Lane made the experience even more enjoyable, topping us up with drinks and smiles throughout.
Can I go back now please?!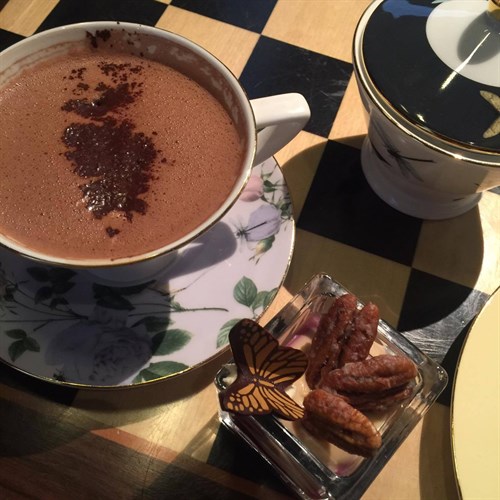 More posts from The AfternoonTea.co.uk Team