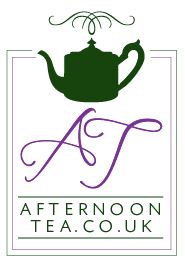 The AfternoonTea.co.uk Team
Here at Afternoon Tea Towers the team are always on the look out for Afternoon Tea related news, reviews, seasonal menus, special events and competitions.
You can get in touch with us via Twitter, Facebook and Google+ or email us at team@afternoontea.co.uk if you have anything you would like to share or contribute.
---
We visited Hilton London Park Line to try the 'Confessions of a Fashionista' Afternoon Tea, which is available between 11th - 19th September... just in time for London Fashion Week!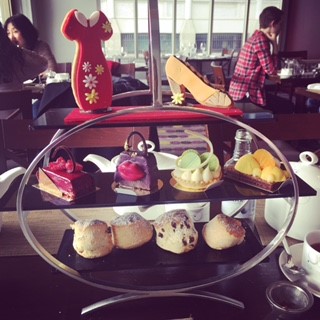 For thousands of years, the concept of Afternoon Tea has shared an intrinsic link to fashion and fashionistas. Of course, the very invention of the great British high tea, dating back to the early 19th Century, existed almost solely for the purpose of rich, ornately robed ladies to invite friends and guests to pass the afternoon within their grand parlours, and of course, the roots span back even further, back to the beautiful geishas of ancient Japan, the style of whom still rings so iconic today.
We thought it really quite fitting, then, that the geniuses down at The Hilton, Park Lane, one of London's most exclusively fashionable post codes, invited us along to enjoy their 'Confessions of a Fashionista' afternoon tea, which at first ran only throughout London Fashion week, but was such a popular request, was extended, and is now back between 11th - 19th September.
The tea salon at The Hilton provides beautiful views of Hyde Park, and we gazed out on an unseasonably warm early Spring day after we were seated and greeted by Jack, our wonderful host for the afternoon, who presented our champagne, and proudly extolled the virtues and qualities of the selection of 18 Twinnings teas, and took our orders for sandwiches. Both of us opted for the veggie and fish versions, the team only too happy to oblige to our diva fashionista dietary requirements and give us double the smoked salmon instead of chicken... we like! The sandwiches also came open, a stylish touch which also allowed the fillings to really sing. To pair with our savouries, we opted for the Rose and Fig tea, the subtle florals offsetting the rich salmon and cheese very well.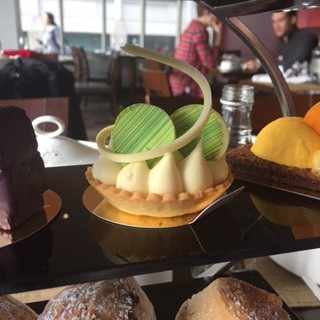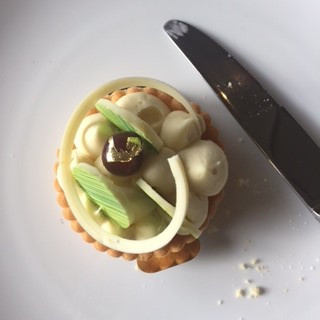 Once these were scoffed, our sweets arrived, presented in an unusually shaped layered stand, complete with it's very edible, white chocolate red carpet, upon which our delicacies were laid.
As every fashionista knows, it's so important to have a wardrobe foundation of classic pieces, and on the founding tier of cakes were indeed, our very own classics, the scones! Not just a mirror of seasons' past, the collection included polka dot print fruit and choc chip varies, the former matched with jam and cream, latter perfectly accessorised by a ruffled praline chocolate spread.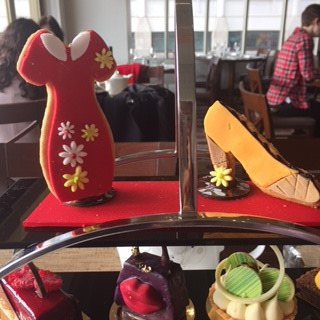 The haute couture stars of the show were next down the catwalk, and wow, were they scene stealers! The key to building a great outfit, as vogue will tell us, is layering stylish separates, and here we had two layers of beautiful treats. The most waiting-list worthy covetable piece was the strawberry and pistachio designer handbag (complete with it's own gold leaf pattern!) and a mint and chocolate tart which we didn't think coud have tasted better- especially when complimented by the woody sweetness of our caramel roiboos tea. We'd have traded our Louboutins for another... but no need, Jack was always politely checking if we wanted seconds of anything. Needless to say, having eaten so much delicious cake, we certainly weren't jealous of those fashion week models having to squeeze into their size 0s!
After the show had finished (cue: standing ovation) and our plates cleared, in fashion show style, we were surprised to be presented with our own goody bag, containing yet more scones to take away! We hadn't even asked for anything 'to go', but we had to admit that Coco Chanel herself would have given them us nod of sartorial approval if she'd seen us toting them by our sides as we left for home. Absolu-'tea' Fabulous, darling!
More posts from The AfternoonTea.co.uk Team