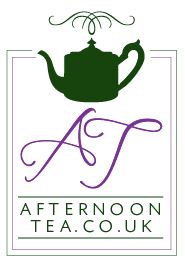 The AfternoonTea.co.uk Team
Here at Afternoon Tea Towers the team are always on the look out for Afternoon Tea related news, reviews, seasonal menus, special events and competitions.
You can get in touch with us via Twitter, Facebook and Google+ or email us at team@afternoontea.co.uk if you have anything you would like to share or contribute.
---
We escaped the cold of Oxford Street to try The Langham Hotel's brand new Christmas season Afternoon Tea with Wedgewood offering.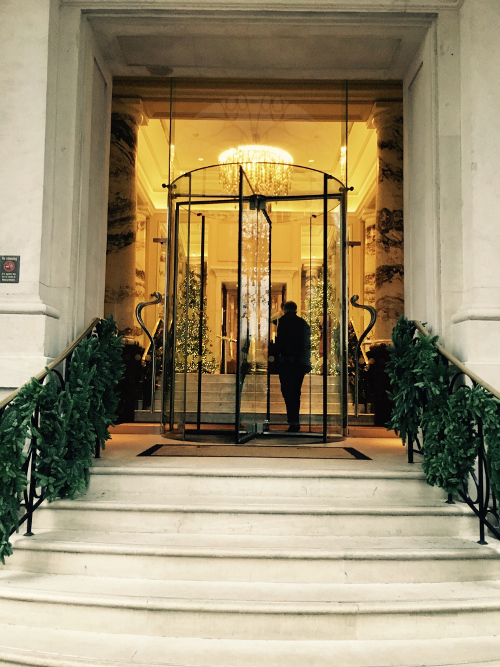 A stone's throw from the shops of Oxford and Regent Street, and just opposite the BBC building, you will find The Langham Hotel, Portland Place. Patronised by a host of famous and infamous people, both real and fictional, it's the perfect place for a break from your Christmas shopping and the opportunity to treat yourself to a delicious festive afternoon tea with more than a touch of luxury.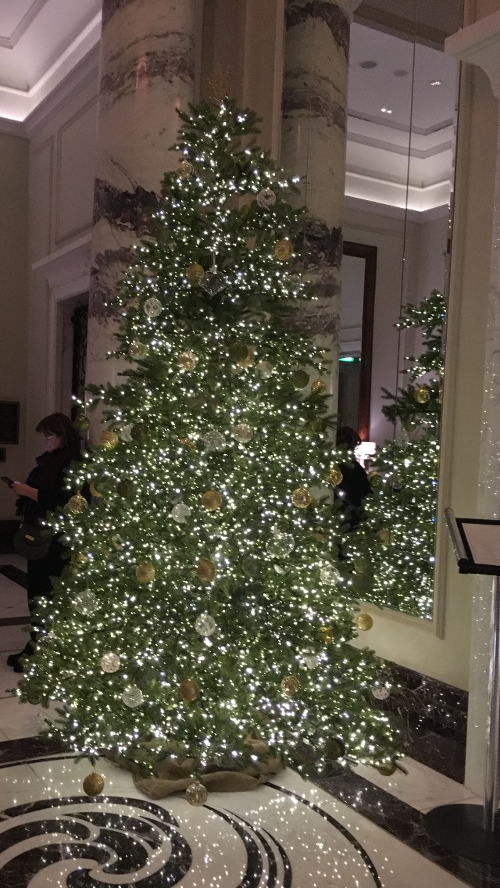 Entering the dazzling marble and glass lobby, shimmering with Christmas tree lights, we were quickly seated in the opulent Palm Court and introduced to The Langham's new afternoon tea menu, Classically Christmas, by our Tea Sommelier Jamie. There is a wide variety of options available and we were literally spoilt for choice which felt wonderfully self-indulgent. After considerable thought, and whilst drinking the warming spiced infusion served to us upon arrival, we chose the Festive Afternoon Tea accompanied by a glass of Perrier-Jouët champagne. We also opted for the tea-pairing experience whereby each element of our food menu came with a selection of teas to choose from, expertly described to us and prepared by Jamie.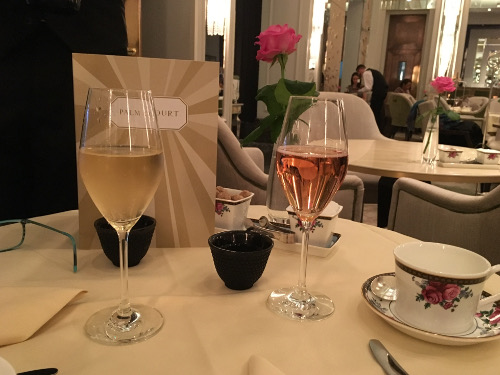 Our plates of finger sandwiches came with generous seasonal fillings. They included smoked turkey with marjoram stuffing on cranberry bread, farmhouse Stilton with red onion and port relish on walnut bread, and duck egg brioche with black truffle mayonnaise. The tea offerings to complement the sandwiches were a Chinese Oolong with floral aromas and a French Lemon Verbena. We sampled both and were immediately impressed: tea-pairing has much to offer!
Dainty classic and raisin scones were fresh from the Palm Court bakery, dusted with icing sugar snow and served with Cornish clotted cream and strawberry preserve. To go with the scones we both chose a single estate English Breakfast tea from the Shire Highlands of Malawi, with satisfyingly rich and malty notes and subtle hints of caramel and burnt sugar. On offer too were an Earl Grey, also from Malawi, and an English Camomile from the Tregothnan Estate in Cornwall.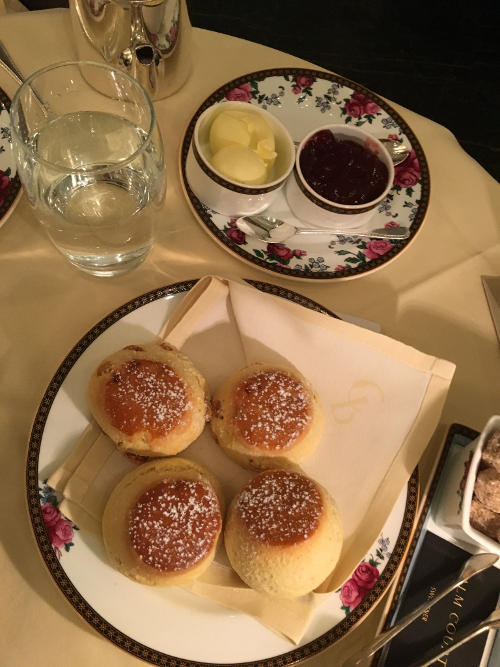 Thepièce de résistanceof the Festive Afternoon Tea is undoubtedly the plate of exquisite pastries designed by the Hotel's pastry chef especially for the Christmas season: Eternally Pistachio (pistachio cream and cranberry jelly on crunchy choux pastry), It's Christmas (a Jivara chocolate and mandarin sphere with cinnamon cream), St Nicholas (passion fruit cream rolled in a light sponge with coconut, in the shape of Santa Claus), Light of the World (a candle of chocolate with chestnut cream, blackcurrant and spice) and Gold, Frankincense and Myrrh (caramelised puff pastry, salted caramel and vanilla). Arranged beautifully on the hotel's rose-bedecked Wedgwood china, the pastries were served with a choice of Cornish Peppermint, Sri Lankan Lemongrass or Jasmine Silver Tip teas. We chose the Lemongrass which was exceptional, with grassy notes of fresh hay and lemon drops. A delightful concluding note to our feast.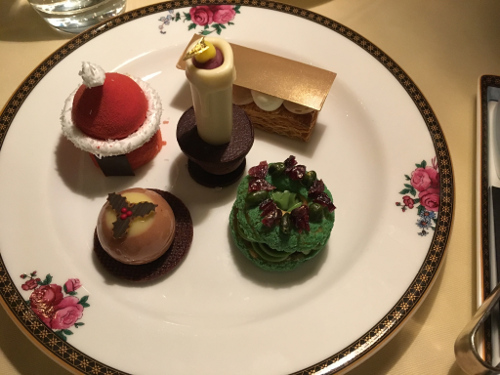 An alternative option is the Festive High Tea with some delectable extra savoury items such as pigs in a blanket sausage rolls, smoked salmon mousse and keta croutons, and cep mushrooms with a very Christmassy orange purée. If the tea-pairing experience is not for you, choose instead from a very impressive array of tea blends and infusions from the Rare Tea Company - some of them exclusive to The Langham - or, if you prefer, The Langham's own Panama Geisha V60 coffee. You can add a glass of champagne from the iconic House of Perrier-Jouët to any of the afternoon tea menus. Choose from Grand Brut NV, Blason Rose NV or Blanc de Blancs NV. Or select instead the Champagne Tasting Experience and have all three! In addition, you will enjoy a glass of Belle Époque, "the pride of the House of Perrier-Jouët". Each champagne is paired expertly with your food in the same way our tea was.
The Langham is beautifully decorated for Christmas and everywhere glows with a warm and welcoming light. The ambience in the Palm Court itself is delightfully soothing with a muted musical background conjured by the resident pianist on the grand piano. As dusk falls the room lights are turned down low and table lamps brought round. It's not hard to imagine the countless conversations held in these grand surroundings by past guests such as Mark Twain, Oscar Wilde and Winston Churchill, not to mention characters from the Sherlock Holmes short stories A Scandal in Bohemia and The Sign of Four.
After tea? Perhaps head for home or a trip to the theatre, return to Oxford Street to resume your shopping or just enjoy the beauty and grandeur of this year's Christmas lights. And if you can't quite finish all your tasty teatime treats, The Langham is more than happy to box them for you, so you can carry them away in an elegant pink carrier that wouldn't look out of place under your Christmas tree.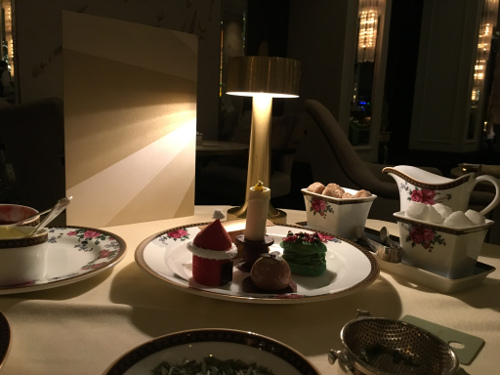 More posts from The AfternoonTea.co.uk Team