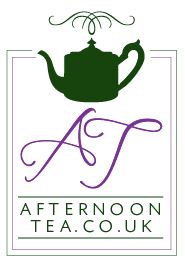 The AfternoonTea.co.uk Team
Here at Afternoon Tea Towers the team are always on the look out for Afternoon Tea related news, reviews, seasonal menus, special events and competitions.
You can get in touch with us via Twitter, Facebook and Google+ or email us at team@afternoontea.co.uk if you have anything you would like to share or contribute.
---
Executive Pastry Chef Ross Sneddon at The Balmoral, Edinburgh, shares his secrets for creating a stunning choux perfect for the festive season. Not for the fainthearted baker, this showstopper will impress!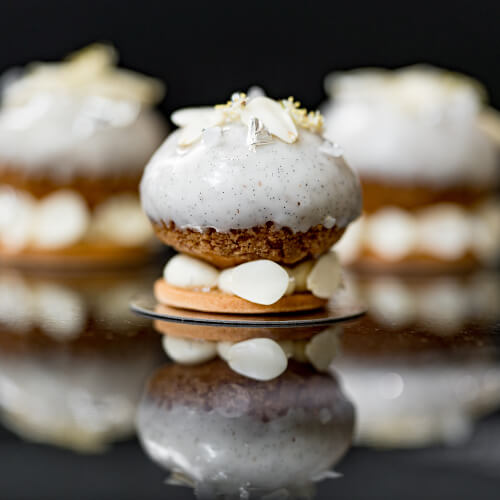 Ross Sneddon says "This pastry uses fresh green almonds as the main component, and then combines the honeyed flavour of an almond blossom cremeux with vanilla and flaky sea salt to give a complex rounded flavour. Producing this very delicate pastry is a balancing act that involves blending some of the finest ingredients from around the world and allowing each to shine and not compete with one another. The understated look and composition is offset by the subtle complexity of the flavours. This pastry is paired with a chilled Spanish almond blossom infusion, my favourite combination."
Choux
280g Eshire butter
15g Tate and Lyle sugar
300g Highland spring water
375g Whole milk
15g Maldon sea salt
560g Organic free range eggs
• Bring the butter, water, milk, sugar and salt to the boil
• Add in flour and cook out
• Place in mixer and start to turn on low speed until the dough has cooled slightly
• Stream in the eggs and beat until shiny and cool
• Pipe the choux to 13g pucks
Craquelin
444g Eshire butter
444g Paenla wild sugar
3g Maldon sea salt
515g Marriages all purpose flour
• Mix all ingredients together until they form a dough
• Pin out between two sheets of silicon paper
• Freeze and cut to the required size
Almond blossom cold infusion
20g Rare tea company Spanish almond blossom
1000g Highland Spring still water
• Mix together and leave to infuse for 24 hours then strain
Almond blossom tea gel
1000g Almond blossom cold infusion
20g Agar agar
1g Sosa Gellan Gum
100g Tate and Lyle caster sugar
Stock syrup As Required

• Warm the infusion , mix the sugar, gellan and the agar agar
• Whisk into the infusion and bring to the boil
• Set in a shallow tray overnight, with Clingfilm on the surface to prevent a skin forming
• Blitz the gel in the Thermo mix until smooth and soft
• Add the stock syrup to achieve a soft smooth texture
• Keep in a piping bag until ready to use
Tahitian vanilla and almond blossom cremeux
40g Whole milk
600g Whipping cream
20g Rare tea company Spanish almond blossom
135g Organic free range egg yolk
60g Panela wild sugar
120g Felchlin Edelweiss white chocolate
25g Sosa Pure Marcona Almond Paste
Tahitian vanilla / split and scrapedseeds from x 1 pod
Gold leaf gelatine / hydrated in approx 30g
6g cold water
• Bring the milk, cream, vanilla, almond blossom and almond paste to 85c
• Remove from the heat and cover, leave to infuse for 1 hour
• Warm the liquid again to 85c
• Beat together the sugar and egg yolks and liaise into the mix cook to 84C
• Pass through a fine sieve, allow to cool to 60c, then Bamix in the gelatine and Edelweiss white chocolate
• Allow to cool in a shallow tray overnight, with Clingfilm on the surface to prevent a skin forming
• Place into piping bags until ready to use

Tahitian vanilla fondant
Fondant 500g
Stock syrup 75g
Tahitian vanilla pods Seeds from x4 pods
• When ready to use, have all ingredients in a plastic bowl
• Microwave on the lowest setting , stirring every 5 seconds to make smooth
• When the fondant reaches 32c it can be used to dip the choux

Almond Sable Marriages
210g all purpose flour
40g Ground almonds
150g Eshire butter
50g Sosa Pure Marcona Almond Paste
100g Tate and Lyle icing sugar
4g Maldon Sea salt
40g Organic free range egg yolk

• Toast the ground almonds and leave to cool
• Rub together the flour, ground almonds, butter, almond paste, icing sugar and salt
• Add in the yolks to form a dough
• Rest overnight
• Pin to required thickness between two sheets of paper
• Cut to required size and bake at 160c

Elderflowers picked into small bunches - As Required
Green Almonds / shelled and peeled - As Required
Silver leaf - As Required
Maldon sea salt - As Required

To Assemble
• Place a disk of the craquelin on each choux
• Bake at 160c until cooked and golden
• Pipe the Tahitian vanilla and almond blossom cremeux into the choux
• Then pipe into the centre the Almond blossom tea gel
• Dip the choux into the fondant and decorate with green almonds, salt , silver leaf and the elderflowers
• Pipe x4 bulbs of the Tahitian vanilla and almond blossom cremeux onto the almond sable and place the choux on top
• Serve with cold infused almond blossom
Palm Court, set in the heart of The Balmoral, is an Edinburgh institution that's as glittering as its glass dome and Venetian chandelier. The place to sample modern Afternoon Tea and a wide selection of loose leaf teas, coffee and pastries. Sip vintage champagne as a harpist provides the perfect accompaniment.
More posts from The AfternoonTea.co.uk Team