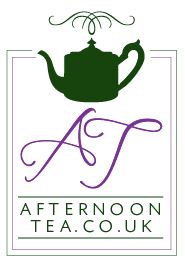 The AfternoonTea.co.uk Team
Here at Afternoon Tea Towers the team are always on the look out for Afternoon Tea related news, reviews, seasonal menus, special events and competitions.
You can get in touch with us via Twitter, Facebook and Google+ or email us at team@afternoontea.co.uk if you have anything you would like to share or contribute.
---
In honour of Veganuary, we've rounded up a list of the best Vegan Afternoon Teas in London. So, whether you're a full-time herbivore or just looking to cut back your meat intake, you're spoilt for choice with these lavish plant-based Afternoon Teas around the capital.
1.Vegan Afternoon Tea at The Rosebery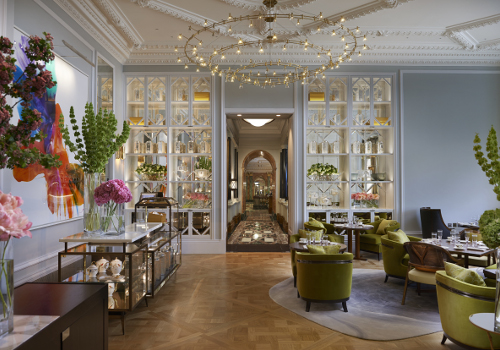 Enjoy a delicious Vegan Afternoon Tea spread in the lavish surroundings of one of London's most celebrated hotels. Indulge in a delightful selection of plant-based sandwiches, freshly baked scones with rose petal jelly and an array of vegan sweet treats, including a banana cookie and a mouth-watering apricot tart.
To book, click here
2. Tea-Tox Afternoon Tea at Brown's Hotel, Mayfair
Brown's Hotel is putting a wonderfully healthy spin on this delicious Great British tradition with their newly launched Tea-Tox-Afternoon Tea. Feast upon a mouth-watering selection of guilt-free sweets and savouries, made with the freshest vegan ingredients.
Click here to book
3. Vegan Afternoon Tea at InterContinental London Park Lane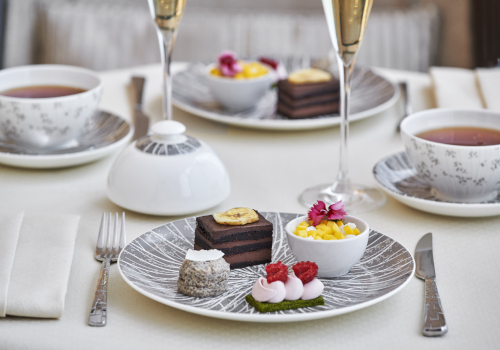 Indulge in a Vegan Afternoon Tea in the delightful Wellington Lounge, housed inside the impressive 5-star InterContinental London Park Lane. Their plant-based Afternoon Tea is hand-crafted using the finest vegan ingredients and features a selection of delicious treats such as a creamy coconut rice pudding with diced mangoes and a tangy raspberry mousse on matcha shortbread.
Book your vegan Afternoon Tea here
4. Vegan Afternoon Tea in The Drawing Room at DUKES LONDON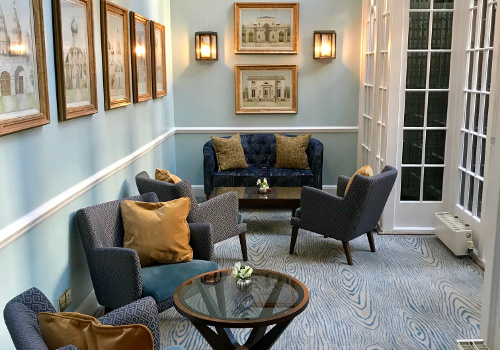 Nestled in the heart of Mayfair, The Drawing Room at DUKES LONDON have put a deliciously vegan twist on their Afternoon Tea menu. Featuring mouth-watering sandwiches, scones and pastries, this Afternoon Tea isn't just to be enjoyed by vegans and vegetarians, but simply by everyone!
Click here to book
5. Vegan Royal Afternoon Tea by The Rubens at the Palace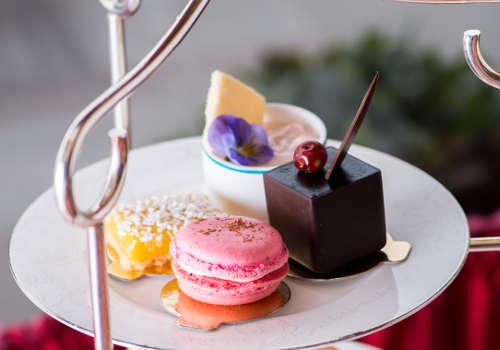 Putting a plant-based spin on their majestic Royal Afternoon Tea, The Rubens at the Palace have lovingly crafted an array of pastries, sandwiches and scones especially for vegans! Watch the comings and goings of the guardsmen in the Royal Mews whilst enjoying this delightfully vegan Afternoon Tea.
Book here
6. Vegan Afternoon Tea at Egerton House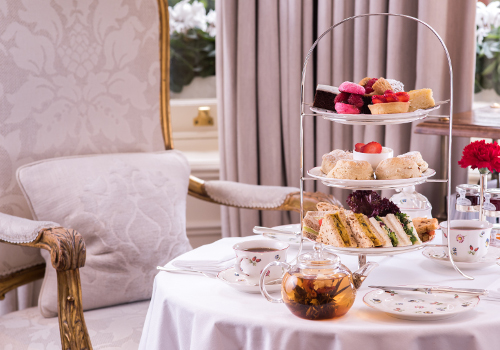 A small, luxury townhouse hotel in the heart of Knightsbridge, Egerton House serves a fully vegan Afternoon Tea to ensure that no one misses out on this delicious tradition. Choose from their selection of finest loose-leaf teas to accompany the hallmarks of Afternoon Tea: freshly cut sandwiches with flavoursome fillings, homemade vegan cakes and freshly baked vegan plain and fruit scones.
Book the Vegan Afternoon Tea at Egerton House here
7. Vegan Mad Hatter's Afternoon Tea at The Sanderson Hotel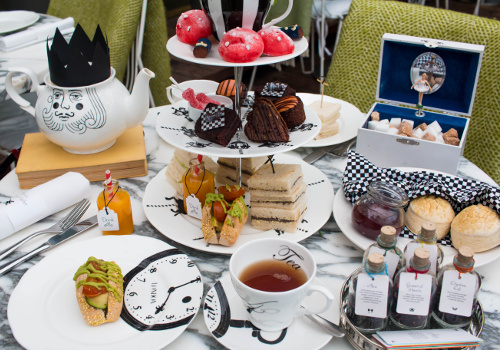 Tumble down the rabbit hole at The Sanderson Hotel and enjoy this vegan twist on their inventive Mad Hatter's Afternoon Tea - a treat that will be sure to transport you on a journey through the much-loved Lewis Carrol classic. Indulge in a delicious selection of vegan goodies including a Queen of Hearts chocolate and coconut cookie, a Tweedle Dee cinnamon cupcake and a chocolate and raspberry Blue Caterpillar.
Click here to book
8. Vegan Afternoon Tea at OXO Tower Restaurant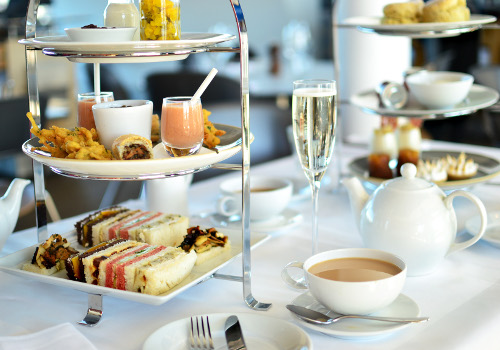 Treat yourself to a Vegan Afternoon Tea with panoramic views across the city of London at OXO Tower Restaurant. Feast upon a delicious array of expertly crafted plant-based delights, including a chestnut and mushroom 'sausage' roll and a parsnip and shallot bhaji. Sweet treats include an elderflower and strawberry mousse and a wonderfully tangy pineapple, lemon and thyme cake.
Book your Vegan Afternoon Tea here
9. Vegan Afternoon Tea by Cafe Forty-One at La Suite West
The first of its kind, Café Forty-One serves a delicious French twist on the great British tradition of Afternoon Tea - without the forbidden cream and butter you'd expect. Situated in the chic La Suite West hotel, Café Forty-One is the only vegan Patisserie in London!
Book here
10. Traditional Vegan Afternoon Tea at The Savoy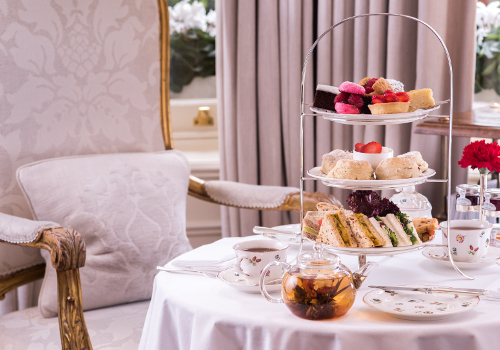 Enjoy a stunning Vegan Afternoon Tea inside the walls of one of London's most iconic hotels. Feast upon seasonal plant-based savouries, freshly baked vegan scones and a charming selection of handmade pastries, while The Savoy's resident pianist provides the soundtrack to your afternoon.
Book your Vegan Afternoon Tea at The Savoy here
More posts from The AfternoonTea.co.uk Team