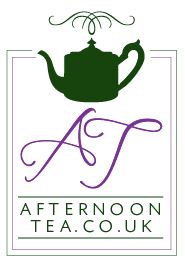 The AfternoonTea.co.uk Team
Here at Afternoon Tea Towers the team are always on the look out for Afternoon Tea related news, reviews, seasonal menus, special events and competitions.
You can get in touch with us via Twitter, Facebook and Google+ or email us at team@afternoontea.co.uk if you have anything you would like to share or contribute.
---
We escaped the blustery weather to the newly launched grand-salon Coral Room at The Bloomsbury Hotel to try the delicious honey themed Afternoon Tea.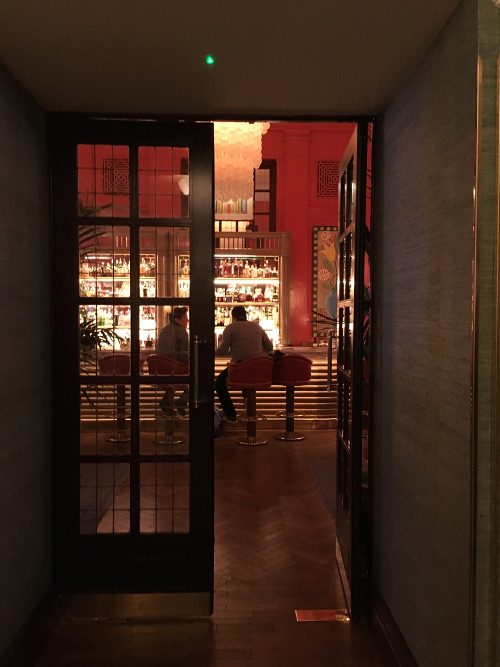 A stone's throw from Oxford Street and the British Museum, The Bloomsbury Hotel became our refuge from the unseasonably wet and blustery weather. Fittingly for this year's centenary of a hundred years of Votes for Women, the Hotel has feminist origins. It was designed by the famous architect Sir Edward Lutyens and opened in 1932 as the Central Club for Women. Becoming The Bloomsbury Hotel in 1998 it has had many famous guests, including the late Irish poet Seamus Heaney after whom the opulent hotel library is now named.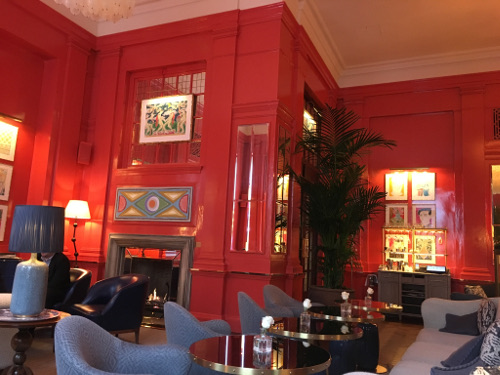 Our Afternoon Tea was served in the beautifully remodelled grand salon, the Coral Room. The name reflects the vibrant colour of the walls which creates a warm and welcoming ambience. The Hotel's newly launched honey-themed Afternoon Tea is a celebration of Spring and Summer (more in hope than actuality given the recent weather!) and takes its inspiration from the humble bee, its importance within the ecosystem and its fascinating natural habitat.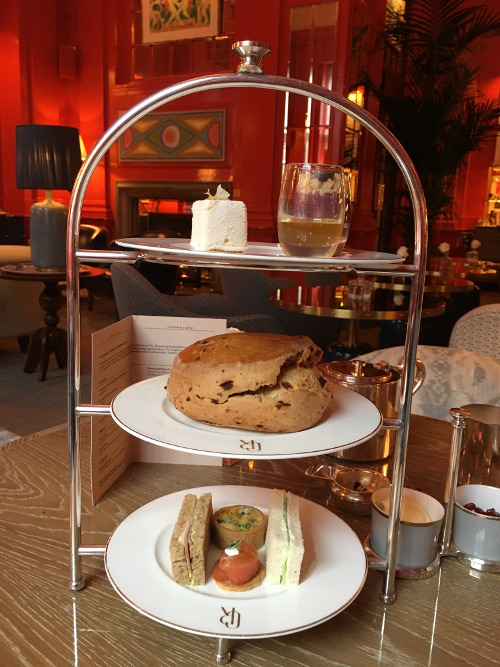 The Hotel staff were all very welcoming and knowledgeable and we were expertly served at our table by waiter Joel. The menu for the honey-themed tea comprises a rich selection of savoury and sweet treats. Complementing each course is one of the bartender's favourite Vermouths. Alternatively there is tea from the Hotel's high quality selection. Needing to keep a clear head to provide a coherent account of our experience, we stuck to the tea although the Vermouths as described sounded extremely tempting.
We began with dainty finger sandwiches, honey roast ham and English mustard mayonnaise on multigrain bread, and cucucumber and dill cream cheese on white bread, plus a tangy mini-quiche of home-made savoury pastry filled with Shropshire Blue cheese and spinach. This course is paired with a Rose Ice Tea cocktail containing Belsazar Rosé with Hibiscus Tea, English Breakfast tea, lemon juice and strawberry purée. Our straight English Breakfast tea was very refreshing. It also gave us a nice glow of self-satisfaction from being so restrained in the interests of journalistic accuracy!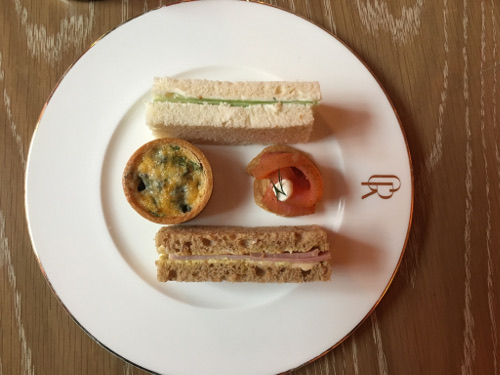 But self-indulgence beckoned in the form of the irresistibly tempting sweet treats. A dainty cube of honey parfait had a honey and jasmine jelly sphere at the centre and a white velvet crust. The whole was light and lovely, as was its partner, a lavender honey and blueberry cream with a blueberry glaze and crunchy crumble topping. For the Vermouth lover, on offer is Sacred English Amber, delicate and floral with a distinct note of Spanish orange. However, we were very happy with our fresh pot of tea - yes we really were - a good foil for the honeyed sweetness of the desserts.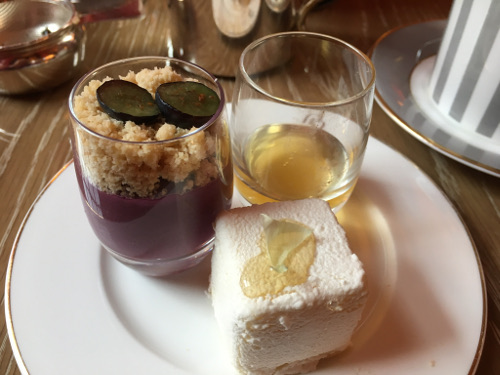 Last but not least we were presented with a gigantic, freshly baked morello cherry scone for sharing, served with clotted cream, homemade strawberry jam and a shot glass of raw honey. This is paired with Cocchi Rosa Vermouth which is described as light and sophisticated. We couldn't quite manage the whole scone so Joel presented us with it beautifully boxed to take home.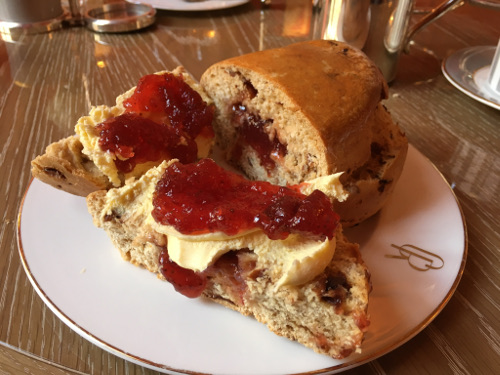 The weather had improved and the sun was shining by the time we hit the street. Our mood could not have been better. We'd spent a most enjoyable afternoon in a beautiful and historic building eating delicious food. We left ready to paint the town red, or should I say, coral!
More posts from The AfternoonTea.co.uk Team