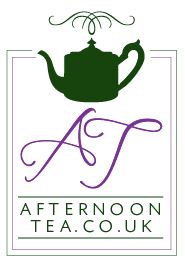 The AfternoonTea.co.uk Team
Here at Afternoon Tea Towers the team are always on the look out for Afternoon Tea related news, reviews, seasonal menus, special events and competitions.
You can get in touch with us via Twitter, Facebook and Google+ or email us at team@afternoontea.co.uk if you have anything you would like to share or contribute.
---
Afternoon Tea is an experience best shared with loved ones, whether its friends or family. No-one wants to be left out, so we've compiled a list of the top 10 Afternoon Tea's that are fun for the whole family.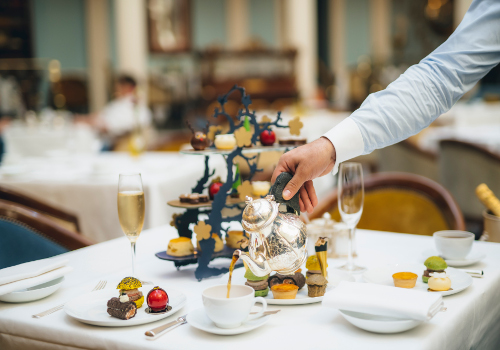 The iconic hotel set in Knightsbridge offer an elegant Afternoon Tea experience just perfect for the whole family. In the run up to Christmas, adults can enjoy a festive interpretation of the great British tradition while sipping Champagne in the ornate surroundings of the Michelin starred Celeste dining room, while children can tuck into an exciting range of treats with the Lanesborough's special 'For Our Little Ones' Afternoon Tea. Priced from £18 per child, this special menu features delightful treats such as red velvet cake and chocolate dipped strawberries. Book your spot here
Where is it?
Hyde Park Corner, London, SW1X 7TA
2. Le Meridien Piccadilly - Mayfair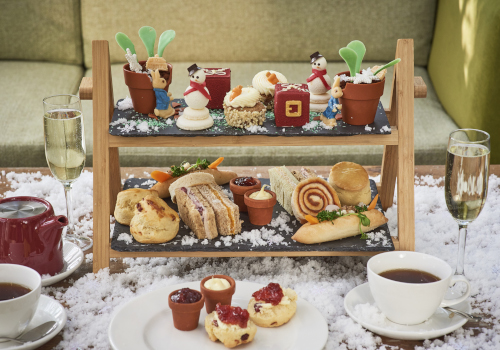 The much-loved Peter Rabbit™ has inspired the latest Afternoon Tea offering by 5-star Le Meridien. Kids and grownups alike can enjoy this delicious offering, as there is a special menu for both. In the winter edition of this menu, pastries include 'Peter's Snowman' white chocolate filled with passion fruit crémeux, on top of a coconut macaron and 'Black Forest Gift Box' an edible chocolate box filled with chocolate mousse and Kirsch cherries as well as Every Bunny's Favourite, a delicious carrot cake. A selection of fresh scones, jams and clotted cream come served alongside the tea. Served in the Terrace Restaurant a stylish setting with luscious greenery throughout the restaurant. Sitting high above Piccadilly, the glass atrium on the roof terrace floods the room with natural light, creating an oasis of calm. Find out more here.
Where is it?
21 Piccadilly, London, W1J 0BH
3. Waldorf Astoria Edinburgh - The Caledonian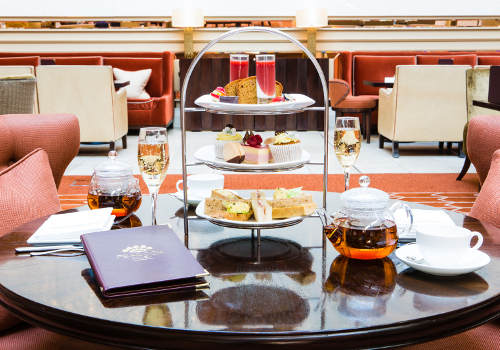 The Afternoon Tea at Waldorf Astoria Edinburgh is perfect for the whole family and provides a welcoming and fun atmosphere. Set it in an old railway hotel it is steeped in history and was frequented by silver screen movie stars and residents alike. The festive season is a magical time to visit this historic venue, where adults can indulge in seasonal treats such as Howgate brie, plum & ginger chutney finger sandwich, accompanied by warming mulled wine! The Caledonian Children's Afternoon Tea, perfect for smaller appetites, is priced at £16. More info here.
Where is it?
Princes Street, Edinburgh, , EH1 2AB
4. The Dorchester Hotel - Mayfair London
One of London's finest Hotels The Dorchester has created a special children's Afternoon Tea menu that looks so good, adults will wish they could order it too! The colourful menu includes veggie sticks with humous, 'Jigsaw puzzle' sandwiches and delicious treats such as a vanilla and strawberry doorman teddy cupcake and a milk chocolate and apricot yellow duck. All accompanied by a banana or strawberry milkshake. Find out more here
Where is it?
Park Lane, London, W1K 1QA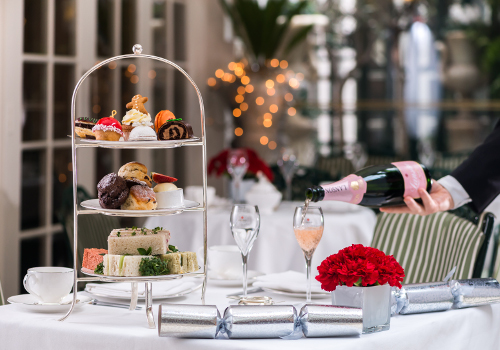 The Chesterfield's Winter Wonderland Afternoon Tea will delight adults and children alike! With festive treats a-plenty, such as a gingerbread man cupcake and chocolate yule log, this luxurious offering will get the whole family into the Christmas spirit. Why not make a day of it and visit London's Winter Wonderland spectacular in nearby Hyde Park. Children's Afternoon Tea at The Chesterfield is priced at £25 per child. Find out more here
Where is it?
35 Charles Street, London, W1J 5EB
6. King Street Townhouse - Manchester
There is something for every taste at King Street Townhouse which means noone will be left out! There is a 'Ladies' offering for those who enjoy the traditional selection of savouries, scones and pastries. The 'Gentleman's' tea is perfect for those with not so much of a sweet tooth, which includes Tomato and basil arancini, Mini fish & chips as well as a Mini lamb burger with mint mayo among other more rustic treats. Last but not least, King Street Townhouse offer special Children's Afternoon Tea, priced at £12.50 per child, so everyone can take part in this classic British pass time. See here for more details.
Where is it?
10 Booth Street, Manchester, M2 4AW
7. Park Room at Grosvenor House - Mayfair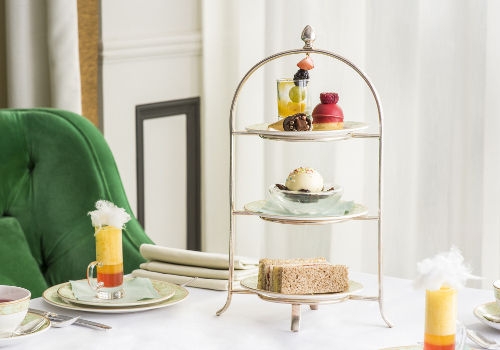 In count down to Christmas, the Park Room at Grosvenor House are serving a Nutcracker Afternoon Tea. Adults can indulge in sweet treats inspired by this classic Christmas ballet such as 'The Nutcracker' a delicate hazelnut chocolate and Devon cream tart and 'The Sugar Plum Fairy' a tangy plum cheesecake with raspberry gel. For the kids, there's Grover's Children's Tea, with treats such as a miniature knickerbocker glory and their very own Grover the dog toy to take home! More info here.
Where is it?
JW Marriott Grosvenor House London, Park Lane, Mayfair, London, W1K 7TN
8. London Hilton on Park Lane- Mayfair
The Teddy Bears Picnic Afternoon Tea at London Hilton Parklane is the perfect treat for smaller appetites. Little ones will love the array of sweet treats on offer including a white chocolate cone and scones with Nutella spread. Afternoon Tea for adults has undergone a festive twist with an array of delicious open sandwiches and sweet delights, such as a chocolate and chestnut tart and mulled wine bauble. Served in their relaxed Podium Restaurant and Bar, Afternoon Tea is at London Hilton is a treat for all the whole family. See here for more info.
Where is it?
22 Park Lane, London, W1K 1BE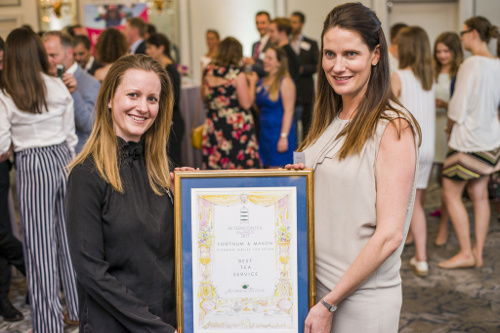 Why not treat your little one to the award winning Children's Afternoon Tea in iconic surroundings at Fortnum & Mason. Priced at £26 per child, this wondrous experience was awarded Best Children's Afternoon Tea at the Afternoon Tea Tea Awards 2018 and includes a delicious raspberry macaroon and a classic Jammy dodger! Adults will appreciate the elegant surroundings of The Diamond Jubilee Tea Salon, opened by the HM the Queen 2012, and the calming live music from Fortnum and Mason's pianist. See here for full details.
Where is it?
Piccadilly, London, W1A 1ER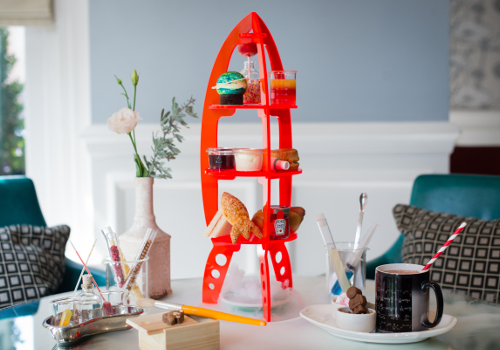 For an Afternoon Tea experience that's out of this world, spoil your little ones to The Ampersand's Sci-Fi Tea. Displayed on a three-tiered rocket, delicious treats include a chocolate spaceman and dark chocolate and raspberry planet mousse. Accompanied by hot chocolate with marshmallows and chocolate sprinkles, kids will love this quirky space themed extravaganza. Adults are not left out at the Ampersand with their 'Science Teapot Tales Afternoon Tea' which includes the addition of a flight of three, scientist inspired cocktails. With the Science and Natural History Museum right next door, why not include Afternoon Tea at The Ampersand as part of your next family day out? See here for full details.
Where is it?
10 Harrington Road, London, SW7 3ER
More posts from The AfternoonTea.co.uk Team