Focus on Bloomsbury
If you are planning to enjoy Afternoon Tea in Bloomsbury, then why not take the opportunity to explore the area a little.
Build up an appetite for your Afternoon Tea with a saunter around some of the area's lesser known streets, attractions and architectural delights. Or just drop some historical titbits into the conversation to impress your friends with your knowledge of London lore.....
BLOOMSBURY is an area of central London notable for its array of garden squares, its literary connections and its numerous cultural, educational and medical institutions. Bloomsbury has no official boundaries, but can be roughly defined as the square bounded by Tottenham Court Road to the west, Euston Road to the north, Gray's Inn Road to the east, and either High Holborn or the thoroughfare formed by New Oxford Street, Bloomsbury Way and Theobalds Road to the south.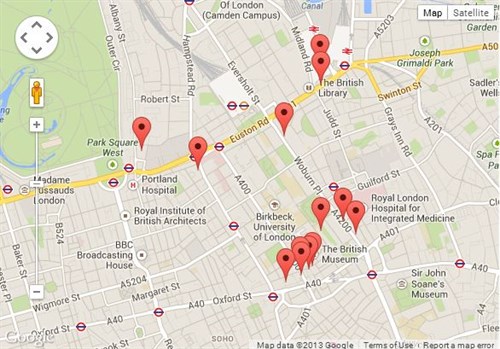 View all our Bloomsbury Afternoon Tea venues
The area is home to the University of London's central bodies and departments as well as numerous important hospitals, among them the world-famous Great Ormond Street Hospital for Children.The British Museum and the Royal Academy of Dramatic Art are also located in the area.
The area gives its name to the Bloomsbury Group of artists, the most famous of whom was Virginia Woolf, who met in private homes in the area in the early 1900s. The Pre-Raphaelite Brotherhood of artists was founded in John Millais's parents' house on Gower Street in 1848.
HISTORY: The earliest record of the area which would become Bloomsbury is in the 1086 Domesday Book, which records that the area had vineyards and "wood for 100 pigs". The first mention of Bloomsbury was in the year 1201, when William de Blemond, a Norman landowner, acquired the land. The name 'Bloomsbury' is a development from 'Blemondisberi' - the bury, or manor, of Blemond.
In the early 1660s, the Earl of Southampton constructed what eventually became Bloomsbury Square. Expansion came in the later 17th and 18th centuries when the aristocratic Russell family developed the surrounding area into a fashionable residential suburb.
The major development of the squares that we see today started in about 1800 when Francis Russell, 5th Duke of Bedford removed Bedford House and developed the land to the north with Russell Square as its centrepiece.
THE BRITISH MUSEUM, which first opened to the public in 1759 in Montagu House, is at the heart of Bloomsbury. At the centre of the museum is the Queen Elizabeth II Great Court, a superb indoor square with a glass roof designed by British architect Norman Foster. It houses displays, a cinema, a shop, a cafe and a restaurant and is a great place to see and be seen on a rainy London afternoon.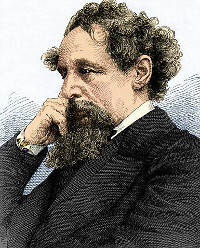 Lesser-known museums in the area are the DICKENS MUSEUM in Doughty Street, and the PETRIE MUSEUM of Egyptian Archaeology and the GRANT MUSEUM of Zoology at University College London in Gower Street. The latter two are free to view and have wonderfully eccentric old showcases full of fascinating objects.
SOME FAMOUS BLOOMSBURY SQUARES:
BEDFORD SQUARE, built between 1775 and 1783, is architecturally the finest of the Bloomsbury squares, being still entirely surrounded by its fine original Georgian town houses. The famous early-20thc. literary hostess Lady Ottoline Morrell lived at number 44. Among her many celebrated guests was the legendary Russian dancer and choreographer Vaslav Nijinsky. A frequent visitor was the biographer Lytton Strachey who was partial to a raucous game of tennis on the square's courts.
The unusually rectangular QUEEN SQUARE is home to the National Hospital for Neurology and Neurosurgery. When the square was built in the 18th century, it was on the very edge of London, and its northern end was left open to the fields to provide picturesque views of the disant hills of Highgate and Hampstead! On the south-west side of Queen Square is the 'Queen's Larder' pub, so named after a cellar underneath where Queen Charlotte stored delicacies for her deranged husband, George III, while he was being treated at the premises of his doctor in the square. The church of St George the Martyr in Queen Square was built 1703-1706, and was where the poets Ted Hughes and Sylvia Plath were married in 1956.

TAVISTOCK SQUARE: Take a stroll in the delightful garden there, where Virginia Woolf conceived much of her great novel 'To The Lighthouse' during her aftrenoon walks.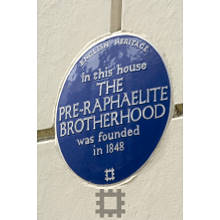 GORDON SQUARE, with yet another charming central garden, is surrounded by the History and Archaeology departments of University College London. This square is where the majority of the Bloomsbury Group lived and met. Look out for the blue plaques.....
RUSSELL SQUARE: A large and well laid out square dominated by its enormous London plane trees. Its gardens were originally designed by the famous landscape gardener Humphry Repton. Note: the London plane is the city's most planted tree and can easily be identified by its camouflage pattern bark and hanging pom-pom fruits in winter. Hardy and resilient, it was one of the few trees which would grow in London's notoriously polluted 19th-century air, hence its ubiquity.
One of the thirteen surviving late-Victorian taxi drivers' shelters in London, where drivers can stop for a meal and a drink, is in Russell Square. The central park area is a great place to picnic, stroll or play on a warm, sunny day, when the gushing multiple fountain at its centre becomes a sort of impromptu children's paddling pool.
On the subject of children, unless you are accompanied by one (or more), you won't be able to enjoy the delights of CORAM'S FIELDS, a large, seven-acre recreational space on the eastern edge of Bloomsbury. Formerly the site of the 18th-century Foundling Hospital (for whose benefit Handel wrote some of his finest music), it has the curious but charming admissions policy of only being open to children, or to adults accompanied by a child. A small flock of sheep are among the more unusual residents of Coram's Fields.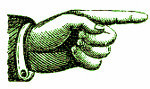 AFTERNOONTEA.CO.UK SPECIAL VISITORS' TIP:
Just south of Coram's Fields, LAMB'S CONDUIT STREET is one of central London's hidden gems; a pleasant thoroughfare with a host of stylish small independent shops, cafes and restaurants. Another delightful and little-known street is STORE STREET between Gower Street and Tottenham Court Road.
It has a row of sophisticated cafes, as well as shops selling bespoke bicycles, spectacular orchids, musical instruments and books on Witchcraft and the Occult. There is a fine Art Deco former petrol station there purveying superior hamburgers, and at the western end is the Building Centre with its architectural exhibitions and vast perspex model of central London.
A Miscellany of some other famous BLOOMSBURY RESIDENTS, ancient and modern:
J. M. Barrie (1860-1937), playwright and novelist, lived in Guilford Street and Grenville Street when he first moved to London; this is where the Darling family in Peter Pan live.
Charles Darwin (1809-1882), lived at 12 Upper Gower Street in 1839.
Charles Dickens (1812-1870), novelist, lived at 14 Great Russell Street, Tavistock Square and 48 Doughty Street.
Ricky Gervais, comedian, lived until recently in Southampton Row, Store Street and owned one of the penthouses in Bloomsbury Mansions on Russell Square, WC1.
Bob Marley (1945-1981), musician, lived in 34 Ridgmount Gardens for 6 months in 1972.
Dorothy L. Sayers (1893-1957), novelist lived at 24 Great James Street from 1921-1929. Her main female character Harriet Vane also lived in Bloomsbury.
Alexei Sayle, English stand-up comedian, actor and author.
Catherine Tate (b. 1968), actress and comedienne, was brought up in the Brunswick Centre, close to Russell Square.
Kenneth Williams (1926-1988), 'Carry On' actor comedian, spent much of his childhood and early adulthood in Marchmont Street.
William Butler Yeats (1865-1939), poet, dramatist and prose writer, lived at Woburn Walk (a delightful, hidden thoroughfare of bow-fronted Regency shops, well worth a visit).