Review: Tale as Old as Time - Beauty and the Beast themed Afternoon Tea at The Kensington Hotel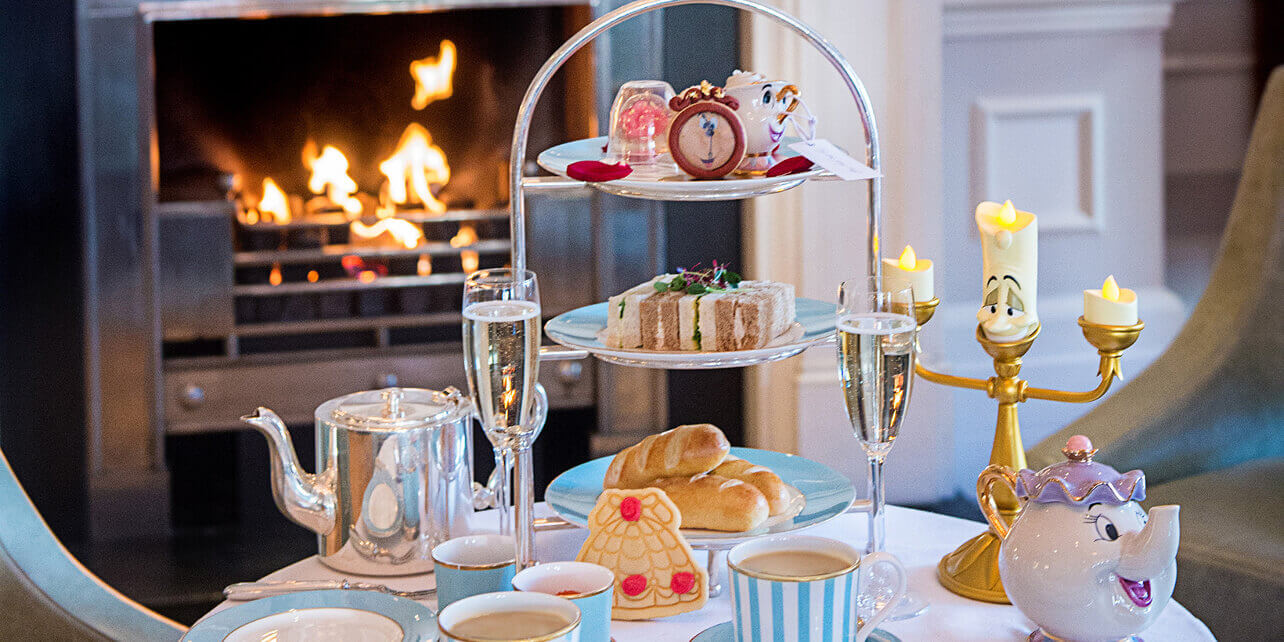 Binny from Binny's Travel Diaries was lucky enough to 'be a guest' at The Kensington Hotel, for the very popular Beauty and The Beast Afternoon Tea.
One of my favourite Disney animations, The Beauty and the Beast was released into a live action film this year and I absolutely loved it. It brought back so many happy nostalgic moments of watching the original as a child.
When I heard that The Kensington Hotel in West London had collaborated with Disney on an exclusive themed afternoon tea called the 'Tale as old as Time' I was gutted to find that it had been sold out super quickly. However, I was surprised with a reservation and got to experience the afternoon tea at the luxurious Kensington Hotel a few months later much to my delight.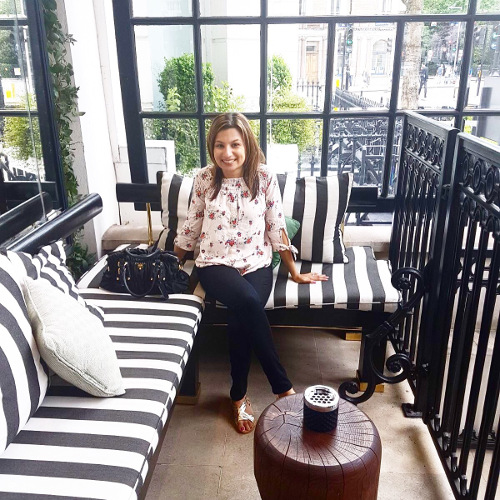 Lumiere: Ma chère mademoiselle. It is with deepest pride and greatest pleasure that we welcome you tonight. And now, we invite to relax, let us pull up a chair, as the dining room proudly presents your dinner.
As we arrived in the gorgeous library room, I couldn't help smiling at the Beauty and The Beast memorabilia scattered around the room such as Lumiere and Cogsworth figurines.
There were little girls wearing their Belle dresses excitedly having afternoon tea with their families too, and it was already such a relaxed and extremely adorable ambience.
The Afternoon Tea's theme is taken from the "Be our Guest" scene in the story and is a French twist on the classic afternoon tea.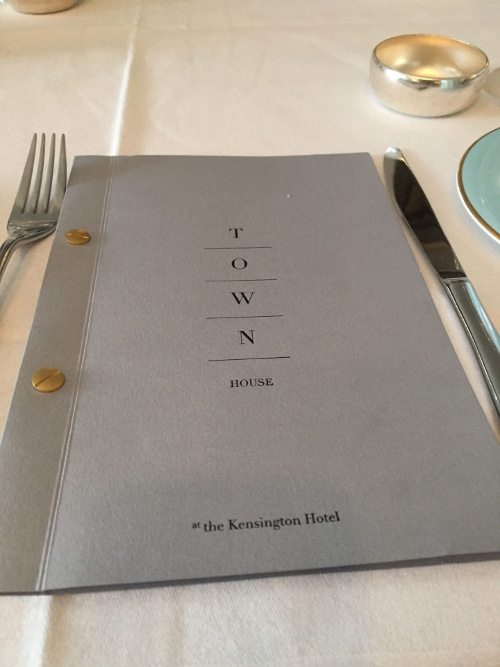 First to arrive was a plate with Savoury starters which were a Venison Pie, Cheese Souffle, and Beef Ragu & Saffron Arancini with Lemon Creme Fraiche.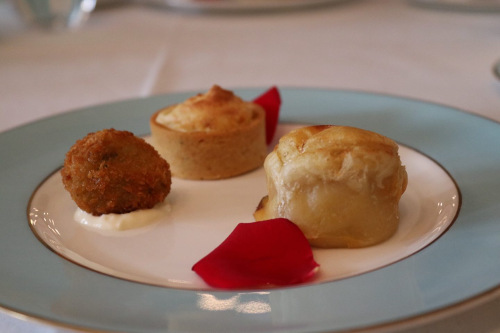 I decided to have a glass of bubbles too, it being Perrier Jouet, and thoroughly enjoyed the savouries, my favourite being the cheese soufflé and arancini. It was definitely a unique way to start off the indulgence!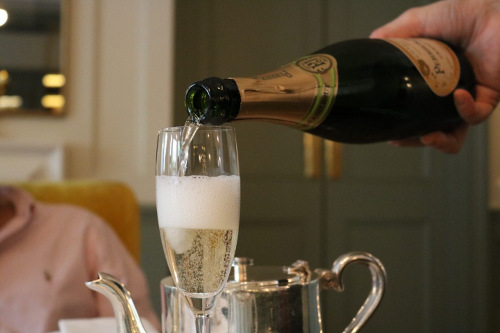 Soon after, the 3 tiered stand arrived with a selection of traditional sandwiches on one tier, and a fabulous looking range of desserts on the other tier. The sandwich selection included Potted Argyle Smoked Salmon & Crème Fraiche, Roast Devon Red Chicken with Cranberry, Cucumber & Cream Cheese and Egg Mayonnaise & Cress.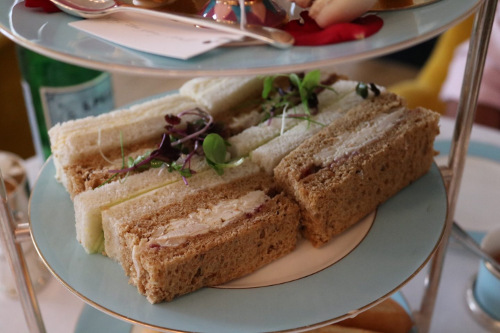 On the bottom tier, as a nod to Belle's baking skills, were French brioche baguettes in lieu of traditional scones. These were accompanied by Apricot preserve and chocolate.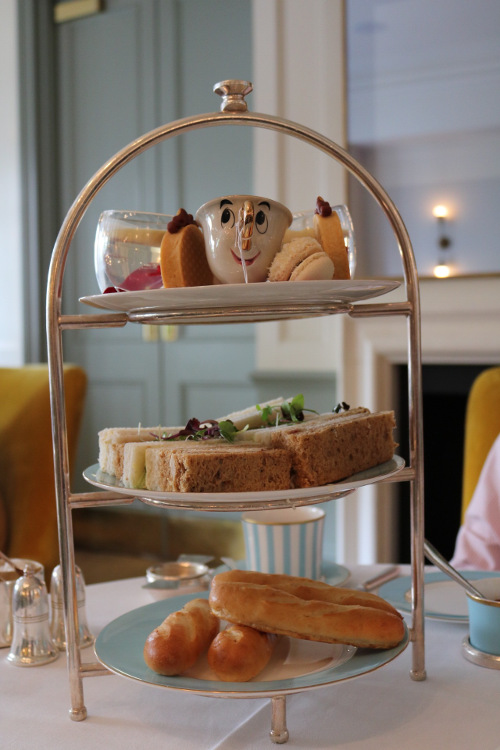 On the dessert tier there was a Vanilla and Gold Jelly (clear with a rose petal in, to emulate the rose in the bell jar) served with double cream poured from Mrs Potts herself. There was also a chocolate Tart in the shape of Cogsworth, a White Chocolate Mousse topped with 'Grey Stuff' (which was cake frosting) inside a Chip teacup and a Spiced Snowball Macaroon with Coconut and Chocolate.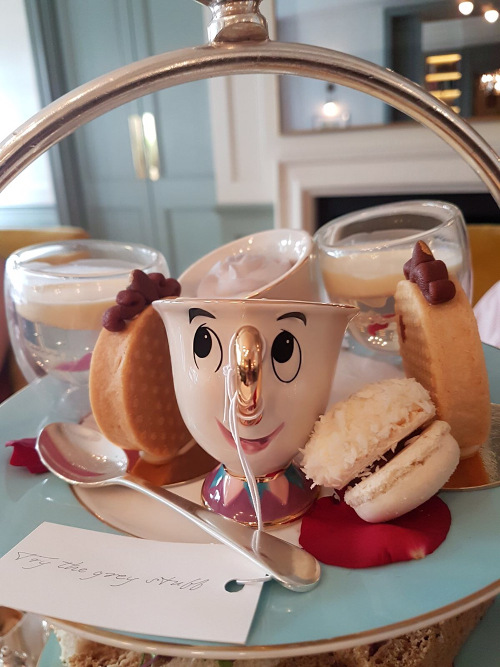 "Try the grey stuff, it's delicious! Don't believe me? Ask the dishes!" - Lumiere
The grey stuff was really delicious and it was cake icing. What's not to love! It reminded me of naughty indulgent moments when baking cakes myself, and scoffing all the icing.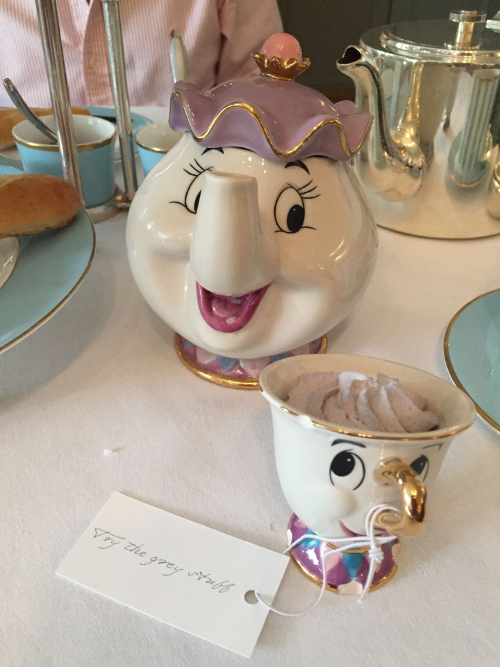 It was an incredibly cute afternoon tea and the desserts were really good, as were the starters and sandwiches. They also catered for our dietary requirements exceptionally well and the service was really good.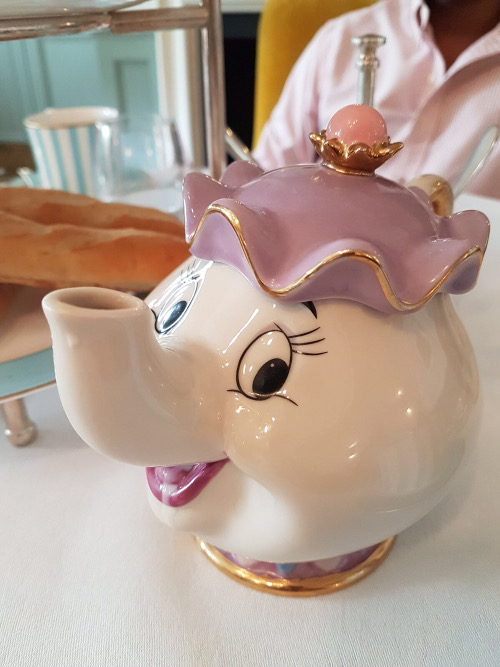 They carried out the theme so well with crockery, including chip with an actual chip, and the rose in the bell jar. These little touches made it so special.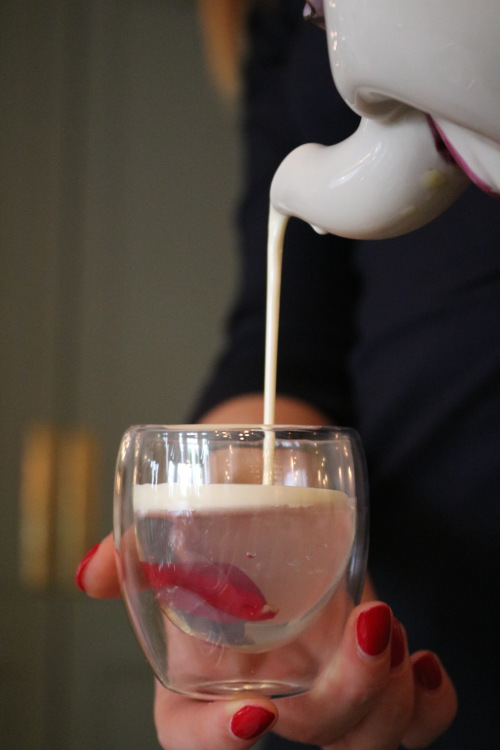 My only minor dislike was the French brioche baguettes instead of the scones as for me scones are my favourite part of an afternoon tea. I do completely understand why they were used though so if you like brioche then you would welcome this aspect. They were delicious - I just really fancied scones!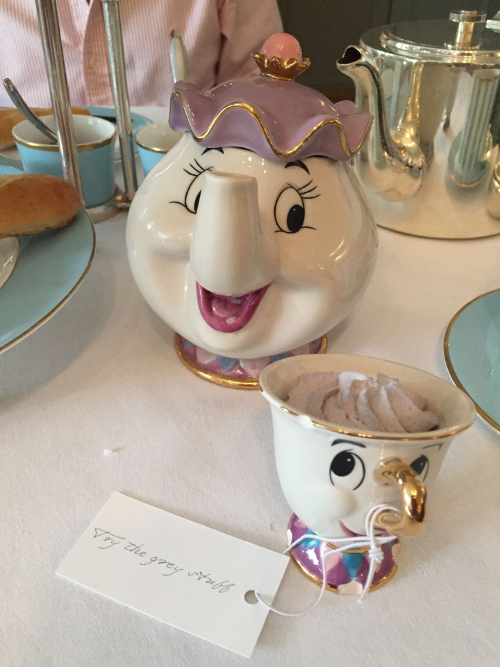 The treats didn't end at the stand though and we were handed a Belle's dress Speculoos cookie each which was absolutely divine. We took it home and indulged in it later.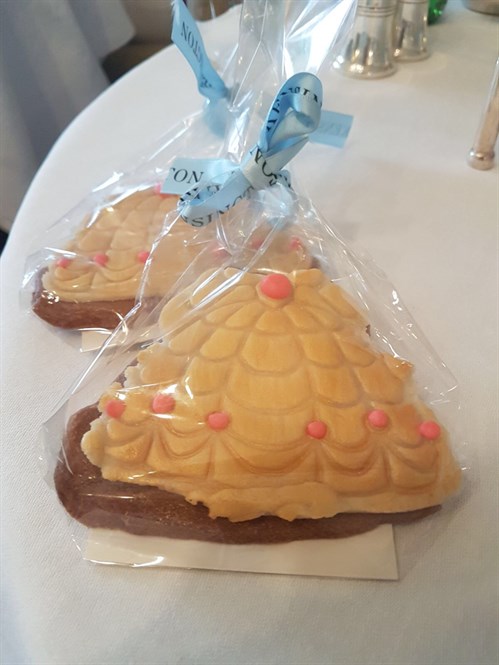 All in all it was a wonderful experience and I am so glad I got to try it and feel like a kid again with my favourite Disney movie translated into one of my favourite pastimes, an afternoon tea! If you get a chance go!
Please note, the Tale as Old as Time Afternoon Tea is no longer available at The Kensington Hotel. Please see here for details of their latest menu.