An Afternoon Tea lover's day out in London - Hatchards and Le Meridien Piccadilly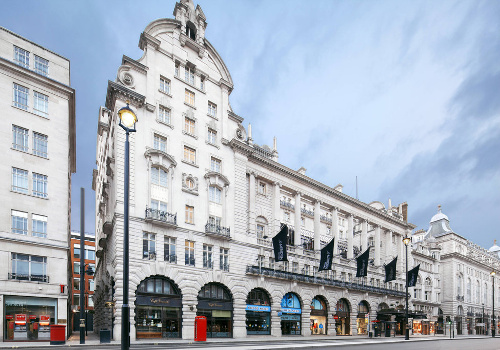 London's West End is the centre of the Afternoon Tea world and is packed full of historic buildings, incredible shops, open spaces and visitor attractions.
At AfternoonTea.co.uk, we explored some of the best venues to go for Afternoon Tea, along with suggestions for things to see and do in the same area, which combine to make a great day out in and around Piccadilly and St James's.
In today's trip, we explore the history and stories amongst the books of Hatchards on Piccadilly, before taking some respite in the beautiful enclave of Le Meridien Piccadilly.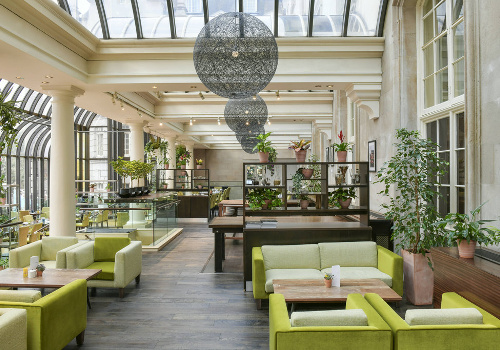 Hatchards is the oldest bookshop in the UK, a mainstay of the London literature scene since 1797. A long line of revered guests have walked its floorboards, including the Royal Family, whose Royal Warrant of approval is stamped over the doorway. Head inside and be awestruck by the grand four-storey staircase, soaking up the artefacts, memorabilia and first editions by authors like Samuel Beckett, Margaret Atwood and more.
Hatchards was first opened in Piccadilly by John Hatchard and features portraits of Queen Elizabeth II and the Queen Mother, along with two other royal seals and an awe-inspiring collection of antique and modern novels.
Why not take inspiration from Hatchards' famous fans and pick up an Agatha Christie book? It's the mystery series favoured by the Queen herself. Other literary scions made Hatchards their bookshop of choice too, including -Noël Coward, Lord Byron and Oscar Wilde. The latter's wife, Constance, was seen buying copies of The Ballad of Gaolat Hatchards, Wilde's incendiary essay written while he was imprisoned at Wandsworth Prison from 1895-97.
A busy day exploring this vibrant area is sure to work up an appetite, so escaping to The Terrace on Piccadilly is a welcome retreat. Tucked inside the Le Méridien Piccadilly Hotel, the stunning Georgian building greets us with grand awnings, perfect to wile away the hours of a relaxing afternoon.
The building was constructed in 1908 by architect Richard Norman Shaw as part of a redevelopment that stretched to Regent Street, namely the creation of huge department stores (of which Le Méridien used to be before its hotel days) to cater to wealthy Edwardians. It was a shining beacon of industry and prestige, but was halted for almost twenty years due to the First World War.
Once opened, it immediately become synonymous with glamour and opulence, an atmosphere that has sustained throughout decades of boom and bust, to be taken over by the Marriott group in 1986. During this period, it was refurbished for a more modern aesthetic, though it still retains its inimitable air of Edwardian elegance. Much of the interior design is inspired by the original owners Gaelic backgrounds, styled in the tradition of Grand European hotels.
The entrance is a spectacular marble white and light-filled lobby that guests can take in before heading upstairs to the relaxing restaurant. This stylish space features an arched glass roof that bathes the room in natural light, along with floor to ceiling windows that offers unparalleled people-watching views over the bustling main road.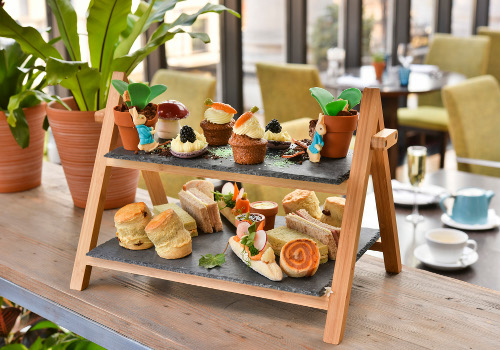 Le Méridien Piccadilly has put an inventive spin on the great British tradition to craft the official Peter Rabbit themed Afternoon Tea.  Guests can begin with a selection of delicious savoury sandwiches like 'Mr McGregor's Garden', a vegetable baguettini with red pepper hummus, and 'Farmyard Friends', devilled eggs on basil bread.
These are followed by the pinnacle of British fine-dining heritage: the scones. Whether you like them plain & fluffy, or studded with raisins, you can try both freshly baked treats accompanied with clotted cream and sweet strawberry jam. To finish, diners will enjoy a selection of themed pastries like 'Blackberry Bushes', a 'Magnificent Mushroom' strawberry ganache and an edible chocolate flowerpot with chamomile mousse.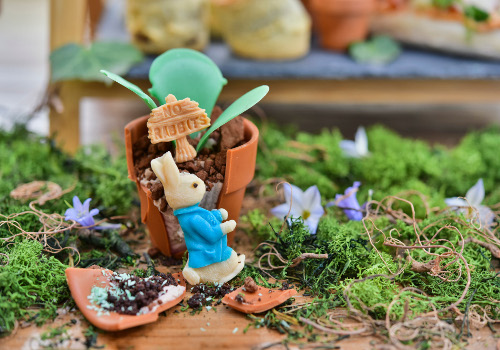 It doesn't get more authentically English than a day out exploring Piccadilly and St James's before enjoying an Afternoon Tea devoted to one of British literature's most beloved characters.
Afternoon Tea is served 12:30pm - 5pm every day in Le Méridien Piccadilly. You can book Afternoon Tea at The Terrace on Piccadilly here
Fun fact... The area of Piccadilly takes its name from 17th century tailor Robert Baker, inventor of 'piccadills', the elaborate frilly collars favoured by the likes of Queen Elizabeth I and Sir Walter Raleigh.
Want to know more about what to do in the area?
Visit stjameslondon.co.uk and follow @stjameslondon and @london.westend