An Afternoon Tea lover's day out in London - Jermyn Street and The Cavendish London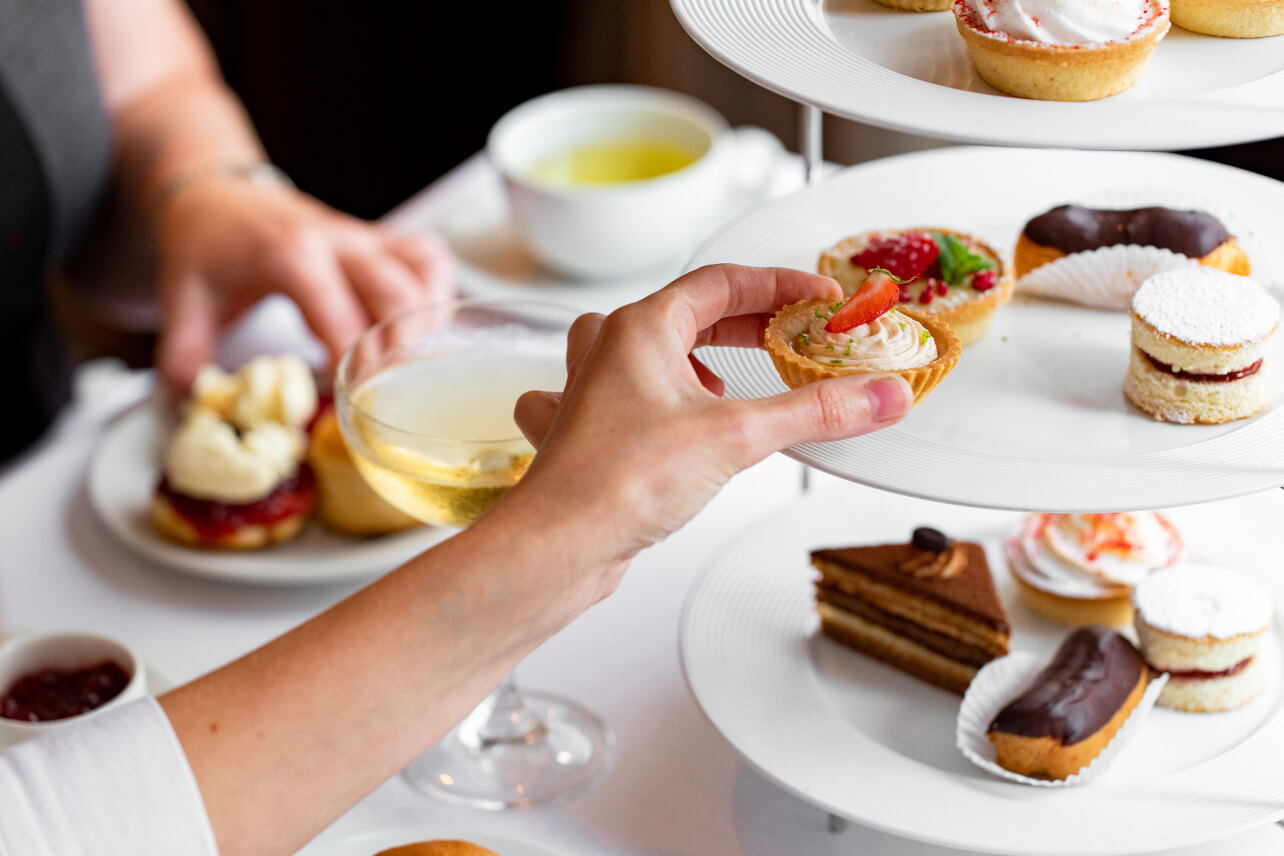 London's West End is the centre of the Afternoon Tea world and is packed full of historic buildings, incredible shops, open spaces and visitor attractions.
AfternoonTea.co.uk have explored some of the best venues to go for Afternoon Tea along with suggestions for things to see and do in the same area, which combine to make a great day out in and around the Piccadilly and St James's area.
Today we take a stroll along Jermyn Street, stopping off along the way for a delicious Afternoon Tea at The Cavendish London.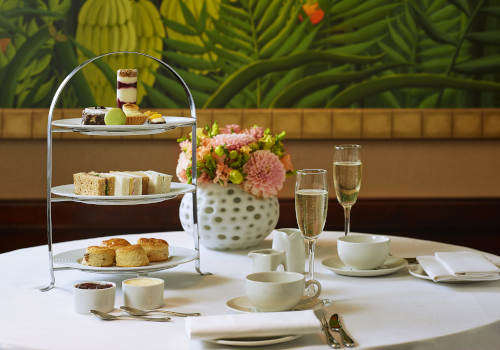 Jermyn Street is famous for high-quality British artistry and craftsmanship and is home to men's tailors, shirt makers, suppliers of leather goods, food and wine merchants, restaurants, hotels and art galleries.
The street's history dates back to 1664 when King Charles II authorised Henry Jermyn, the Earl of St Albans, to develop the area into a residential neighbourhood.
Jermyn Street started its life as a mix of houses, hotels, taverns and schools and over the years has been home to some very distinguished residents including Sir Isaac Newton, Sir Walter Scott, Prime Minister William Gladstone and author W. M. Thackeray.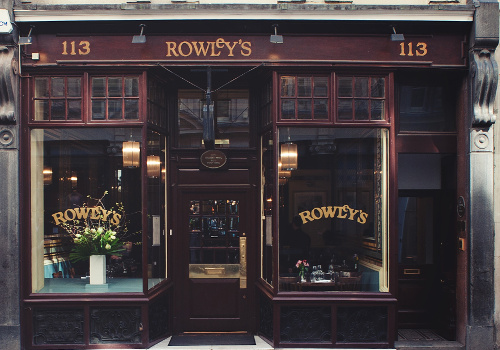 There's a lot to see, so let us get on. We start our walk at the corner of Regent Street St James's. First stop is Rowley's Restaurant, famous for serving its signature Entrecôte Steak with herb, Roquefort and butter sauce since 1976. Take a peek through the windows at the beautifully preserved interiors.
It's too soon to stop and take on refreshments, so we'll press on along the street to gentlemen's outfitters Harvie and Hudson, with its beautiful period shop front.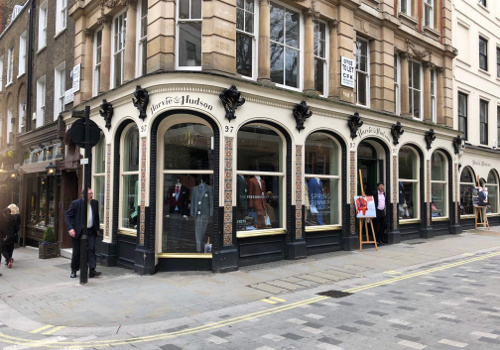 Having first met while working at 'Jermyn Street Shirtmaker', Thomas Harvie and George Hudson moved their business from Duke Street into 96 Jermyn Street in 1964. The building was formerly the Rose Tavern run by Fanny Cornforth - the model and mistress of the Pre-Raphaelite painter Dante Gabriel Rossetti. The building exterior still features roses in the plasterwork and the original tiling can be seen if you take a look inside the interior hallway.
The business later expanded into the shop at number 97 and famous customers over the years have included Sir Winston Churchill, Frank Sinatra, Diana, Princess of Wales, Hugh Grant, Colin Firth and Tom Cruise.
Directly opposite Harvie and Hudson is the Church of St. James's designed by Sir Christopher Wren, which was consecrated in 1684.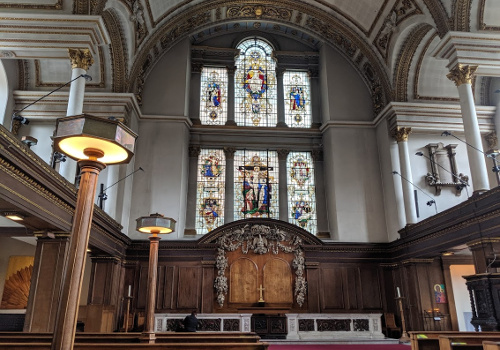 Step inside the church to seek sanctuary from the city noise outside and take some time to admire the fine carvings on the altar and organ case, which were designed by Grinling Gibbons.
Another lovely old shop front is number 93, home to cheesemongers Paxton & Whitfield which moved to Jermyn Street in 1896. There are hundreds of artisan cheeses on offer, sourced from around the UK and the rest of the world, so sample a few before selecting something to take home with you.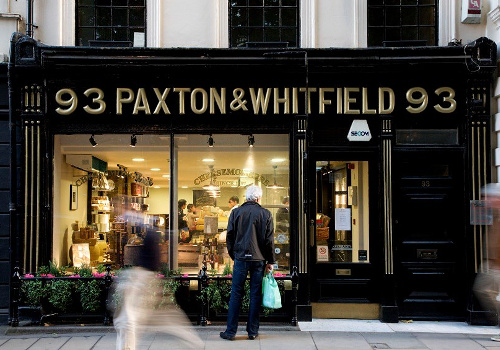 Perfumer Juan Famenias Floris and his wife Elizabeth began selling perfume, combs and shaving products in St James's in 1730 and their shop at 89 Jermyn Street remains the heart of the business, still run by their descendants today.
Floris received their first Royal Warrant in 1820 and are the only appointed Perfumer to Her Majesty the Queen. This beautiful shop has a wide variety of fragrances for both men and women and you can even design your own bespoke perfume, but allow time for three consultations and approximately six months!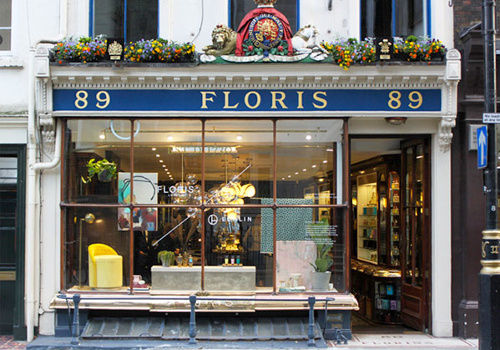 A few doors along, look out for the blue plaque marking the site of the home of Sir Isaac Newton. Directly opposite is the entrance to Princes Arcade.
Time for tea now at The Cavendish London, which is located on the corner of Duke Street and Jermyn Street.
Afternoon Tea is served here every day in the Petrichor Restaurant, an elegant dining room situated on the first floor, overlooking Jermyn Street itself.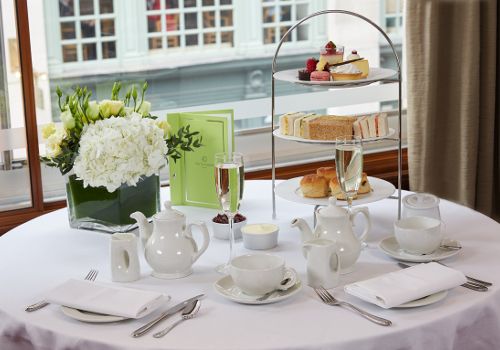 The 'Duke & Duchess Afternoon Tea' menu takes its name from Rosa Lewis, better known as the "The Duchess of Duke Street", who was owner of the 'The Cavendish Hotel', which stood on the same site until it was re-built in 1966.
Rosa's cooking caught the attention of King Edward VII, with whom she was rumoured to have had an affair and who some said helped her to purchase 'The Cavendish Hotel' in 1902.
The restaurant looks out across the road to the Fortnum & Mason department store which has a long history of its own and is the subject of another article to be found here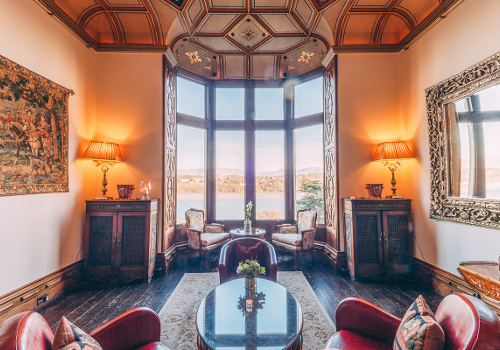 Once you have finished your delectable scones, savoury bites and sweet treats, continue your visit to Jermyn Street by heading along towards St James's Street.
The Dunhill store has been resident at 48 Jermyn Street since 1906. Alfred Dunhill inherited his father's saddlery business in 1893 and developed it into the market for motoring accessories and attire. Today Dunhill is known around the world as a luxury clothing, accessories and fragrance brand for men - the store even has an in-house spa, barber and lounge bar.
Next door is the entrance to Piccadilly Arcade, where you'll notice a dapperly dressed statue, welcoming shoppers into this Edwardian architectural gem.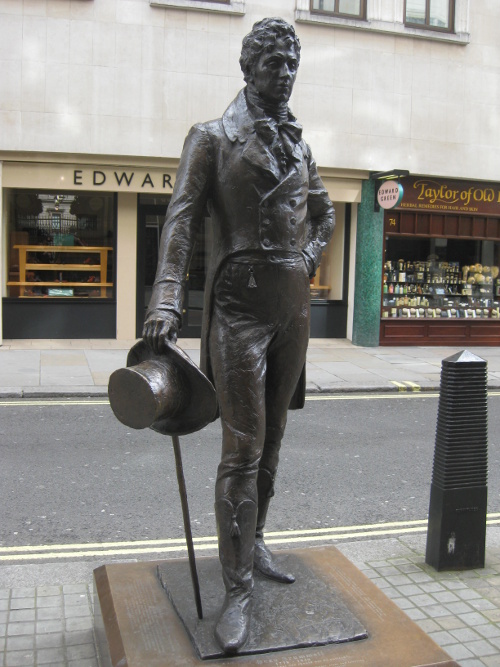 Designed by Irena Sedlecká, the statue is an ode to Beau Brummel, famous as the original British dandy. The base is inscribed with, 'To be truly elegant one should not be noticed', but, ironically, it was exactly Brummel's rejection of ornate clothes that grabbed the public's attention in Regency England. Fashionable Jermyn Street couldn't be a more suitable home for Mr Brummel, who was a cultural icon that moved fashion trends from knee breeches and stockings to full length trousers and perfectly tailored bespoke garments.
More Gentlemen's attire can be found across the road at shirtmaker Turnbull & Asser, opened in 1903. When HRH The Prince of Wales was granted the power of bestowing royal warrants in 1980, his first issue was granted to Turnbull & Asser.
The shop retains many original fixtures and fittings and has a lovely Edwardian feel to it, together with service fit for a (future) king!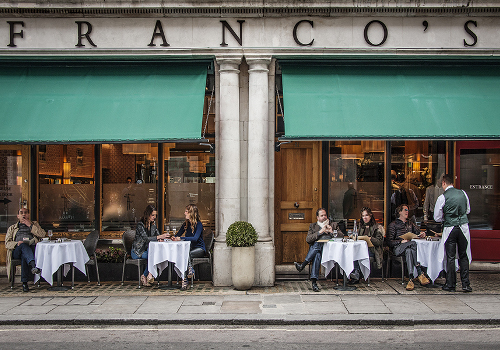 Finish your afternoon by taking a seat outside Franco's Restaurant and Bar which opened at number 61 in 1945. Enjoy a cocktail (or two), watch the world go by and reflect on the hundreds of years of history encapsulated in just one street in the heart of St James's London.
Fun Fact…Wall's sausages and ice cream entrepreneur Thomas Wall was born at 113 Jermyn Street in 1846.
Look out for…tiles designed by Augustus Pugin, architect of the Palace of Westminster and Big Ben, on the front of the Harvie and Hudson shop at 97 Jermyn Street.
Want to know more about what to do in the area?
Visit stjameslondon.co.uk and follow @stjameslondon and @london.westend