An Afternoon Tea lover's day out in London - St James's Square and The Stafford London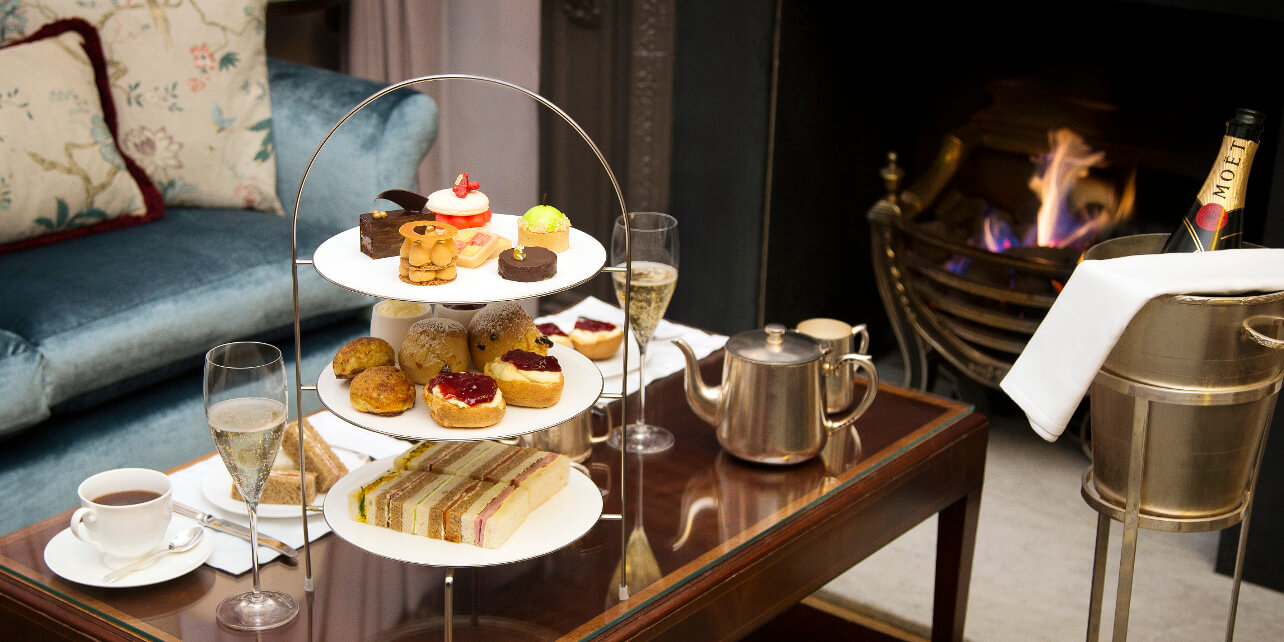 London's West End is the centre of the Afternoon Tea world and is packed full of historic buildings, incredible shops, open spaces and visitor attractions.
AfternoonTea.co.uk have explored some of the best venues to go for Afternoon Tea along with suggestions for things to see and do in the same area, which combine to make a great day out in and around Piccadilly and St James's.
Today we take a stroll through London's beautiful St James's Square, before indulging in an elegant Afternoon Tea experience at The Stafford London.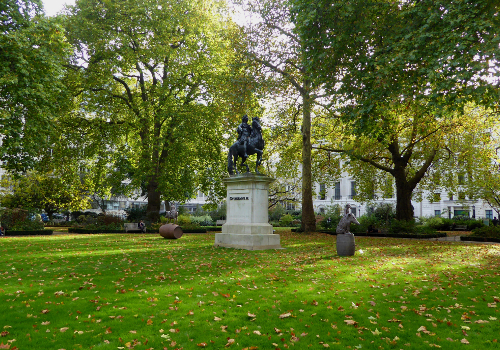 This historic space is surrounded by handsome Georgian architecture, nestled between the famous Pall Mall and Jermyn Street, which makes it the perfect precursor to an Afternoon Tea inspired by the quaint streets of St James's at The Stafford London.
The square's story begins in the 17th Century, when King Charles II gave Lord Alban the lease to the land to develop a luxury residential area amidst the Royal Palaces of Whitehall and St James.
Since their construction, the beautiful townhouses have always attracted the genteel of society. Visitors can learn more about the famous residents of St James's Square from the blue plaques adorning some of the entrances of the townhouses, which celebrate the link between the building and notable figures from British history.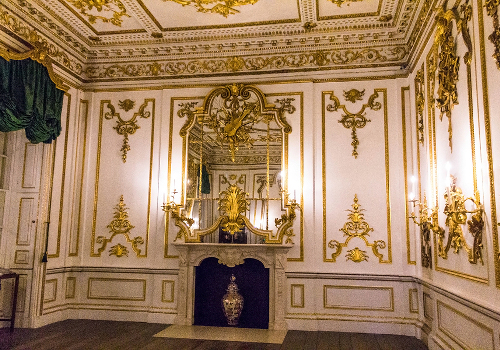 The ornate music room inside Norfolk House
Of note is no. 31 St James's Square which can boast the glamour of formerly being a royal residence, as King George III was born at Norfolk House in 1738! 
Chatham House, which stands at No.10, also housed people of great significance, as it was the residences of three Prime Ministers throughout the 18th  and 19th century, including William Pitt the Elder (1708-1778), Edward Stanley (1799-1869) and William Gladstone (1809-1898).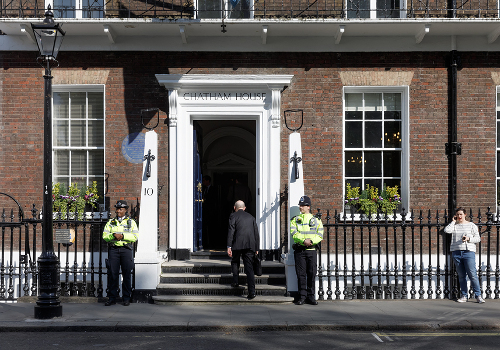 This building is now the headquarters for Royal Institute of International Affairs where major political figures from countries across the world meet to discuss public policies and international issues. Officially founded in 1926, it is here where the Chatham House Rule originated, which is designed to increase the openness of discussion and protect freedom of speech. Any meeting held under Chatham House Rules dictates that 'participants are free to use the information received as they see fit, but neither the identity nor the affiliation of the speaker(s), nor that of any other participant, may be revealed.'
This important rule has established Chatham House as an integral position in world politics - and it has been the site of talks from leading statesmen as iconic as Mahatma Gandhi, who delivered a speech about the future of India in 1931.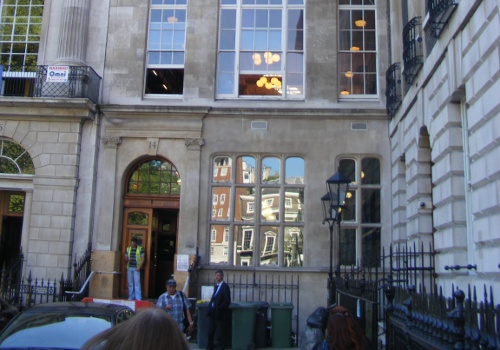 The greatest minds of British society have always been drawn to the serene surroundings of St James's Square - which is why it's a suitable home for the London Library at No. 14.
The world's largest independent lending library was founded in 1841 by Scottish author, Thomas Caryle, and now holds over one million books dating as far back as 1500! The library was however the unfortunate victim of bombing during World War II which destroyed some 16,000 titles, but it was faithfully restored after a 10-year project to reclaim its status as a reader's haven amidst the oasis of calm that is St James's Square. 
St James's Square is also renowned for being one of the most prominent businesses addresses in the world, home to some of the most exclusive private member's clubs. Next door to the library at No. 16 is the East India Club, which dates back to 1849 and is closely associated with notable figures such as Thomas Jermyn and Queen Victoria's husband, Prince Albert.
Set amidst the square is the serene St James's Square Garden, which is free to explore and offers a valuable green space in the middle of London's bustling West End.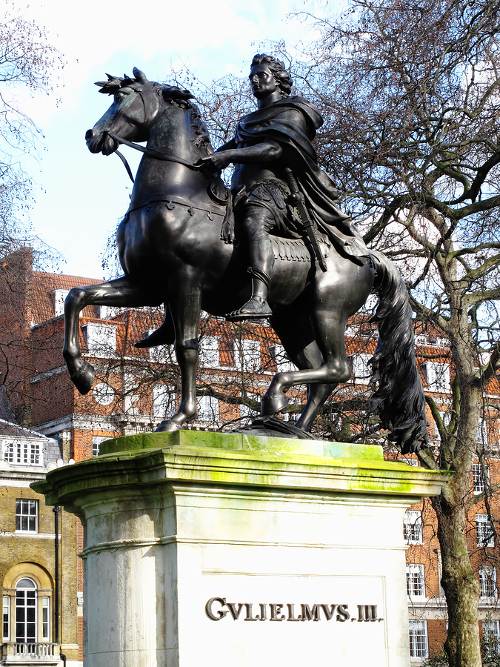 The centrepiece of the secret garden is a stunning Grade I listed equestrian statue of King William III, who ascended to power after overthrowing James II in the revolution of 1688. Designed by John Bacon Senior in 1808, the bronze sculpture takes inspiration from an earlier sculpture erected in Bristol of the Dutch monarch, who became widely known as William of Orange.
After taking in all the old-world charm that St James's Square had to offer, it is time to visit The Stafford London to sample their decadent Afternoon Tea.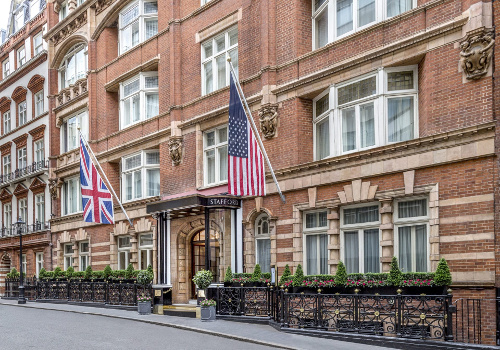 A walk down the aptly titled King Street soaking in more of rich London history before turning onto Little James Street will bring you to The Stafford London, a magnificent 5-star hotel synonymous with tradition and luxury.
The stately building dates to the 17th century and was most famously owned by Lord and Lady Lyttelton, who became the nanny to Queen Victoria's children. 
It was eventually converted into a boutique luxury hotel in 1912, where it has welcomed guests into its charmingly British surroundings ever since.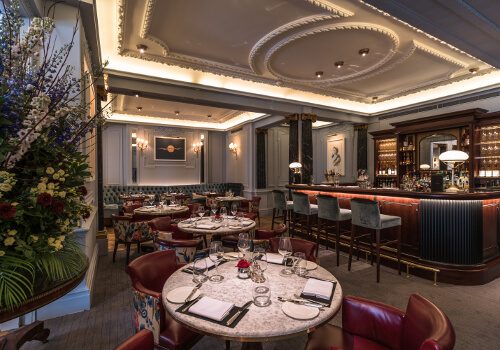 Served in the relaxed surroundings of their stylish The Game Bird restaurant, the grand hotel provides suitably elegant surroundings to indulge in the great British tradition of Afternoon Tea.
The Stafford Afternoon Tea menu takes guests on a journey through St James's and couldn't be more appropriate to indulge in after a day exploring the nearby landmarks.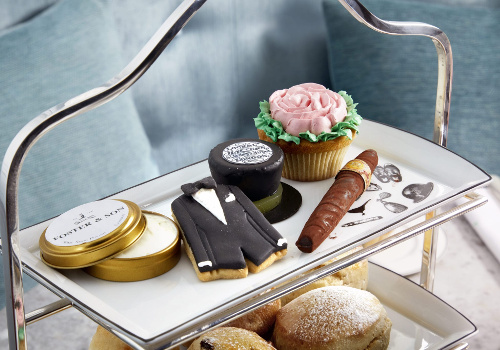 Priced from £45 per person, guests can enjoy a hearty savoury plate including classic finger sandwiches and sumptuous bites such as a truffled egg and watercress brioche bun, before tucking into a delightfully creative sweet plate. The desserts are a tribute to the oldest boutiques in St James's, ranging from a Henry Poole & Co almond shortbread 'tuxedo' to a Lock & Co white chocolate and jelly 'top hat'.
The Stafford London offer a fine tea selection from Camellia's Tea House to accompany the range of treats, or, if you are feeling in a decadent mood, you can upgrade to include a glass of Möet & Chandon Imperial Brut Champagne for £58 per person.
Fun Fact…T.S Elliot was the president of the London Library for 13 years from 1952 to 1965
Look out for…The English Heritage Blue Plaque's in St James's Square. We challenge you to find all of them!
St James's Square is open Monday - Sunday from 10am to 4.30pm
Afternoon Tea at The Stafford is served Monday - Sunday from 12pm to 7pm. You can book your Afternoon Tea experience here
Want to know more about what to do in the area?
Visit stjameslondon.co.uk and follow @stjameslondon and @london.westend