An Afternoon Tea lover's day out in London: Royal Academy of Arts and Fortnum and Mason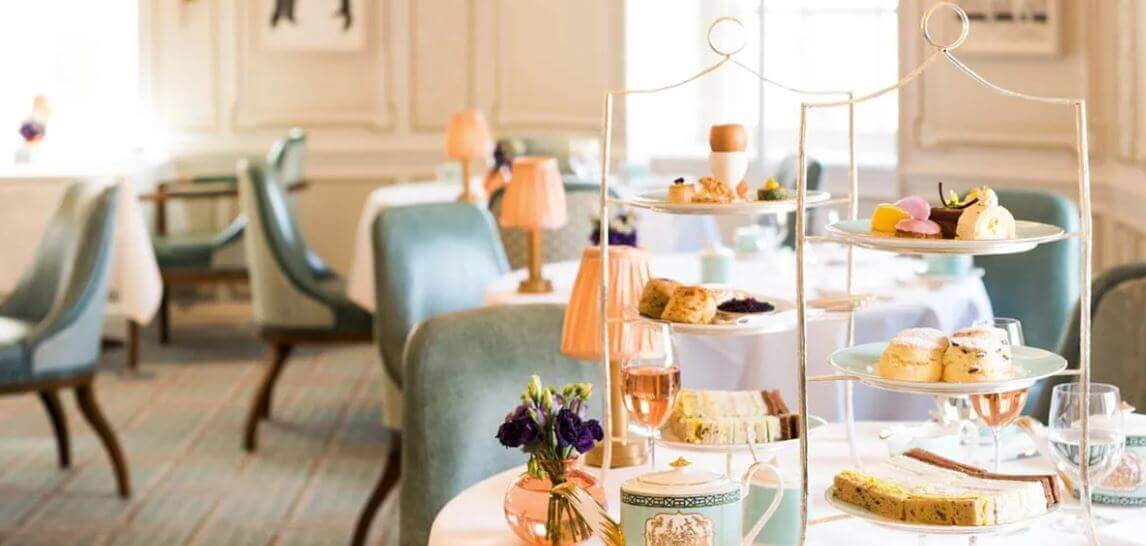 London's West End is the centre of the Afternoon Tea world and is packed full of historic buildings, incredible shops, open spaces and visitor attractions.
AfternoonTea.co.uk have explored some of the best venues to go for Afternoon Tea along with suggestions for things to see and do in the same area, which combine to make a great day out in and around the Piccadilly and St James's area.
Once home to some of London's grandest houses, Piccadilly has been one of the city's most famous streets for hundreds of years. Two of Piccadilly's oldest landmarks, Fortnum & Mason and the Royal Academy of Arts, sit directly opposite each other, making them the perfect pairing for an afternoon of tea and culture while keeping walking to a minimum!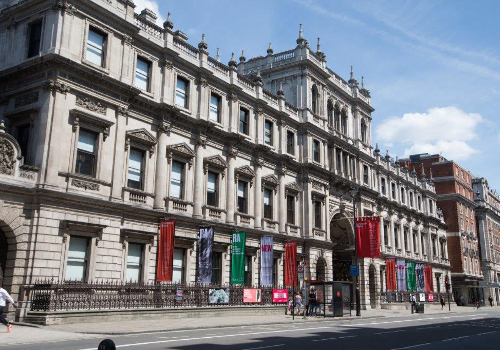 Founded in 1768 as 'a society for promoting the Arts of Design' the Royal Academy of Arts moved to Burlington House on Piccadilly in 1867.
Burlington House was built in 1664 as a Palladian mansion for the Earl of Burlington. Expanded many times over the years, today it houses five societies, including the Royal Academy of Arts, around an impressive central courtyard.
The Royal Academy of Arts has held an annual exhibition, open to anyone to enter, since 1769. The 'Summer Exhibition' as it is known is as popular as ever, with artists from around the world submitting more than 16,000 works of art to be whittled down to around 1,000 pieces for display.
There is a wide range of free displays, exhibition and events for the visitor to enjoy in addition to special 'blockbuster' exhibitions featuring the work of famous artists on loan from public and private collections.
For further information about what's on visit https://www.royalacademy.org.uk/
After a couple of hours walking around the galleries at the Royal Academy of Arts, what could be more relaxing than Afternoon Tea at Fortnum & Mason?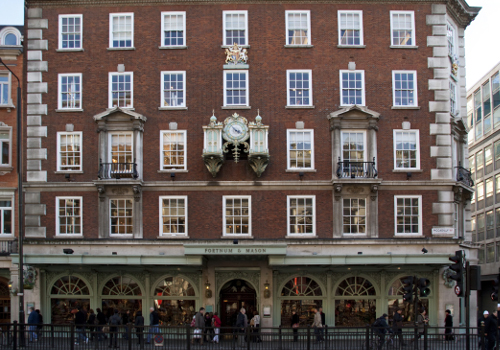 Just a few more steps across Piccadilly, Fortnum & Mason has an equally long and illustrious history.
Fortnum & Mason's flagship has been trading in Piccadilly for over 300 years. From humble beginnings, it developed into one of the world's finest stores with four floors of fine foods, homeware, fragrances, jewellery, clothing and restaurants.
Afternoon Tea has been an institution at Fortnum & Mason since 1926 and in 2012 Her Majesty the Queen visited with their Royal Highnesses the Duchess of Cornwall and the Duchess of Cambridge to formally open the Diamond Jubilee Tea Salon.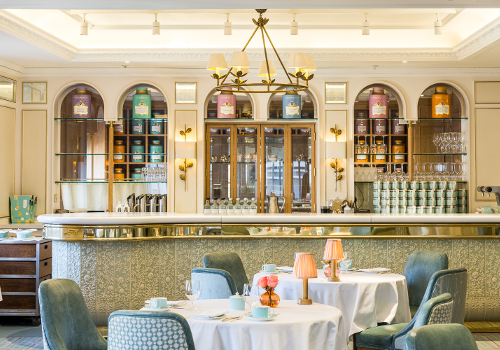 The Tea Salon is a bright and elegant setting for the award-winning Afternoon Tea, served in teapots, and on fine china, decorated with Fortnum & Mason's distinctive signature Eau de Nil colour.
An extensive menu of teas is available, including some of the rarest and most sought after in the world. Every taste and dietary need is catered for here, from the Traditional Afternoon and High Tea menus to vegetarian, vegan, gluten and dairy-free alternatives.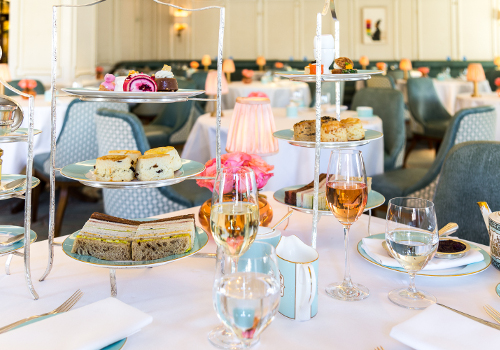 Champagne is a popular addition to the Fortnum & Mason Afternoon Tea, with a wide selection to choose from by the glass - or the bottle, for those extra special occasions. New on the menu is Fortnum's Sparkling Tea, a refreshing alcohol-free fizz. The latest evolution in Fortnum's 312-year tea history sees a certified organic blend of eight of Fortnum's famous and rare brews, perfect for toasting to Afternoon Tea with.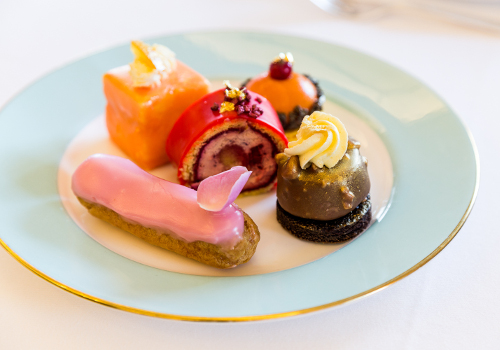 You can even expand your knowledge of tea by including a tea tasting session with your Afternoon Tea. One of the Tea Salon's expert 'Tearistas' will explain the different types of tea and their production methods. You can smell and feel the leaves before sampling a selection of white, black, green and oolong teas.
The teas served in the Tea Salon are also available to buy on the Ground Floor, so you can enjoy them again at home.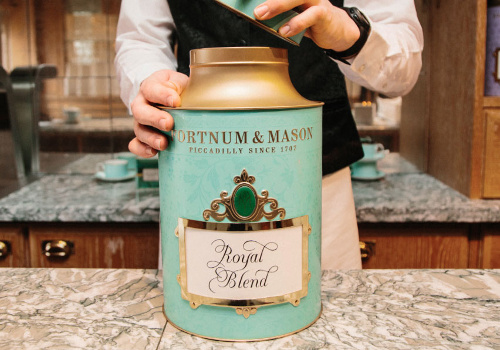 A visitor attraction in itself, the Food Hall is a sumptuous emporium of the finest food and drink and upstairs, the famous F&M hampers are displayed, with over 80 to choose from in all shapes and sizes.
Exit via the Duke Street door to take a look at the beautiful wooden staircase, decorated with statues, which winds itself up through each floor.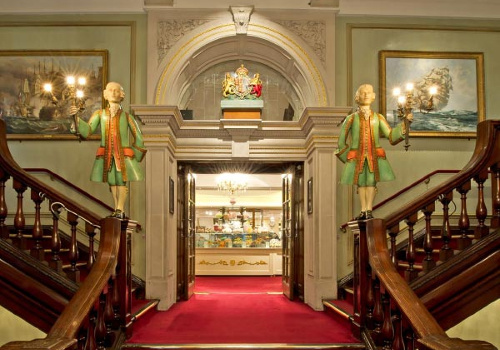 Step outside to a friendly smile and a wave goodbye from the resident doorman, donned in a top hat. A lovely way to end a perfect day out in St James's London.
Afternoon Tea at Fortnum & Mason costs from £55 per person and guests can enjoy a choice of Rare Tea at £58.00.
You can view more information about Afternoon Tea at Fortnum & Mason here
Fun fact…in 1738 Fortnum & Mason invented the Scotch Egg for travellers to take on long-distance journeys.
Look out for…the clock above the main entrance where Mr Fortnum and Mr Mason appear every hour to check that standards are being maintained.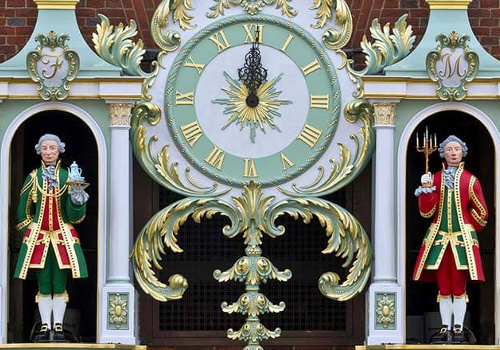 Want to know more about what to do in the area?
Visit stjameslondon.co.uk and follow @stjameslondon and @london.westend