Bouquet de La Reine Afternoon Tea at Great Scotland Yard Hotel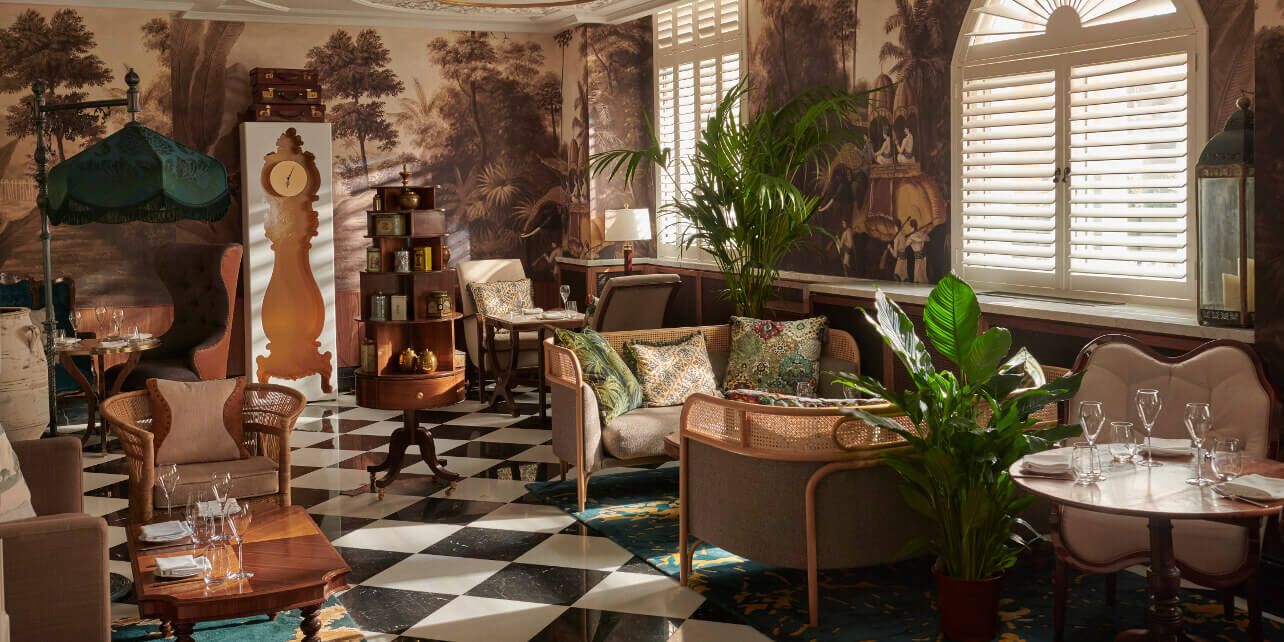 The AfternoonTea.co.uk team visited Great Scotland Yard Hotel to try their inventive Bouquet de La Reine Afternoon Tea in partnership with Floris London, and what a journey through the senses it was.
Situated just a stone's throw from Covent Garden, the 5-star Great Scotland Yard Hotel occupies the former home of the Metropolitan Police and remains steeped in history – if walls could talk, they would certainly have some stories to tell!
The hotel's grand hallways are decorated with suitable nods to its history, with references to the likes of Jack the Ripper, Charles Dickens and Arthur Conan-Doyle. We could have spent all afternoon perusing the various artefacts and marvelling at the commissioned artwork that hung upon the walls, but our rumbling stomachs meant that it was time for the main event… Afternoon Tea!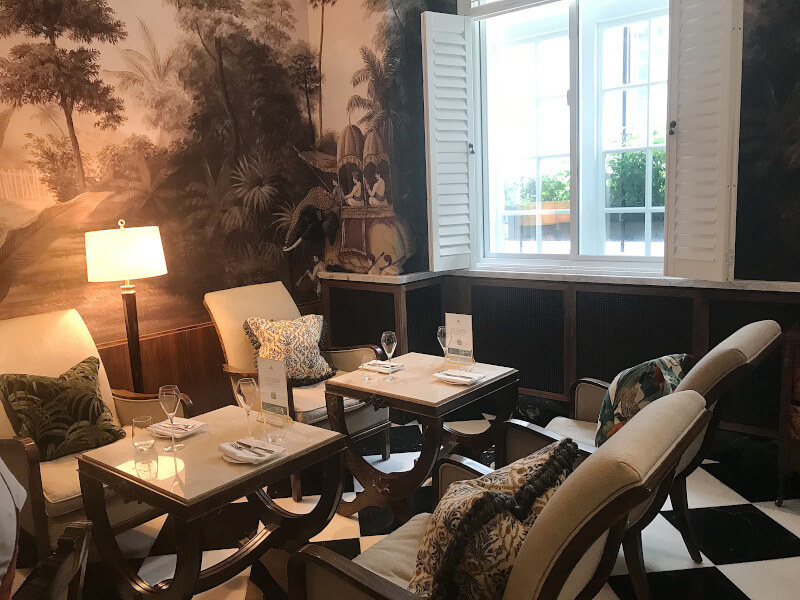 In partnership with Floris London, Great Scotland Yard's Bouquet de La Reine Afternoon Tea is a reference to the House of Floris scent of the same name which was, fascinatingly, created by Mr. Floris himself as a wedding gift for Queen Victoria in 1840. The scent marries the soft fruitiness of peaches with florals such as jasmine and rose and earthy notes of oakmoss, sandalwood and vanilla, all of which inspired the flavours that encompass this multi-sensory Afternoon Tea.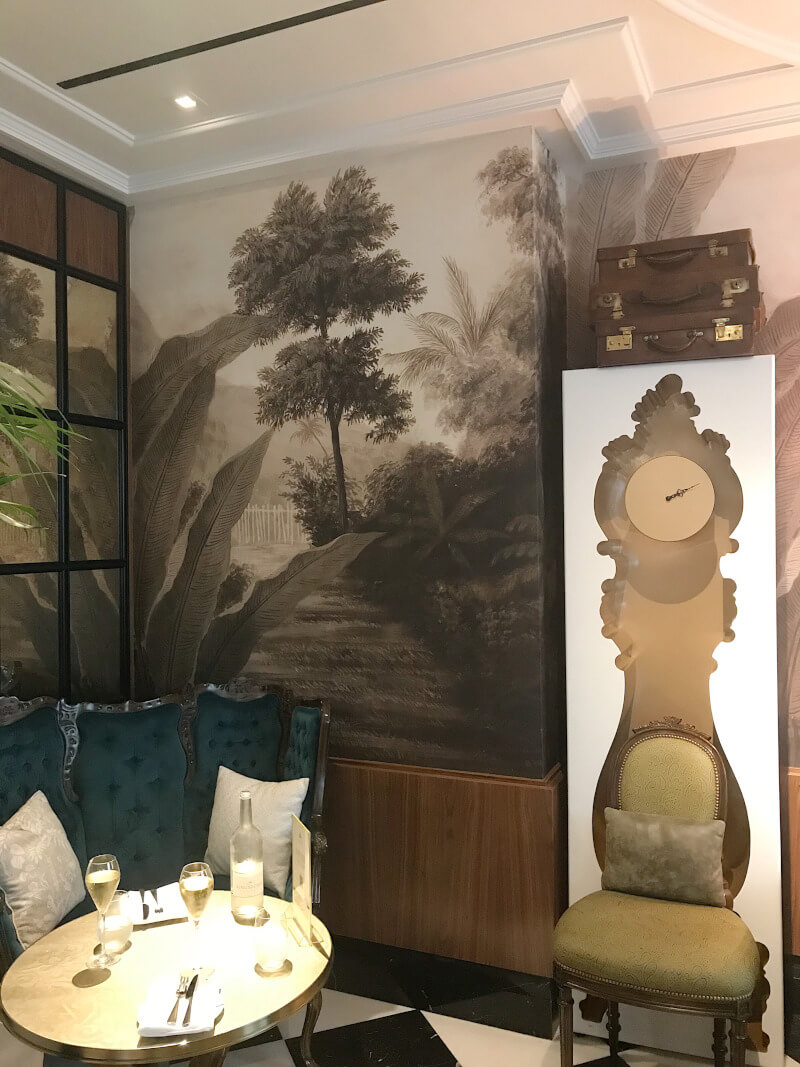 After being warmly welcomed by the Maître D', we were escorted to The Parlour – the hotel's Tea Room, which is decorated with nods to tales of Britain's famous explorers. Patterned fabrics and bold tiled flooring are contrasted with earthy tones and lush, green foliage, creating a cosy, relaxed environment in which to while away the afternoon.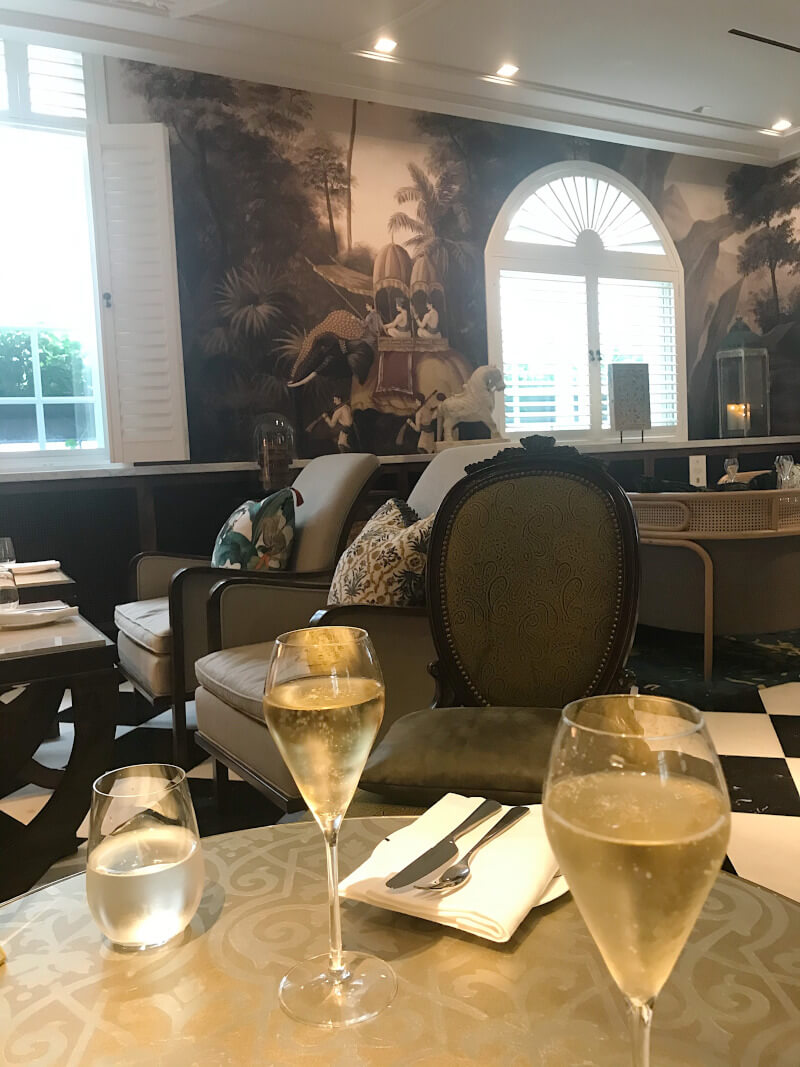 To begin, we were served a chilled glass of Champagne whilst our friendly server talked us through their extensive tea selection. We were truly spoilt for choice but finally opted for our server's recommendation – a fragrant jasmine tea to accompany our savouries.
Whilst sipping our Champagne in suitably luxurious surroundings, we were presented with a grand three-tiered Afternoon Tea stand featuring a tempting array of savouries.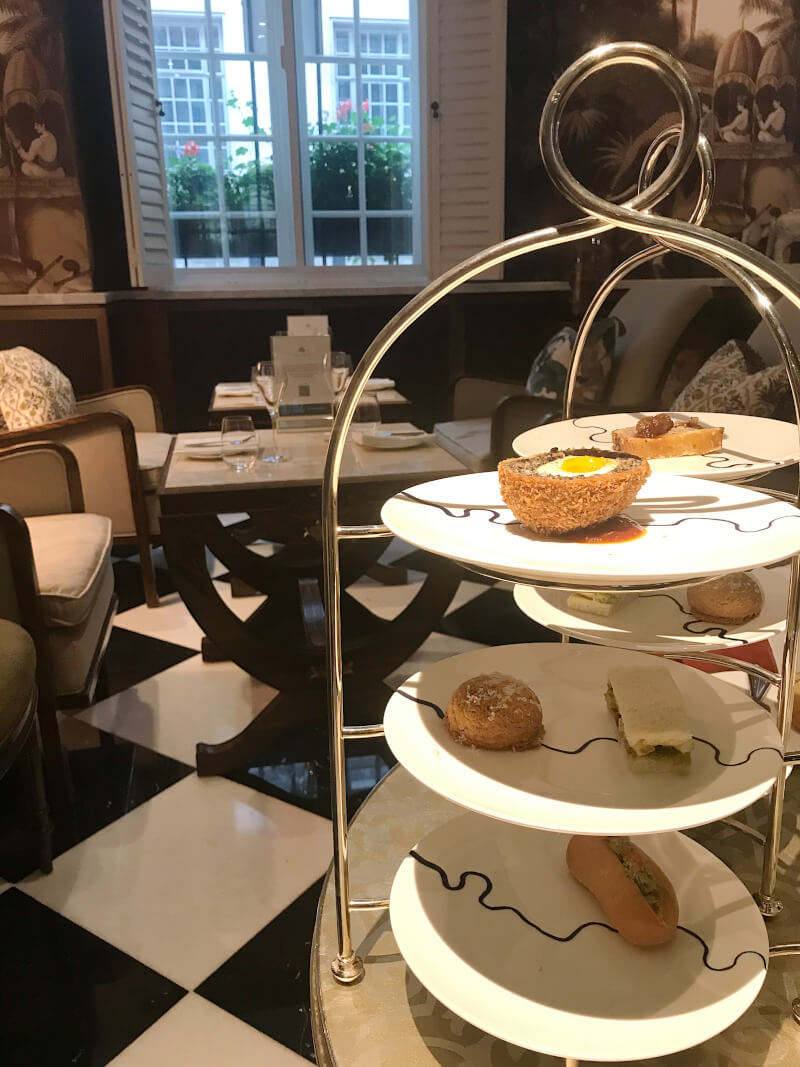 I had opted for the Pescatarian Afternoon Tea, consisting of a selection of dainty sandwiches – salmon, cucumber & horseradish on brown bread, mozzarella, roasted tomato & pesto on white bread and a crab, lime & chilli crème fraiche bun. My highlights, however, were by far the bechamel & Guinness Gougère and the vegetarian Scotch Egg, which was encased in a layer of -melt-in-the-mouth mushroom – a flavour combination I won't be forgetting in a hurry!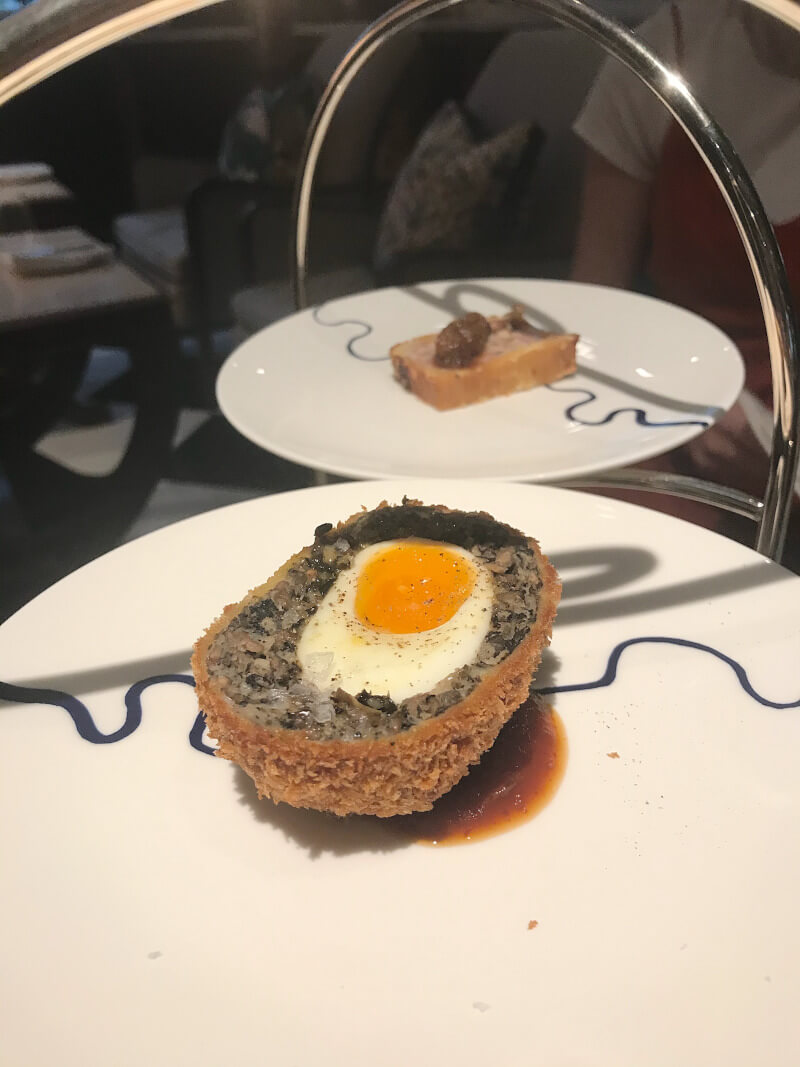 Next up, the sweets. We marvelled as our server brought over a second stand featuring three tiers of intricately decorated cakes and pastries and it's safe to say we didn't hesitate before tucking in.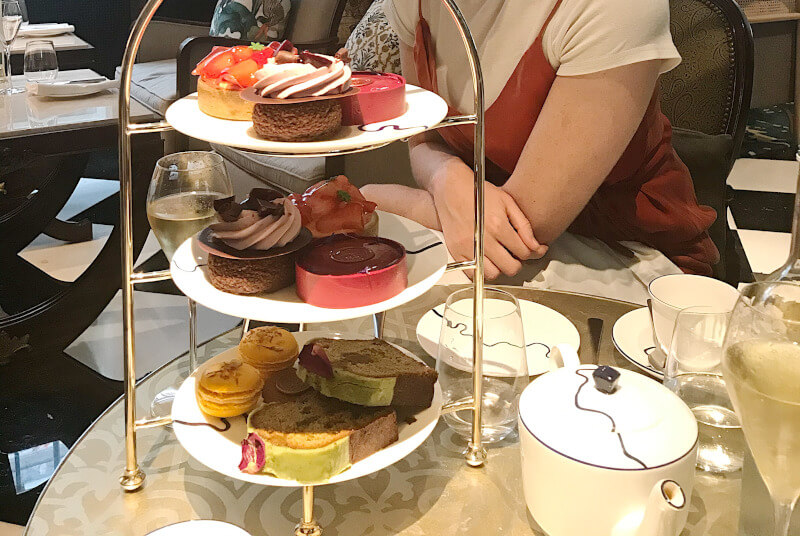 I began with the delicate mango & jasmine macaron, before indulging in the tonka & vanilla salted caramel cookie. Then, the cherry and dark chocolate choux, which was the perfect combination of light, fluffy and devilishly indulgent. The sweet plate also featured a blackcurrant and yoghurt gateaux, a jasmine & strawberry frangipane tartlet and my favourite of the selection: a very generous slice of rose and pistachio drizzle cake.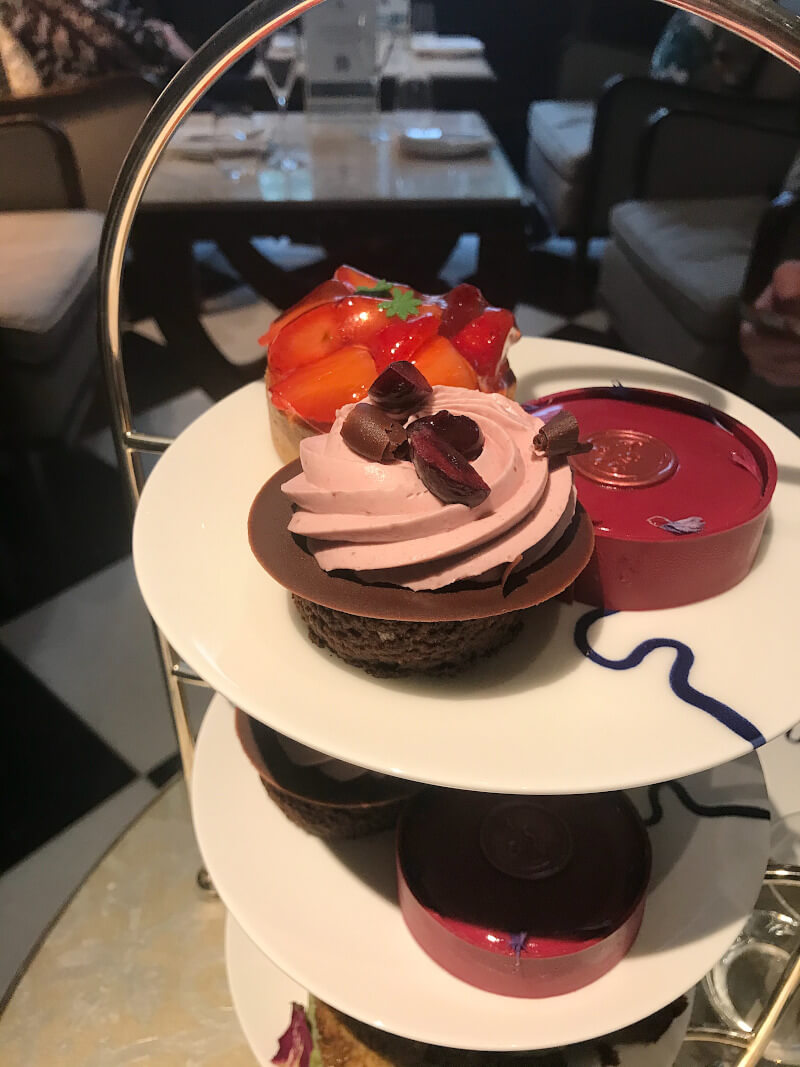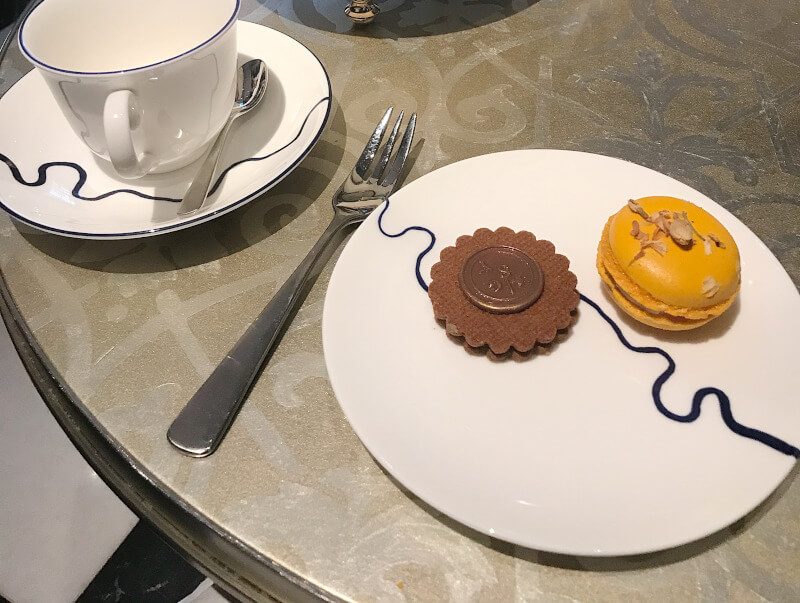 Whilst enjoying our sweets, we sipped on our second tea of the afternoon – an aromatic oolong tea which we agreed was marvellously paired with the selection of cakes and pastries on offer. As a fitting end to our Afternoon Tea, we turned to the basket of freshly-baked plain and raisin scones, served warm with a strawberry & elderflower jam.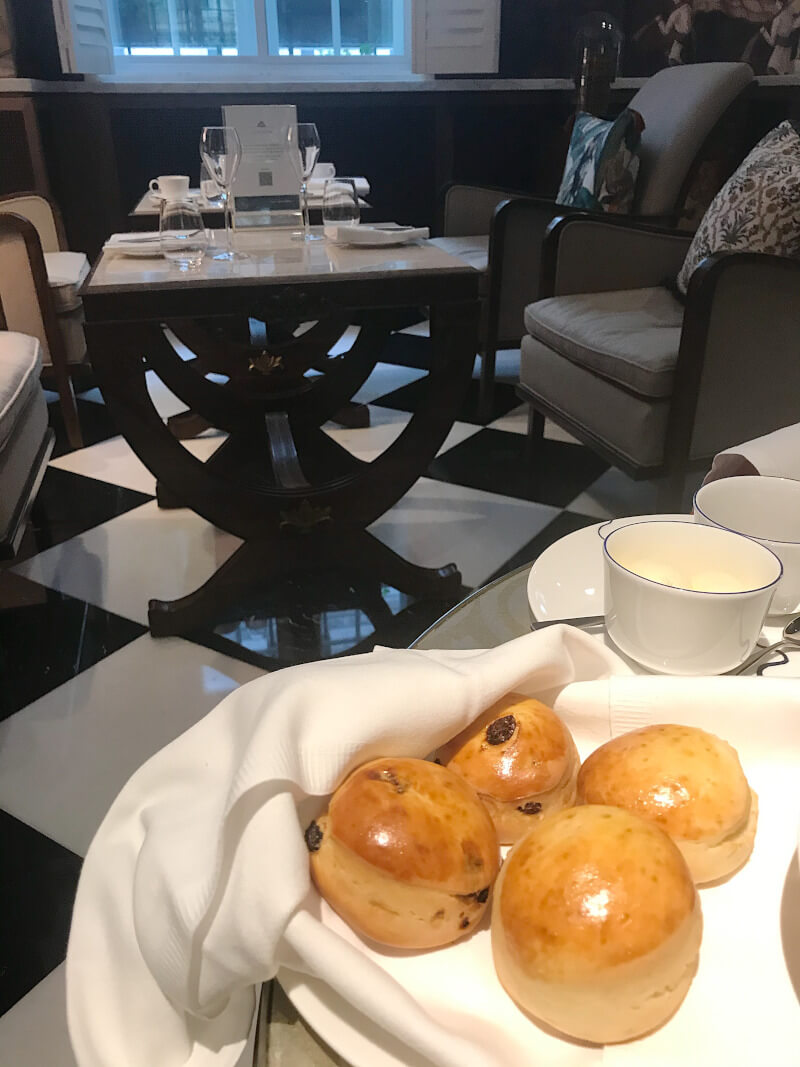 Nestled just around the corner from Trafalgar Square, the iconic Great Scotland Yard Hotel provides the perfect respite from an afternoon of sightseeing in London. Escape from the hustle and bustle of the city and float away with this multi-sensory Afternoon Tea experience that is truly fit for royalty.
Bouquet de La Reine Afternoon Tea at Great Scotland Yard Hotel is served from 1pm until 5pm every Saturday and Sunday.