CHEF CHAT – The Rubens at the Palace Vegan Afternoon Tea by Executive Pastry Chef Sarah Houghting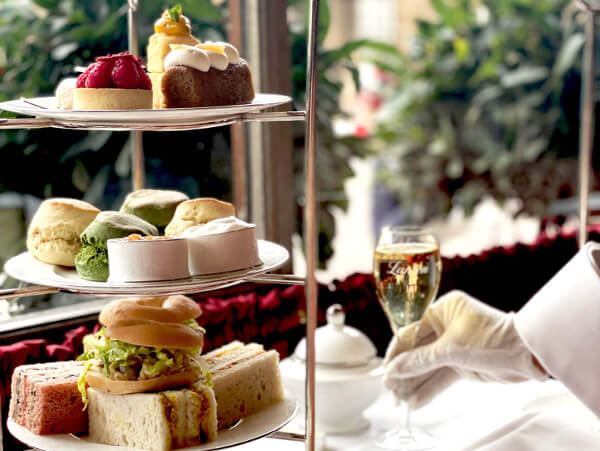 We've teamed up with Rubens at the Palace to give one lucky winner overnight stay plus Vegan Afternoon Tea for two! Enter here now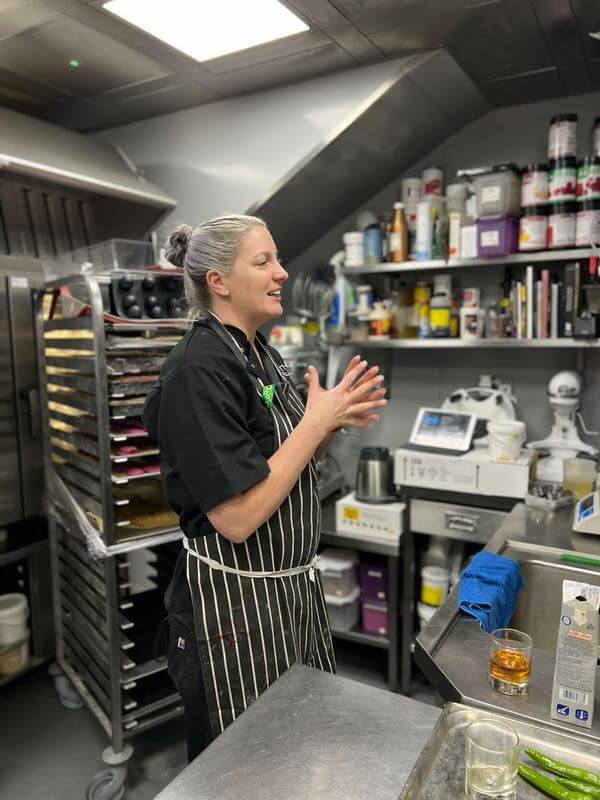 Often, those with dietary requirements are left as an afterthought with a footnote at the end of the menu. Or there's the frustration of compromising on flavour. Or eating the same dish in different restaurants over and over. When creating the Vegan Afternoon Tea, Sarah Houghting, executive pastry chef at The Rubens at the Palace wanted to put Vegans at the heart of the menu. Sarah set out to make something that would convince even non-Vegans that they weren't missing out, "When I started at Rubens, I said that I wanted to have one of the best offerings for Vegan, and I hope we're on the right track."
Ask any pastry chef, and they'll tell you that it's no mean feat creating Vegan patisserie. You have to omit a lot of the key ingredients which make the alchemy of baking work. "The challenge is always replacing what we as pastry chefs use – eggs and butter," says Sarah. Instead of egg, Sarah and her team were able to use baking powder as the raising agent, along with bicarb. For butter, they used Flora, an ethically sourced palm oil replacement – "Often butter replacements tend to be just fat, whereas this is velvety, which is what you normally gives pastry its velvety quality."
Sarah hit the books, and delved into Vegan communities online, but also drew influences from traditional Afternoon Tea flavours. For Sarah's favourite, the Chai Latte Cheesecake, uses coconut cream cheese and cashews in the base to lend the dessert its signature creaminess "You would not be able to tell the difference between a chilled cheesecake and this one," Sarah says.
When I asked if there was any disasters in the kitchen during the creative process, Sarah says she mostly prefers to forget about the bad flavours. One that sticks in her mind though, is baking with swede. "When you bake swede it smells horrendous. When you add it to the cake you fall back in love with it. You hate it at the beginning but by the end you love it." Not to fear - the Swede and Ginger Cake arrives on the stand as patisserie perfection, exquisitely balanced with a warming heat from the crystallised ginger.
The Rubens at the Palace have made extra effort to be inclusive. In addition to their Vegan Afternoon Tea, they also offer Halal, Gluten Free and Vegetarian menus. Sarah wanted the Vegan Afternoon Tea menu to appeal to those wanting to make some healthier swaps, so she stripped back the refined sugars and used fruit and vegetables to add sweetness to the cakes.
We asked Sarah if she has any tips for those attempting Vegan baking at home, "I do a lot of homework on social media and book reading to get inspiration. Often I take things I enjoy eating and try to find Vegan versions - Google is your best friend. Then it's a matter of practise practise practise, make mess ups, be ok with the mess ups because you'll learn along the way."
Ordering the Vegan Afternoon Tea at Rubens at the Palace doesn't mean you'll miss out on the scones either. There is a plain scone and matcha scone, served complete with seasonal fruit preserve and coconut cream. Vegan or otherwise, does Sarah put cream first or jam first on her scones? "I'm probably going to cause WW3 but it is always cream first and then jam. The cream acts as the butter. Whenever I make a sandwich I always put the butter first, so for the scone it's the same thing. The cream before the jam."
We've teamed up with Rubens at the Palace to give one lucky winner overnight stay plus Vegan Afternoon Tea for two! Enter here now