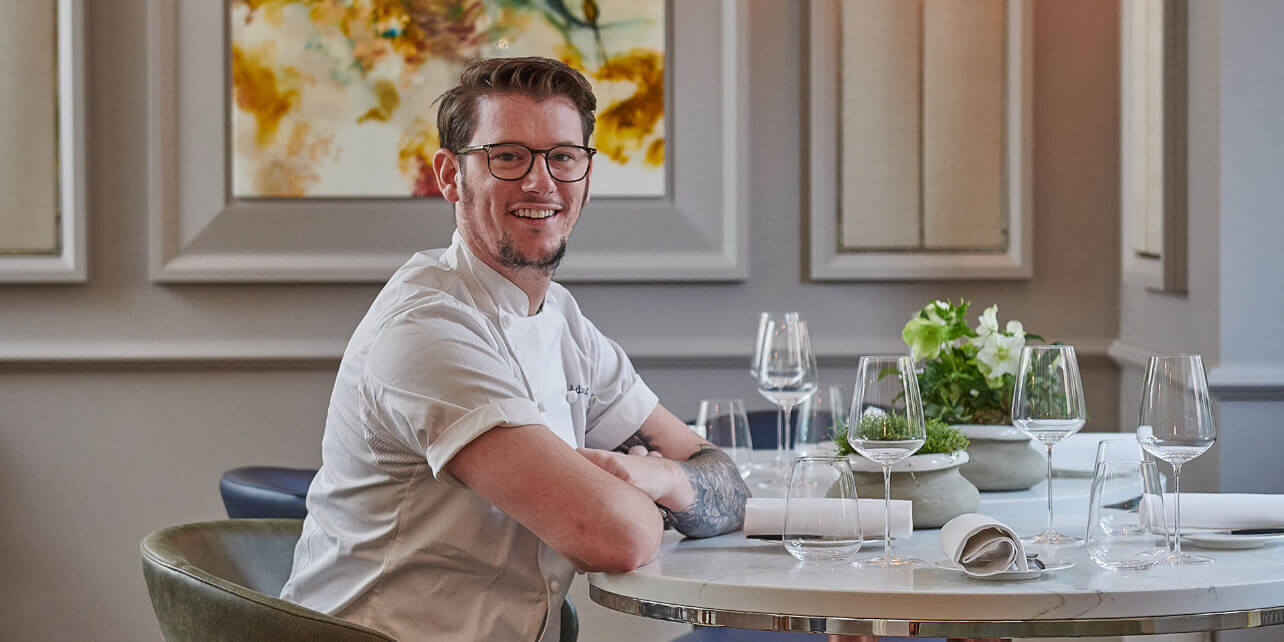 The Afternoon Tea Team went behind the scones to talk to Adam Handling and try out his new Afternoon Tea at the renovated Belmond Cadogan Hotel.
At just 30 years old, the acclaimed restauranteur has expanded his empire to launch a luxury fine dining establishment, Cadogan's by Adam Handling, inside one of London's most iconic venues.
What makes this all the more impressive is how just 7 years ago, Handling made the big decision to quit the industry after he didn't make history as the youngest ever Michelin-starred chef.
He tells us: "I didn't get it and it killed me. I wanted to give up food for good. I hadn't had a day off since I started so I quit being a chef, put a backpack on and travelled the world."
The Dundee born chef found inspiration during his travels - and he returned to the UK having rekindled his passion for food, with a whole host of new techniques, particularly from South East Asia, that he was excited to bring to the people of Britain.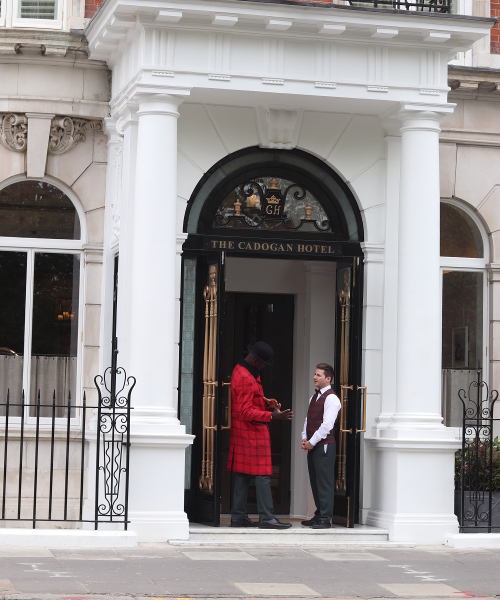 Outside the luxurious Belmond Cadogan
The comeback project was typically ambitious and involved building a restaurant from scratch with a group of close friends.
He laughs: "We built it in a car park and it was a dive! We painted the walls ourselves and the door handles were on back to front. Genuinely, that was one of the chefs!"
Amazingly, these humble foundations became the acclaimed Frog E1, Shoreditch that took the Capital by storm and was awarded UK's Best Restaurant in just its 2nd year. The Chef hasn't looked back since, as the brand has since grown to become 3 separate restaurant groups with numerous outlets across London.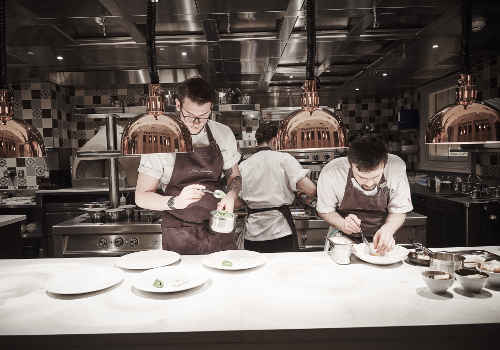 Inside the impressive facilities at Cadogan by Adam Handling
He describes his style as "British food inspired by London" - and it doesn't get more quintessentially British than Afternoon Tea, so it's natural that he has constructed his own version of the great tradition.
For Handling, it's important to communicate a personal connection through his food and his version of Afternoon Tea is an attempt to capture that feeling of being spoilt at your Grandmother's house as a child.
"Afternoon Tea is all about the feeling of gluttony, comfort cuddles and the things that you want to eat but you know that you shouldn't. It's that feeling as a child when you could be sitting out on the terrace and you're handed a jar of cookies or a slice of cake."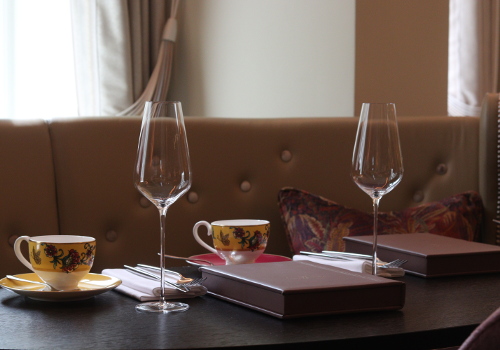 Our beautiful seating area at the Belmond Cadogan, perfect to wile away a relaxing afternoon
Infusing the Afternoon Tea with a personal touch is clearly quite something that Handling has placed significance on. Pictures of him and his family adorn the lounge area - and the tea cosies are all knitted by Handling's mum with a sweet message attached how they've been 'made with love'.
"If people want to come to my restaurants, they want to see the interpretation from me and the group so it's all about individuality. We tailor to the area, but we always remain true to ourselves."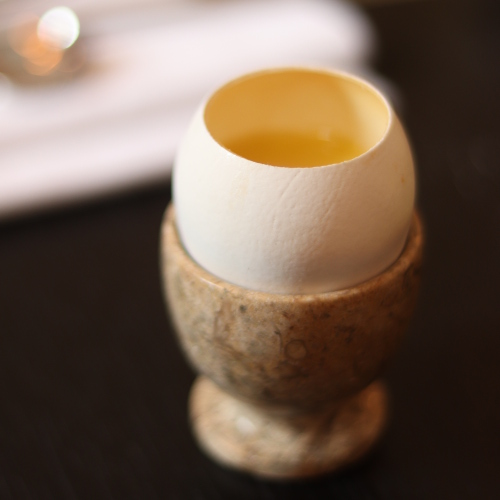 The experience begins with an amuse bouche of an egg white custard that comes interestingly presented in an egg cup. Savoury in flavour, this delightful mousse has a wonderful whipped texture that leaves you craving for more.
Fortunately, we didn't have to wait too long before the savoury section of the Afternoon Tea was delivered to our table - served on a unique stand in the shape of a tree as an homage to the nearby Cadogan Gardens.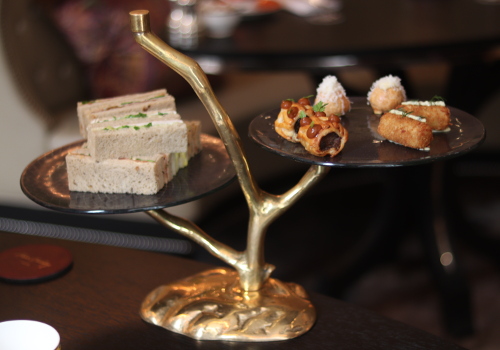 To accompany the food, we received a glass of Handling's own sparkling wine, sourced from a vineyard in West Sussex. The sparkling wine had a subtle tang that whet the palate and provided a perfect accompaniment for the savoury treats.
The selection of finger sandwiches each came served on different bread types to add an exciting variety to the plate. The honey roasted smoked ham was a particular highlight, which came served on a flavoursome onion bread and featured an unbelievable mustard seed chutney that tantalised the taste buds.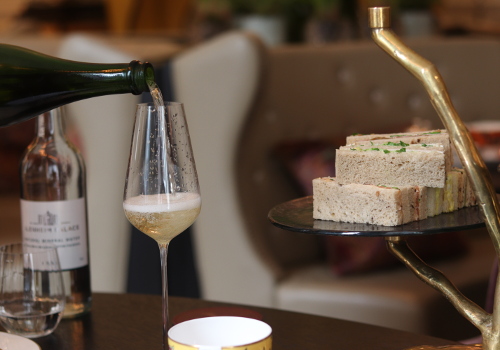 It's clear the Afternoon Tea is brimming with ideas, which is certainly reflective of the chef's buzzing personality, who delivers the thought process behind the Afternoon Tea with an infectious energy.
He said: "The Afternoon Tea is the whole story of the UK, an homage to history and future, which is what British food is all about. It's not just simply a plate of sandwiches, scones and cakes, it's a 5-course tasting menu."
It's this force of personality that has been key to Adam Handling's success ever since he first got his foot in the door as an apprentice at Gleneagles as a 16 year old - the beginning of a storied career that has since included successful appearances on popular T.V shows such as The Great British Menu and Masterchef: The Professionals.
"I'm not rude, but I am a little cheeky. If you have confidence, that'll get you a long way in this industry. I wasn't handed any of this! I'm from a working class family, my dad is retired and my mum is still a cleaner."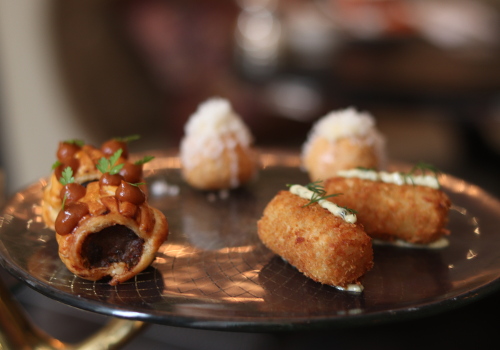 The Afternoon Tea is made in the chef's image with the savoury plate a particularly interesting tribute to his working class roots, weaving in the history of High Tea with its inclusion of items such as a sausage roll with brown sauce.
He explains: "I love British history and High Tea was initially created as a state meal to feed the working class people. It was important for me to pay homage to that but also create a luxury experience."
An additional savoury plate is not something always expected on a traditional Afternoon Tea, but its inclusion proved to be the highlight of the experience. Each item exploded with flavour, creating a new taste sensation to elevate what initially sounded quite common food types to the fine dining standards expected of a gourmet experience. The sausage roll was infused with apple and black pudding and the humble fish finger has received a fancy makeover to become the delicious salt cod croquette.
The Afternoon Tea is broken up with a palate cleanser of a yoghurt and mango lime, which helped contribute to that big tasting menu experience that Handling is trying to achieve.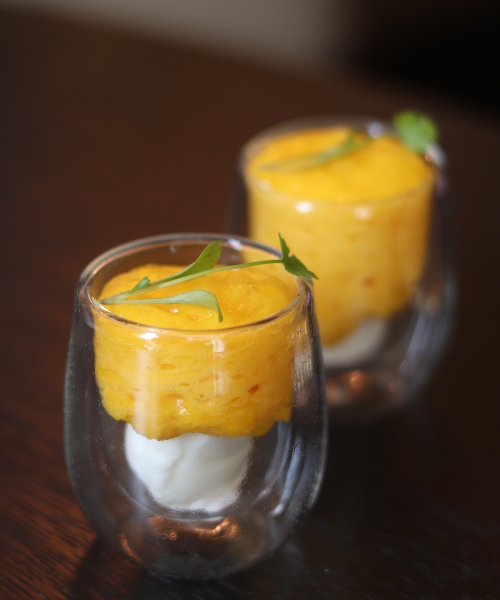 Our palates refreshed, we were now ready for the scones and sweet treats which were attached to that same beautiful tree stand. We decided to pair the scones with Adam Handling's own Assam blend - and, while this is a very big statement, me and my guest both agreed how they could be the best scones we've tasted. Fortunately, the Chef was on hand to provide tips.
"I like my scones seasoned. Whether it's sweet or savoury, always add some salt to it. In terms of cooking, when you make your dough don't play with it. Just fold all the crumbs together, and it doesn't matter if it's bubbly. A lot of people play with the dough because they think it makes it smoother, but when a scone falls to pieces, it's because you've played with the dough too much."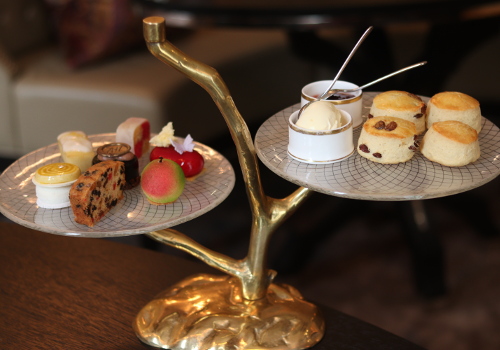 With the scone, we also reached the classic bone of contention in the Afternoon Tea experience of jam or cream first. The Chef reveals he usually opts for the Devonshire method, but you get the sense that with Handling the rules and the etiquette are secondary to the experience.
He said: "My food doesn't come with a rulebook. I hate being told how to eat. I don't like formalities. I'm very polite, please, thank you, no elbows, and all that. But if someone wants to use a spoon, then do it! Food nowadays is a fun experience, but when you slap something on that makes people come out of their comfort zone then you lose the concept of having fun, which is what food should be all about."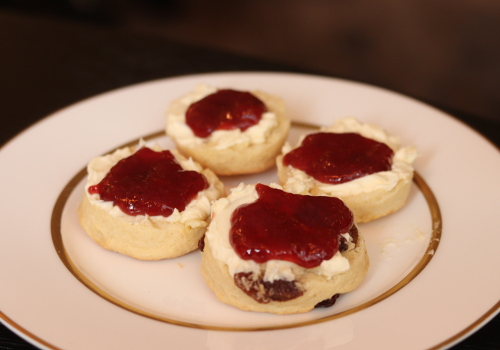 Similarly to the savoury plate, the sweet section perfectly tows a fine line with the way it blends luxury gourmet fancies with home favourites.
As Adam Handling explains: "There are 4 modern sculptures of art that represent the future of British cuisine along with 3 traditional cakes that are family recipes of mine and [Executive Pastry Chef, Chris Underwood's] grandparents."
Adam Handling's Assam blend with knitted tea cosies made with love by his mum
The sweet plate is extensive and is designed to be shared by two, with Handling embellishing the gluttonous spirit of Afternoon Tea as guests are given the chance to replenish any of the sweet treats they particularly enjoyed.
The fancies deliver on the luxury while the Dundee cake, lemon drizzle and Battenberg evoke that sweetest of flavours: nostalgia. Our personal favourite was the white chocolate & raspberry mousse fancy that featured an oozing fruity centre. It was so good that we just had to order another!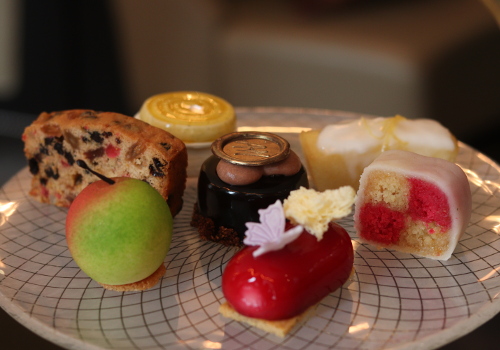 We polished off our treats to bring an end to the Afternoon Tea experience at Cadogan's by Adam Handling. It is the latest project in a decorated career that is still relatively in its early stages - and the Chef puts his remarkable success down to an unerring belief in his product.
 "When you believe in something so much, will you really let it fail? Ego lets it's fail, but not sheer determination."
Based on our tremendous experience, the Afternoon Tea at Cadogan's by Adam Handling is destined to be another hit for the talented restauranteur. The Tea is a terrific blend of history and nostalgia that manages to be just as fitting a tribute to Handling's working class roots as it is to those famous figures associated with the Belmond Cadogan Hotel such as Oscar Wilde and Lily Langtree.
It's not one to miss. Really, the scones alone are worth the visit.
You can see more info about the Afternoon Tea at Cadogan's by Adam Handling on their Instagram profile here