Chef Chat with Executive Pastry Chef Andrew Gravett at The Langham
Having moved to Normandy at just sixteen years old where he trained in pastry shops and soon developed a passion for the craft, Andrew Gravett has since built up an impressive background in pastry. After working in Michelin-starred restaurants and travelling the world teaching professionals with renowned chocolate producer Valrhona, he is now Executive Pastry Chef at the 5-star Langham Hotel.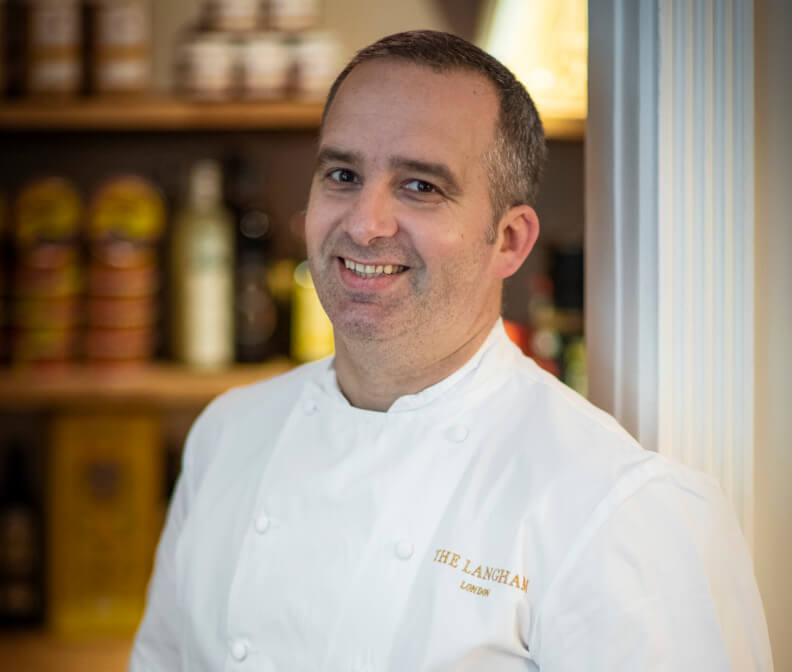 We caught up with Chef Andrew to chat about his experience at the hotel and the inspiration behind the Langham's brand-new Afternoon Tea menu. He began working at The Langham in 2017, having taken over the role from Cherish Finden, who contacted Gravett to inform him that she was moving on. "I wanted to do a big 5-star hotel experience," he tells us, "and so it came at the right time."
We asked Chef Andrew to describe a typical day in the life of a Pastry Chef at The Langham. "We're currently a team of thirteen Pastry Chefs," he tells us. "On Afternoon Tea days we bake the scones in the morning, prepare the cakes before each sitting and add the final garnishes. But for me, it's lots of tasting, lots of checking and always thinking about the next menus." While it's clear Gravett's days at The Langham are varied, what really shines through is his love of creation. "My favourite part, however, is coming up with products that we enjoy and that a room-full of guests can enjoy too."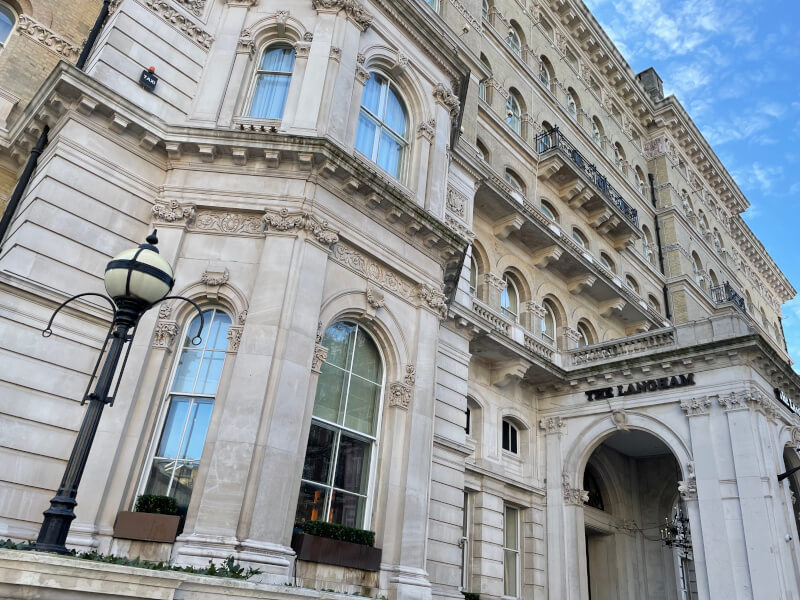 Since Palm Court's opening in 1865, The Langham has been famed as the birthplace of Afternoon Tea. It's no surprise, then, that Gravett and the Pastry team keep tradition at the heart of their Afternoon Tea. Their new menu, launched in March 2022, takes inspiration from the humble beginnings of Britain's favourite biscuits, but with their own unique twist. While some of the pastries resemble the original flavours of the biscuit, Gravett tells us, others resemble the original appearance, and some are a play on the name. Growing up in Britain, some of the Afternoon Tea pastries were even inspired by the Chef's childhood.
The menu is overseen by Michel Roux Jr and we were excited to hear about Gravett's experience working alongside the world renowned Chef. "It's great," he smiles. "We're very lucky to have him come in and his opinion is always well-received."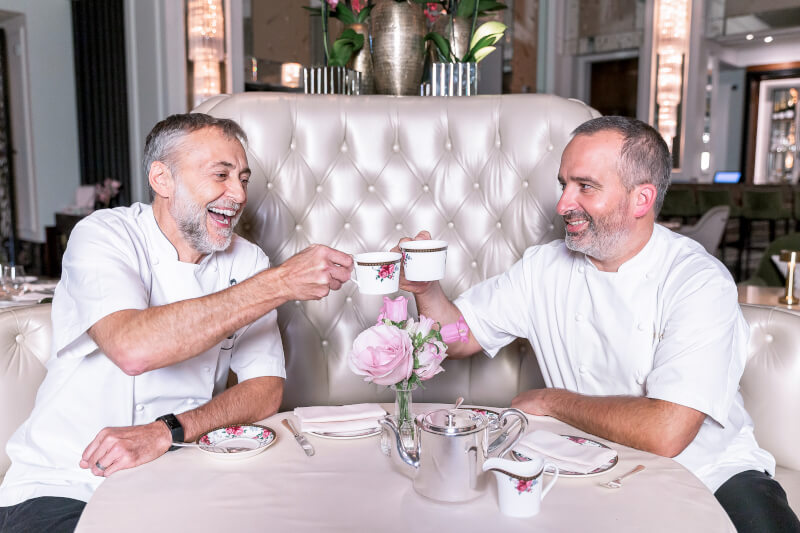 After learning more about the inspiration behind the menu, we couldn't wait to get stuck in. We started the experience with a chilled glass of Taittinger Brut Reserve to whet the palate, followed by a vibrant selection of dainty finger sandwiches.
Having opted for the pescatarian Afternoon Tea, the fillings included: crushed avocado; classic cucumber with cream cheese and chives; Cornish Burford Brown eggs and celery salt, and our personal favourite – hot smoked salmon with sour cream dill on a delicious tomato bread.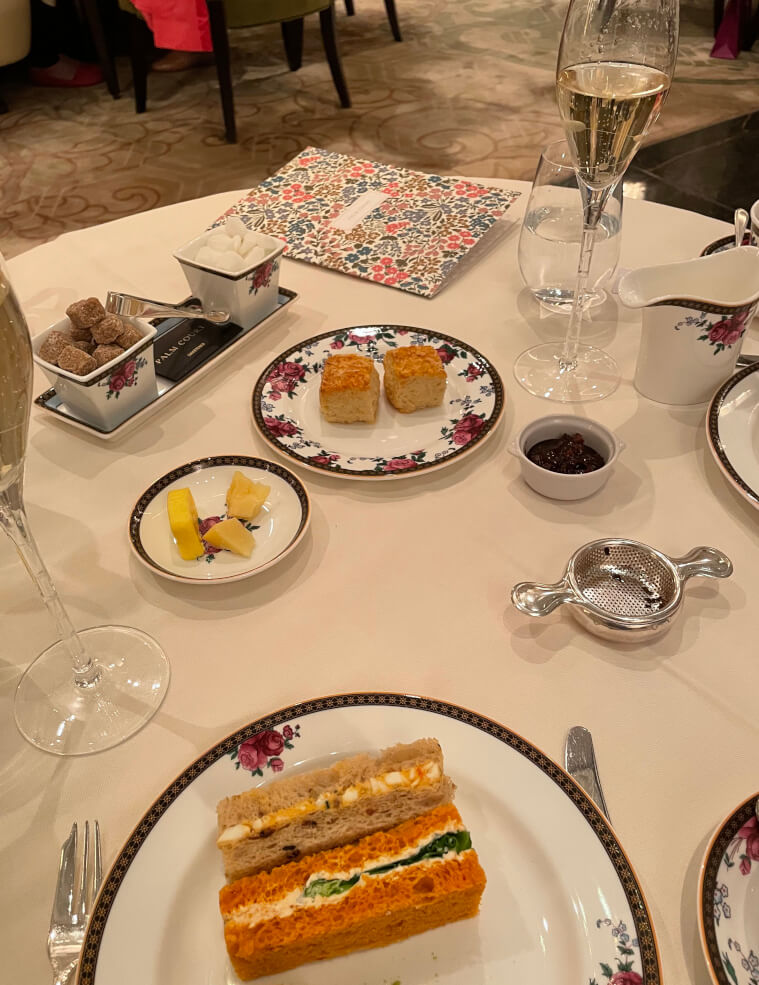 The Langham's Afternoon Tea is served as four courses, and for us the anticipation of each course was an exciting touch that kept our spirits (and our appetites!) high. Next up was a creamy Ploughman's cheese scone served alongside Isle of Mull cheddar and a tangy tamarind chutney which, needless to say, we polished off without hesitation!
Now, the moment we had been waiting for – the Afternoon Tea pastries. While these may look like biscuits we all recognise, one bite into them revealed wonderfully unexpected flavour combinations that added an element of surprise to the Afternoon Tea experience.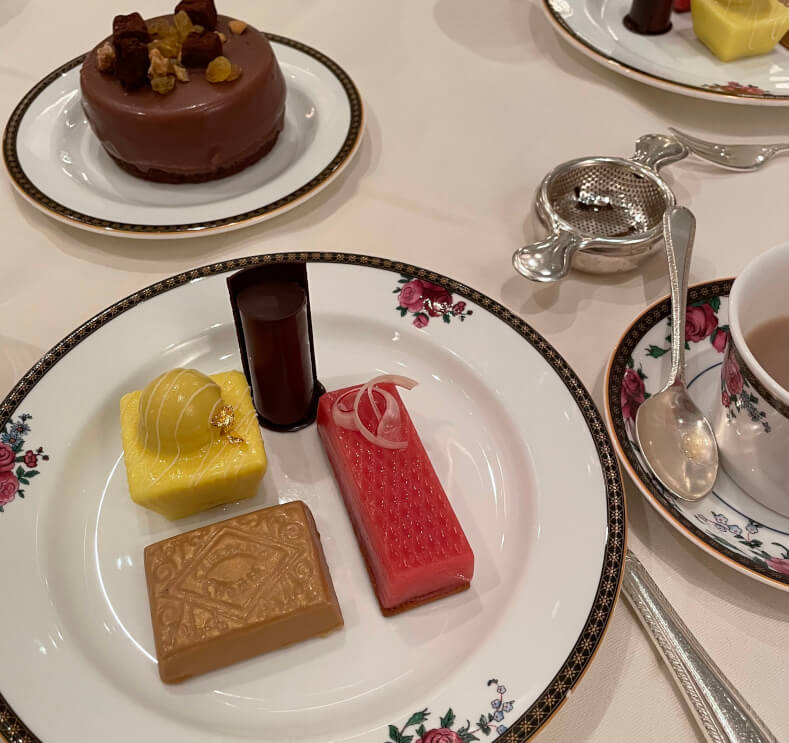 We began with the 'Almost a Pink Wafer' which, Gravett tells us excitedly, is one of his personal highlights of the Tea. This unique interpretation of the classic pink wafer is the same vibrant pink colour everyone knows, but it is the tangy rhubarb that gives it this appearance. Gravett explains, "we don't want to use too much colouring in the products, so it's as natural as can be and in terms of the pink wafer the rhubarb colour is perfect."
The other pastries include: 'Fancy A Fondant', which resembles the Fondant Fancy but is bursting with flavours of camomile cream, baba and Bramley apple compote; Crème de la Crème – a re-imagined Custard Cream combining flavours of white chocolate, Madagascan vanilla cream and caramel, and 'Rolled by Gio' – Gravett's take on the much-loved Mini Roll, which (almost!) looked too good to eat.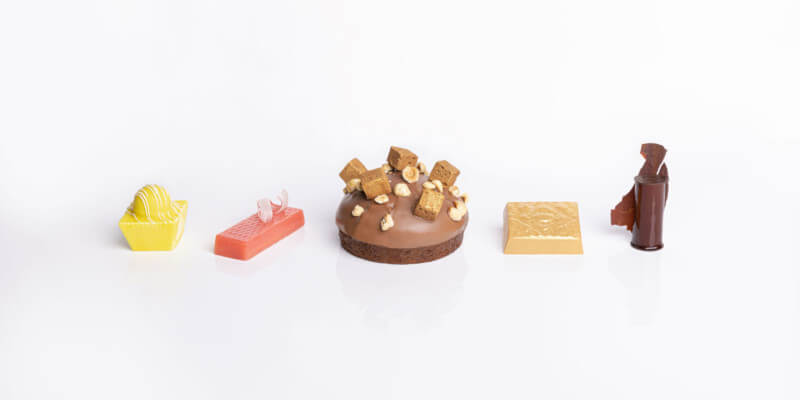 The Afternoon Tea also features a spectacular sharing cake. The 'Tiffinesque' is a spin on the ever-popular Tiffin and consists of chocolate sponge, caramelised white chocolate cream, marshmallow and hazelnuts. The sharing cake was a lovely touch and, for us, re-enforced the idea that the great British ritual of Afternoon Tea really is an experience to be shared.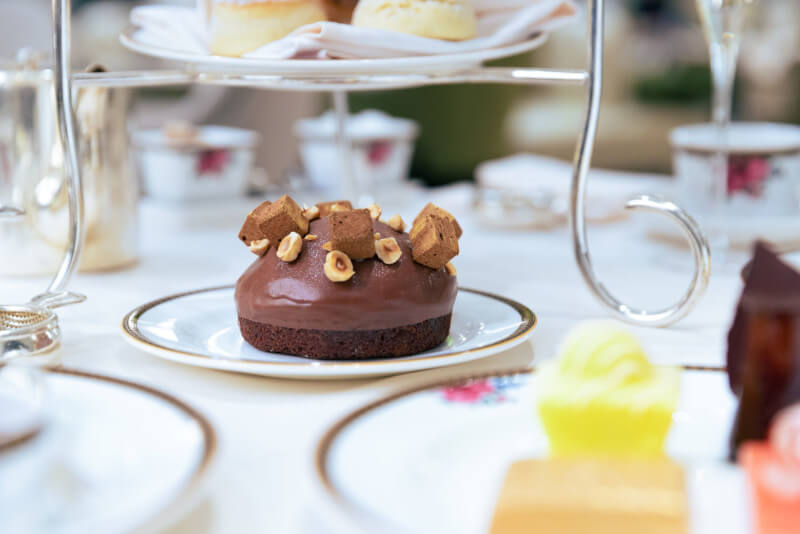 We were lucky enough to sample two delightful teas alongside our Afternoon Tea. To accompany the savouries, we enjoyed the Red Dragon – a black tea with notes of berries and chocolate, and to accompany the sweets, we were served White Peony – a refreshing blend of honey, cucumber and melon flavours.
While some may choose teas that complement particular flavours, Chef Andrew recommends choosing with your heart. "It's interesting to have the pairings," he tells us, "But sometimes I like to go classic. Take what you like. We have a whole menu of various teas, but sometimes just going back to the traditional English Breakfast Tea can be good."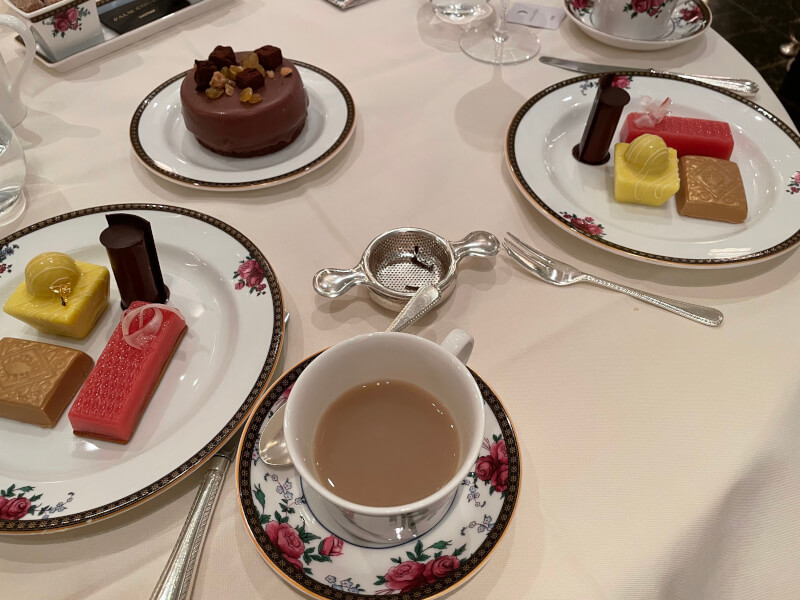 Of course, it wouldn't be Afternoon Tea without freshly-baked scones and to our delight the sweet course was followed by Palm Court's classic & raisin scones, served alongside homemade strawberry and pineapple jams. For Gravett, the scones are best enjoyed after the sweets, as they can be taken home and even reheated. Following Chef Andrew's advice, we can confirm that the scones tasted just as delicious for breakfast the next morning!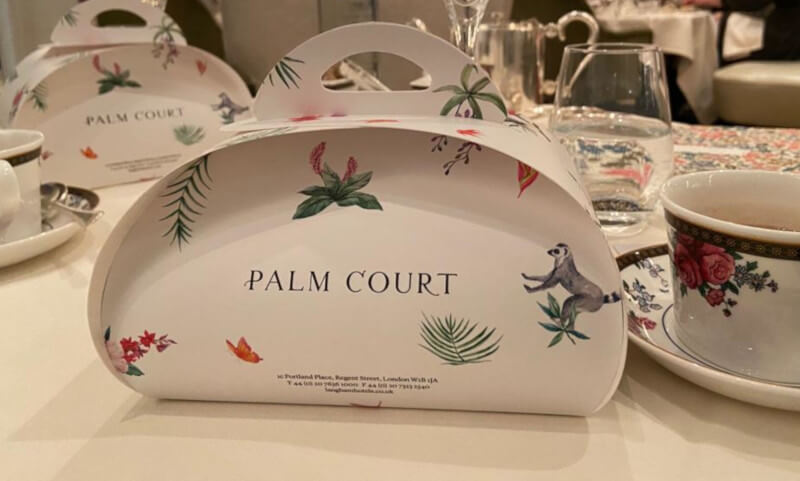 The Langham's new Afternoon Tea menu will be served Thursday - Sunday from March 2022 and is available to book now here.