Afternoon Tea is always an elegant affair, but The Rose Lounge at Sofitel St James have taken it to a whole new level, creating a 7 course fine dining menu. We caught up with Head Pastry Chef Jamie Warley to get all the details on this extraordinary experience.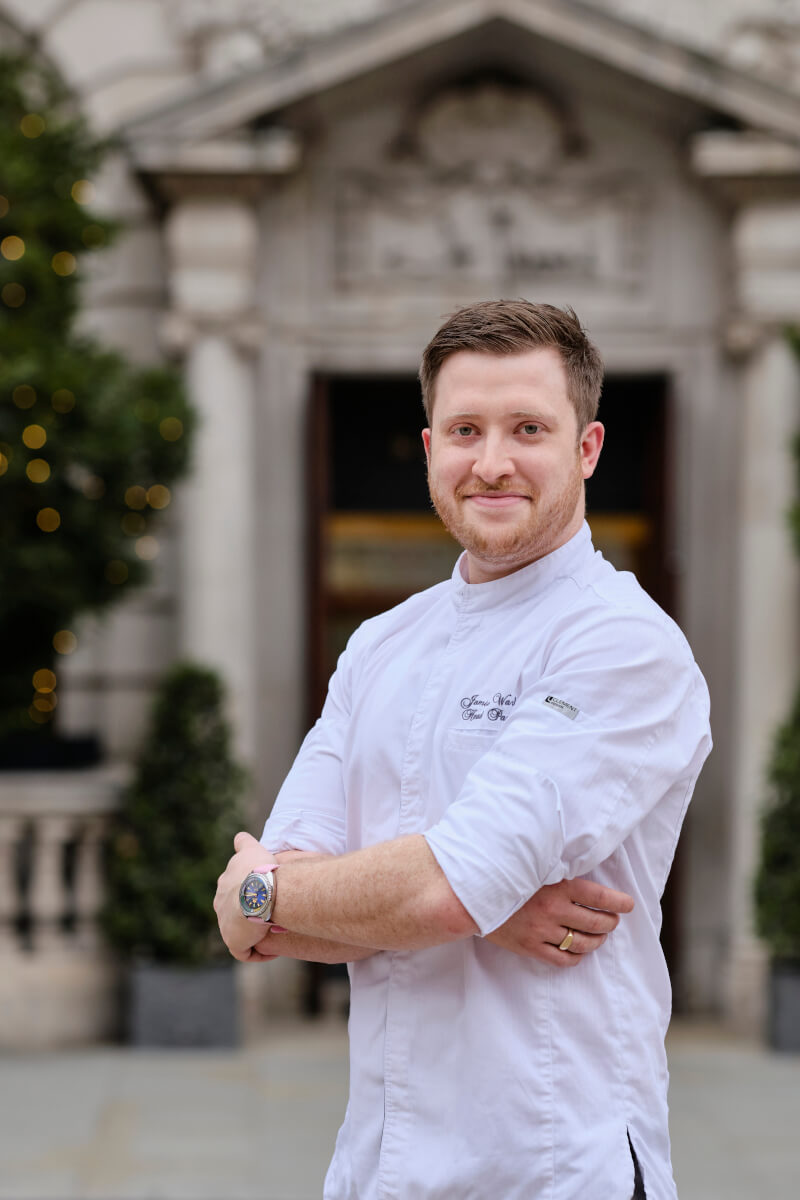 He starts by explaining the inspiration for each of the seven courses. Controversially, he claims that he feels finger sandwiches are 'dated' and whilst striving to change this savoury course, the experience evolved into what it is. This desire to modernise the traditional Afternoon Tea experience and give it more of a fine dining feel led him to create an amuse bouche to start. Warley states that he wanted to serve this to 'keep customers entertained' and he has most definitely achieved his goal.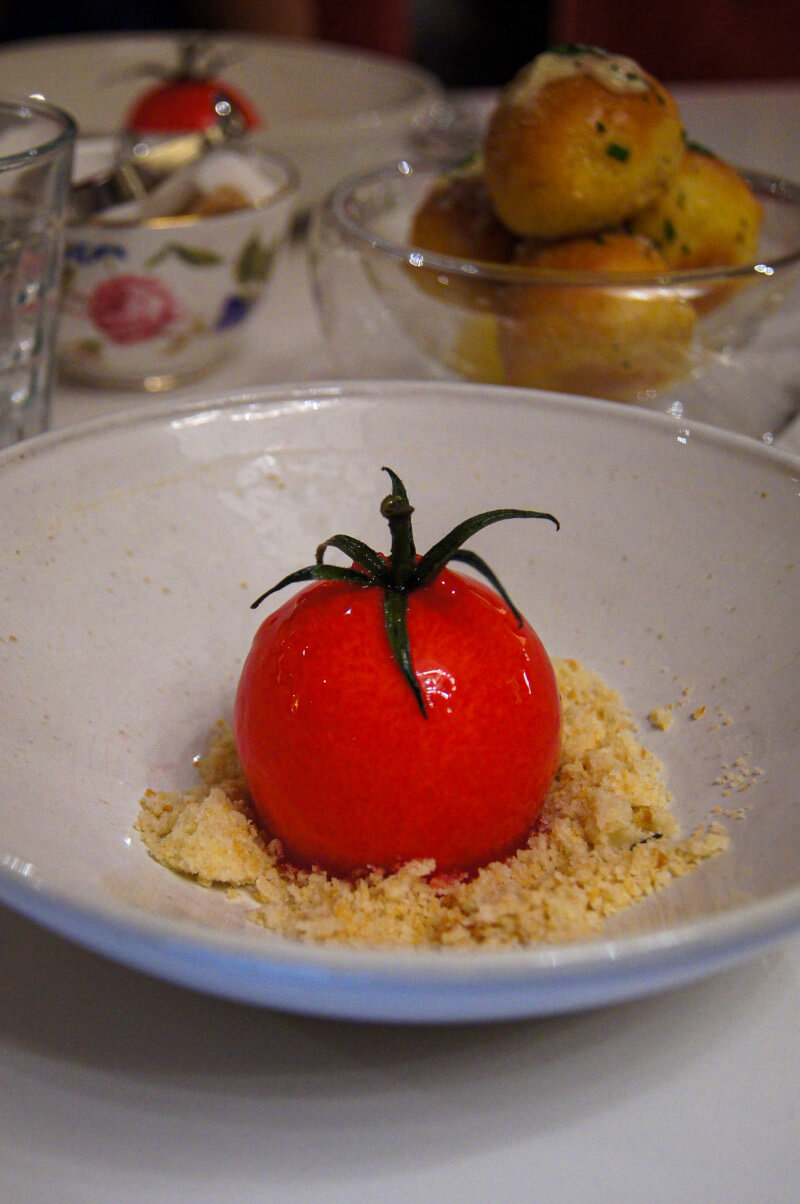 Upon receiving the first element, we are presented with a glistening sphere, created to resemble a tomato, on a bed of crispy focaccia crumbs. It is entertaining for both the eyes as well as the palette, as when the soft burrata mousse is sliced, a tomato compote centre is revealed. The burrata is light and airy, yet so flavoursome. It has a slight sweet taste to it, almost teasing you in anticipation of the following courses.
For such a small dish you can really see the attention to detail taken, from the salad dressing that has been created into a mirror glaze, to the focaccia base, crumbled to give texture to the dish. Starting off on such a fantastic dish really set the expectations high for the remaining experience.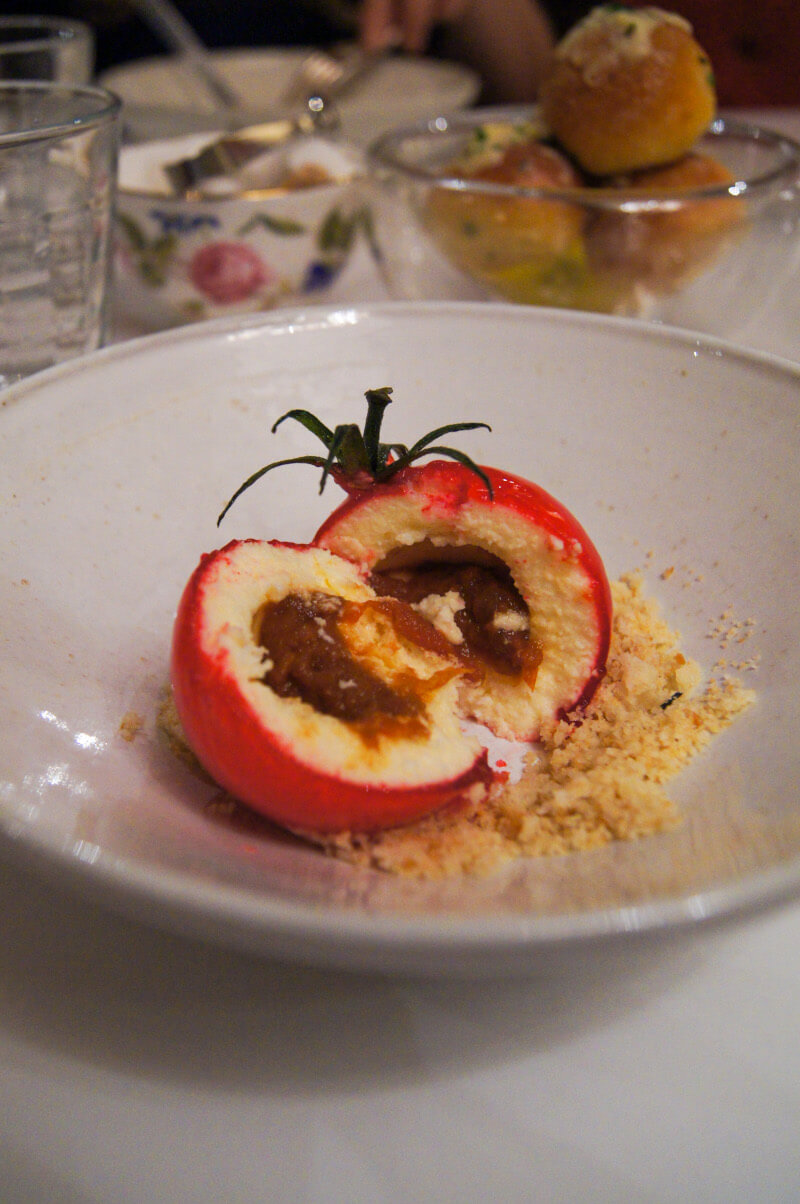 Usually pastry chefs creating an Afternoon Tea menu solely concentrates on the patisserie, however Warley explains that he and Andrea Vivien (the Pastry Sous Chef) create every course in this experience, leading him to think of the journey as a whole and wants to ensure that guests fully enjoy their visit without feeling heavy or unable to finish all the dishes. Seven courses is quite a feast, so how is he able to do this, we ask. He claims it is the lighter, refreshing ingredients and textures that he uses and explains that much thought has gone into all the components.
The second course are three delightful savoury pieces, clearly replacing the traditional finger sandwiches. As Warley explains he feels Afternoon Tea is an elegant experience and believes that plain sandwiches does not reflect this sentiment, he has restored these with canapés, which are truly sublime. The shrimp beignet with dill mayonnaise is a nod to the French influence on both the hotel and menu, whereas 'La frite Piemontaise' has more of a personal influence. Vivien's father's favourite salad is a Piemontaise, so they have taken the main elements of this dish - potato, bacon, cheese and created the most dainty piece. Finally a tartlet of aubergine and smoked feta finishes the trio beautifully.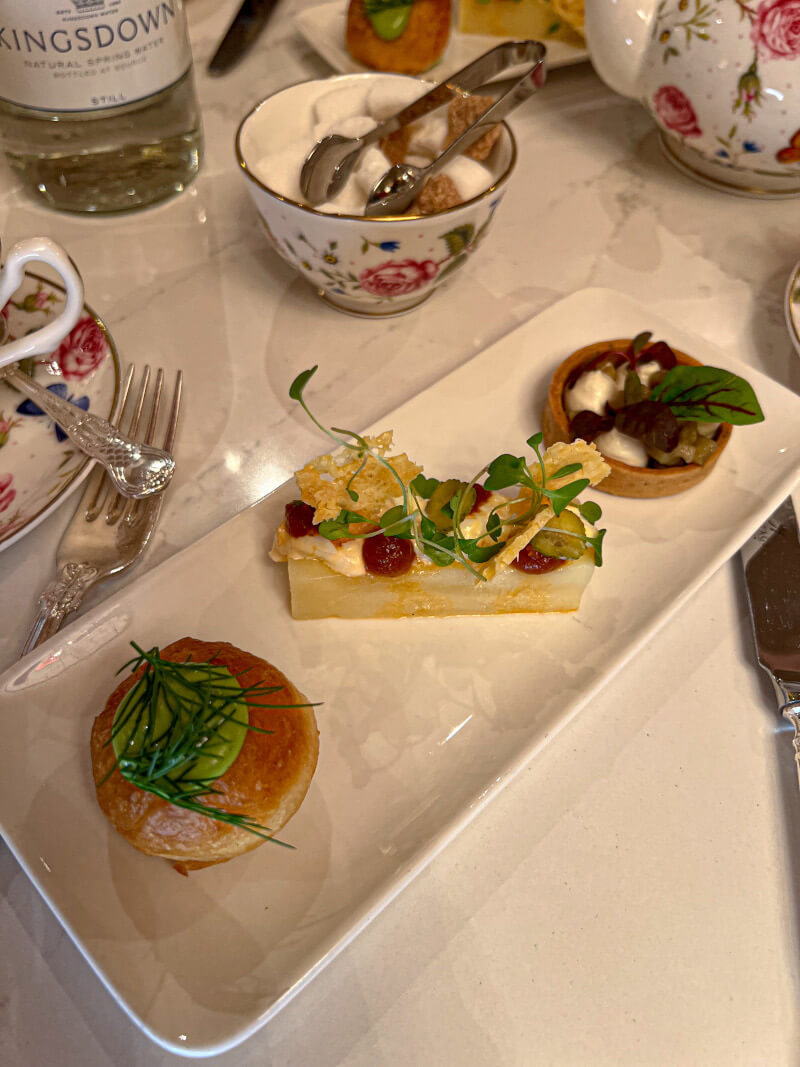 Warley explains that it is important for children to have a wonderful time whilst at an Afternoon Tea, and understood that it may be difficult to expect them to sit patiently whilst their carers complete a seven course menu! He describes how he solved this with an interactive 5 course menu, starting with cheesy garlic dough balls, with a delicious butter sauce. The children's menu is the only place you will find traditional finger sandwiches with a selection of salmon, ham and cheese, as Warley states he understands that the more mature adult offerings may not be to a younger child's liking.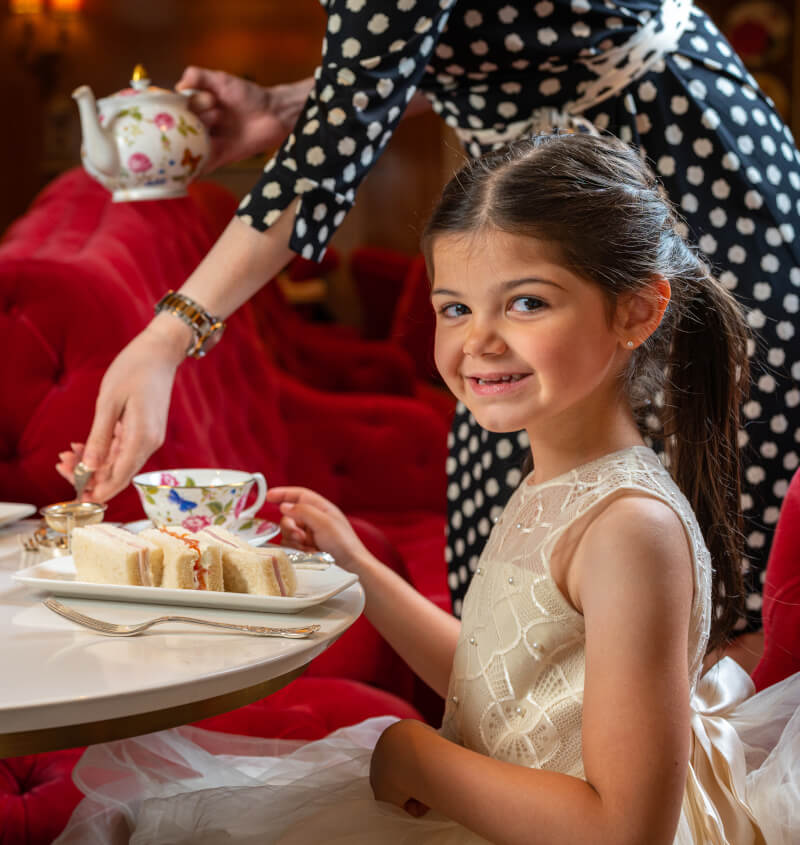 Upon finishing our second course we are presented with a mini cheese scone, served warm with a quenelle of whipped horseradish butter. Warley explains it is important to him for the scones to be served warm, which is why he also leaves the sweet version to be served alone at the end of the experience, as guests are usually so excited by the patisserie, they are cold by the time they decide to indulge.
Having them warm makes the world of difference: the horseradish butter has been whipped into the lightest cloud meaning it melts beautifully upon contact with the crumbly cheese scone. The last savoury part of the experience, it is a lovely take on a traditional staple.
Warley then goes on to explain that he didn't want the dessert courses to be too strong for the palette so has created a crossover dessert, building a bridge between savoury and sweet. The dish created is something truly extraordinary: a sweetcorn mousse with coconut foam, coconut pieces and popcorn is topped with a chili sauce, adding further flavour. It is something I have never experienced before and I loved how the popcorn and coconut added a firmer texture and bite to a lighter, airy dish. It is a wonderful addition in anticipation of the sweet treats.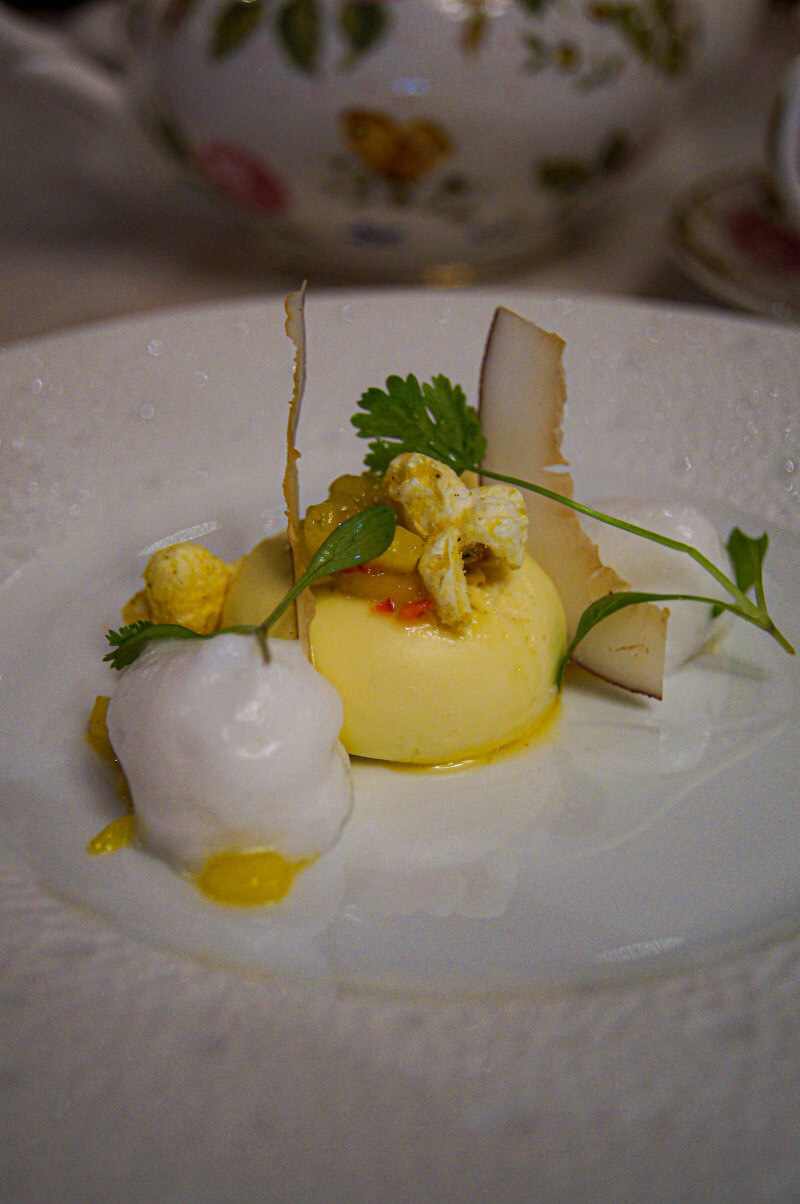 Arriving on a traditional three tiered stand, the patisserie is visually stunning for both the adult and children menu. The Delice is present on both - Chef Warley explains that whilst there will be seasonal varieties to the menus to ensure the freshest, most flavoursome ingredients, this will never change - it is their signature piece and it is truly sublime. A chocolate, salted caramel and praline piece, it is coated in hazelnut pieces covered in chocolate giving a slightly crunchy texture to the smooth centre.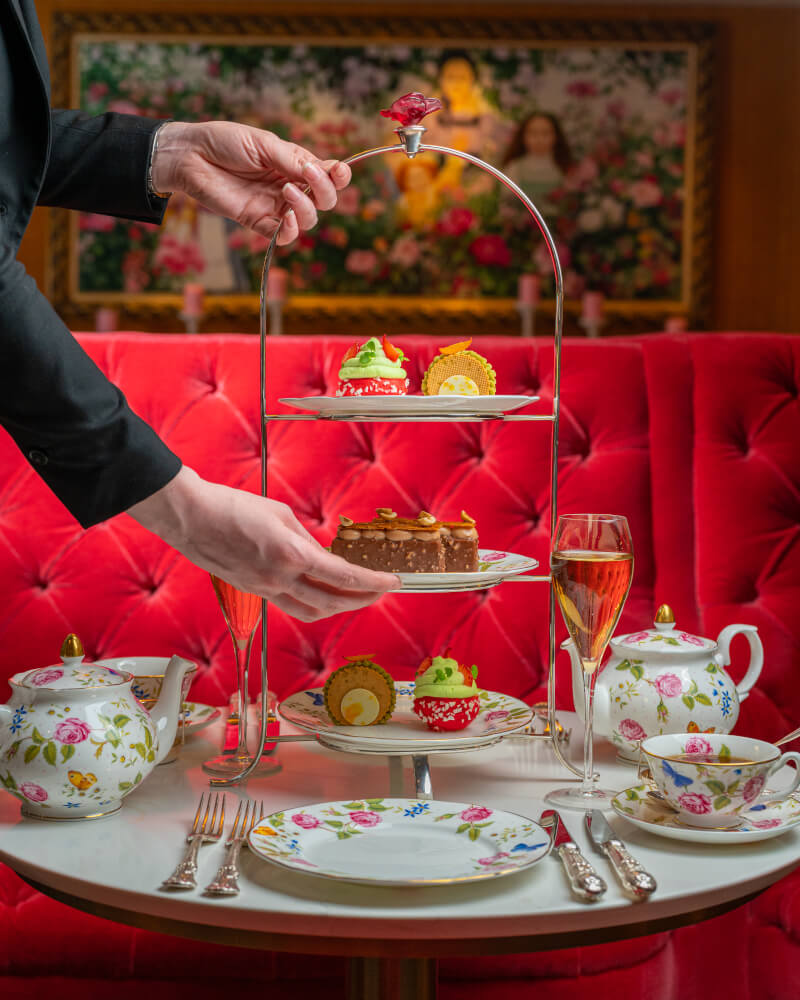 The remaining two pieces have a clear summer influence: the traditional Pavlova has been recreated into a delicate strawberry meringue, filled with a piped basil yogurt and finished with fresh strawberry pieces, it is light and refreshing and a perfect taste of summer.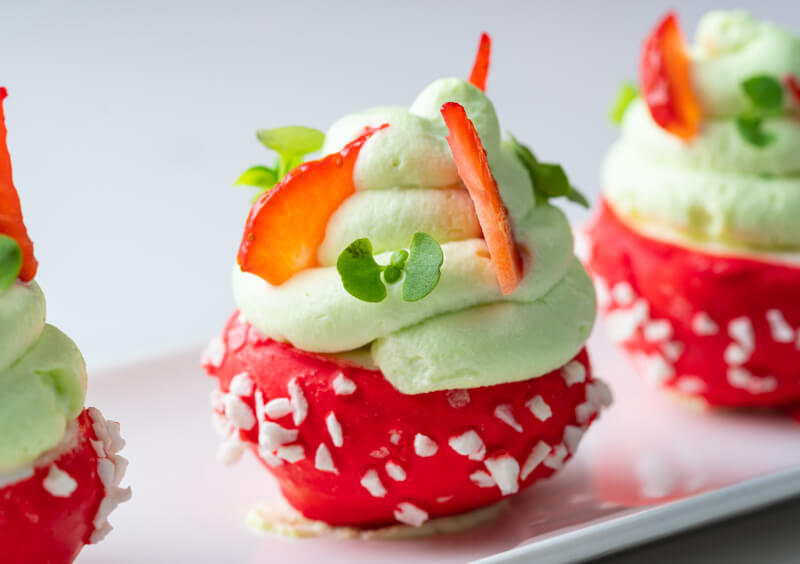 The 'ice cream' sandwich, really included no ice cream, but is a rich pistachio mousse piped to frame two crisp biscuit pieces, with a fresh apricot centre. Whilst these two deserts are clearly in season over summer, Warley's culinary skills shine through in these pieces and there is no doubt he will be able to create stunning pieces throughout the year.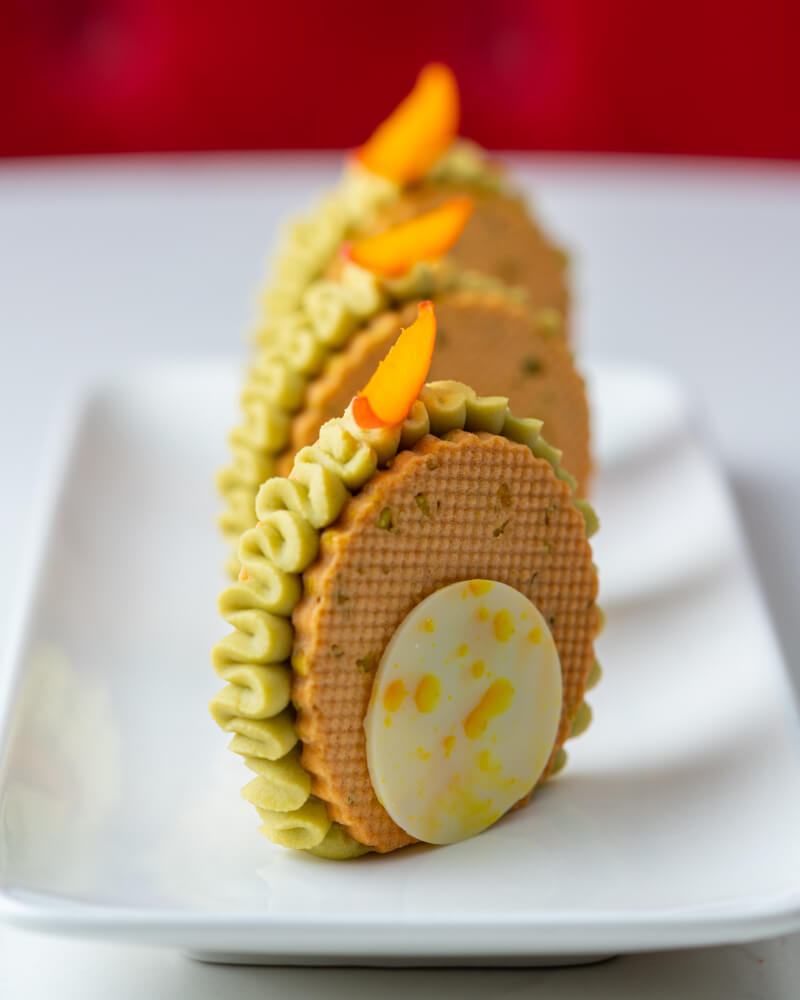 Whilst the adults enjoy these delights, the children are presented with an iced biscuit propped upon an easel accompanied by paintbrushes and edible paints. It is the most wonderfully interactive idea that plays with children's imagination in the most delicious way! They are then served the sweetest 'happy meal' - nothing like the fast food that you expect upon hearing this, but a mini strawberry milkshake, churros 'fries' and a 'hamburger' consisting of a marshmallow bun, chocolate mousse patty and white chocolate cheese centre - what a treat!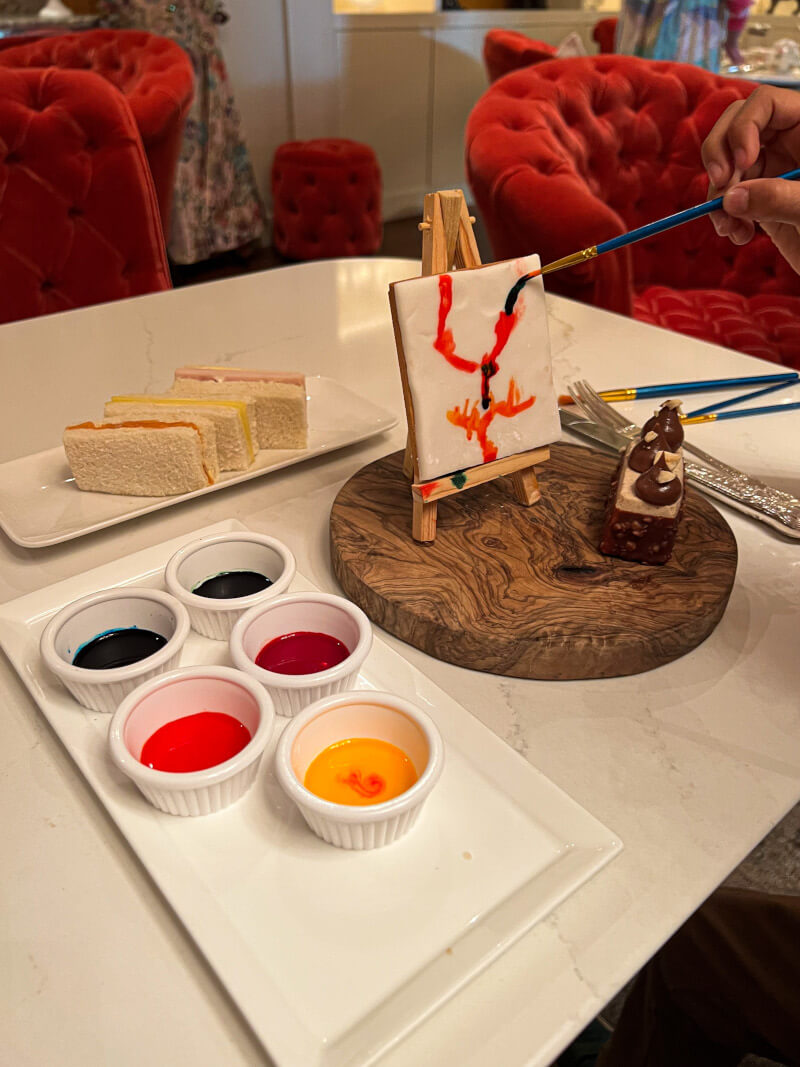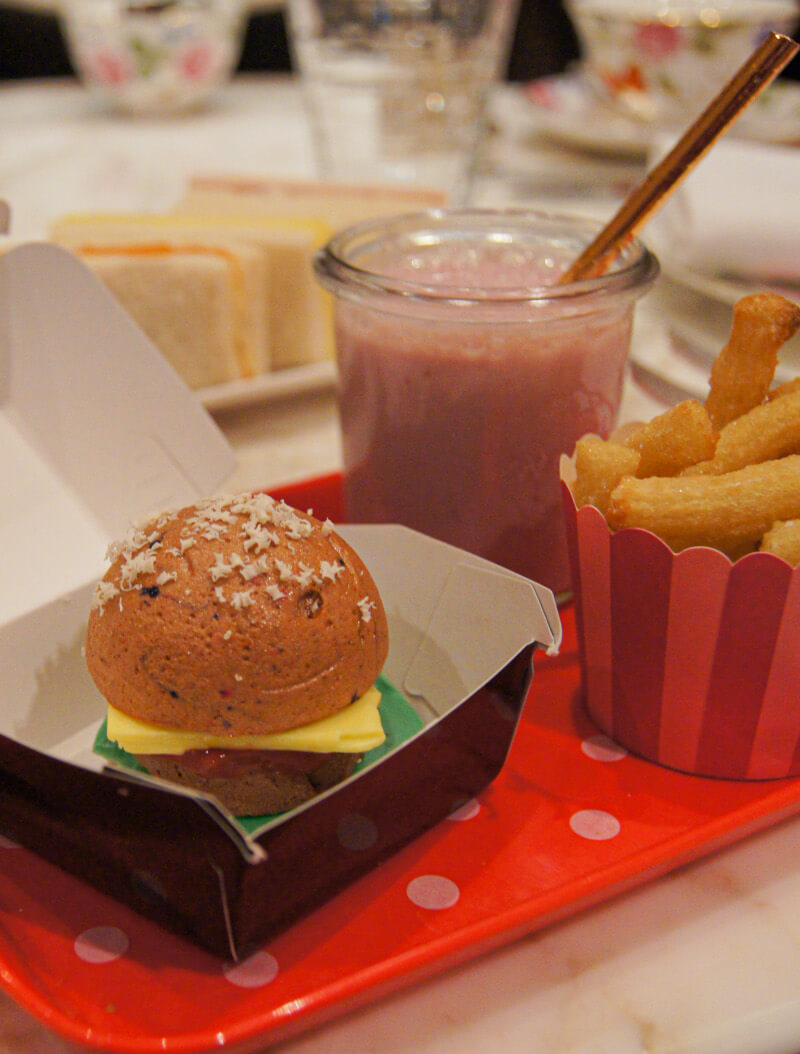 After all these intricately designed courses, you realise that the traditional sweet scone element have not been served yet! Chef Warley explains he has designed a mojito sorbet to cleanse the palate before the final piece. It is cooling and refreshing, and truly settles you for the final course. As he requested, they are served warm, with the traditional clotted cream and jam - the perfect ending to a wonderfully intricate fine dining afternoon tea experience!
This is Afternoon Tea quite like no other - a truly beautiful journey for both the eyes and the tastebuds. It is a must for anyone looking for a new take on the traditional Afternoon Tea menu, but doesn't digress too far for it to lose the magic of this quintessential tradition.
Afternoon Tea at The Rose Lounge is served Friday - Sunday from 12pm - 4pm and is priced at £62 per person for adults and £30 per person for children. Click here for further details and to book the experience. 
To celebrate Afternoon Tea Week 2022, The Rose Lounge is bringing live jazz entertainment to their Afternoon Tea experience on Sunday 14th August with double bassist Chris Hyde-Harrison. Click here for full details.