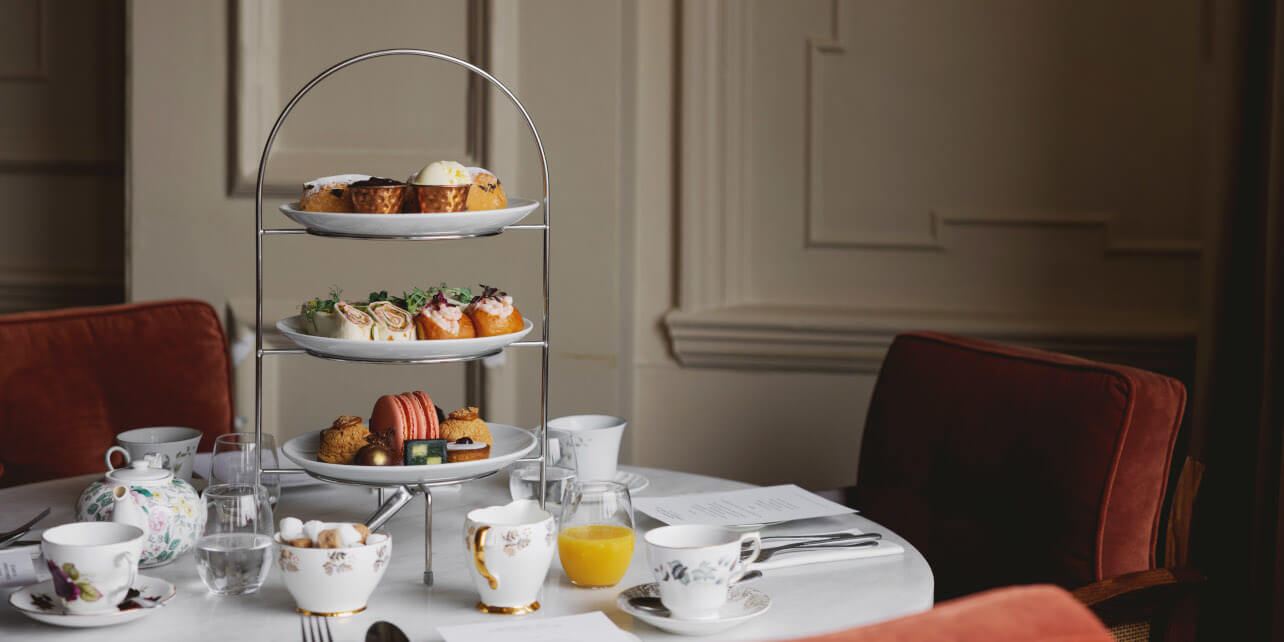 Afternoon Tea at the Queens Hotel in Southsea is a delightful experience that combines traditional English tea with mouth-watering treats and a touch of luxury. Located in the heart of Southsea just moments from the sea, this historic hotel has a long-standing reputation for its high-quality afternoon tea and sophisticated dining.
The lavish dining room boasts beautiful high ceilings, plenty of big windows and a cosy, yet elegant decor. It has recently undergone a huge refurbishment to restore it to its former Edwardian glory. On a Sunday afternoon, when we visited, you can enjoy the sounds of a live saxophonist.
There was a selection of teas to choose from alongside coffee, cold drinks, cocktails and more. We went for a refreshing mint tea which the waitress kindly kept topped up throughout our stay.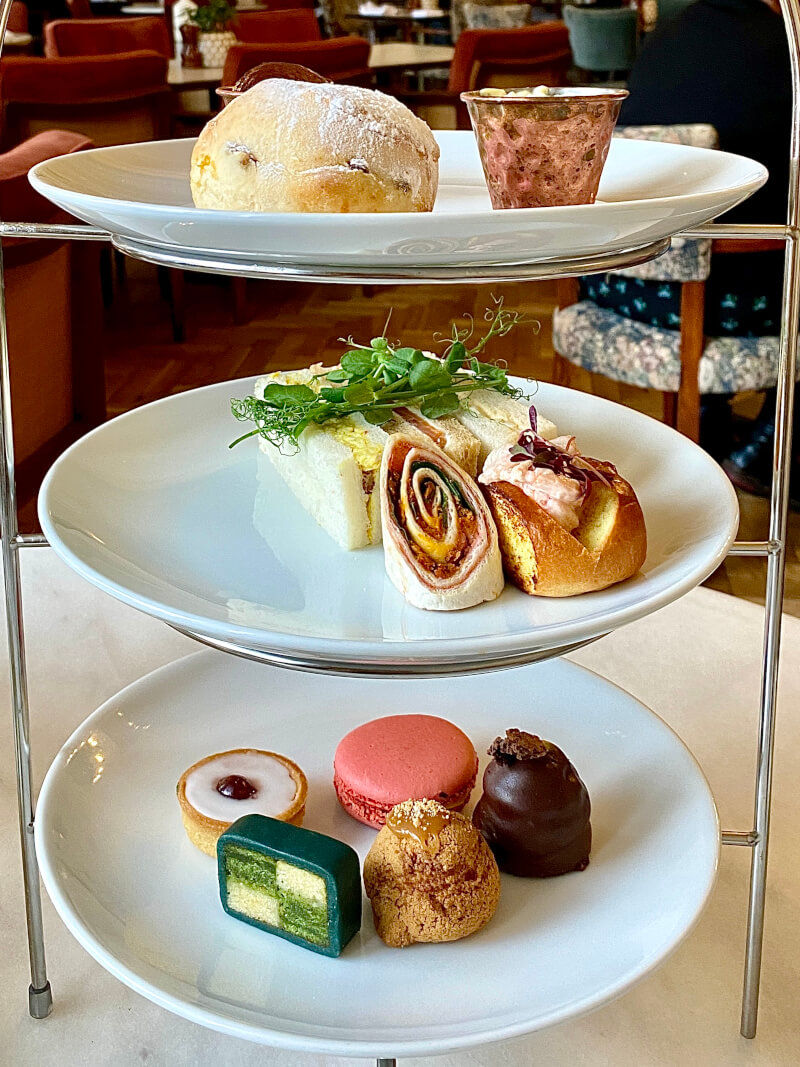 After a short while, two impressive-looking three-tiered stands were presented in front of us, one being vegan. It was clear that these had been prepared whilst we waited for ultimate freshness. They were filled with a medley of delicious sweet and savoury treats, including freshly baked fruit scones, sandwiches and a collection of dainty cakes and pastries.
The food at the Queens Hotel is the highlight of the Afternoon Tea experience and it's easy to see why. The sandwiches are well presented, with fillings neatly tucked into slices of bouncy crustless bread. The flavours were a mix of traditional English fillings, my favourite being the smoked salmon with cream cheese and creamy Coronation chicken. I also enjoyed the beetroot hummus, falafel and spinach wrap and prawn marie rose in a mini brioche roll. It's always nice to have something a little different to go alongside traditional sandwiches, making our Afternoon Tea experience very special indeed. The vegan sandwiches and wraps were very soft with tasty fillings, such as tomato and hummus, and thinly sliced cucumber with smashed avo.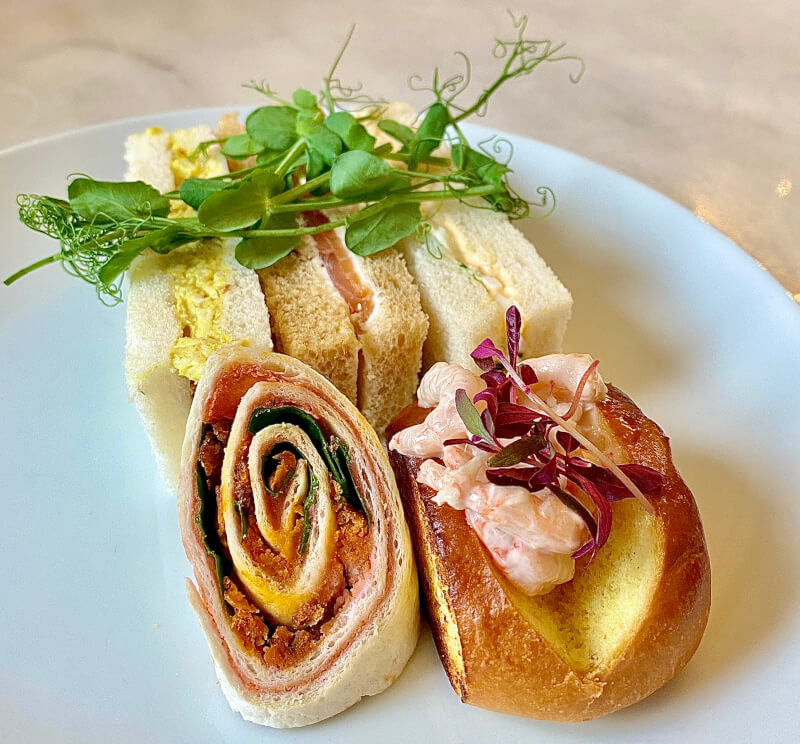 The warm fruit scones were another standout dish, boasting a light and fluffy texture with a rich and wholesome flavour. The generous pots of proper clotted cream and jam provided the perfect accompaniment, making for a truly indulgent treat. I was asked if I wanted butter too, but it really didn't need it. The vegan scones served with jam and vegan margarine were also delicious and I really couldn't tell they were dairy free.
The dainty cakes and pastries were equally impressive, showcasing a variety of innovative flavours by using traditional recipes with a twist. I particularly enjoyed the light lemon and pistachio Battenburg as well as the rich chocolate tea cake. However, it was the Bakewell tart that stole the show, the crisp buttery pastry a clear sign that they had been baked in-house. I would even go as far as to say it was the best Bakewell tart I have ever tasted and I've tried a fair few in my time! The cherry on top surprised me with an unusual, but incredible flavour - I'll let you find out for yourself.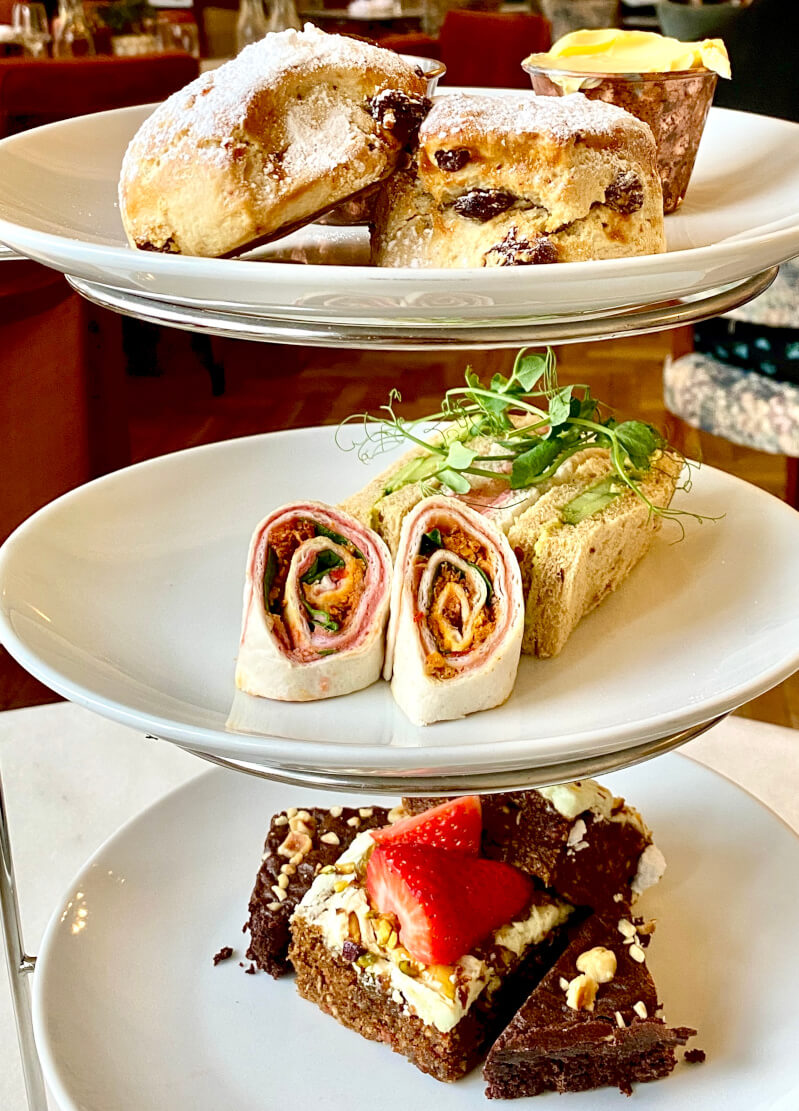 The pastry chefs at the Queens Hotel possess a genuine talent for crafting visually pleasing treats that taste as good as they look. Each bite provided a burst of different flavours, creating a truly unforgettable dessert experience, the highlight of my Afternoon Tea. The vegan desserts were hearty and plentiful with two generous slices of vegan carrot cake and two large triangles of rich chocolate brownie, accompanied by fresh strawberries. The carrot cake was incredibly moist and topped with light vegan icing.
The Queens Hotel prides itself on using tasty produce grown or sourced nearby to help the local economy. The quality of the food was second to none and everything had that all-important homemade freshness. The exceptional service we received allowed us to sit back, relax and enjoy a truly pampered Afternoon Tea in a wonderful location by the sea.
Afternoon Tea at The Queens Hotel is served daily from 1pm – 4pm, starting at £25 per person. Click here for more details.