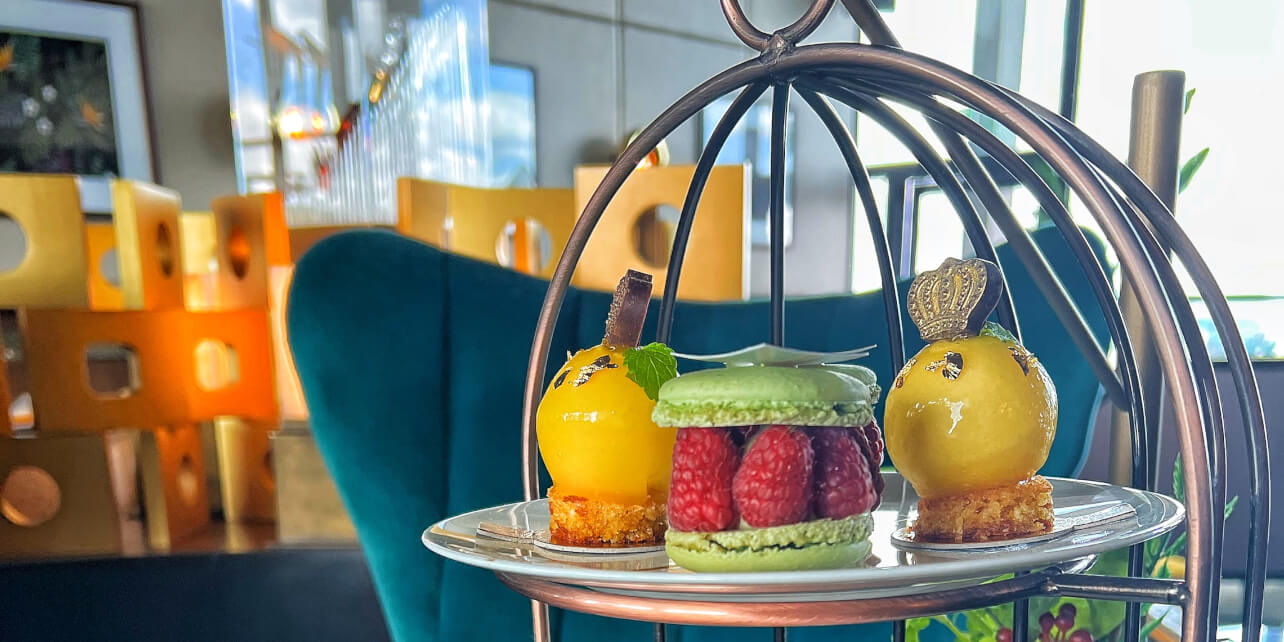 When you hear rumours of an Afternoon Tea situated on the lofty 28th floor of the Hilton Park Lane, it goes without saying that the luxurious connotations of such a setting leave you with expectations as sky high as the venue. 
I'll tell you with enthusiasm then, that 10 Degrees Sky Bar absolutely lives up to that anticipation.
Greeted as we stepped out of the elevator by the traditional level of service one would hope for in a five star establishment, we were brought through to the intimate yet spaciously arranged lounge bar. The room boasts dual-aspect views of the iconic London sky-scape, which we found to present a unique vantage point on the very best of Central London.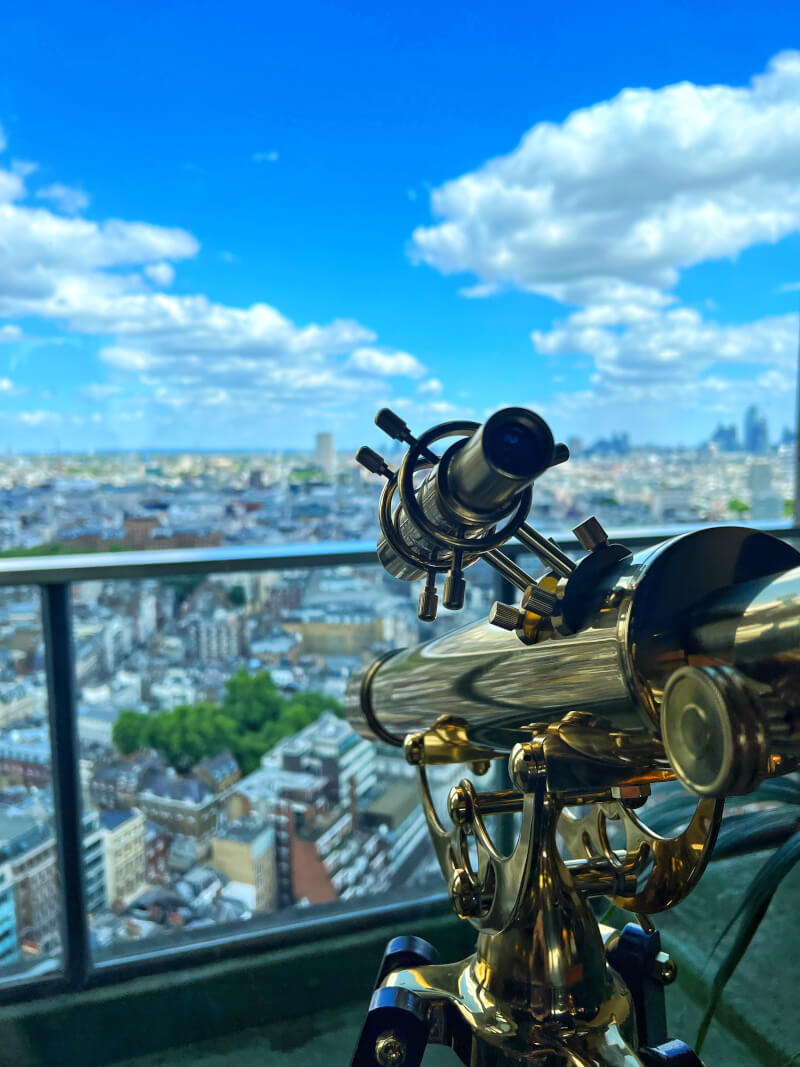 After choosing our Monkey47 gin cocktails (in celebration of her majesty) we sat down to enjoy sandwiches of traditional smoked salmon, cucumber and egg and cress alongside coronation chicken (which was up there with the best I've ever had), and the pork and apple sausage roll which was so good that when we were offered another round, we couldn't decline despite the array of sweet delicacies to follow. 
My cocktail was the Dark Forest, with fig infused sloe gin and chocolate bitters. As a devout lover of the often elusive sloe gin, I fell in love with a sweet yet adult flavour profile, making this a drink I would most definitely return for. My guest enjoyed 'Summer Memories', describing it as a light and sunny accompaniment to tea. 
Next on offer was the abundant selection of patisserie and scones, presented in a hanging three-tier botanical birdcage and served along side all of the expected accompaniments of jams, clotted cream and steaming pots of aromatic tea. Themes of the jubilee ran throughout, most marvellously with a gilded golden chocolate crown sitting atop the pineapple sphere and coconut cake.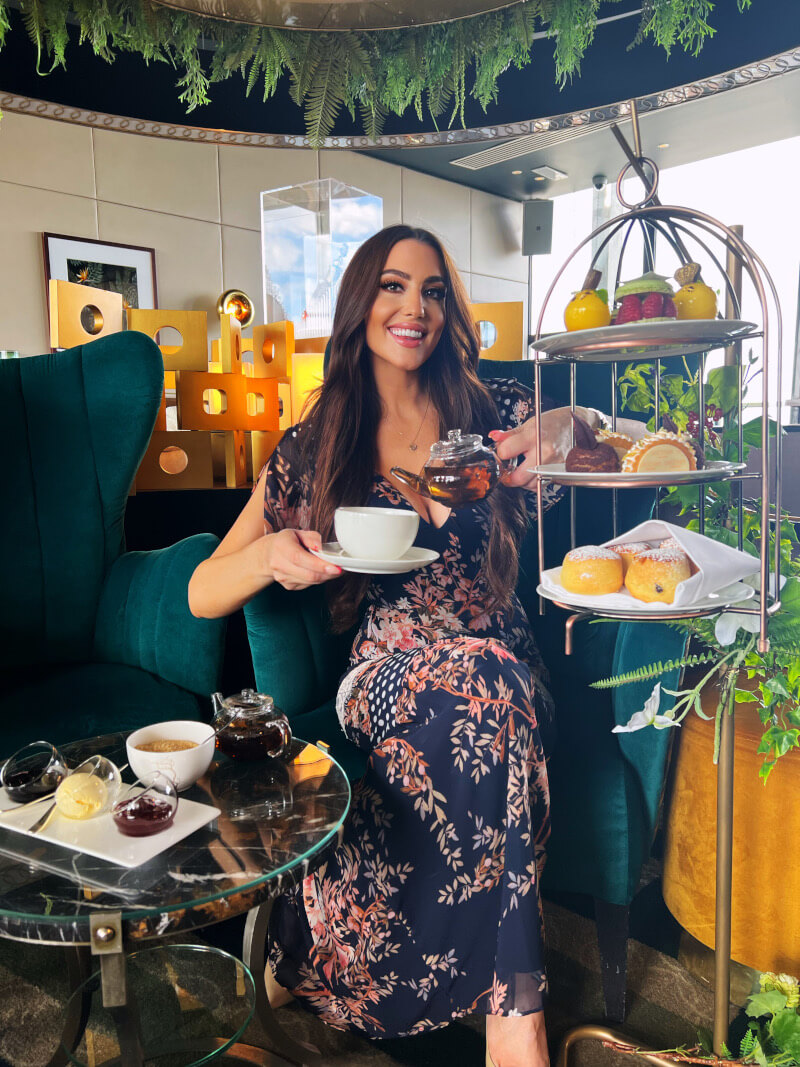 The Valrhona chocolate tiramisu was my personal favourite (rich flavours juxtaposed with the lightest of textures, inside a perfect choux au craquelin with tempered chocolate feather). This being said, I have always believed that you can tell most from a chef- in this instance Head Chef Marc Hardiman- by how they deliver on the classics. He presented an elevated aesthetic twist on the Lemon Meringue Pie that held the perfect combination of tart and sweet flavours, and scones that were crunchy on the outside and white soft on the inside.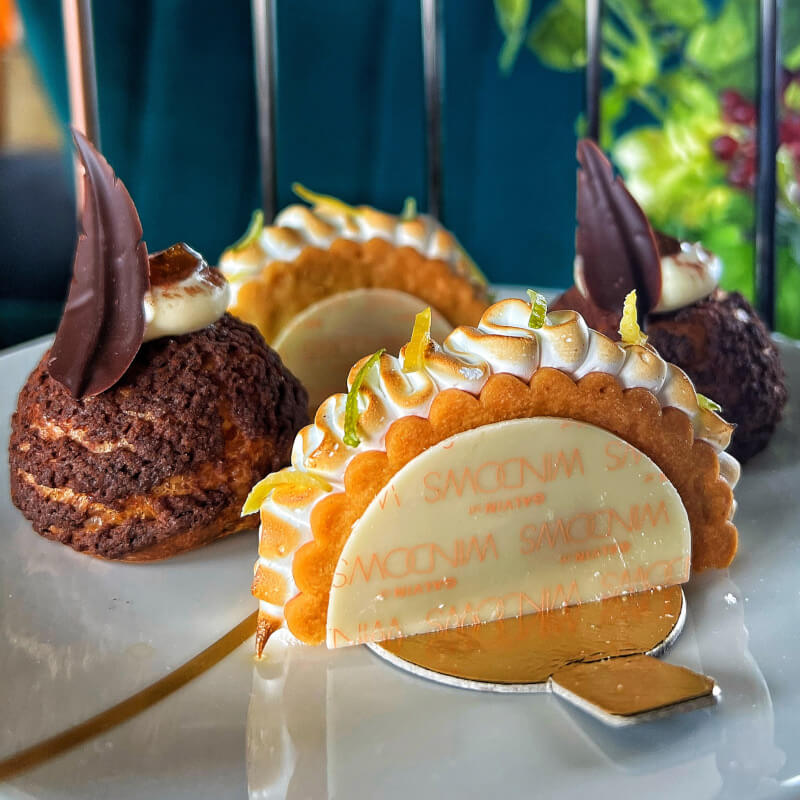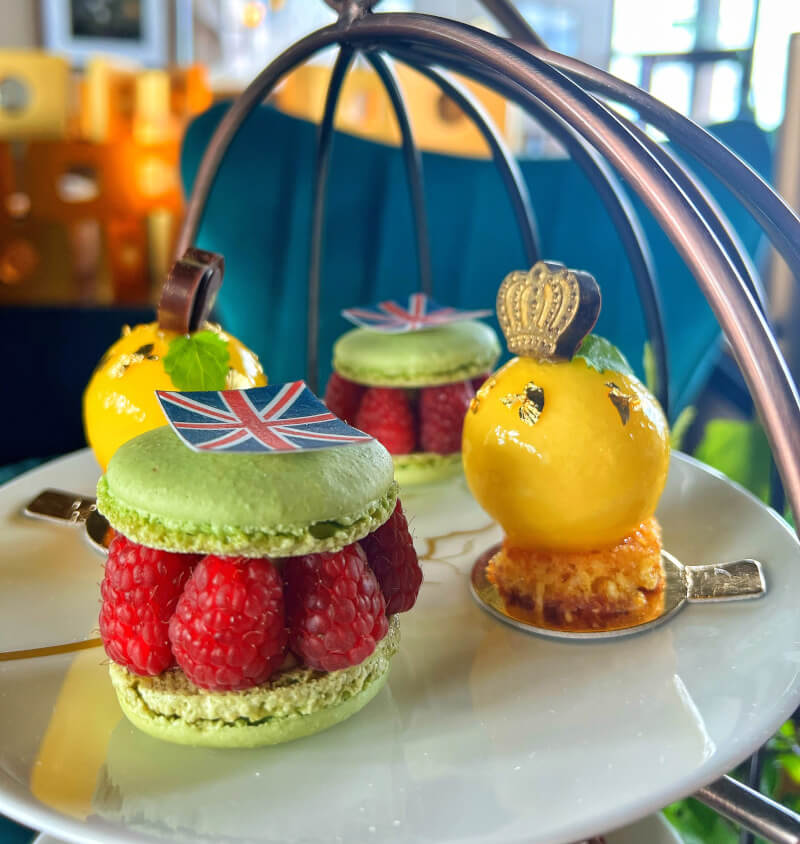 You won't be surprised to learn that after our indulgent second round of sandwiches, we couldn't quite finish the tower of treats, but were left absolutely delighted when our remaining goodies were packed up for us in an elegant pastel pink case to take home and enjoy later. 
All in all a wonderful example of the quintessentially British Afternoon Tea experience, with fabulous food and a view that will never be done justice through a photo. My recommendation, is to head over and experience it all for yourself- preferably whist that fabulous Sloe Gin Cocktail is still on the menu! 
The Jubilee Afternoon Tea menu at 10 Degree Sky Bar will be available Friday - Sunday until 30th June 2022. Click here for full details and to book your experience.
After this date, 10 Degrees Sky Bar will revert back to their Classic Afternoon Tea. See here for full details and to make a booking.