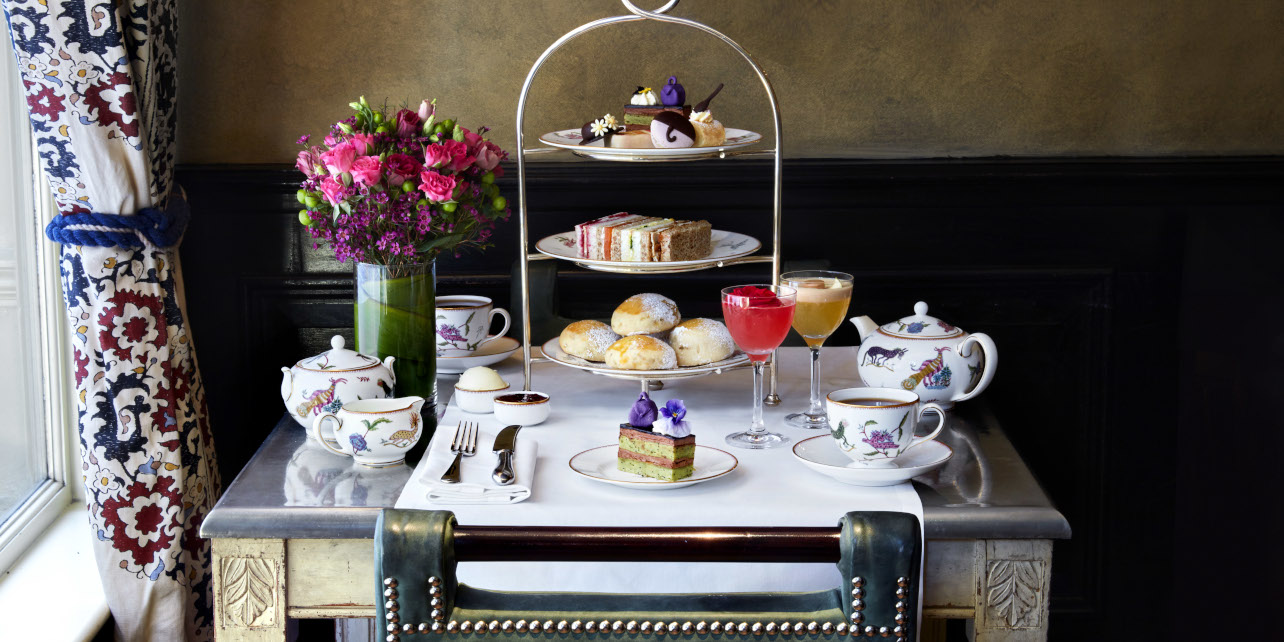 Situated in the heart of the dazzling theatre district, just a short walk from Soho and the Royal Opera House, where better to relax after a busy day of sightseeing than Covent Garden Hotel?
The AfternoonTea.co.uk team were kindly invited to try Covent Garden Hotel's exclusive new Mary Poppins Afternoon Tea menu, which celebrates Disney and Cameron Macintosh's multi award-winning musical, Mary Poppins - now playing at the nearby Prince Edward Theatre.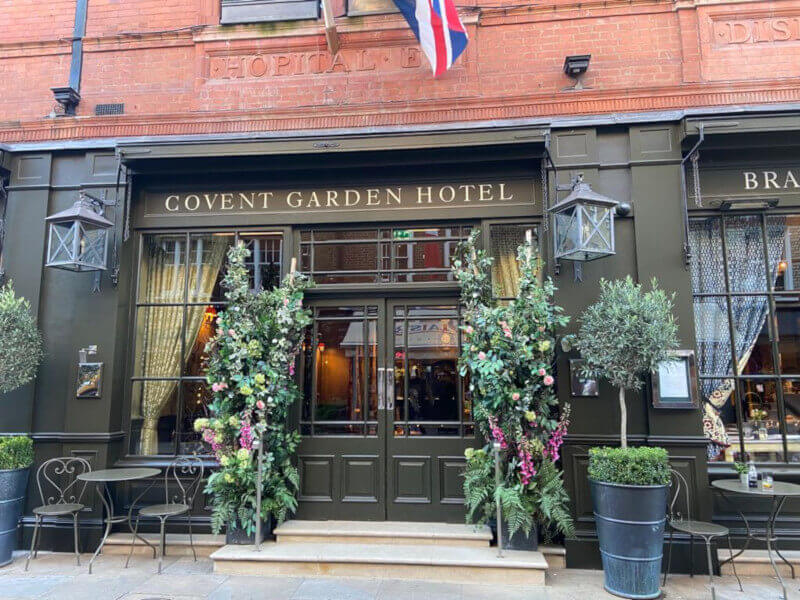 Sitting elegantly on Monmouth Street; a quirky cobbled street in the Seven Dials district of Covent Garden, dotted with quirky boutiques, independent coffee shops and bustling bars, Covent Garden Hotel was once a French hospital and, to this day, still embodies true Parisian charm.
But the charisma of Covent Garden doesn't stop when you enter the hotel. Afternoon Tea is served in the chic Brasserie Max, where licks of colour are married with bold fabrics, creating a laid-back, welcoming atmosphere that feels like your home-away-from-home.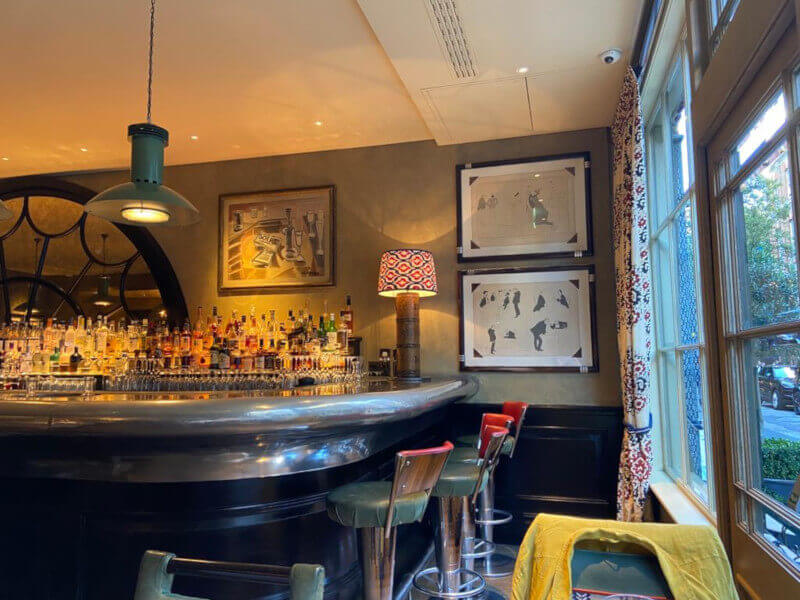 We were greeted by our friendly host and led to a beautiful window seat, where we could sit back and watch the world go by. As we perused the Afternoon Tea menu, we marvelled as our server brought over two themed cocktails – A Walk in the Park, made with Calvados, Briotett Manza Verde, lemon juice, apple juice and toffee syrup and An Element of Fun, a non-alcoholic mix of lychee juice, lime juice and blackberry with a rose petal garnish.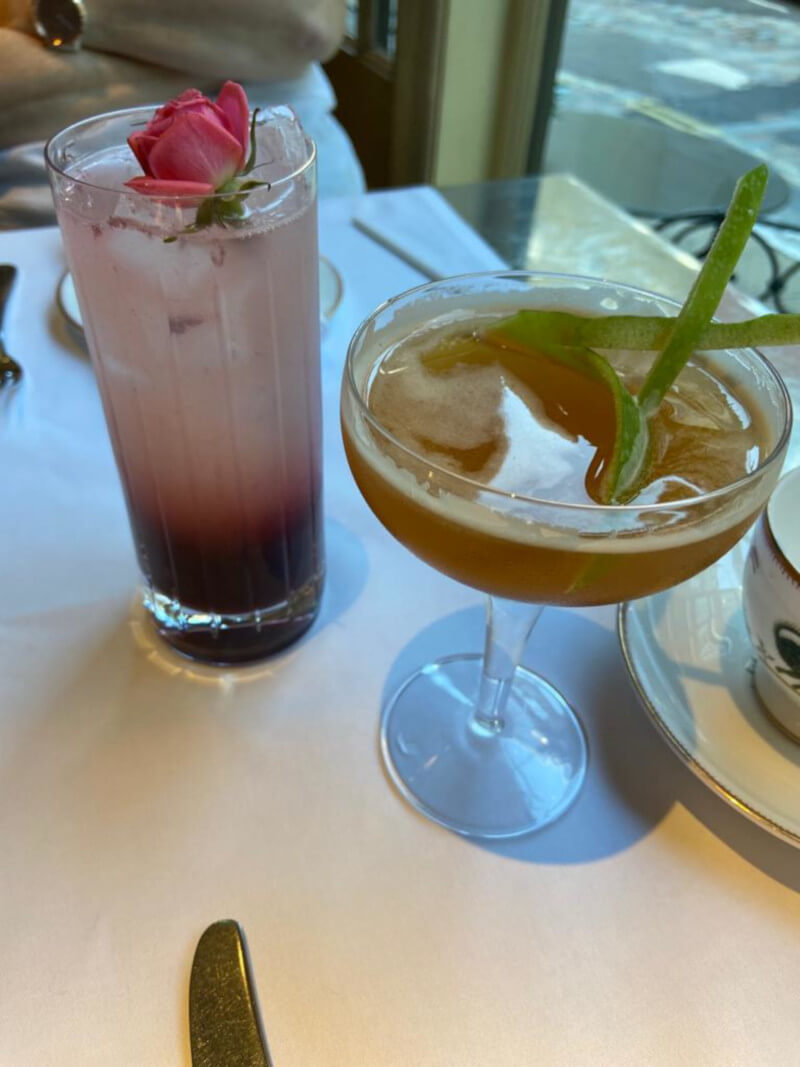 The Afternoon Tea stand arrived, and we swooned as the wonderfully whimsical menu came to life in front of our very eyes – a three-tiered stand piled high with sandwiches, scones and a selection of themed cakes and pastries, decorated with thoughtful touches including a tiny chocolate spoon and a handbag made from icing.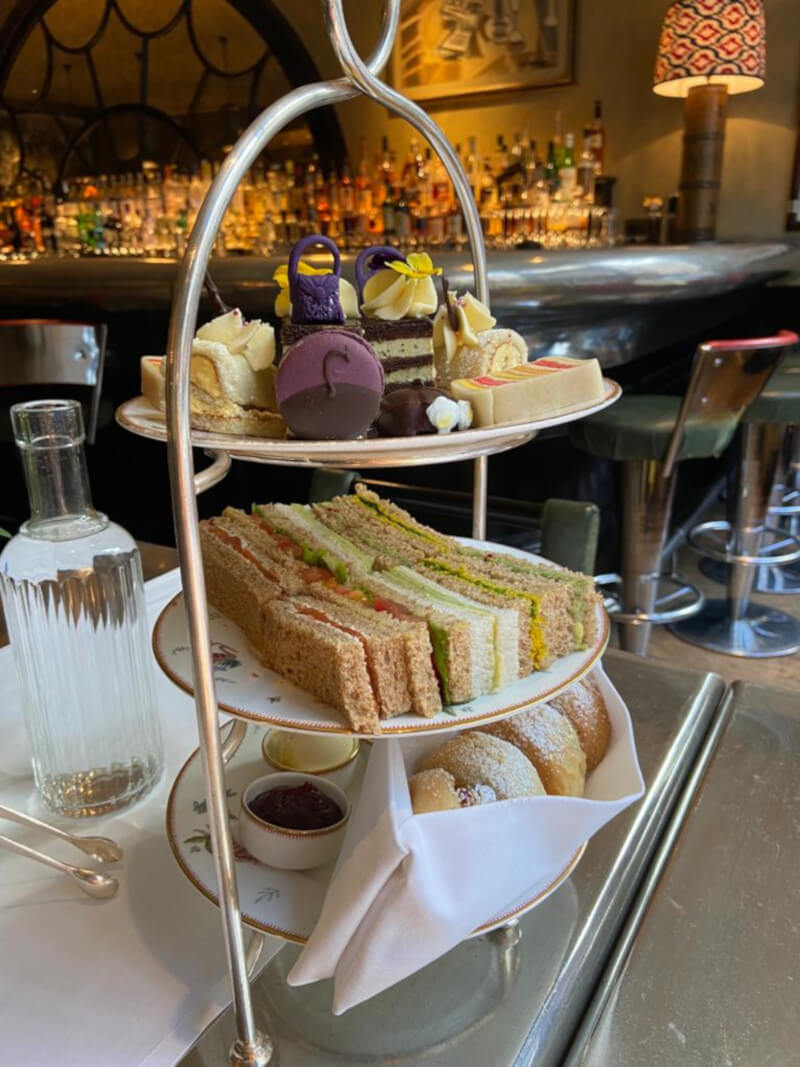 Myself and my guest had both opted for the pescatarian Afternoon Tea menu, featuring a tempting array of finger sandwiches with various fillings. These included avocado, hummus & rocket, tomato & lettuce, smoked salmon & cream cheese, and my personal favourite- cucumber.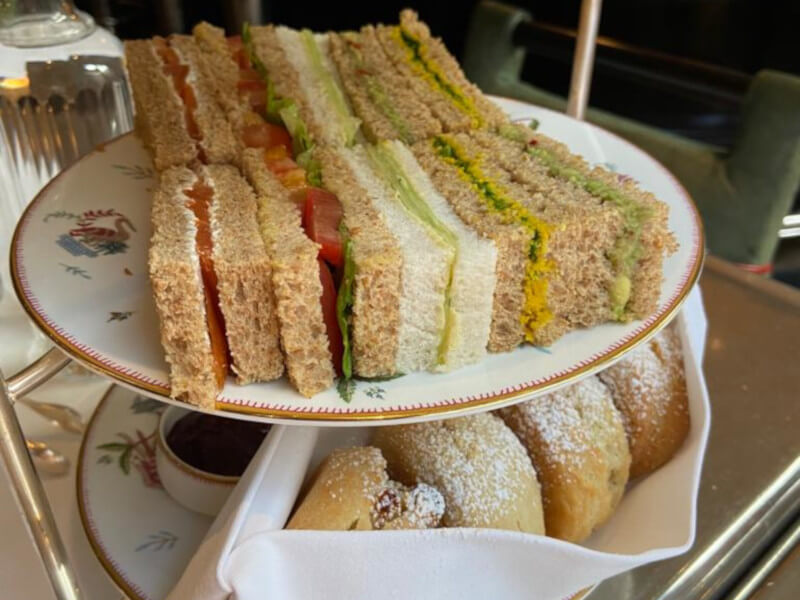 After polishing off the sandwiches, we were presented with two teapots filled with our chosen teas – jasmine for myself and Earl Grey for my guest. As we waited a few minutes for our teas to brew, we admired the beautiful teacups and saucers, designed by Firmdale owner and interior designer Kit Kemp.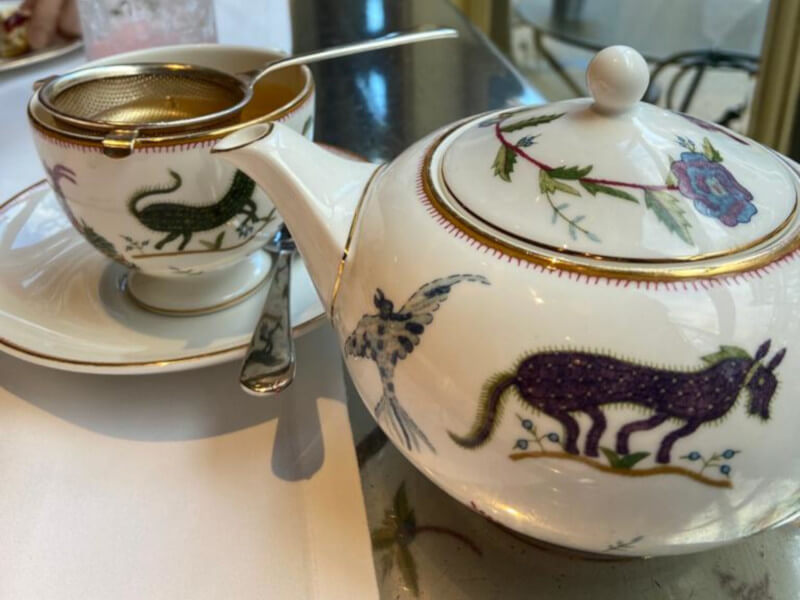 Next up, the sweet plate – a super-cali-fragi-listic-expi-ali-docious selection of cakes and pastries, all inspired by the award-winning musical, Mary Poppins. We both began with the 'Spoonful of Sugar' lemon drizzle roulade, followed by the Chocolate, avocado and poppy seed opera cake – a flavour combination that was new for us, but which we both agreed worked surprisingly well! Then, my personal favourites – a 'Jolly Holiday' violet and white chocolate macaroon and a melt-in-the-mouth apricot Battenberg cake. And to finish – a delightful bite-sized caramel and dark chocolate cheesecake hat intricately decorated with daisies.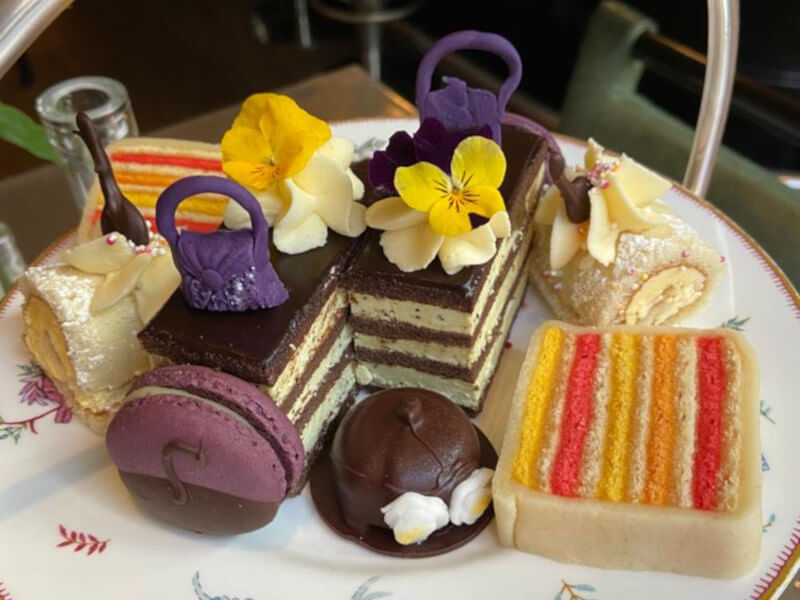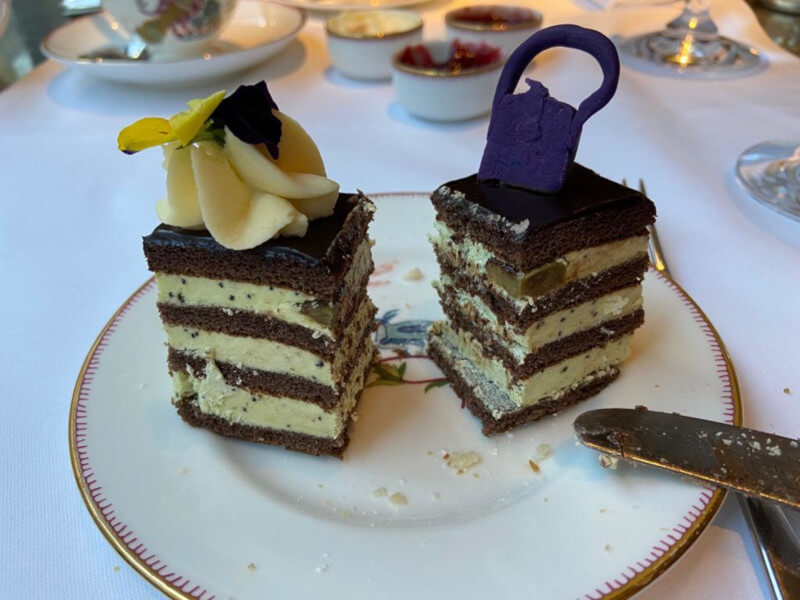 Afternoon Tea wouldn't be complete without scones, and we each enjoyed two – one plain and one raisin, served warm with clotted cream and jam to send us on our way.
The overall verdict? Practically perfect in every way!
The Mary Poppins Afternoon at Covent Garden Hotel is available Monday – Sunday until 28th February 2022.