Afternoon Tea Awards 2017 - Commended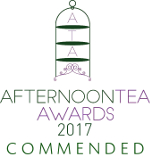 Arguably the world's finest department store, Harrods has been serving customers for over 150 years. Charles Henry Harrod started a humble grocery shop in 1849 and by 1902 Harrods was London's biggest store, with 91 departments and a staff of more than 2000.
They have recently unveiled their elegant refurbishment of The Georgian that has seen the historic restaurant take on a contemporary redesign of its signature elements. The Georgian has collaborated with bespoke interior designer Christopher Guy Harrison who has utilised skill and craftsmanship to give the inherently iconic restaurant a fresh new look. The refurbishment comes with an expertly crafted reshaping of its famous afternoon tea menu.
The Georgian, which was opened in 1911 to commemorate the coronation of King George V, was intended to be "a Rendez-Vous of Fashion and Luxury" and remains as much of an institution as Harrods itself. Standing as London's finest destination for afternoon tea, guests can experience the epitome of elegant dining and classic English flair with The Champagne Afternoon Tea.
The tea offers guests a refreshing glass of Harrods Rosé Champagne and features a selection of dainty sandwiches and savouries, a colourful array of freshly prepared tea pastries as well as traditional baked scones served with clotted cream, strawberry jam and homemade lemon curd with the added luxury of fresh strawberries served with a Pimm's syrup. A High Tea menu is also available including a variety of dishes such as a smoked haddock and Somerset brie tart, a lobster club sandwich, scrambled eggs with spinach and caviar in puff pastry and a Rosper roasted steak sandwich.
As somewhere Christopher Guy has fond memories of dining as a child, the refurbishment pays tribute to one of the last remaining historic sections of Harrods. Seeking inspiration from the elegance of the 1920s and 1930s, the room fuses modernism and classicism to create the perfect environment for guests. Christopher Guy has produced over 500 bespoke pieces for The Georgian, highlights include the carved wood silver leafed panels reproducing the Harrods façade as well as mosaic features that house over 130,000 individual pieces.