Afternoon Tea Awards 2017 - Commended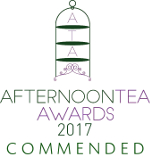 Treat yourself to a delicious Afternoon Tea in the cosy Belgravia Boutique at R Chocolate London. Indulge in a menu featuring an array of sweet delights with a glass of chocolate sparkling wine.
Afternoon Tea is served in the Belgravia Boutique, which offers indoor and outdoor seating that provies people with an ideal opportunity to unwind.
R Chocolate London have crafted a menu made up of a delectable variety of chocolate inspired sweet treats such as mini chocolate loaf and cacao nib scones. Food is served alongside a selection of specialist teas or hot chocolate.
Located in the heart of Belgravia on Ebury Street, R Chocolate London is situated just a few minutes' walk from Sloane Square and is in close quarters to some of London's finest antique shops and galleries.