Afternoon Tea Awards 2019 - Commended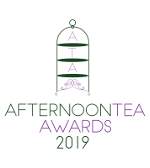 Wolfgang Puck's debut restaurant in Europe is as delectable as expected from the pioneering chef. They now offer a 'CUTcakes & Tea' Afternoon Tea that displays the best of both British tradition and American innovation.
CUT turns traditional British Tea on its head. Expect a refined and vibrant menu offering 'A Taste of America', with CUT's famous succulent Wagyu Beef Sliders, Mac & Cheese, Popcorn Shrimp with Jalapeño Aioli, Lollipop Fried Chicken Wing and Lobster Roll. Sweet dishes include the American favourite Key Lime Pie, delectable Strawberry Milkshake, Pink Lemonade Cake Pop, Crème Brûlée Doughnut and more.
Afternoon Tea is served with a seating at 2:30pm and a seating at 3pm Mon-Sat, and a seating at 3pm on Sun.
The decor harks back to old-school Hollywood glamour, replete with varnished wood, a revolving door and leather chairs. There is a distinct art deco feel to the artworks and furnishings which envelops guests the minute they enter and gives it the perfect ambience to enjoy Afternoon Tea.
CUT is adjacent to Hyde Park, so why not have a leisurely stroll after dining? Hyde Park Corner Underground is just a short walk away.
The AfternoonTea.co.uk Team tried out the CUTcakes and Tea and interviewed Executive Chef, David McIntyre. You can read all about it in our Chef Chat feature here
Please note from 11th November- 12th January CUT @ Park Lane will be running a Festive Afternoon Tea menu. Find out more here.