Afternoon Tea Awards 2017 - Commended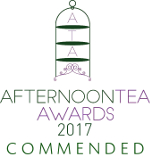 Treat yourself to the May Fair Kitchen's sumptuous new Afternoon Tea menu. Indulge in a selection of delicious treats at this stylish venue that have put a Mediterranean twist on the great British tradition.
Mayfair Kitchen is located in the award winning five-star Mayfair Hotel London. With history dating back as far as 1660, The Mayfair Hotel effortlessly combines grand hotel service with boutique details.
Afternoon Tea is served in the May Fair Kitchen, where elegance meets simplicity. May Fair Kitchen's talented chefs combine local produce with overseas ingredients to produce high quality food. The open kitchen adds a theatrical feel to the dining experience.
Set in the heart of London's West End, The Mayfair Hotel is just a stone's throw from some of London's best attractions including theatre, arts and shopping.