Afternoon Tea Awards 2018 - Winner Best Tea Service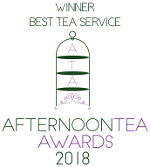 The Langham London have partnered with Liberty London to create a delightful summer SeasonaliTea Afternoon Tea. Enjoy a range of beautifully crafted treats and receive their award winning Tea service.
The Langham, London has been serving Afternoon Tea since 1865 and, in keeping with their reputation for innovation, they now present, SeasonaliTea, with its focus on using the very best ingredients at the absolute right time of year. SeasonaliTea is elegantly contemporary, featuring savouries, scones and patisserie with delicious flavours that change throughout the year. The SeasonaliTea experience was awarded Best Tea Service at the Afternoon Tea Awards 2018.
The tea pairing menu has been created with the Rare Tea Company, who source and supply the best teas from across the globe. All teas have been expertly paired with each course of the Afternoon Tea experience. The tea masters will present each tea to your table,with special care to perfect infusions for water temperature, amounts of water against the grams of tea needed for each tea, as well as talk you through the tea's history and why it has been chosen in our select menu.
Located in the heart of West End, the five-star Langham hotel has one of London's most enviable addresses. Commanding a position at the top of Regent Street, take a break from a hard day of shopping to enjoy the tradition of afternoon tea, served in Palm Court, which is the height of elegance, reflected in the marble floors, the lavender and sage leather chairs and fresh flowers at every turn.