Afternoon Tea Awards 2018 - Commended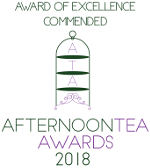 Treat yourself to the unique Wyld Tea at Dandelyan, Sea Containers London. Dandelyan's Wyld Tea takes the classical format of an Afternoon Tea and applies a distinctive Lyan twist. The new menu brings together Dandelyan's love of captivating flavours and a search for botanical stories, with each course folding a tale from the colourful world of cocktails into the wonderful world of tea and scones.
A journey through finger sandwiches, tea & scones and Dandelyan's signature cocktails, each course references the rich history of mixed drinks, and incorporates a boozy flavour and cocktail reference into each sip and bite. Served on Portmerion botanical plates (a reference to Mama Chet's service ware), a healthy dose of 70s kitsch runs through the courses ensuring the Dandelyan sense of fun is included in the mix, whilst also channelling the 'Modern life of plants' ethos.
Sea Containers London is situated in the city's South Bank, just a short walk away from Blackfriars Bridge. Dandelyan at Mondrian London holds several titles from the Tales of the Cocktails Spirited Awards 2017, including World's Best Cocktail Bar, Best International Hotel Bar and Best International Bar Team.