Afternoon Tea Awards 2018 Winner - Best Children's Afternoon Tea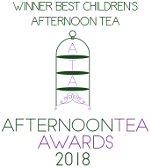 Why not treat your little one to the award winning Children's Afternoon Tea in iconic surroundings at Fortnum & Mason. Priced at £30 per child, this wondrous experience was recently awarded Best Children's Afternoon Tea at Afternoon Tea Tea Awards 2018.
This delicious menu features light finger sandwiches, plain and fruit scones and a selection of cakes including Jammy dodgers served with your choice of Hot Chocolate, Classic Blend Tea, Fruit Juice or a glass of Milk.
One of London's most famous destinations for Afternoon Tea, the history of Fortnum & Mason reaches back to 1707 and since that time it has specialised in providing the finest produce and service. They sell over 100 rare and exotic teas from India, China, Nepal, Japan, Ceylon, along with their own traditional blends and a new range of green teas.
Afternoon Tea is served in the relaxed and elegant surroundings of The Diamond Jubilee Tea Salon opened in 2012 by HM the Queen, accompanied by Their Royal Highnesses the Duchess of Cornwall and the Duchess of Cambridge.
As a retreat from London's hustle and bustle, The Diamond Jubilee Tea Salon is ideal, with dining table or sofa seating, a serene ambience and panoramic vista of Piccadilly, enhanced by the peaceful piano playing in the background.