Afternoon Tea Awards 2017 Winner - Best Tea Service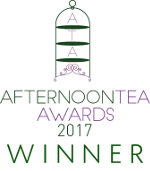 Why not treat yourself and a friend to a wonderfully indulgent afternoon at the iconic Fortnum & Mason. Enjoy a sumptuous Champagne Afternoon Tea and receive a complimentary Tearista experience in this offer available 1st Jan until 30th April.
Diners can indulge in a selection of quintessential items of the great British tradition with the help of Fortnum & Mason's award winning Tearista service to navigate them through the vast tea selection.
Beside your table in the Diamond Jubilee Tea Salon, the Tearistas will brew a number of wonderful teas for you to try, describe aspects of where the tea is grown and made to enable you to understand the differing taste notes and why it tastes so good!
One of London's most famous destinations for Afternoon Tea, the history of Fortnum & Mason reaches back to 1707 and since that time it has specialised in providing the finest produce and service.
Afternoon Tea is served in the relaxed and elegant surroundings of The Diamond Jubilee Tea Salon opened in 2012 by HM the Queen, accompanied by Their Royal Highnesses the Duchess of Cornwall and the Duchess of Cambridge.