Afternoon Tea Awards 2018 - Highly Commended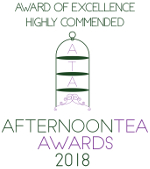 St James's Hotel and Club have created this quaint Victorian inspired Afternoon Tea to transport customers to 1840. Afternoon Tea as a concept was created by Queen Victoria's lifelong friend Anna Marie Russell, Duchess of Bedford, so it is only fitting to indulge in a true Victorian Afternoon Tea.
Keen to capture Victorian traditions, St. James's Hotel and Club's Michelin starred Chef, William Drabble, has created a selection of sweet treats and sandwiches based on authentic recipes and favourites of Queen Victoria with a modern-day twist.
He was inspired by the recipes of Queen Victoria's Chief Cook Charles Elme Francatelli; who favoured renowned treats such as Victoria Sponge or Lemon Drizzle cakes alongside forgotten delights such as Tipsy Cake, soaked in sherry and served with custard.
St. James's Hotel and Club has been known for providing the highest standards of hospitality and service since it first opened its doors as a gentlemen's chamber for the English aristocracy.
The secret of this intimate and elegant luxury London townhouse hotel lies partly in its unrivalled location, in a quiet cul-de-sac just off St. James's Street in London, near the prestigious Mayfair. It is close to Green Park underground station; the exclusive shops and restaurants of Jermyn Street, the Burlington Arcade, Bond Street, the theatres and nightlife of the West End.
St. James's Hotel and Club was awarded a Highly Commended certificate at the Afternoon Tea Awards 2018 in recognition of its high quality Afternoon Tea service.
Please note that St James' Hotel and Club's Michelin Star restaurant and Bistro, Seven Park Place, will undergo a redesign between the 29th July and Mid-October.
During this period Seven Park place and Bistro will be relocated to their stunning Library and Granville room. Here you still will be able to enjoy the full experience of Seven Park Place by William Drabble and The 1840 Themed afternoon Tea. The team will be proud to continue to offer the same high standards they have built their reputation on for the past 9 years.