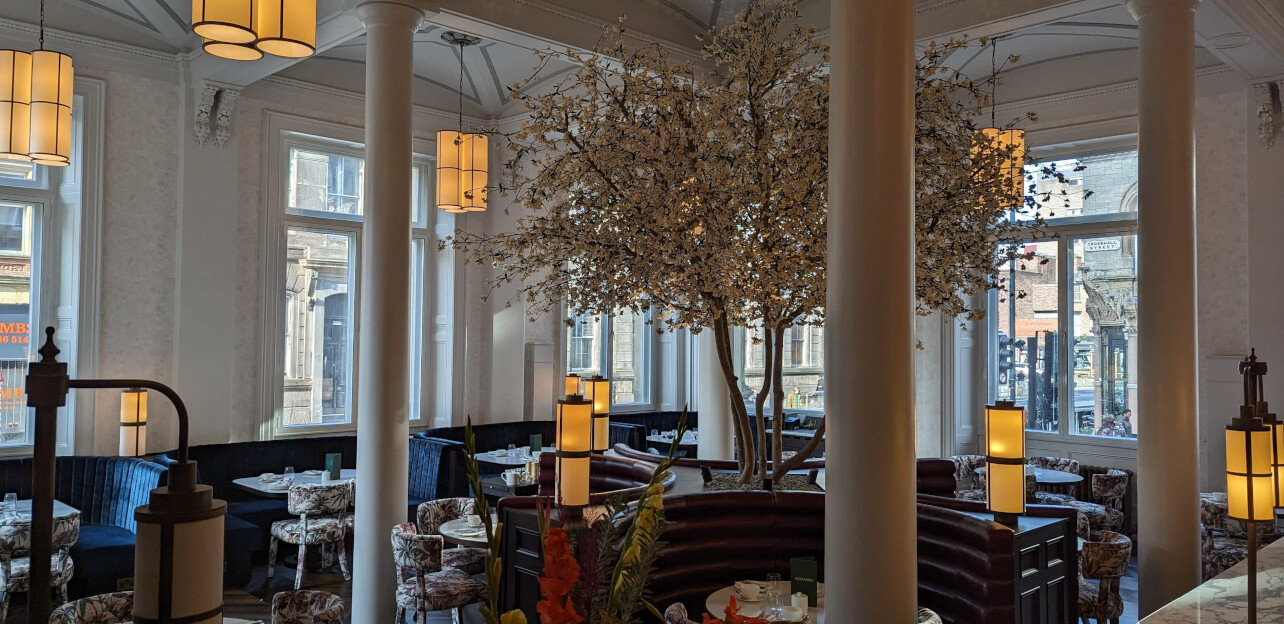 Liverpool is easily my favourite city in the UK. It like a small trendy corner of a bigger city. It's the perfect place to pilot ideas so we get a lot of first press ventures, which means the restaurants and bars are unique. Towering old art deco buildings nestle among modern high-rises from various eras. It has in fact very recently become somewhat of a hotspot for filming locations. If you're a resident, it's not uncommon to peer out your window and see assembled camera crews and a stray boom.
The Municipal hotel captures this essence of Liverpool. Step through the doors and you instantly feel like you are on location. It was formerly council buildings and has been renovated with care and attention to detail to the original features. Through the lobby, there's the restaurant and bar area, flanked with giant palm trees and afforded natural light from the atrium skylight. An impressive bar in the middle adds to the old timey feel. You make a mental note that it would be the perfect place to stop for a spot of lunch or a cocktail.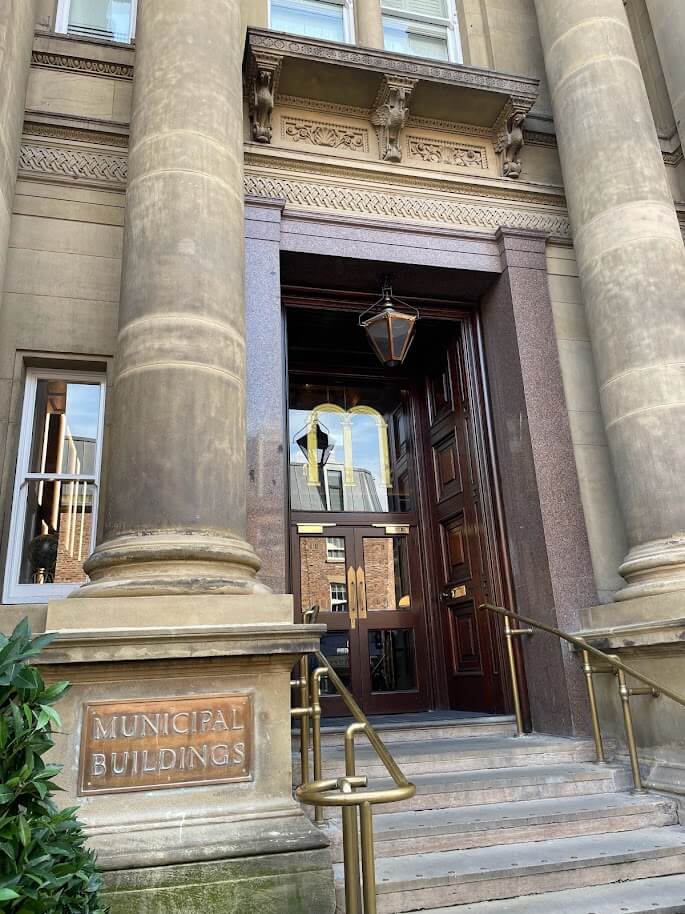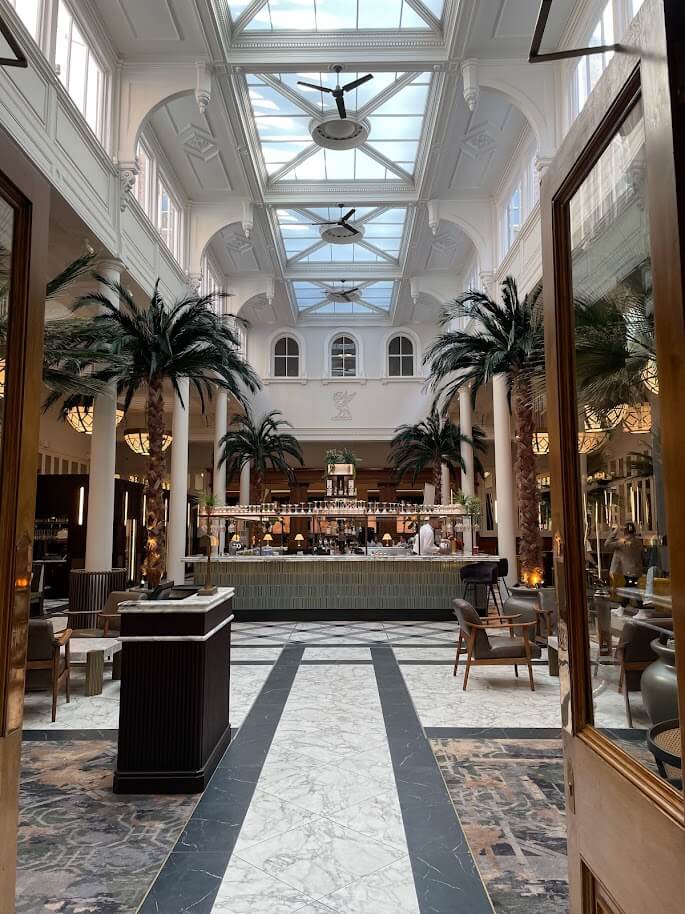 There is a separate room entirely dedicated to the Afternoon Tea service - the Botanic Tearoom. Lit with a mixture of natural light from the tall windows and soft glow from orange lamps. A silver tree with pink cherry blossom takes centre stage.
Exuding quiet luxury, the tearoom strikes the balance of comfortable and chic. Seating is comprised of lush velvet booths and demi armchairs clustering around tables which creates an intimate atmosphere.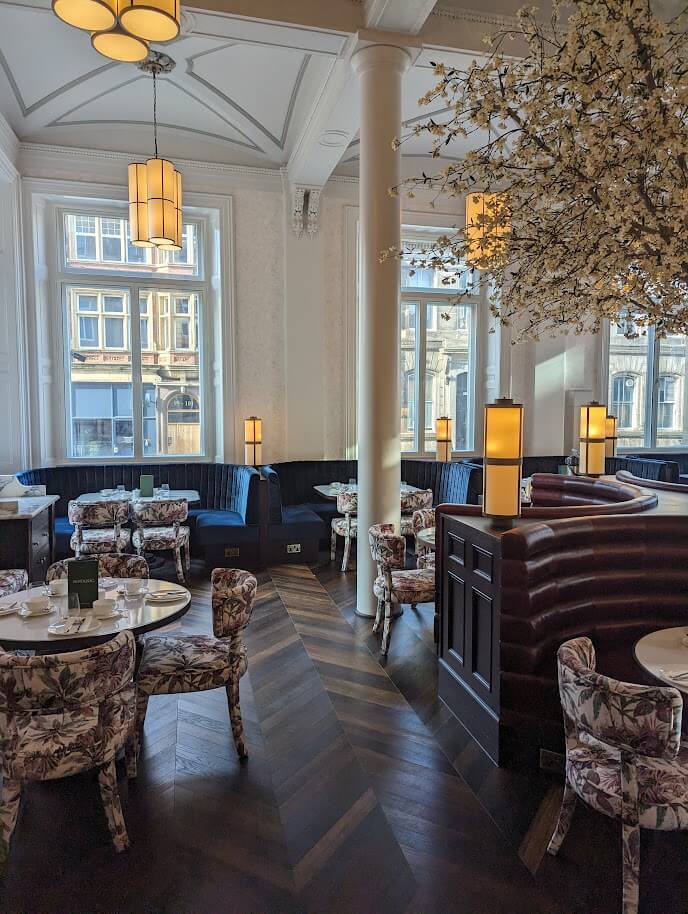 There is a selection of high quality looseleaf teas to suit any preference. The teas are freshly brewed tableside in glass teapots. If you're in the mood to upgrade the experience, there is the option for Prosecco or Champagne as well as a decent wine list.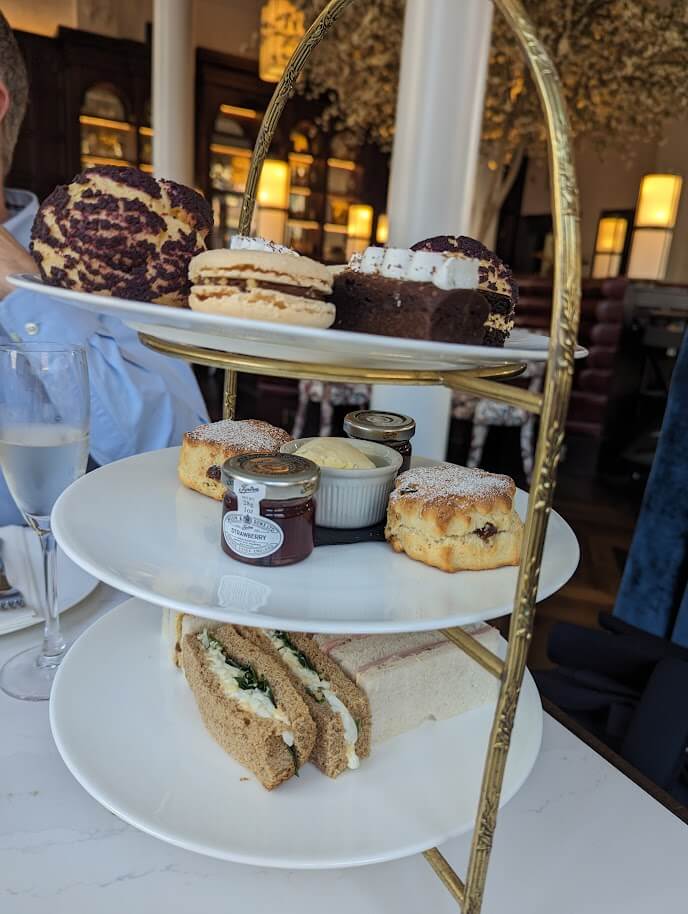 Afternoon Tea is presented on an elegant three-tiered stand. First up, traditional freshly cut finger cut sandwiches with fillings that change each day. We were treated to smoked salmon with cucumber, ham, cheese with pickle and egg mayonnaise.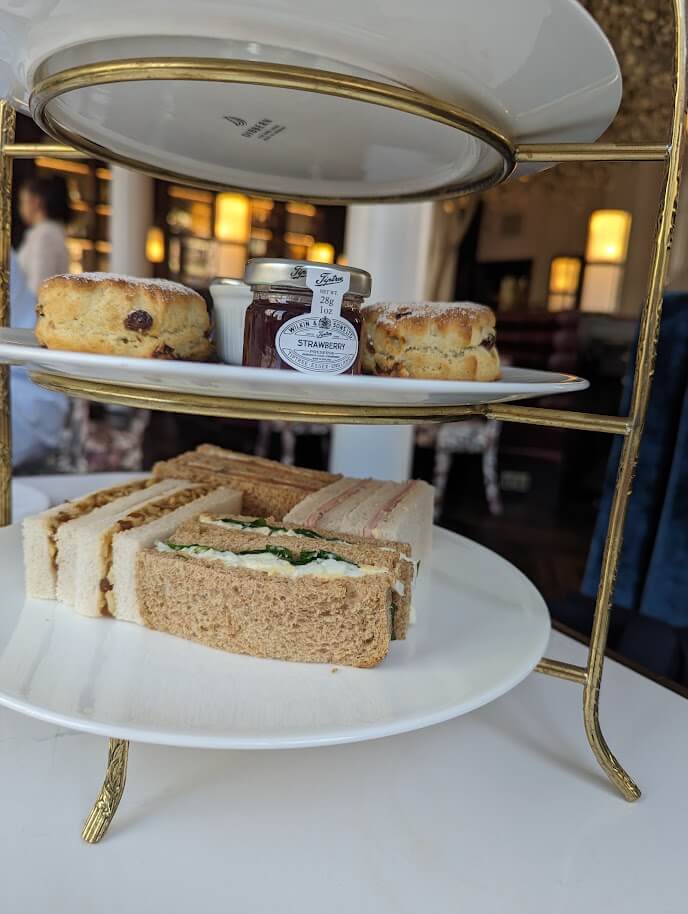 The simplicity of scones means there's nowhere to hide in the creation. So often on an Afternoon Tea you'll meet a scone that's too dense or too fluffy. These, however, are the Goldilocks of scones, striking the perfect balance of buttery and light without being overly sweet. One per guest means that you don't overeat before what many consider the main event - the sweets and pastries.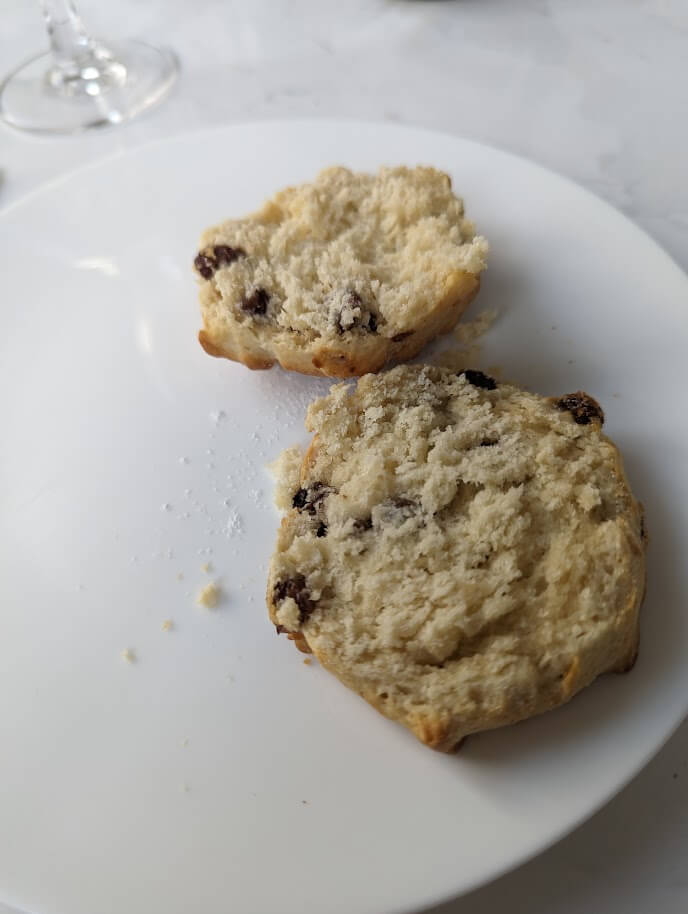 The cakes and pastries change regularly. On our visit the cakes included an orange chocolate brownie, a chocolate vanilla macaron, a choux bun and a chocolate mint cake. The chocolate orange brownie was rich and pleasantly gooey. The choux was generously sized and filled with a creamy almond crème pâtissière.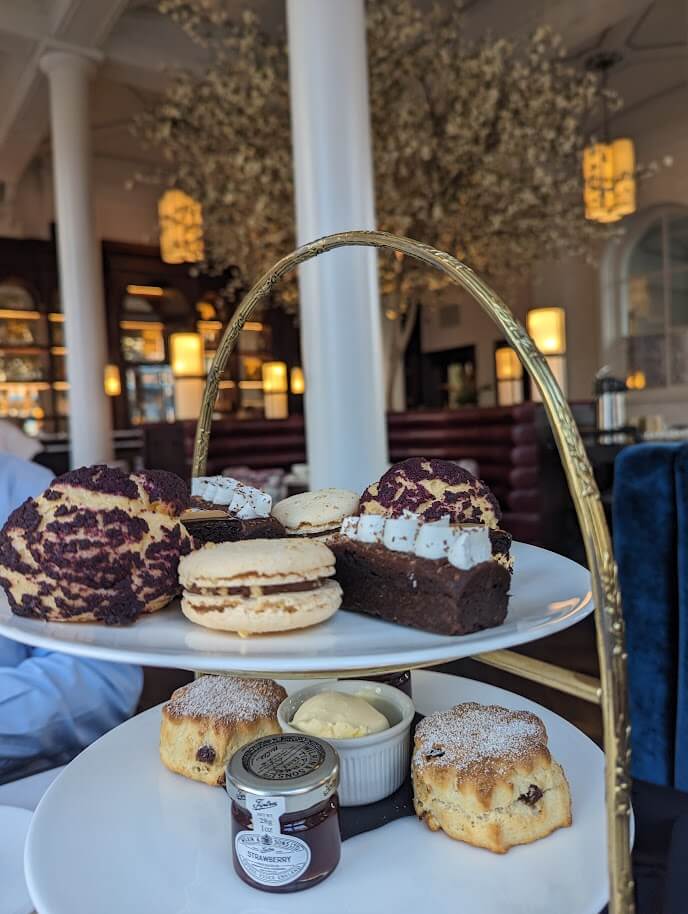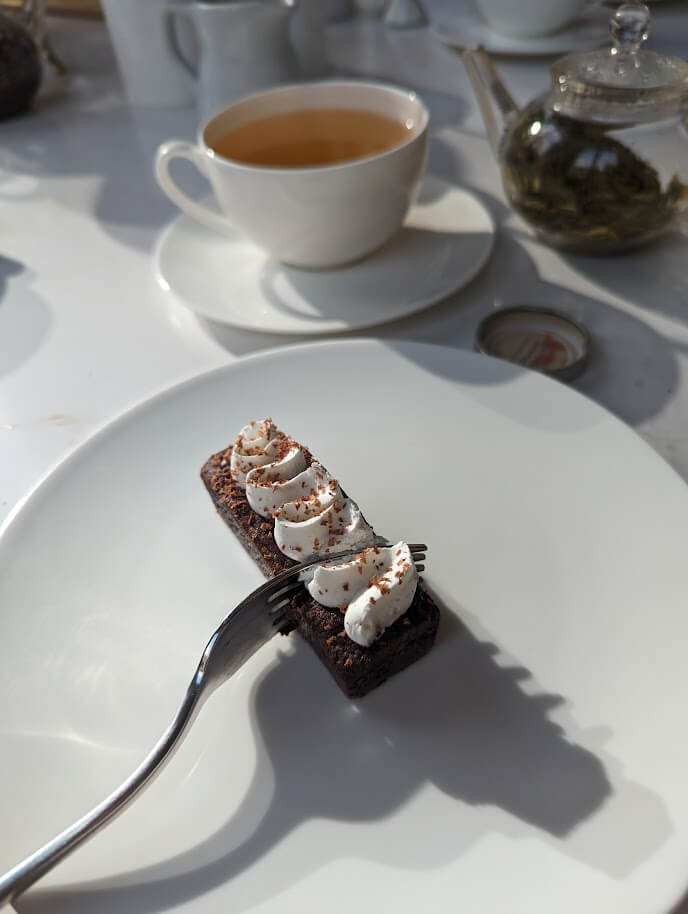 All in all, it's a very pleasant Afternoon Tea experience in grand surroundings. It's the kind of venue where you find yourself planning your next visit before you've left.
Afternoon Tea is served every day 12pm - 5pm. Find out more about it here.