Find the perfect Afternoon Tea

The UK's premier Afternoon Tea guide features more than 700 venues across the UK & Ireland. Discover. Book. Enjoy.
Find your perfect Afternoon Tea venue
Choose from luxury 5-star hotels, quaint tearooms and grand countryside manors.
Find Afternoon Tea offers near you
View our range of exclusive discounts, special menus and complimentary Champagne deals.
What are you looking for?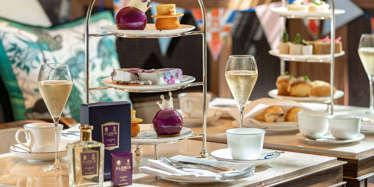 The Parlour at Great Scotland Yard Hotel
3-5 Great Scotland Yard, London , SW1A 2HN
Indulge in an Afternoon Tea with a twist at Great Scotland Yard, a recently opened 5-star hotel where tradition and history meets modern luxury.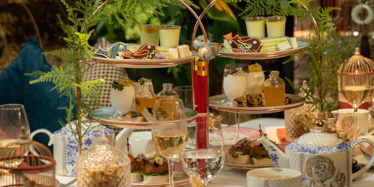 Chinese Whispers Afternoon Tea at Kai Mayfair
65 South Audley Street, London, W1K 2Q
A playful journey into a Chinese themed afternoon of nibbles, secrets and conversation from Michelin starred Kai Mayfair.
The Beaumont Hotel
Brown Hart Gardens, Mayfair, London, W1K 6TF
Treat yourself to Gatsby Afternoon Tea at The Beaumont Hotel, a 5-star luxury hotel in Mayfair exuding the glitz and glamour of the 1920s.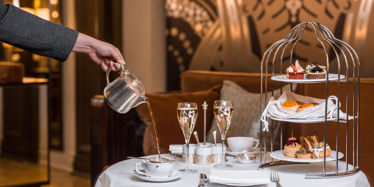 Sheraton Grand London Park Lane
Piccadilly, London, W1J 7BX
Sheraton Grand London Park Lane is Mayfair's premium meeting place. A beautiful setting in the heart of the city offering a glimpse into the magic and history of the roaring 20's.
Vouchers
Available

Offers
Available

Award
Winner
The Roseate Hotel - Reading
26 The Roseate, Reading, Berkshire, RG1 3EJ
Spoil yourself to Afternoon Tea in 5 star luxury surroundings at The Roseate Hotel. Enjoy a range of treats at this venue described as 'The U.K's Sexiest Townhouse Hotel' by The Evening Standard.
B Afternoon Tea Bus Tour
164 Buckingham Palace Road, Victoria Coach Station, London, SW1 W9TB
Come and experience Afternoon Tea with a difference on Brigit's Afternoon Tea Bus Tour. This vintage double decker bus will take in some London's best sights, whilst you indulge in the B Afternoon Tea.
Vouchers
Available

Offers
Available

Award
Winner
The Milestone Hotel
1 Kensington Court, London, W8 5DL
Taking its name from the original cast iron milestone that stands against one of its walls The Milestone Hotel is a deluxe 5 star boutique hotel overlooking Kensington Palace and Kensington Gardens.
Vouchers
Available

Offers
Available

Award
Winner
The Rubens at The Palace
39 Buckingham Palace Rd, Westminster, London, SW1W 0PS
The Rubens at the Palace lies at the heart of London's biggest tourist attractions and is the closest hotel to Buckingham Palace, within easy walking distance of Victoria Station and some of London's best shops.
Vouchers
Available

Offers
Available

Award
Winner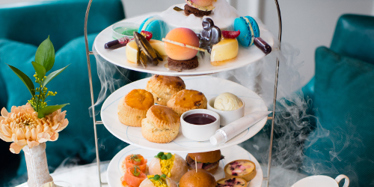 The Ampersand Hotel
10 Harrington Rd, South Kensington, London, SW7 3ER
The Ampersand Hotel is inviting children and adults alike to transport themselves to The Drawing Rooms for an out of this world exploration of its Science Afternoon Tea.
Vouchers
Available

Offers
Available

Award
Winner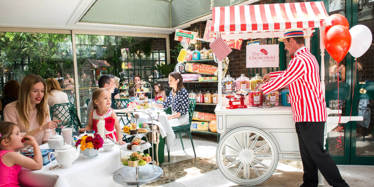 The Chesterfield Mayfair Hotel
35 Charles Street, Mayfair, London, W1J 5EB
In the heart of exclusive Mayfair, the intimate Chesterfield Mayfair Hotel is a luxury hotel ideally located for taking Afternoon Tea when shopping in Piccadilly, Bond Street, Regent Street or Oxford Street.
Vouchers
Available

Offers
Available

Award
Winner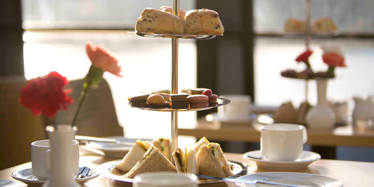 Platinum Jubilee Champagne Afternoon Tea Cruise
River Thames Afternoon Tea Cruise
Indulge in a delectable menu of savoury and sweet treats, inspired by British royals past and present, as you cruise at a leisurely pace along the River Thames.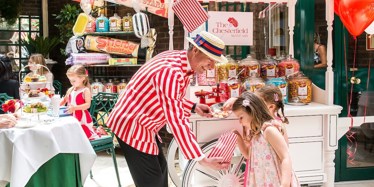 Children's Original Sweetshop Afternoon Tea
The Chesterfield Mayfair Hotel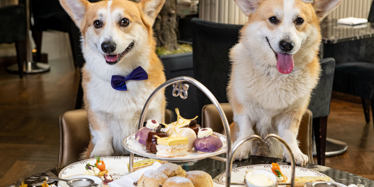 The Royal Jubilee Afternoon Tea
The Waldorf Hilton
Enjoy The Royal Jubilee Afternoon Tea at The Waldorf Hilton, with a glass of Louis Pommery, for just £53 per person, when you book via AfternooTea.co.uk, until 31st August 2022.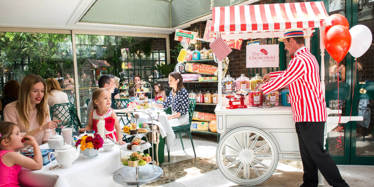 Vegan Afternoon Tea
The Chesterfield Mayfair Hotel
The Chesterfield Hotel have put a vegan spin on their Original Sweetshop Afternoon Tea menu. Guests can tuck into a delicious array of lovingly-crafted plant-based sweets and savouries with your choice of tea and, if you're feeling fancy, a crisp glass of Champagne!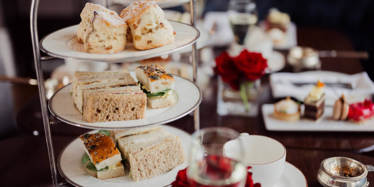 Buy One Afternoon Tea and Get One Half Price
The Hyde at Roseate House Hotel London
For a limited time only, enjoy one Afternoon Tea at Roseate House Hotel and get another one half price! Usually priced at £70 for two, you and a loved one can tuck into a delicious array of sweets and savouries for just £52.50 with this special offer available until 31st May.
Free-Flowing Afternoon Tea
No3 at Nightingale Place
Indulge in a decadent Afternoon Tea at No3 Nightingale Place with Free-Flowing Prosecco for just £40 per person.
Queen's Platinum Jubilee Bus Tour with complimentary Kir Royale
B Afternoon Tea Bus Tour
Book Queen's Platinum Jubilee Afternoon Tea Bus Tour via AfternoonTea.co.uk and receive a complimentary glass of Kir Royale per person between 1st May and 31st July 2022.
Gift vouchers, teaware, hampers and much more
Afternoon Tea makes a wonderful gift for someone special and we are delighted to offer over 1,000 Afternoon Tea Gift Vouchers, available across the UK & Ireland. 
Our shop has got everything you could wish for to treat the Afternoon Tea lover in your life, ranging from Tea Pots and Cake Stands, Tea and Biscuits, Gifts and Hampers, all from the finest brands, including Fortnum & Mason, Whittard of Chelsea, Wedgwood, Emma Bridgewater, Burleigh and more.
Afternoon Tea Awards
Each year, the best in Afternoon Tea service and creativity is recognised at the prestigious Afternoon Tea Awards. Find out who won at the most recent ceremony...
Frequently asked questions
What is Afternoon Tea?
Afternoon Tea is a meal composed of sandwiches (usually cut delicately into 'fingers') with a variety of fillings, scones with clotted cream and jam, sweet pastries and cakes.
Read our article 'What Is Afternoon Tea' for details.
Why do some venues ask for credit card details?
For bookings over a specific number of people, some restaurants ask for credit card details to guarantee the booking. The restaurant may use the details to charge you a No-Show fee, if you fail to fulfill your reservation without having notified the restaurant in advance.
Certain venues may also charge a cancellation fee for any cancellation or in the event of a cancellation not made within the allotted period of time. If for any reason you cannot fulfill your reservation, please ensure that you cancel online, or notify the venue by telephone. You will find the venue contact details in your email confirmation.
Unless specified, your card details will NOT be used to pay for your meal. You will pay for your meal at the venue.
Can I cancel or amend a booking?
Unless specified otherwise, you can cancel a booking up to the day and time of the booking
The confirmation email you received when making your booking contains a link, or the restaurant contact details, to enable you to cancel or amend the booking.
What should I wear for Afternoon Tea?
In general the dress code is 'smart casual', which usually means no jeans, shorts, swimwear, trainers or sneakers. Any specific requirements are listed in the venue details. 
Afternoon Tea is a special occassion, so why not dress to impress!
Locations
Award-Winning Venues