Afternoon Tea Awards 2016 - Commended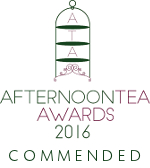 Come and experience Afternoon Tea with a difference on the Brigit's Afternoon Tea Bus Tour. This vintage London double decker bus will drive round Central London, taking in some of the City's best sights, whilst you can indulge in the fabulous B Afternoon Tea.
Capture the heart of the city's culture and history whilst sipping on a lovely cup of tea and enjoying the exquisite tastes of France, whilst looking out on some of London's most famous landmarks. High tea accompanied with an array of tasty sandwiches and delicious cakes and pastries.
Your uniformed driver will take you round The London Eye, Big Ben, The Houses of Parliament, Westminster Abbey, St James's Park, Buckingham Palace, Hyde Park, The Royal Albert Hall, Marble Arch, Piccadilly Circus, Nelson's Column, Downing Street and more.
The London sightseeing tour lasts approximately 1 hour and 30 minutes (depending on traffic). The 12:30 and 15:00 tours will be picked up and dropped off at 8 Northumberland Avenue, WC2N 5BY. The 12:00pm, 2:30pm and 5pm tour depart from Victoria Coach Station, SW1W 9TP A different pickup point can be requested if you are booking the entire bus for a private party.
For exclusiveness, you can hire out the entire bus for your own private party such as, weddings, corporate events, hen parties, graduations etc. There is also the option to hire either just the upstairs or downstairs sections of the bus, so get a group together and get in touch for this unique experience.
Gluten free, vegetarian and halal Afternoon Teas available.
Please note that there is no toilet on the Brigit's Afternoon Tea Bus Tour. There is also no tour guide present on the bus. Please note there is a £2.60 booking fee when creating your online booking.
Please note the departure point displayed on the map tab is from Northumberland Avenue.
Please complete the form below to send a group enquiry to this venue.
You can privately hire the wonderful upper deck of the B Afternoon Tea bus for as little as £864 Monday to Friday and £920 on weekends. Any additional people (up to 12 more) will be charged at a discounted rate per person.
Routemaster Upper Deck Only:
Up to 20 - £864 w/d, £920 w/e
Routemaster Full Private Hire:
Up to 26 - £1170w/d, £1280 w/e
Up to 32 - £1390 w/d, £1480 w/e
If your party is a little bigger than 32 people, not to worry, there's a longer bus that hosts up to 44 guests at a time!
Long Wheeled Routemaster Bus Upper Deck Only:
Up to 28 - £1200 wd, £1275 we
Long Wheeled Routemaster Bus:
Up to 35 - £1450 wd, £1540 we
Up to 44 - £1690 wd, £1830 we
B Bakery will all also provide a free takeaway mug for every guest!
It's the perfect venue for weddings, corporate events, hen parties, birthdays and graduations.