Afternoon Tea Awards 2019 - Highly Commended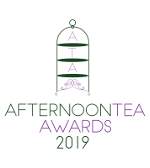 Return to the roaring 20's with an Art Deco inspired afternoon tea experience at The Milestone Hotel & Residences.
Taking its name from the original cast iron milestone that stands against one of its walls The Milestone Hotel is a deluxe 5 star boutique hotel overlooking Kensington Palace, former home to Princess Diana, and Kensington Gardens. Built in the late 19th Century as two townhouses, the hotel is a listed building and the restoration has been meticulously done according to English Heritage standards with original fireplaces, carved wood panelling, high ceilings and large ornate windows.
Thier Art Deco Afternoon Tea is served in either the Park Lounge, the Conservatory or Chenestons Restaurant and the choice is at the discretion of the venue dependant on availability.
The interior of the Park Lounge is decorated with antiques and elegant furnishings that provides guests with an opulent environment to indulge in a selection of delicious sweet and savoury treats.
Chenestons Restaurant provides a similiarly sophisticated experience. Deriving its name from an early spelling of Kensington, this luxurious restaurant features traditional mahogany furniture and wood panelling that creates a warm and welcoming atmosphere to enjoy Afternoon Tea.
In contrast, the newly refurbished Conservatory is a vision of contemporary black and white, where Audrey Hepburn looks down from the wall, providing diners with an ideal opportunity to relax and unwind in stylish surroundings.
The Milestone Hotel was awarded a Highly Commended certificate at the Afternoon Tea Awards in 2018 and 2019 in recognition of its high quality Afternoon Tea service.