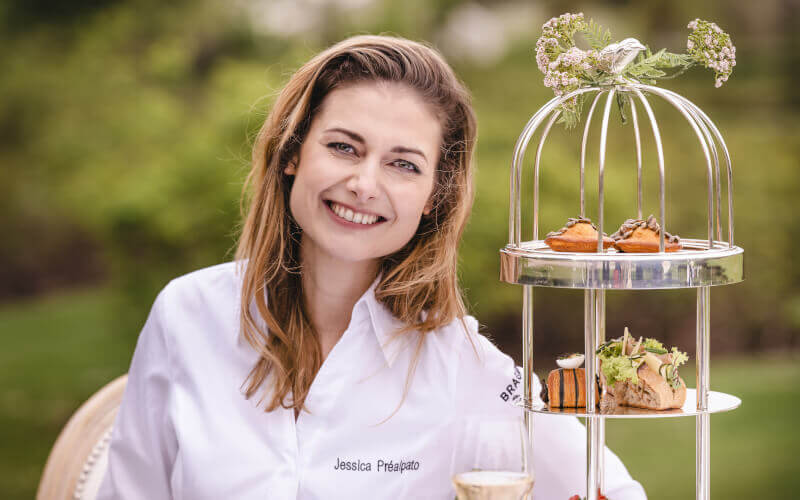 Knightsbridge, with all its hustle and bustle, may not be the first place that comes to mind when you're looking for an oasis of calm. The Carlton Tower has, however, created a tranquil haven inspired by the nature found in Kew Gardens.They have enlisted no other than Jessica Préalpato, the World's Best Pastry Chef to devise their latest Afternoon Tea experience. We were able to catch up with the legend herself to gain a deeper insight into the revolutionary menu.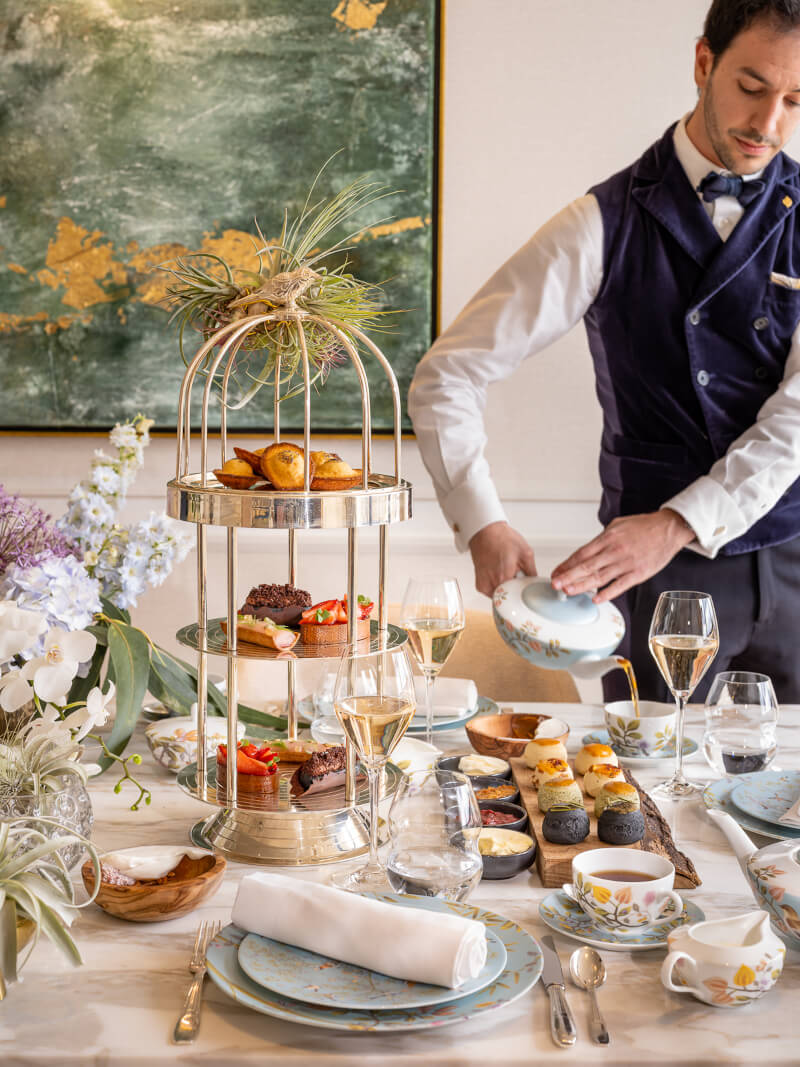 The concept of naturalité is at the heart of the design: preserving the raw natural ingredients to emphasise their unique flavours. We discuss her own concept of 'desseralité' - taking this idea to use in patisserie. 'It's really important to have ingredients that are in season.' she explains. 'You shouldn't eat strawberries in winter - your body doesn't need the nutrients found in this fruit and it's not in season so the flavours aren't there.'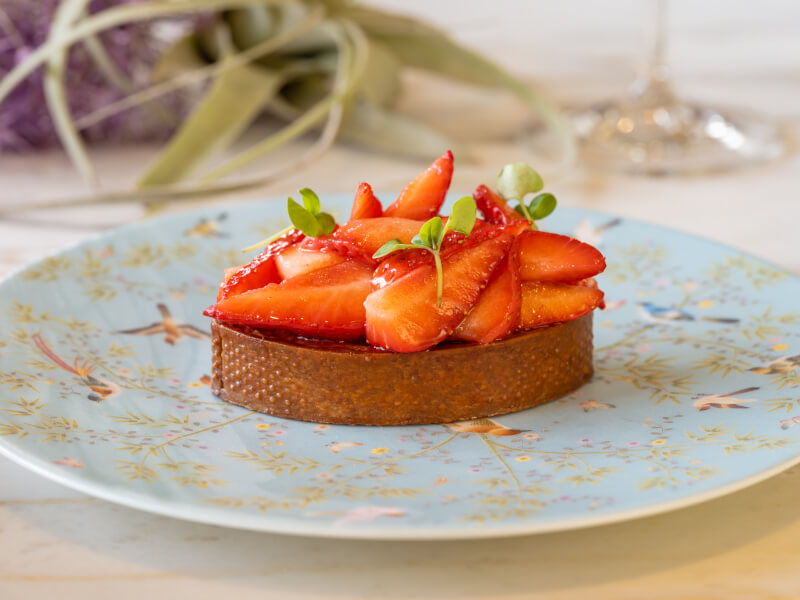 She is a strong advocate of respecting the Earth and the products that it gives us. Seeing herself as a scientist she extracts natural sugars found in fruit to add sweetness and flavour without having to use artificial sugar in her creations.
In this regard, she attempts to avoid food waste by using every part of the product, resulting in various flavours and textures. Much like the British notion of nose-to-tail where you use every part of the animal, Préalpato uses every part of her ingredient, from skin to seeds.
For a pastry chef at a three-Michelin-star restaurant, she is incredibly humble. When asked what her biggest challenge was regarding this venture, she answers saying it is the reaction of guests. She wants people to understand her philosophy and story and asks that you approach the Tea Experience with an open mind.
Préalpato explains that it was important to her to introduce guests to new flavours, new ingredients that they have not tasted before, so I couldn't wait to indulge in her Afternoon Tea myself.




In the elegant Chinoiserie, two sharing starters were served to start the experience. Reminiscent of fine dining appetizers, a salsify rice cracker with cavil nero mayonnaise (which was incredibly moreish) was placed next to two radishes, still attached to their greens. Evoking memories of nature, they were simply seasoned to accentuate their natural flavour and paired with a fermented mushroom butter. Whilst these may seem like simple ingredients, the intricate thought process behind it resulted in a unique flavour sensation.
Finger sandwiches are replaced with three gourmand savoury pieces, the most traditional of these being the smoked salmon offering. Placed upon garlic bread with wild garlic crème fraîche and adorned with white garlic flowers, the garlic flavours are strong without being overpowering and compliments the salmon.
British sourdough was new to Préalpato, who has created a combination bread filled with smoked Praga turkey ham, aged comte cheese and a horseradish mayonnaise which gives a further kick of flavour.
The pièce de résistance was their savoury croissant entwined with truffle, filled with duck egg, black truffle and topped with a quail's egg. It had a perfectly crisp layer on top that crunches ever so slightly when you bite into it revealing the croissant layers filled with deliciously truffled eggs. It was so good it needs to be created as a hero dish for the breakfast menu!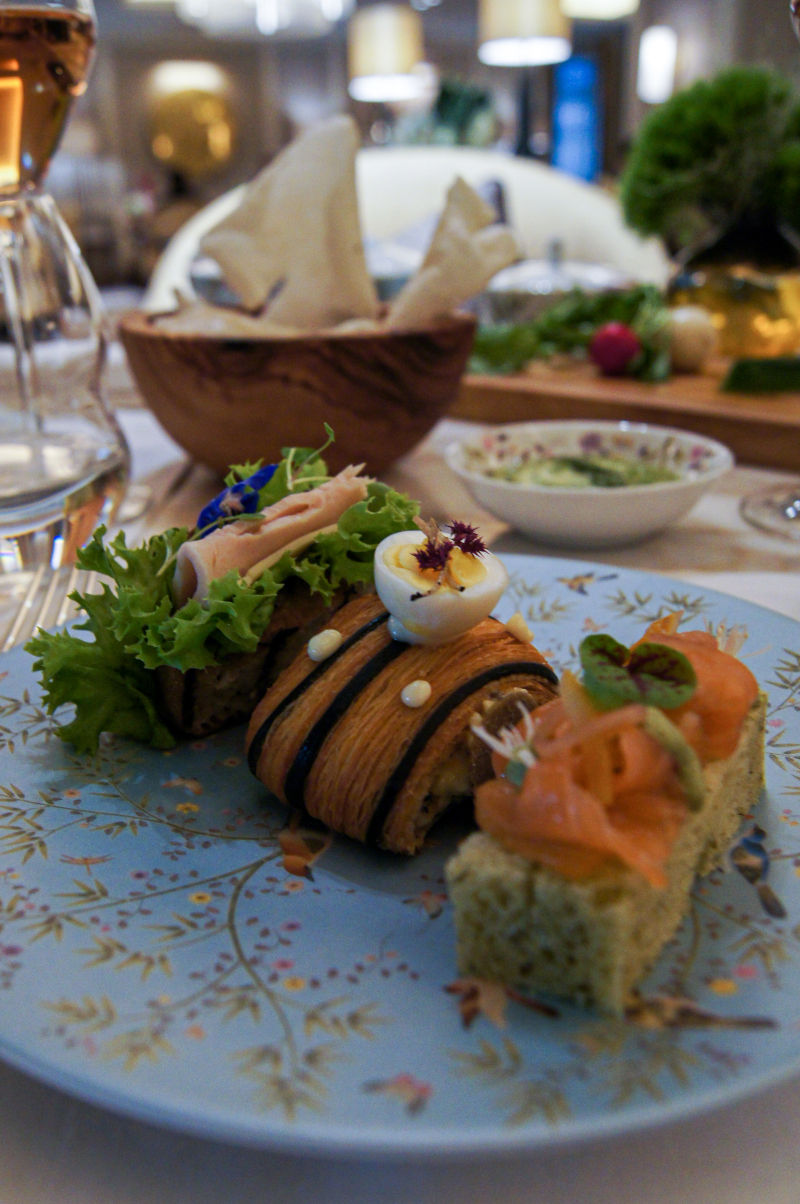 Watercress, rocket, tarragon, mint and black pepper creates a green herb sorbet palate cleanser further evoking feelings of nature and exhibiting guests to flavours that they may not have been exposed to before.
All these ideas are completely innovative, so are there any traditional aspects to the menu, we asked. "The Scones,' Préalpato laughed and whilst the scones are the strongest ode to a traditional British Afternoon Tea, even these have been transformed into their own tasting experience.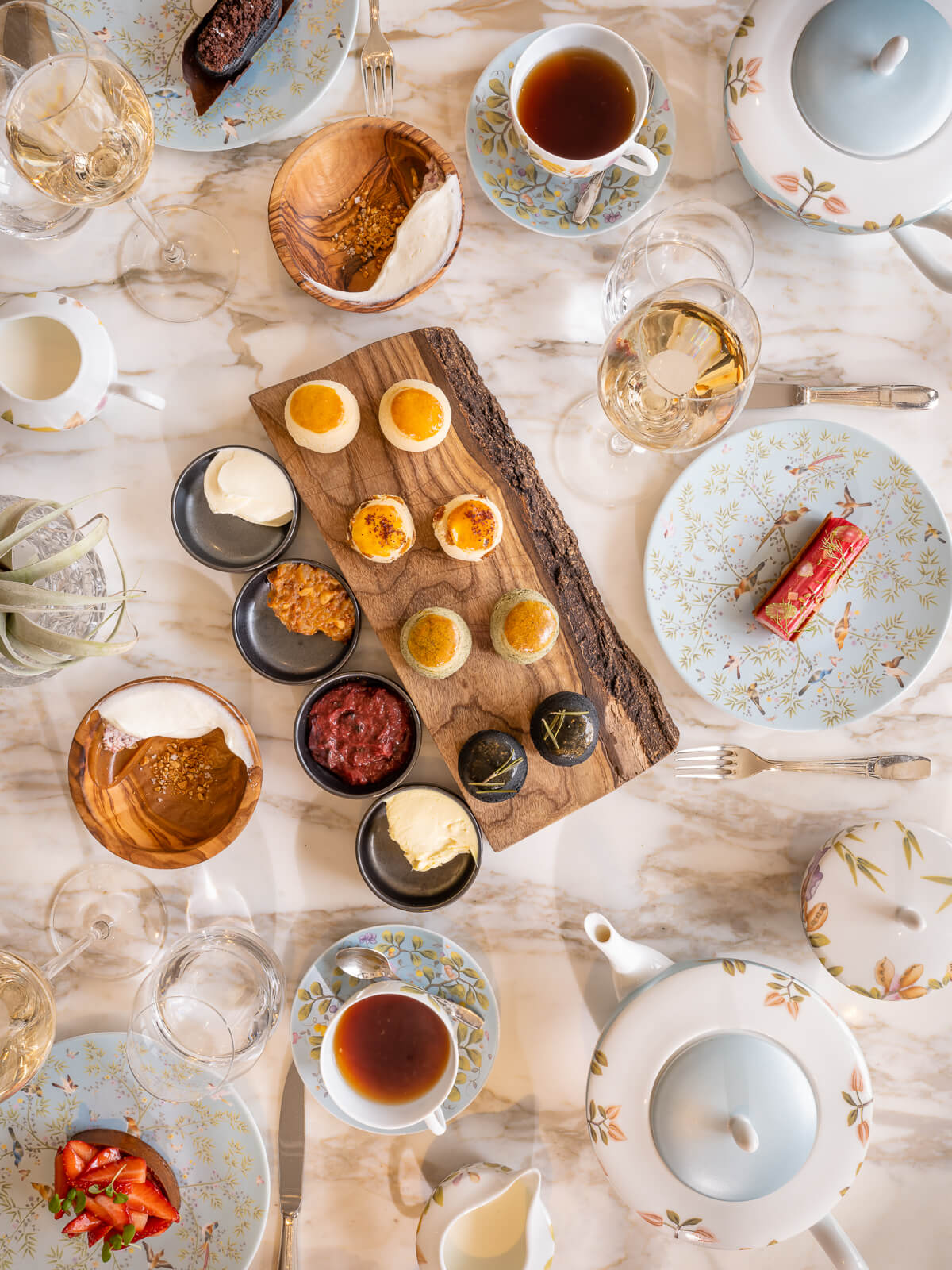 Whilst it was important for her to keep a customary plain scone, served with clotted cream, Préalpato wanted to use different sensations for the other three, (yes there are four scone flavours in total!) to immerse you on a unique culinary voyage. Inspired by the plants found in Kew she has created a nettle scone, paired with a strawberry marmalade. No sugar has been added which bizarrely emphasizes the flavor of the fruit in its most natural form. It too includes nettles which enhances the flavour of the scone.
The dried grape, orange, ginger & cinnamon scones deliciously reflect Préalpato's travels to Beirut but I was most surprised by the charcoal rosemary scone. Paired with a rosemary wood-smoked mascarpone, it had a slight bitterness that I wouldn't expect from a conventional scone - but it somehow works beautifully.
When asked if she discovered any new ingredients working in London I was taken aback by her love of British dairy products. 'Butter, cream, it has more acidity here, and it gives a different taste sensation' she explains. Whilst UK chefs usually swear by French butter, this innovative chef has, of course, flipped this on its head with remarkable results. Using dairy in a peanut caramel dessert, she adds a fermented milk mousse that embraces the salty nutty flavour and plays beautifully beside the sweeter caramel base.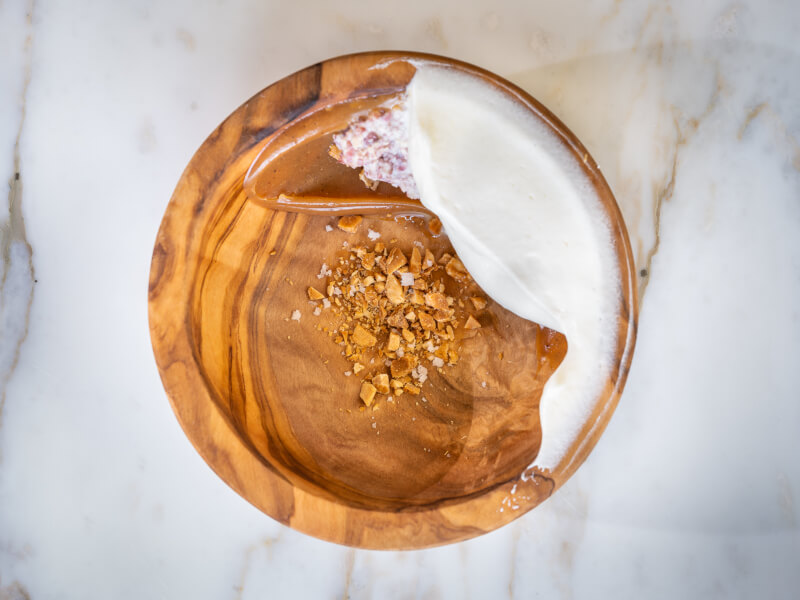 The final course in this journey is, of course, the patisserie. One would usually expect sugar laden, sweet treats to arrive, however upon the three tiered stand lay pieces further evocative of nature. 'I believe it is so important to not only respect nature, but yourself,' Préalpato continues with a clear passion, 'You have to take care of your health - I want to show that you can have desserts without sugar and excessive fat that taste just as delicious.'
Instagram and social media as a whole has created a culture of dishes that have to immerse the eyes more than the taste buds. Préalpato has proved herself simply by not slaving herself to this photographic culture. The strawberries in the tart are not sliced to create roses, nor is the chocolate mousse piped in a fancy pattern, yet if anything this further adds to the focus on flavour.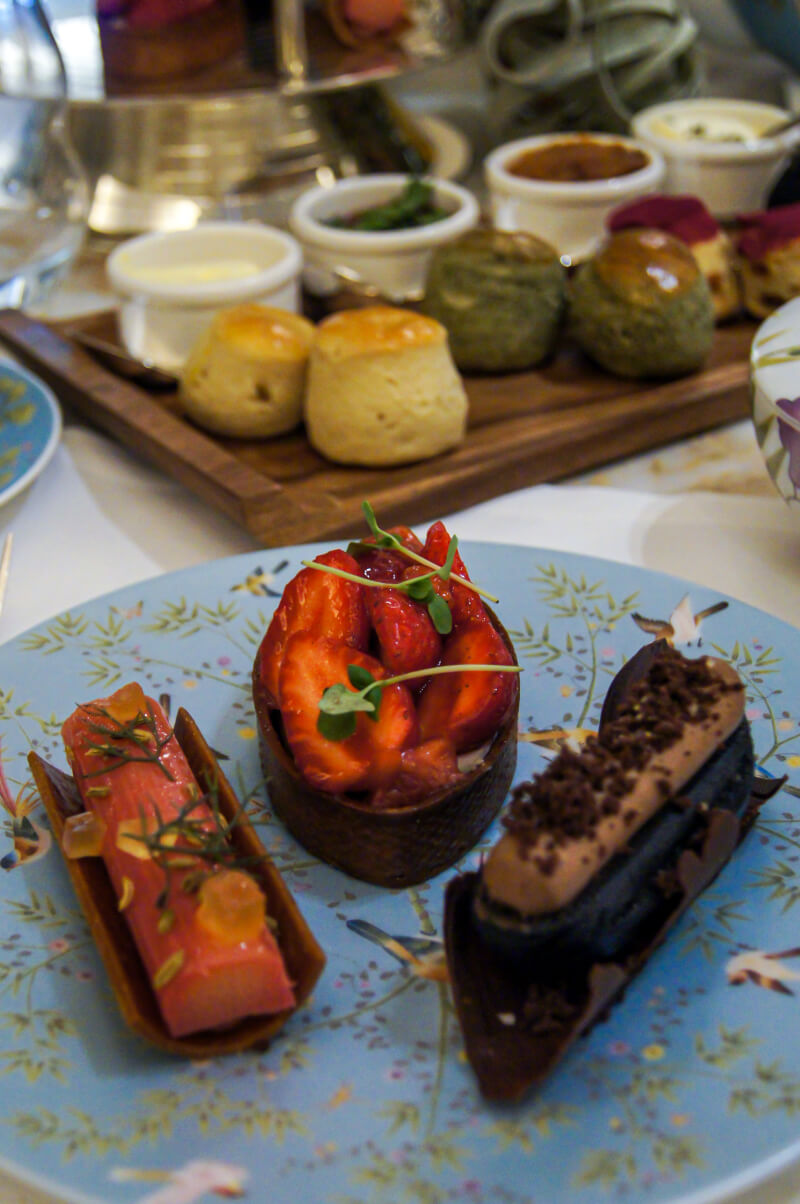 A humble madeline lies simply on the top tier. Quite a simple, modest choice, I thought, for an Afternoon Tea of this grandeur. How wrong I was. The chestnut sponge was light and fluffy, injected with a shot of honey to add sweetness. This was complemented beautifully by the pumpkin seeds topping which added a crisp texture and nutty yet slightly salty sense that just worked so well with all the other flavours.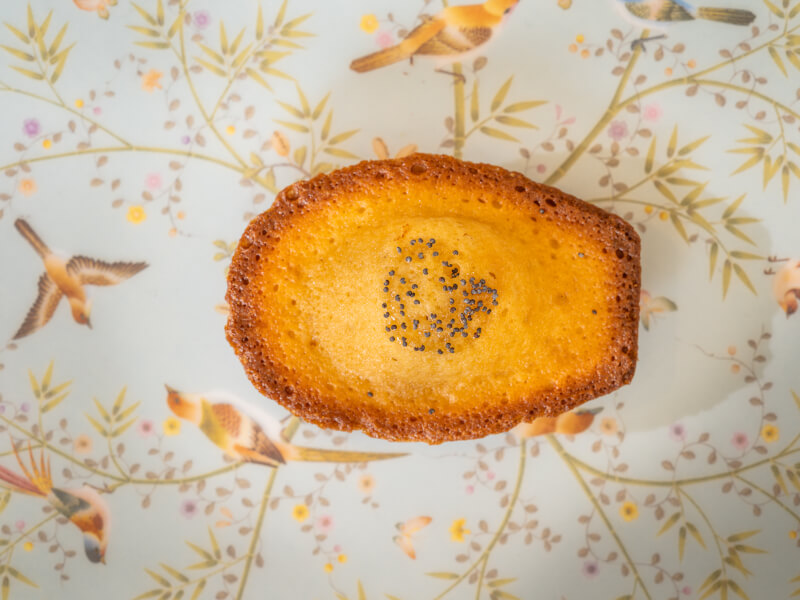 This really set the scene for the three more delicate pastries. Upon indulging in the chocolate éclair topped with a crème brûlée chocolate mousse, I was surprised to see a liquid paste surrounding the hazelnut praline. Lemon and chocolate are two flavours that I wouldn't habitually pair but the sharp bitterness of the barbecued lemon paste cut through the rich chocolate flavour beautifully.
These controversial flavour concoctions are also found in the strawberry pastry, filled with a basil pesto and a rhubarb piece coated in ginger and caramelized fennel seeds. The unusual combinations tantalize areas of the taste palate that were personally never before aroused.
Whilst, admittedly, this may not be a traditional, sweet Afternoon Tea experience where rich decadent desserts dominate, this experience endeavors to redefine your understanding of food and flavours. It humbles whilst taking you on a culinary journey that reflects on the way one should perceive the Earth. The voyage is one that stimulates various senses and is a promising addition to the luxurious London food scene.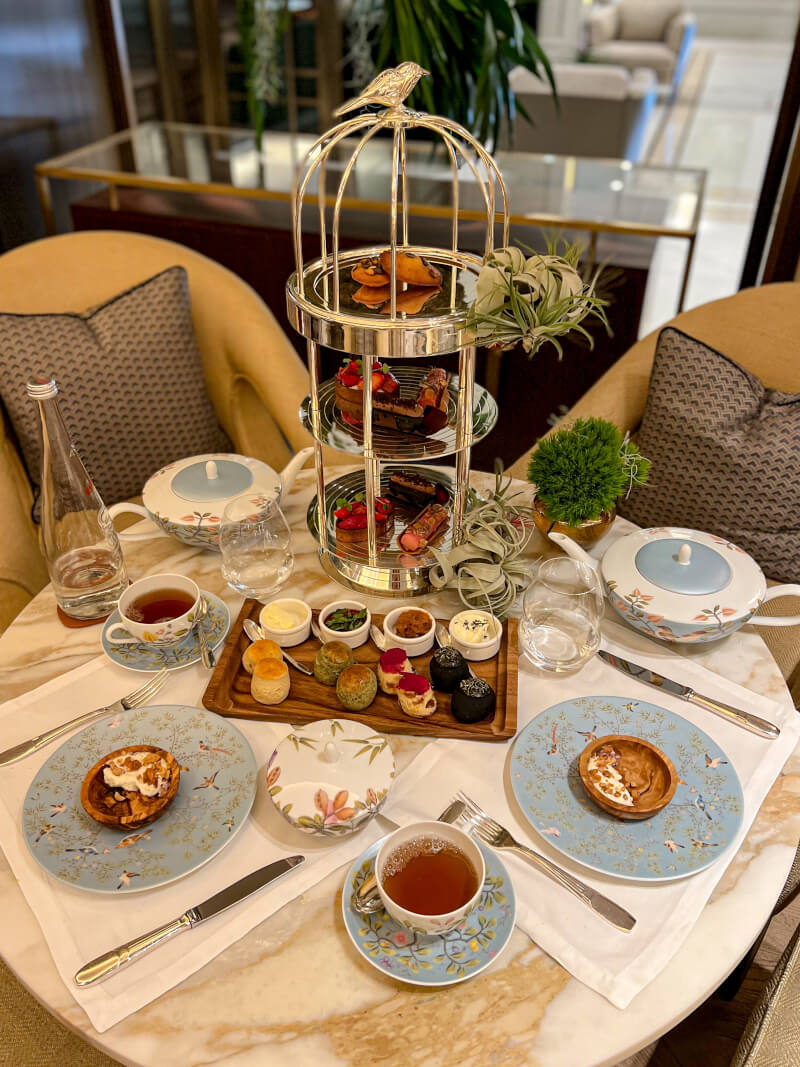 A Tribute To Nature At The Carlton Tower costs £75 per person and is available to book now - Full Details