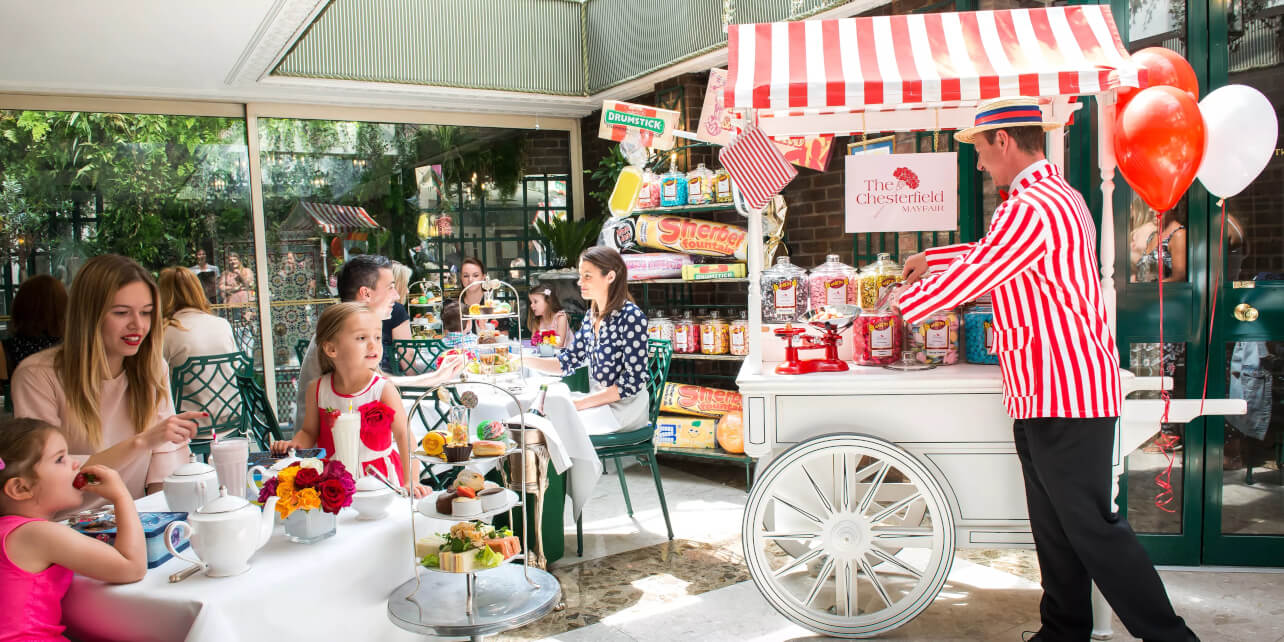 A historic hotel with a polished marble lobby might not be the first place that comes to mind when thinking of a fun family activity, but The Chesterfield is one of the most perfect locations for a delicious day out.
Located at the back of the Mayfair hotel, their light, airy conservatory is home to their Mr Simms Sweetshop Afternoon Tea - a real treat for both big and little kids alike!
The tea lounge is decorated with large jars of sweets and giant models of the nation's all-time favourite candy, such as Parma Violets and Drumsticks, taking guests back to their childhood and reinventing memories through a unique experience.
The staff are extremely welcoming and accommodating to numerous dietary requirements and when we are presented with our three tiered stand full of treats, we can't help but get excited! A shot of pink lemonade, topped with a "flying saucer" sweet is presented, with dry ice cascading over the table adding to the theatrical effects of the experience.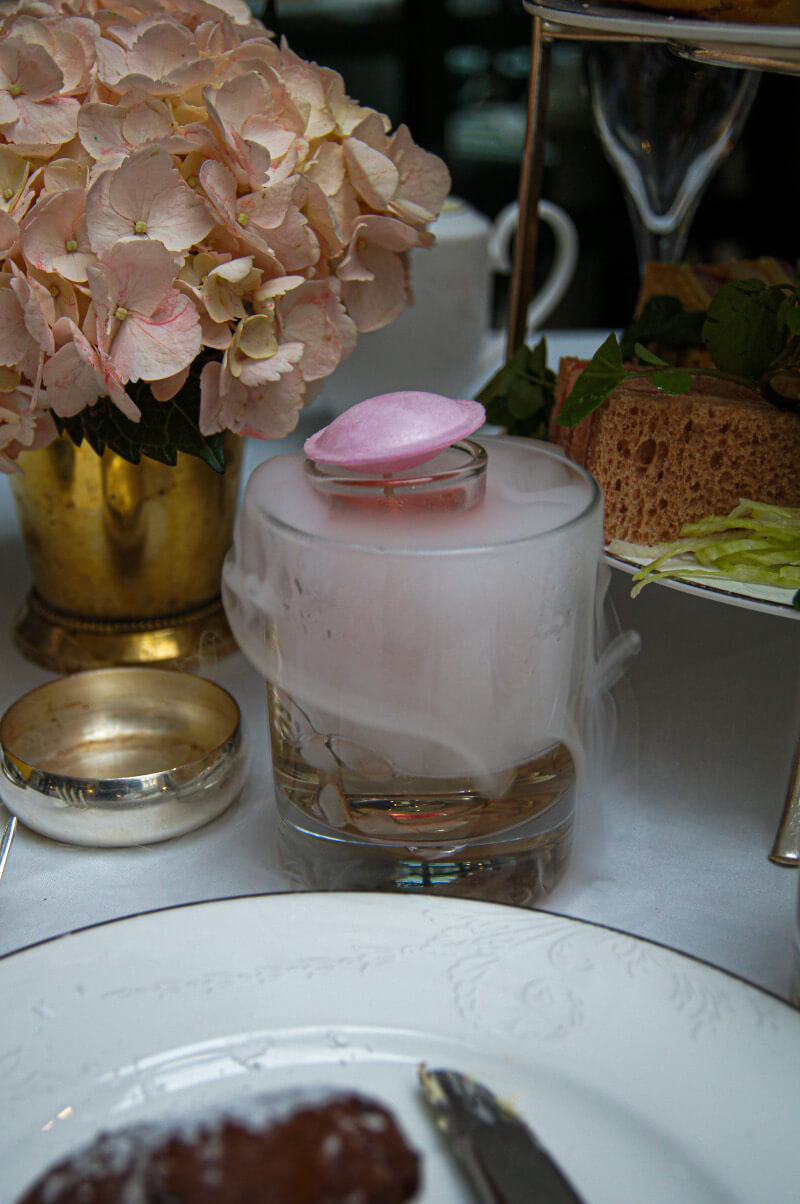 Once the smoke has cleared and we have (slightly) calmed from all the excitement, we tuck into the savoury selection of sandwiches. All the traditional flavours are present, cucumber and cream cheese, egg mayonnaise and watercress, salmon and horseradish and cream cheese, but my personal favourite was the roast chicken. The only sandwich that was not as classic, this was even sliced in a circle rather than the usual finger shape. The mayonnaise dressing was infused with grain mustard and I also loved the addition of a nibbed almond crust. It was a delicious addition to make the sandwich really special.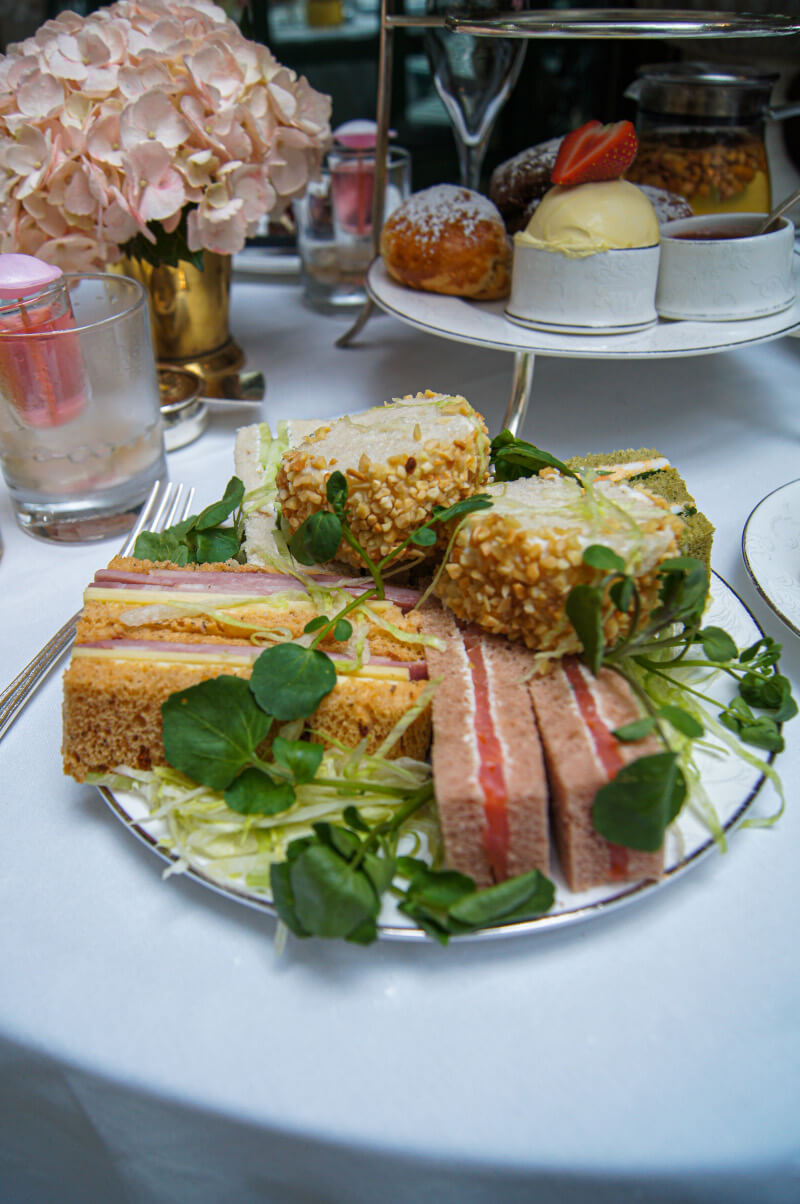 Moving up to the next tier we tucked into our scones - continuing the theme of a sweet shop, you are served with chocolate chip scones as well as the more traditional fruit, both served with a large scoop of clotted cream and a strawberry jam. The chocolate version had a soft and almost cake like texture, sprinkled with icing sugar and it was a richer, more flavoursome alternative to the standard plain scone.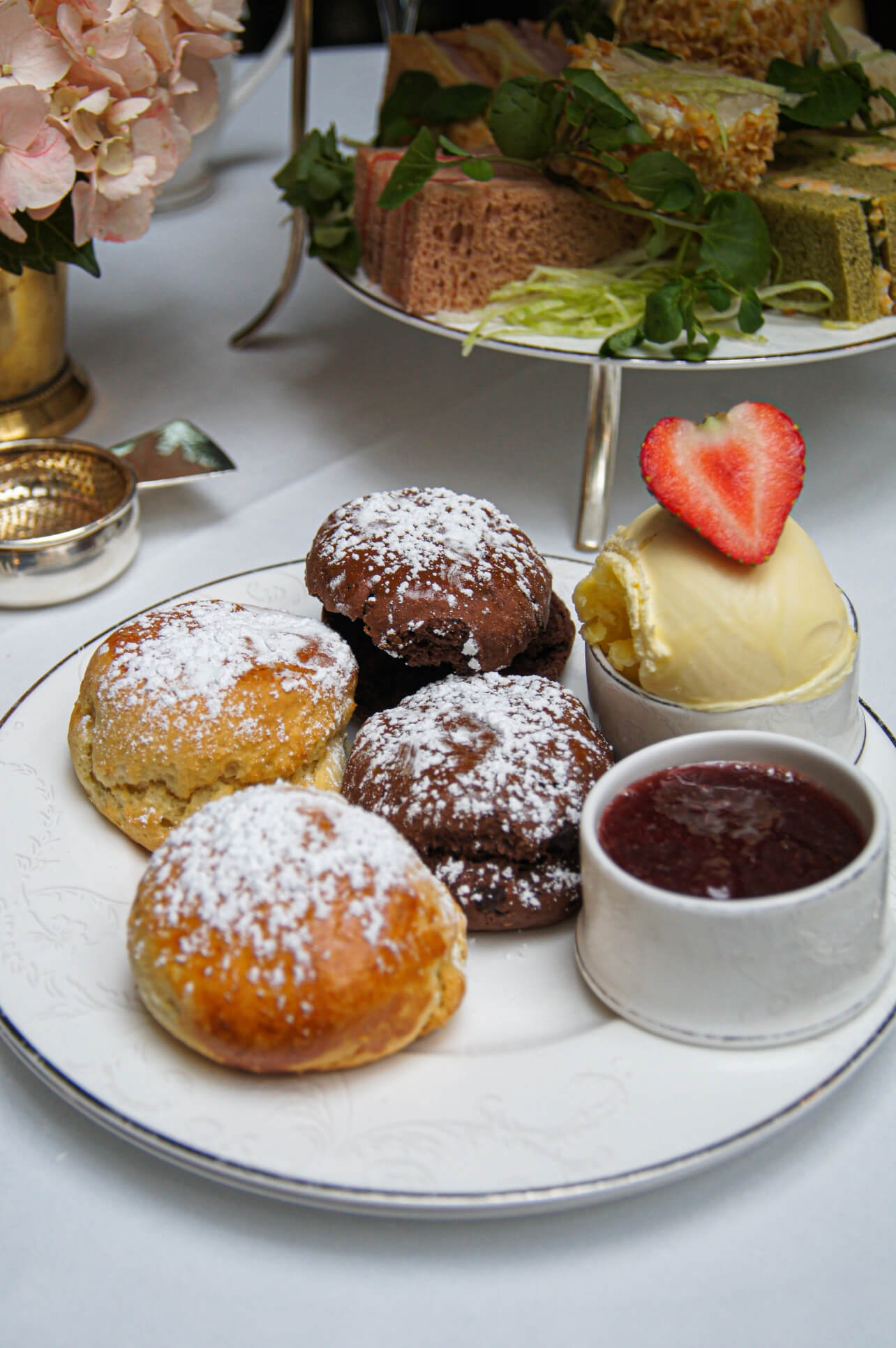 Whilst we were enjoying our food, we ordered a rose tea from their list, which also includes a selection of sweet inspired brews such as Chesterfield Chocolate Black Tea, Bespoke Fruit Salad Candy Tea or Licorice Tea and children have the option of hot chocolate or milkshake.
Finally, it was time to tuck into the cakes inspired by Mr Simms Sweetshop making us feel just like kids in a candy shop! It was truly amazing at how these little pastries really tasted like the sweets they were inspired by, and how they could evoke such strong childhood memories!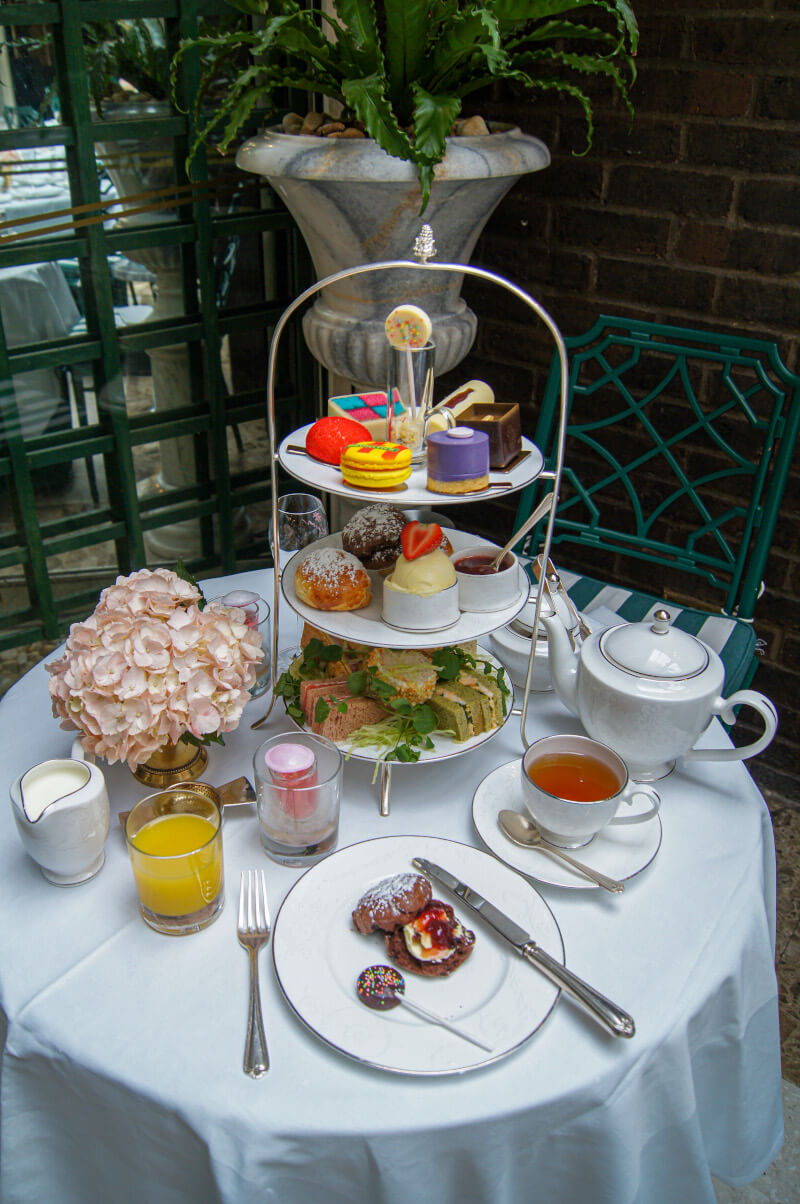 We started with the Parma Violet piece - a creamy purple cheesecake upon a crumbly biscuit base. It has a strong perfumed violet flavour just like the sweet, without being too overpowering and was finished with a love heart piece on top.
The fizzy Cola mousse actually had a fizziness to it - don't ask how! Placed upon a chocolate mousse layer and a brownie base, it worked really well with the richer chocolate flavours. The toppings were light and sat upon the gooey brownie base.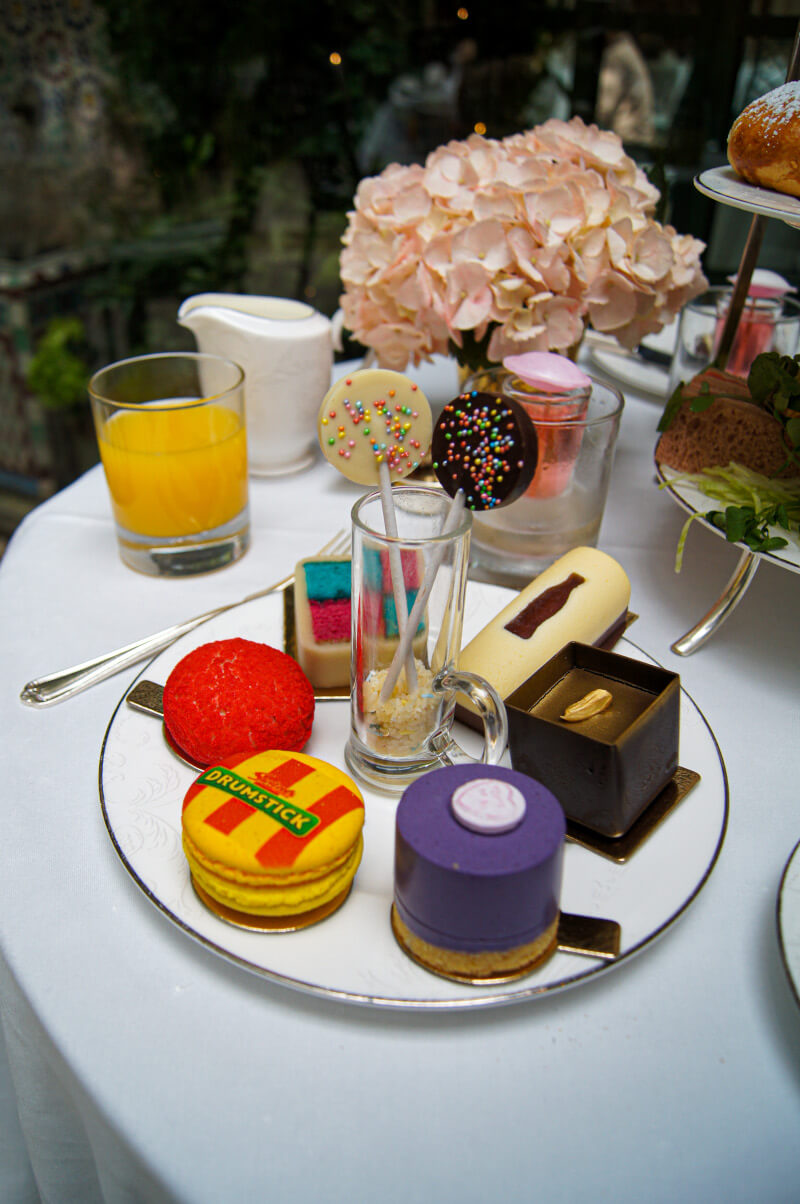 One of my favourite pieces was more simple in design but full of flavour: a soft red choux with a crispy croquant was filled with a creamy vanilla custard centre with a tangy rhubarb heart. A really clever take on a rhubarb custard boiled sweet, this may even be better than the original!
A chocolate case holds a smooth peanut butter mousse and a traditional Battenberg is transformed into sweet inspired flavours: Blue raspberry and bubblegum! The raspberry jam emphasizes the raspberry flavour and the sponge centre remarkably actually tastes like bubblegum!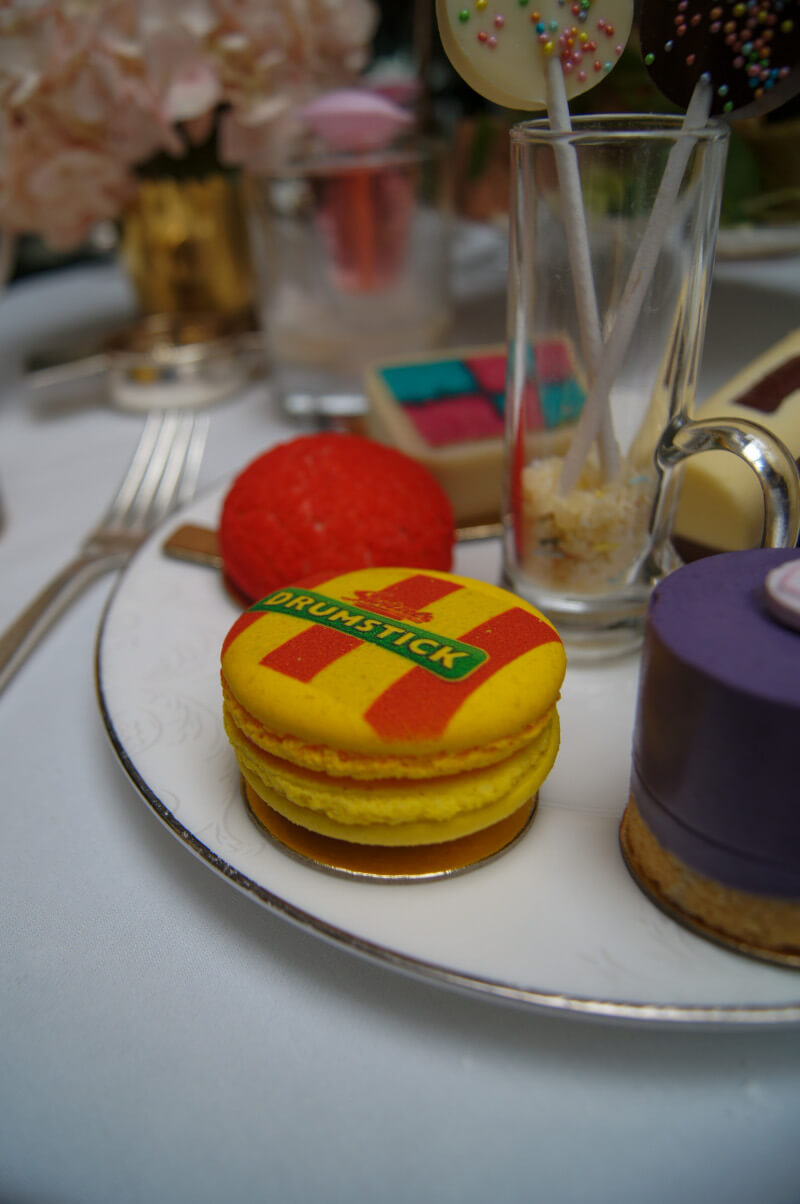 The experience is certainly one of the more fun Afternoon Teas on offer in London, and if you weren't already on a sugar high you are able to take some of the magic home: A tuck shop filled with jars of penny sweets is your last stop for the afternoon where children and adults alike can select their own 50g pick n mix bag. It is a lovely addition to the sweetest Afternoon and a wonderful way to reminisce over nostalgic flavours from our childhood.
Mr Simms Afternoon Tea at The Chesterfield Mayfair is priced from £55 per person for adults and £31 per person for children. See here full details and to book your experience.