An Afternoon Tea lover's day out in London - St James's Park and DUKES LONDON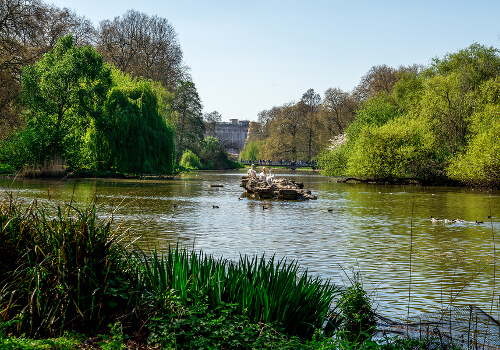 London's West End is the centre of the Afternoon Tea world and is packed full of historic buildings, incredible shops, open spaces and visitor attractions.
AfternoonTea.co.uk have explored some of the best venues to go for Afternoon Tea alongside suggestions for things to see and do in the same area, which combine to make a great day out in and around Piccadilly and St James's.
In today's trip, we take a stroll around St James's Park before indulging in the great British tradition of Afternoon Tea, courtesy of DUKES LONDON.
When it comes to parks, St James's Park stands as a beacon of pageantry and splendour bounded by Buckingham Palace and the Horse Guards Parade - with landmarks such as Downing Street and Lancaster House a short distance away.
Named after one of Jesus' cohorts, James the Less, the oldest of the eight Royal Parks has proven to be a favourite of each ruling monarch. Henry VIII first purchased the swampy marshland in 1532 to repurpose it as a deer park, with many of the monarchs who followed adding their own twist to make it the beautiful landscape it is today.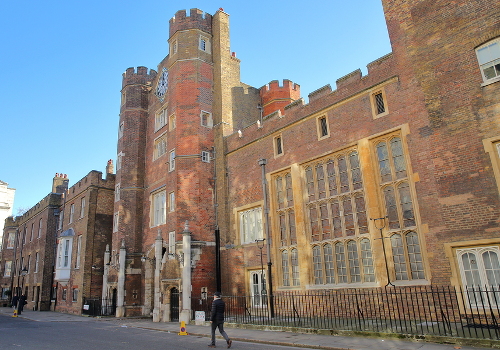 Henry VIII also commissioned the construction of St James's Palace on the site, which is the first stop on our tour. Still recognised as the senior royal palace, St James's Palace became Henry VIII's second home and was considered a building of import during the Georgian rule before the sovereignty of Buckingham Palace. The Tudor architecture remains today with its octagonal towers, russet-red bricks and gables - and just next door is the stunning palace of Clarence House, which Queen Victoria decreed her unofficial home.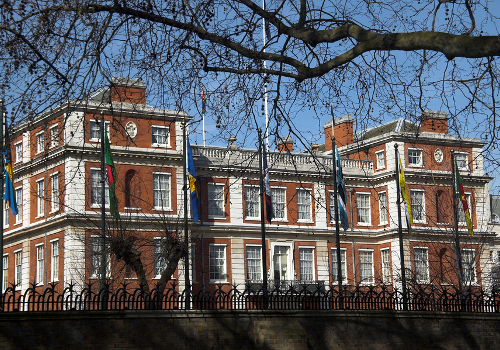 A walk across The Mall down Marlborough Road will lead you onto the serene beauty of St James's Park. Not always this beautiful, the park had a significant transformation from swampy marshland when King James I in the early 17th century implemented irrigation methods to drain the water from the flooded land in order to keep a range of exotic animals including elephants, camels and crocodiles!    
Charles II then restored a more formal atmosphere to the park when he became King in 1660, redesigning the park in the style of the French Royal gardens he had experienced during his time in exile after the English Civil War.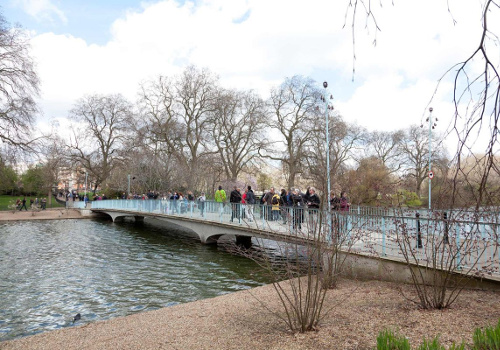 A key feature of his restoration was the centrepiece of a huge canal. The canal was then reworked in the 1820's under the rule of George IV, where it was remodelled into the curving lake we recognise today. Continue your walk on to the iconic blue bridge for the best spot to experience the beauty of the lake in all its glory. From the bridge you can enjoy stunning views of the Queen Victoria memorial and Buckingham Palace to the west - and Big Ben and the London eye towards the east.
St James's Park is also home to exotic wildlife which you'll no doubt come across on a gentle stroll through the serene grounds. One of the lake's two islands is named Duck Island because of its strong wildlife presence - and this spot provides a sanctuary for the 17 species of bird that live there.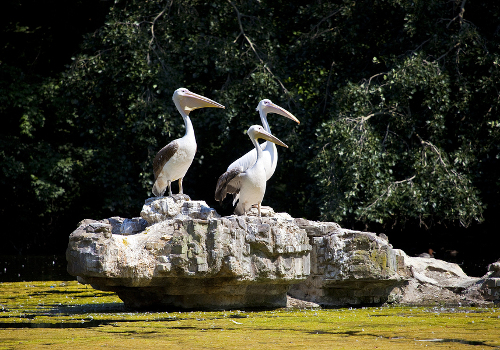 Perhaps most surprising amongst the inhabitants is the park's thriving pelican population, who were introduced to the park in 1664 as a gift from the Russian Ambassador.
If you continue to walk west then you will encounter The Churchill Museum and Cabinet War Rooms, where you can explore this integral building in British history. The centre of operations during World War II now also features a museum to honour the life of the iconic Prime Minister who led Britain's war efforts from this very building.
Straight ahead is the famous Horse Guards Parade, which is the official ceremonial entrance to Buckingham Palace and headquarters to the Household Cavalry Mounted Regiment, who provide troops for the Queen's Life Guard.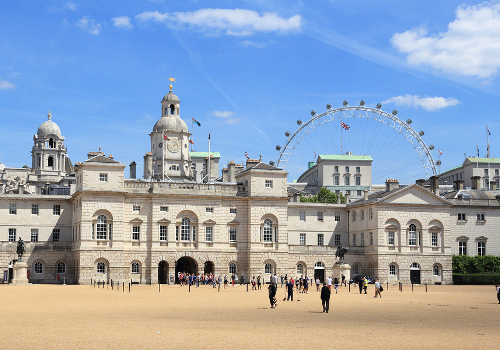 This spectacular Grade I listed building was commissioned by King George II in the 18th century and is a beautiful example of Palladian-style architecture. The structure overlooks an elegant courtyard space that was originally built as a jousting courtyard by Henry VIII. It's now home to statues of celebrated British figures such as Earl Roberts and Viscount Wolseley, and is where you can view the daily Changing of the Guard ceremony. This classic British tradition is a must see on any trip to London and takes place at 11am from Monday - Saturday and 10am on Sunday.
After a morning of walking and soaking up the sights, there can be no better respite than an afternoon of dining and unwinding at DUKES LONDON. A walk down the Mall before taking a right turn at Little St James Street will lead you to this tranquil retreat nestled in the centre of this vibrant area.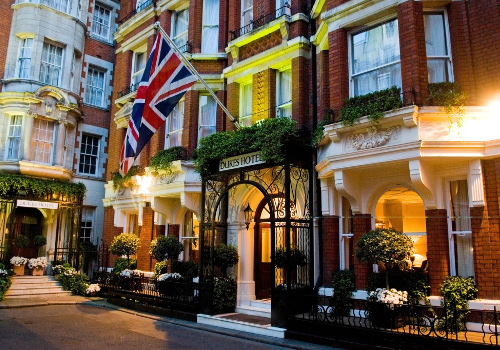 The motto behind DUKES LONDON is to make you "arrive as a guest and leave as a friend" and the hotel cuts no corners when it comes to comfort and luxury.  Celebrated writers, politicians and movers and shakers from across the world have all slipped through the grand entrance, which proudly bears a Union Jack flag, to bask in the quiet ambience of this beautiful space.
Much of the architecture has been preserved since it reopened as a hotel in 1908 and heritage plays a huge role in its appeal, with classical oil paintings and Georgian décor mingling with sleek, contemporary design. The hotel boasts a Private Members Health Club, complete with a spa, steam room, and a 24-hour gym; a Cognac & Cigar Garden; the sumptuous GBR, offering all-day dining; and of course, DUKES Bar.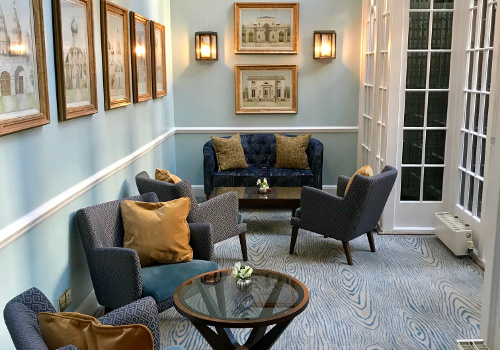 Afternoon Tea is served in the Drawing Room or Conservatory, which provides guests with suitably elegant surroundings to indulge in the great British tradition of Afternoon Tea.
Begin with a selection of proudly British savouries, including delicate finger sandwiches filled with baked ham, coronation chicken and smoked salmon, followed by lovingly baked scones topped off with jam and clotted cream.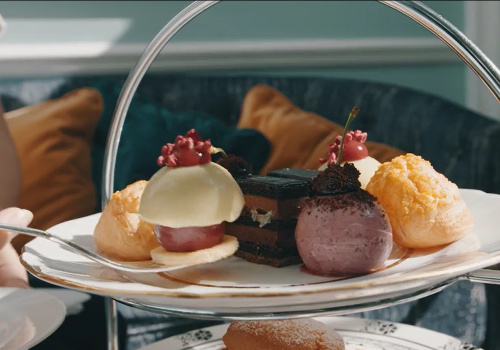 Photographer credit: Robert McCourt rob@closeupproductions.co.uk
These are followed by an array of handmade pastries including opera cake, black forest bomb and lemon cheesecake, plus a bespoke cake of the day made by their talented pastry chef. Pair it with your choice of fine loose-leaf teas or upgrade to a MarTEAni or Champagne package for a truly blissful afternoon. A vegan menu is also available and proving very popular, as well as 'Little Dukes and Duchesses' Afternoon Teas for younger guests
Quintessentially British and uniquely elegant, DUKES LONDON has a timeless charm that makes it the ultimate destination for afternoon tea and an idyllic end to a day well spent exploring a truly regal part of London's history.
Fun Fact...DUKES LONDON was a favourite of both the late Queen Mother and Diana, Princess of Wales. Be sure to check out the DUKES Bar first and try one of Alessandro Palazzi's world-renowned Martinis.
Look out for…Duck Island Cottage! This Grade II listed building nestled on the edge of the lake, was built in 1837 by the Ornithological Society of London.
Afternoon Tea at DUKES LONDON is served 12pm - 6pm, Monday - Sunday
You can book Afternoon Tea at DUKES LONDON here
Want to know more about what to do in the area?
Visit stjameslondon.co.uk and follow @stjameslondon and @london.westend