Afternoon Tea Awards 2019 - Highly Commended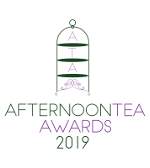 Offering the ultimate in British elegance, the Park Room brings a distinguished Afternoon Tea experience to the 5-star Grosvenor House Hotel. With a contemporary design, the newly opened Park Room offers a tranquil setting to relax away from busy London life.
Park Room at Grosvenor House was awarded a Highly Commended certificate at the Afternoon Tea Awards 2018 in recognition of its high quality Afternoon Tea service.

Their Afternoon Tea is named after Anna, the 7th Duchess of Bedford who is understood to be responsible for starting the ritual of Afternoon Tea in the early 1800s.
With beautiful views overlooking the Royal Hyde Park, Park Room offers a seasonal twist on a traditional Afternoon Tea experience with delicate pastries hand crafted by Executive Pastry Chef, Dale DeSimone. A selection of Newby teas compliment the new Afternoon Tea alongside the option of a glass of Ruinart Champagne.
An eclectic cocktail menu sets the scene for a classy evening in the Park Room, with cocktails inspired by the Park Room's close proximity to Hyde Park, infusing natural botanicals and tea themed cocktails paired with gin and Champagne.
Since opening its doors in 1929, this serene retreat has been frequented by royalty, celebrities and business leaders. Marble Arch Tube Station is a 6-minute walk away.