Afternoon Tea Awards 2018 - Highly Commended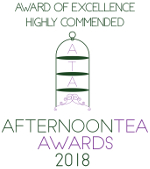 Of the 3,000 meals served at The Dorchester each day, none receives more attention than the gracious service known as Afternoon Tea. In fact, The Dorchester has been awarded a Highly Commended certificate at the Afternoon Tea Awards 2018 in recognition of its outstanding quality and high standards in Afternoon Tea service.
Afternoon Tea is served in The Promenade, a lobby on the ground floor, where potted palms and towering fountains of flowering plants surround plush couches with pillows as soft as marshmallows. Marble columns the colour of apricot parfait rise from the floor, crowned by gilded Corinthian capitals.
Afternoon Tea, Champagne Tea and High Tea all begin with savoury finger sandwiches. Crusts are removed from fresh baked white and brown breads, and the delicate slices are filled with smoked salmon, egg, chicken, prawn and cucumber. Warm scones arrive next, made from a recipe unchanged at The Dorchester for over half a century. They are served with glistening strawberry jam and Devonshire clotted cream.
The final course is the piece de resistance, the platter of cakes and tartlets. Head pastry chef David Girard has launched a new range of delicate pastries for 2017, all inspired by the hotel's reputation for the most beautiful floristry by designer florist Philip Hammond, its location next to Hyde Park's Rose Garden and the hotel's close association with RHS Chelsea Flower Show. The new pastries include floral inspired treats such as Mayfair Rose, Apple Petal, Plum Bloom, Caramel Buds, Berry Blossom and Hazel Nut.