Afternoon Tea Awards 2019 - Highly Commended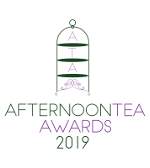 Indulge in the Runway Afternoon Tea in Rotunda at Four Seasons Hotel London. Guests will enjoy the theatrical surroundings at this elegant venue situated at Ten Trinity Square.
The Runway Afternoon Tea' is inspired by the photography exhibition 'Lagerfeld: The Chanel Shows' by renowned British artist Simon Procter, celebrating the spectacular runway shows from designer Karl Lagerfeld during his time at the French fashion house.
Afternoon Tea is served in the Rotunda Lounge, which features a spectacular domed ceiling. This light and airy space is an ideal location to enjoy a tea time treat.
The Runway Afternoon Tea features exquisite sweet and savoury options. Sandwiches include sumptuous flavours such as beef pastrami and coronation chicken. Runway inspired weet treats include Hydrangea, a delicate pastry of refreshing jasmine, rhubarb and ginger flavours.
Rotunda is located in the Four Seasons Hotel London at Ten Trinity Square, which is in the heart of London. The nearest station is Tower Hill.