Afternoon Tea Awards 2018 Winner - Best Traditional Afternoon Tea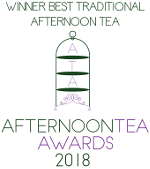 Coworth Park, Dorchester Collection's luxury country house hotel and spa, is nestled amidst 240 acres of picturesque Berkshire parkland at Ascot, and combines the intimacy of a private country estate with sophisticated modern appeal.
Luxurious, elegant and comfortable, the Drawing room offers the perfect setting to have a catch-up with friends and enjoy a quintessentially British Afternoon Tea in front of the open fireplaces, whilst admiring the stunning views of the Berkshire countryside.
Famously the hotel Prince Harry spent his last night before marrying Princess Meghan, Coworth Park is now set to be renowned for its perfect interpretation of the classic Afternoon Tea as it was awarded Best Traditional Afternoon Tea at the 2018 Afternoon Tea Awards.
Try their extensive tea list featuring the most rare and glamorous tea, such as China's Silver Needles Yin Zhen, and celebrate a special occasion by treating yourself to their Meadow afternoon tea.